We hear from the 360…
We hear from the 360…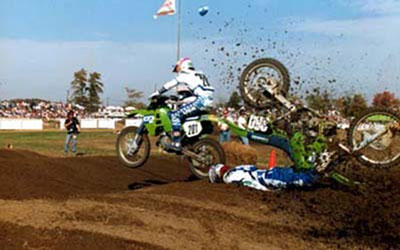 "This is from the Kawasaki Race of Champions in 1988. It's at Englishtown New Jersey and Tom Veety took the picture. I made the cover of Crash&Burn with this pose (laughs.) It's actually a six shot sequence and I have all the photos in a shoebox somewhere. That's Jeff 'Chicken' Matiasevich right in front of me in the 125 pro class and we were good friends back in the day. I've known Jeff since I was fifteen or so, I used to fly out to his house in La Habra Heights and stay with him. Our parents were friends also. He was like a big brother to me back then, he was always the wild one and he was always faster than me. We would go practicing and he was always better although I did beat him a few times when we practiced. This was a track I thought I could beat him at, it was sandy and I had some sand tracks by my house and he wasn't the best sand rider around. This was also the off-season and maybe I was hoping that Chicken wasn't in the best of shape. I just thought this was my weekend and I was going to beat him.
I can remember this crash really well, Englishtown was full of sand and this is the last straightaway before the finish. As you can see in the photo, they were like rolling sand whoops and I was trying to pass Chicken. Again, I was determined that I was going to beat him and you can't see it here but in the sequence of shots you can see that I just drop my front wheel into a big one. I don't let go of the bars until I'm all the way over! And then after this shot, the bars hooked my legs and flipped me back around with the bike! When that was happening, my visor acted like a scoop and all the sawdust and sand came into my face. When I stopped rolling, I had sand and sawdust packed in my helmet, face and in my mouth. I kid you not, I got up and got going after this and I had to ride with my mouth open spitting out sand. I was like a sand castle, there was dirt just falling out of my mouth. It wasn't that bad of a crash as it was sort of a slow endo and the dirt was soft. I kind of got met by the upface of the next jump and I guess you can say that I got lucky.
So as you can guess I didn't beat Chicken. He was the man when this picture was taken, having won the 125 west sx class. At the time he was factory guy and I was a support rider and I wanted to prove a point but obviously that didn't happen. The next year in '89, I got third in the sx points and then it was onto factory Suzuki.
In 1988 I rode all the nationals and some supercrosses but couldn't get a number for '89 because I was on a Pro-Am license and they didn't let us earn points. The next year the rule was changed and I got a number.
I remember that the lap before this photo, I made up a ton of time in this section and I know that I was pinning it this lap to make the pass. You can see in the sequence that Chicken is looking back at me because he knew I was coming. But one mistake and that was all she wrote.
Like I said he was a big brother to me and we did a ton of things together. I remember when I was fifteen and just a naïve kid from Nebraska and he showed me a lot of things. I remember he had this girlfriend back then and they would always fight and when they broke up, we'd go chase strippers together. Then they would get back together and the fun would end.
I remember this bike was really good. It was a DMC (Dave Miller Concepts) fire-breathing beast. Dave would do my bikes up and they were really good. I don't have an orange seat in this photo but for most of this year, I ran an orange seat cover. These bikes were sick, they were so fast. I remember that I was just off mini's and was way too big for them. This first year I was on a big bike, I just thought that I could jump anything. The bike never bottomed out, I was probably 120lbs and had no fear."