Here's the action in photos, thanks to Steve Cox for the shots.
Here's the action in photos, thanks to Steve Cox for the shots.
Quietly Ben Evans is doing pretty well. This Idahoan went 12-17 at Washougal and is 14th in the points right now. He's also the first true privateer in the standings and beating some heavy hitters. Ben's a little bit big for his bike but is no doubt leaning on his Canadian national experience to get him through the grueling American series.
Tommy Searle has struggled the last couple races after looking like he was going to be the next guy to win. DC called him to win one race soon but this weekend Tommy never had a chance to make it happen. I never noticed this but there is a new sponsor on the side of the KTM's called Plaid Pantry. Anyone know anything about this? Tommy went 6-6 in WA.

Ryan Dungey was gone the first moto, he was riding strong the whole moto. He got a bad start in the second moto and had to fight his way by a bunch of guys. His chore was made harder with a couple of crashes, one of them pretty serious when he got together with Brett Metcalfe. That's 2010 Fox stuff as well.
Here's the new guy, Belgian Clement Desalle. He rode to an impressive third in the first moto and really showed some great sprint speed in both motos. The second moto saw him crash out but he was on the move in the beginning of that one as he came from 24th to 13th in two laps. Clement was impressive, he just picked a bad time to try to come over and impress some team managers.
I can't figure this guy out.., can anyone out there? First moto, he goes down with Tedesco and can't work his way back the way IT did. Second moto, he's in a comfy third spot before getting passed by Byrne, Reed, Wey, Jarred Browne and getting dropped to seventh. This just one week after he was so impressive coming back off injury.
I thought Justin Barcia might struggle a bit with the slippery Washington State dirt and it appears I was right. A uncharacteristic 16-7 on the day for the rook. He also didn't look as spastic as in the other rounds, I'm sure he wasn't feeling comfy when he wicked the throttle wide open coming out of every turn.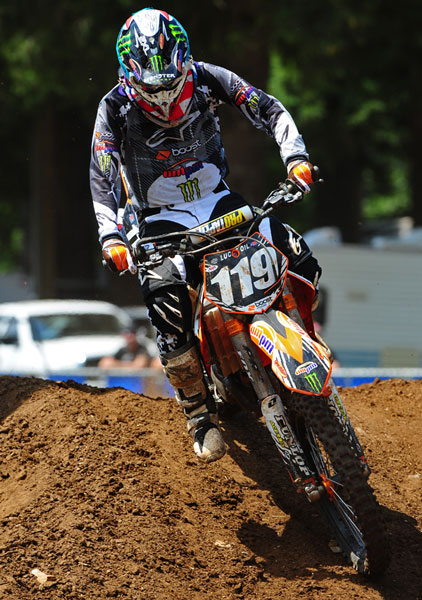 Max Anstie has been getting better and better the last few weeks. He's starting to figure the class out and has shown good speed. Which is good because he has looked lost out there a few times earlier this year.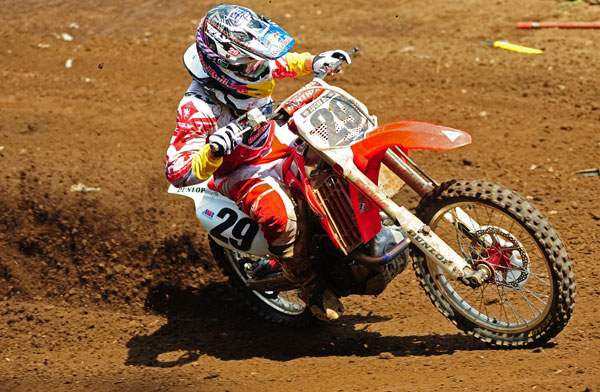 Andrew Short had another rough day at Washougal. He rode around in 7th in the first moto and went down in the first turn with Tedesco in the second. Andrew has something wrong with him and is going to find out the results soon. He gets tired really quick and has been unable to practice much, if at all, since Texas.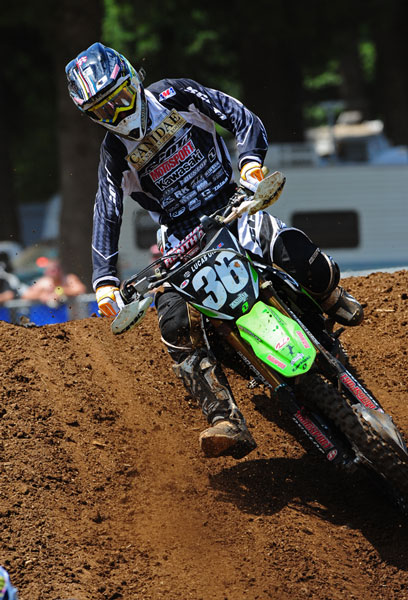 Kyle Cunningham is getting better and better. He finished a strong second in the first moto coming from the back. He was on fire, no doubt about it. Second moto he crashed and DNF'd but his first moto had to do wonders for his confidence. I think Canidae Kawi should keep him another year.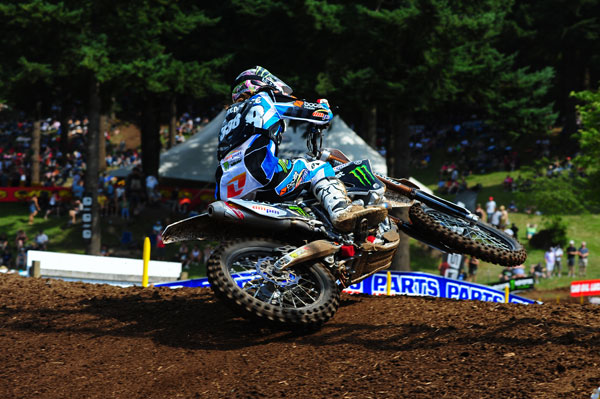 He's back! Just like that puppet that no one could kill off, J-Law cannot and will not go away, much to the chagrin of many in the message board world. Jason somehow got third OA with a 10-3 and rode great in the second moto. He just needs to keep it up and his slacker attitude on the podium will get him even more fans. His fitness has gone away so I don't think he can win but he can be a top five guy every week.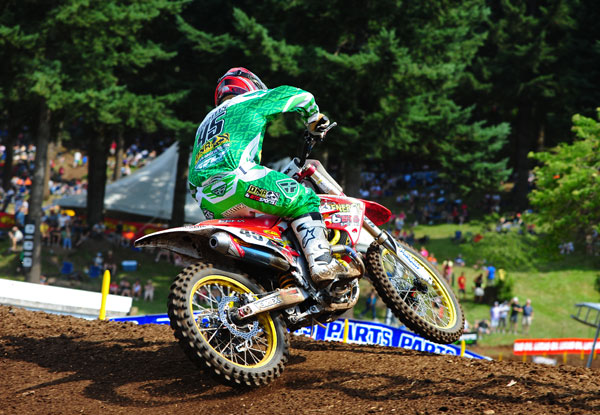 Here's the same jump and my buddy Jason Thomas isn't quite soaking it up like J-Law but JT rode great as he went 19-14. He came from a ways back after he stalled the bike in the whoops in the second moto to get that 14th.Poor guy was high-centered and had to roll backwards to get enough leverage to start the bike.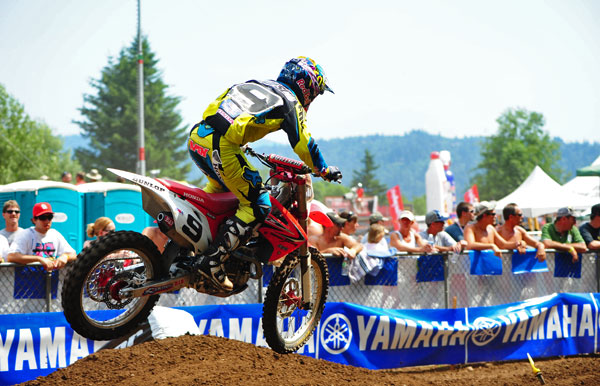 No one had a worse day at Washougal than Ivan Tedesco. IT9 crashed in the first turn twice and had to come from 40th to 11th both motos. Lots of work for the New Mexican and check out his 2010 Fox gear. It was easy to find him out there!
Josh Grant was a little off this weekend after his impressive ride at Millville last week. This track was pretty smooth compared to some of the tracks that JG has been good at. I think lots of dudes were going the same speed out there and it was hard to make up time. Thanks to Team Honda imploding, Grant moved into second in the points.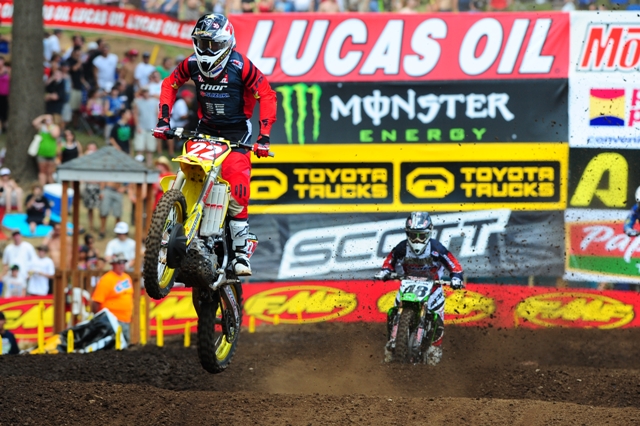 This was about the distance between Chad Reed and Tommy Hahn in the first 450 moto. Hahn rode awesome to keep the 22 in view but I never got the sense that Reedy was in trouble. He had a great race in the second moto to come from way back and grab the win. It was the best I've ever seen Reed ride outdoors.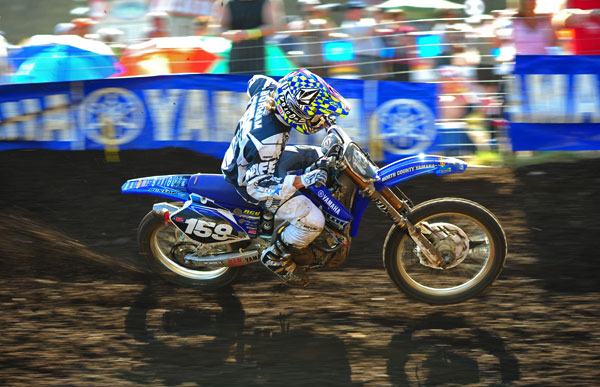 Darryn Durham had his best day as a pro going 5-10 for 8th OA. He's starting to run up at the front more and more. He's got a cool style as well.
Blake Wharton stuffed that mane into his helmet and went out there and finished a career best 2nd OA. He was leading the first moto for six laps before Dungey got by. Blake got great starts both motos and is not getting as much press as Barcia but is really right behind him in the points. Remember, he won a sx this year!
Christophe Pourcel got a horrible jump in the first moto and then crashed sometime in the opening laps. He said his clutch was not working and he was in his tights and shoes doing burnouts after the moto to make sure his new clutch was working ok.
Jake Moss and the TLD team showed up and had another kinda good day. The first moto was strong as Jake the Snake got a 6th but the second moto was a crash induced DNF. He'll be back with the Troy Lee team next year and will be one to watch in sx.
This was the second moto 450 first turn and you can see Shorty just picking up his bike. He had to push his bike back to the mechanics area to get something fixed on the bike before he could leave. Ivan Tedesco is on the ground wondering what ladder he walked under on the way to the track.