This past weekend in Una-f'ing-Dilla there was a retro theme and some teams and riders really did it up big-time. It was cool to see and in some way, was maybe a bit neater than the SX one a couple years back.
This past weekend in Una-f'ing-Dilla there was a retro theme and some teams and riders really did it up big-time. It was cool to see and in some way, was maybe a bit neater than the SX one a couple years back.
And the reason it was because this really was a retro track, as it was the exact same track that The Jammer and Tony D once laid rubber on. That made it a bit cooler I suppose, but to me if you wanted to make it real retro you had to have these things happen:
-To start with, you need to get the riders really not liking each other like the champions of yesteryear did. You know, Hannah hated Glover, Bowen, Smith-hell Hannah hated everyone. The guys today are too chummy as they wait to stage for the motos and talk about their new pools and 401K accounts. Let's get some real hate in there! We lost Mike Alessi so there went a lot of hate out of the pits and with Stewie staying home, Reedy can't hate anyone. Besides, he's got an 80 F-ing point lead! At this point, he doesn't want to ruffle anyone's feathers and risk a ghost ride Kiedrowski-style.
-I'd like to see kidney belts come back as well as the OEM's name on the front of the pants. Seriously, why can't you put the OEM on the front anymore? The manufacturers apparently threatened to sue years ago because, well I really don't know. Maybe they didn't like the free advertising? And what about kidney belts? They had to have been a myth because you never see anyone out with a kidney injury these days. Damm you Gold Belt! You sold me a placebo!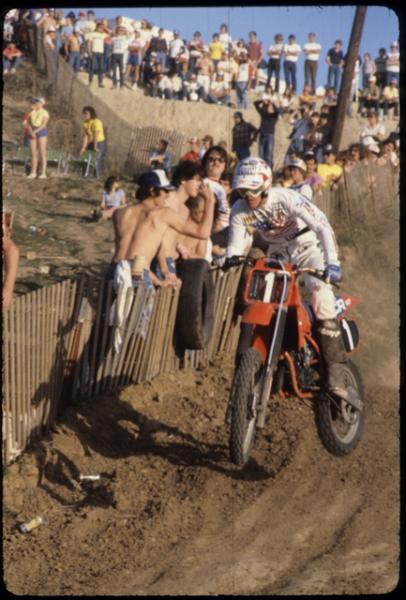 The O'Show does not even need a Jofa, he's a true man!
-Still on the equipment issue, let's get these pansy babies to ditch the full-face helmets and run the Jofas. Man, can you imagine those dudes just getting pelted with rocks from CR500's back in the day? Sure the full-face mask of Oakley and Scott helped a little bit but c'mon, those guys were real men! What about Johnny O back in the day? I can picture him just running the goggles only and his tongue hanging out Jordan style. That's absolute bananas (to steal a line from Rachel Zoe) if you ask me. If you have ever rode Binghamton with just a Jofa on then I'm not scared to say that you have bigger balls than me.
-You don't need no stinking semi trucks! Just run the box-vans again and I guarantee you that the perception of the riders of today would change. There is nothing like seeing your favorite rider in his gitch (that's Canadian for underwear) and hanging out. If you were really luck you got to see his twig and berries and then tell your friends all about Hannah's schlong. What? That was just me?
Seriously though, I can remember being up against the banners at Millville back in the day, the riders coming in from their motos and they just sit there in the back of the van all sweaty and dirty. You got to see them yelling at their mechanic and talking about their race. All the emotions were there to see, laid out in the open. It made you appreciate how hard and exhausting racing dirt bikes was. And you maybe got to see them in their underwear. I can remember Doug Dubach signing autographs in just a towel after the races, he showered under a bucket that was on his box vans hood! That's hard core.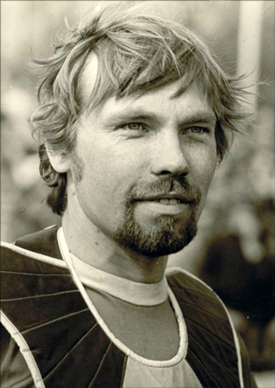 Does this man scare you? He wouldn't put up with any full-face helmets.
– Another thing that I think has come a long way and if you want to have a retro race, you need to have this. I'm talking about the sad little piece of foam they used to call a cross-bar pad. As if that little corrugated stick of foam is going to stop you from (and remember, you're wearing a Jofa at this point) knocking out all your chiclets. This might be the single greatest improvement in the modern era! Speaking of Gold Belt screwing over people, remember the DeBruzer? That thing was as hard as the steel crossbar and I highly doubt that saved anyone's face from damage. Got me again Gold Belt.
-If you really want to go retro, get the gear companies to put some GP guys in the ads. Remember when O'Neal would have Andre Malherbe modeling the latest stuff? Apparently, Malherbe was a world class A-hole so maybe that was what O'Neal was going for "Buy our pants and you too can be a major American hating A-hole!" Or Fox had Graham "Rolls" Noyce wearing the orange fox head? Well, Thor I'd like to see an ad with David Phillipaerts looking sternly into the camera and silently imploring you to buy some Thor Core pants to be just like him. Or maybe we can get Antonio Carioli with a big meatball in one hand and some goggles in the other while looking fondly at the goggles and the tagline "Carioli chooses Pro-Grip over meatballs…what about you?" Insert the sound of crickets at all the 7-11's of America when the public sees those ads, but if you want to go retro-you need to go all the way.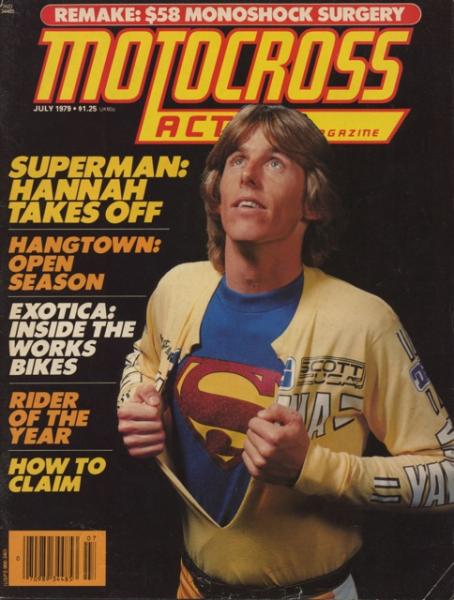 Hannah didn't need anything around him retro…he is retro!
-MXA always goes on and on about how the 1981 Maico 490 Sandspider was one of the best bikes ever (and to be fair to them, when I went to the Primm Museum with Factory Suzuki mechanic Tony Berlutti, he about pooped his pants while talking about the mint one in front of us) so I say, if you want to go retro, line up and race'em! That Chad Reed thinks he's so good at riding, well let's see him scrub a Maico 490 while the thing just wants to go straight and vibrates like a hotel bed on 10.
These are the things that I'd like to see at a retro race…what about you?