I'm just wondering what condition the MXDN's condition would be in with no Team America.
I'm just wondering what condition the MXDN's condition would be in with no Team America.
Next week countries from around the world will travel to Italy for the 63rd running of the Olympics of motocross, otherwise known as the Motocross des Nations. I know, I know they changed the name to "of" from the long running "des" but I don't care. I'm running the "des" in everything that I print or say because that's one tradition (unlike 2-strokes and foam chest protectors) that I'm going to hang on to.
The race has always attracted much attention and rightfully so, it was and might remain the biggest race in the world. I'm not so sure on the biggest race in the world title anymore but one could make an argument either way I suppose. I feel like I have a unique perspective of this race for a few different reasons. One is that I'm a geek and have always followed the MXDN heavily, two is that I'm not American and therefore do not get my back up if someone has the gall to suggest that America not go, or that America will get beat. I really don't care who wins the race-serious I don't. I wanted America to win the last few years but that was just because my good friend Tim Ferry was on the team and I wanted him to do well. My country is Canada and they almost always suck balls (can I use suck balls in a story?) They struggle for a multitude of reasons, that's another column for another day and my point is I just really want to see a good race. And the last reason I have a good idea about the ins and outs of this race is that I got lucky enough to represent the United States as a mechanic to Ferry in Zolder in 2003.
That race didn't go so well for America but it's nice to think back and reflect on how lucky I was to be on the team with Ryan Hughes, Ricky Carmichael and their mechanics. The paparazzi following us around was just insane and when we were in staging, I was seriously blinded from the flashes of the cameras as they all took photos of RC.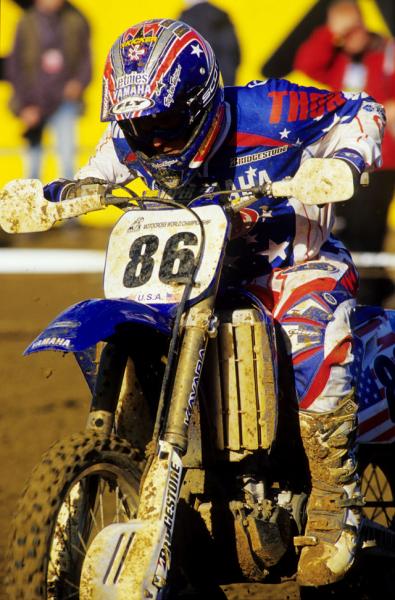 Ferry at the MXDN in '03. A Ludwig shot

My point is, right around the turn of the century the race started to become harder and harder to go to. It was an expensive undertaking for the teams to go over there and do it right. When we went in 2003, it was a skeleton crew and not really a true team. RC and the Honda guys were pitted out of a big rental van, Hughes was in the factory KTM pits in another garage and there I was, just a bike and two helpers surrounded by fans trying to steal stuff. The team manager wasn't around very much to help out and Ferry's father-in-law had to stay back in the garage and make sure things weren't stolen. It wasn't a great atmosphere to be honest and I think team morale suffered a bit.
So America didn't send a team that next year. It was just very expensive (I believe that Yamaha laid out about 8K out of their pockets to go the previous year) the AMA didn't have the funds, the USA lost the last one and the interest was at an all time low.
Fast forward to last year in England. America came off a dominating race on their own soil and I show up in England to hang out with Ferry once again. Only I can't see him. I don't have a special wristband to get into the American "compound." Compound? Huh? In three short years we go from having a father-in-law staying back to keep gear from being stolen to being fenced in? Wow, anyways it seemed that you couldn't swing a dead cat and not hit someone in a Team USA jacket. I've been in this industry a long time and I probably had no clue who 25% of the people inside the USA compound were. Of course, once I secured a pass that is.
The enthusiasm for the team was incredible, a complete 180 degree turn from 2003. I know because I was there that cold, dreary day in Belgium.
Now we're in 2009 and apathy for the team seems to be coming back in. With the declining bike sales, lack of after-market sales and the reduction of race team budgets, there was many questions on whether the team would even go. The riders and managers were worried about if they would have a job for 2010, not the MXDN. The last couple of years Monster Energy stepped up for the team and before that, Mx Sports were a big backer of the team. For this year, there is no sponsor there to write a check and that lack of funding was really a big reason why the team almost, and I mean almost, didn't go over to defend the Peter Chamberlain trophy. At the risk of getting strung up in the center of the town, I would totally understand if the team didn't go. Think about this? Why would anyone open up the coffers for Team USA? It's all about ROI for a big company to write a big check and what exactly is the ROI on the MXDN sponsorship?
The race is not televised in America, there is nothing over here for the team to hang its hat on. There is no visit to the White House or USA Today stories on the winning team. You could make a great case that winning the St Louis Supercross is of greater importance to the sponsors. Winning any supercross really. That's not a perception or an opinion. That is fact. The race just isn't covered outside of the traditional sources. It may mean a great deal of pride for the country but it's a win only deal. Who remembers who got second the last few years?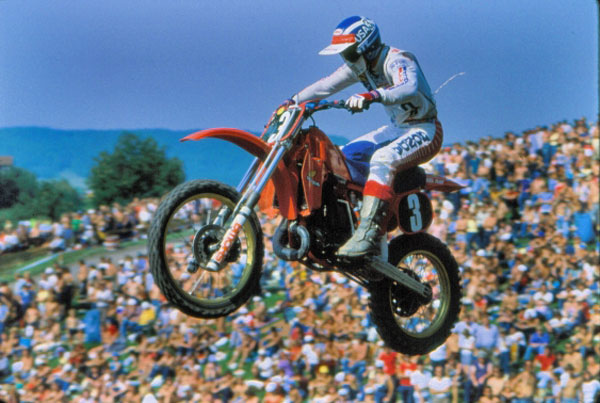 Magoo had what have been the greatest two weeks in motocross history when he swept the Motocross and Trophee des Nations in 1982. Warren Price shot
I've been to the MXDN four times now and I can confidently state that everyone that is there wants to see the Americans. If they are not rooting for them, they are rooting against them. When America does not show at the MXDN, the event loses some luster. That is the fact when you are the winning country in nineteen of the last twenty-five years that you sent a team. I really believe that if it wasn't for team manager Roger DeCoster's passion for the event, we wouldn't have gone.
Think about how the team almost didn't go this year, think about the business model that Youthstream has set up for the GP's and MXDN. They aren't losing any money on the races, that's for sure and I can't help but think, with no return on investment for any sponsors of the American team, what's the incentive for them to go. The old pride and glory reason can only take you so far y'know?
Perhaps YS should think about making it worthwhile for the American teams to make it over, they know that there is no real show with Team America. They need the USA team there to validate the MXDN no matter how they would spin an absence. I know, I've been on the inside and seen it with my own eyes. A MXDN without Team USA isn't a MXDN that holds a lot of weight.
I know for a fact that YS was willing to pay James Stewart to come over and race a GP, they wouldn't pay him what he wanted but they are obviously willing to spend money to get promotion. They're relying on that gut feeling inside everyone involved with Team USA has telling them to do the right thing.
With no purse money, no travel stipends and nobody remembering anything but a win, I'd say that Team USA is the real suckers here. Sometimes the right thing isn't the smart thing.
Do you hear that sound? That's Youthstream laughing all the way to the bank while Uncle Sam holds its pockets out wondering what just happened.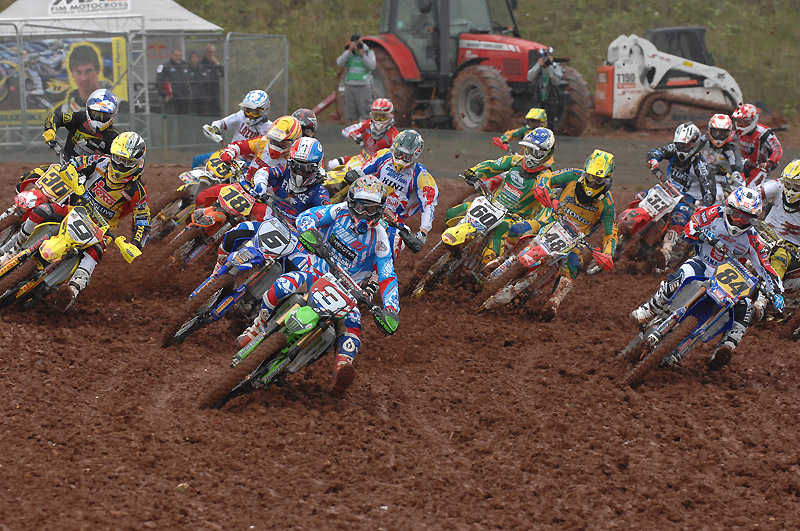 Remember when Tim Ferry saved America after Stewie crashed last year? That was cool. CStone pic