This year US Open definitely had a different vice about it. With all the uncertainty in the air about who's riding where, who's working for whom and the lack of star power at the race, it was a muted version of years past.
This year US Open definitely had a different vice about it. With all the uncertainty in the air about who's riding where, who's working for whom and the lack of star power at the race, it was a muted version of years past.
Anytime James Stewart lines up, it's interesting and the fact that he was debuting the all-new 2010 YZ450F (homologation, what homologation?) was one thing that kept people talking. And I would say the second biggest buzz in the pits was with the return of Ezra "Yogi" Lusk. After a five year layoff, this past supercross champion and fan favorite was aboard a Suzuki (the brand he started out with in 1992) and running his customary number 11.
The first night was a little rough, Yogi lacked his usual aggression but his elbows up, body in the middle style was still in full-effect. He rode around in the middle of the pack and did not qualify for the main event. The second night went much better, he passed into third in his heat and made the main event and in there, he rode a pretty decent race to get eighth. His stamina looked to be good and his speed was there but it was the US Open. Which means it didn't mean much and it wasn't easy to judge what he can really do in this comeback. Still he got a lot of cheers, it was good to see him back and I caught up to right after Saturday's main event.
Me: Ezra, good race tonight-can you tell me about it?
Ezra Lusk: Well, it was a long weekend and now it's over. It didn't start out very good, I just couldn't go around the track at all to be honest. The moment was over whelming really, it was bigger than I expected it to be. The whole atmosphere was over whelming to me to be honest. I just couldn't do anything with it, I couldn't turn on the switch. I couldn't ride the 450 four-stroke like I used to be able to ride the 250 two-stroke. The switch was turned off. Today it came on a couple of times, in the heat race it came on when I had to catch the guy for third place and it was on a couple of times. I felt bits and pieces of it. I never felt like I was back to be honest.
How was the main event for you?
It was just guys everywhere, guys in front, back-what to do and where to go? I saw Michael Byrne and Davi (Millsaps) right there in front of me and I wanted to stick with them and ride a good pace. I started holding on tight and then it went downhill for me right there. I don't think I got my heart rate over 150 out there. I just couldn't hold on and I just couldn't go anywhere. I just wanted to keep it on two wheels, get myself some results and do the jump sections.
Anything out there surprise you from your long lay-off?
Well, I mean the pace was fast. All the guys are going good and I have much respect for everyone out there. I don't want any interview that I do to come off the wrong way and I have tons of respect for those guys and they all train hard. I think I could go the pace, Bubba seems to go out there and knock off a second every time he goes out there and that's tough to do. I think for me, I understood how bike set-up is so beneficial to a rider. Through the mail we set-up the suspension, three times. That's not going to cut it with these guys.
You know as a factory mechanic that is not going to make it work when you're going against guys like I raced tonight. I have to get a good set-up for sure, that bit me all weekend. For my awesome suspension that I have, I can get it set up way better.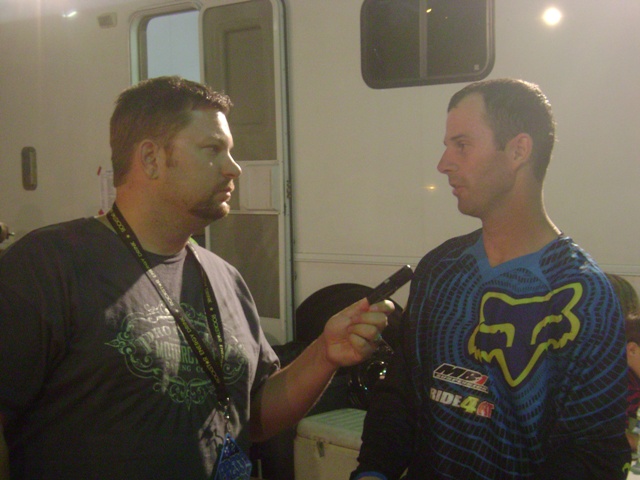 Me getting the straight goods from Yogi after the race. Steve Cox from Race X also caught up to Lusk. Read that tomorrow morning. Angie Matthes photo

In a weekend that lacked serious buzz and wonderment on who was going to win, you seemed to get a ton of people talking. That had to make you feel good.
That did make me feel good but then again after yesterday after I got over the moment and I said to myself that I was here to race and I need to get ready or I'm going to regret ever going. Today when I showed up, I put in some fairly good laps and a good showing. I knew that I wanted to put in a good showing in the heat race and I don't know how those guys got so far in front of me, when I got in fourth I had some seconds to make up. It was cool that I put my head down and caught up to him pretty quickly because I couldn't do that yesterday (Friday.)
So was this race a success for you?
I would say yes. Most people would say that because I didn't qualify the first night and I only got eighth tonight. That's past mid-pack. Well, at the end of the day I have to look at where I came from, what would have happened if I had put some serious testing in on the bike. The short notice and everything was another factor. I got better almost every time I went out on the bike and I built on something.
So have you decided on what you want to do and if this comeback will involve another shot at supercross?
Well as far as a job I really just…the next couple of weeks will tell the tale. I haven't searched around that much to be honest. (Pause) I just really wanted to come out here and find out if I want to race a motorcycle again. Maybe I really jumped the gun by talking about racing next year I don't know. It's up in the air and I think it's up to me. I have someone who can put something together for me if I want to pull the trigger.
So we should know something in the next month or so?
No, should be a couple of weeks. I'm either going to do it or not. I can go pick up a tennis racket if this doesn't work out. I want to do this, I don't mean to say I'm not committed because I will be. I'm not going to waste my time. I have to feel like I have a chance, I have no desire to go out there and ride around in eighth place like I did tonight.
Who do you want to thank for this deal?
Entity Motors, big thanks to Suzuki, Showa, MB1, Wiseco, Fox, Oakley, Decal Works for all their help.