Since the "Greatest Supercross Riders of the 80's" was such a hit, I decided to do one for the 90's as well as the Y2K's. Hard to believe that we're through a decade already here in the '00's, it seems like it was yesterday that I was raiding my local Walgreens for batteries and cup of soups to survive the impending meltdown of the world.
Since the "Greatest Supercross Riders of the 80's" was such a hit, I decided to do one for the 90's as well as the Y2K's. Hard to believe that we're through a decade already here in the '00's, it seems like it was yesterday that I was raiding my local Walgreens for batteries and cup of soups to survive the impending meltdown of the world.
So we decided on Jeff Ward being the best supercrosser of the 80's and that was a little surprise for sure. I think that most people would say Rick Johnson would win that award as he outgained Wardy in supercross wins during the decade 28-20. But all of you would be wrong as my super-secret formula rewards titles AND consistency. Sure the wins are nice but what any team wants from any riders is the ability to go out there and win races, titles as well as be a factor every year. So with that in mind, here are the points that I assigned to each championship position.
1st– 12 points
2nd-9 points
3rd-7 points
4th-6 points
5th-5 points
6th-4 points
7th-3 points
8th-2 points
9th-1 point
10th-1 point.
That's the formula, I know it's really complex but at least we can figure out who the best supercross riders of the decades are. My lovely wife Angie and I (like she has anything better to do than count out the points for these guys) poured over the record books and added up practically every rider to score a top ten finish in the 90's to come up with the top fifteen. The Weege chipped in with a couple of his own submissions.
1st– Jeremy McGrath, Honda, Yamaha, Suzuki-81 points
To the surprise of absolute no one, Showtime wins the title of best supercrosser of the 90's. I'm sure he'll be thrilled and we'll mail him off the plaque asap. With an incredible six championships out of only seven years raced in the 90's, he was a shoe-in. No one could touch him and he was a tip-over in Pontiac and a flat tire in Charlotte away from winning every single year he competed in the 250 class. He captured sixty of his seventy-two wins in the 90's including an incredible ten wins in his rookie season of 1993 (Reed in his rookie year in the big class- 8 wins is second) and MC was the man that lifted the sport to mainstream coverage, invented the nac-nac, made women want to be with him, hell he made men want to be with him he was so damm cool.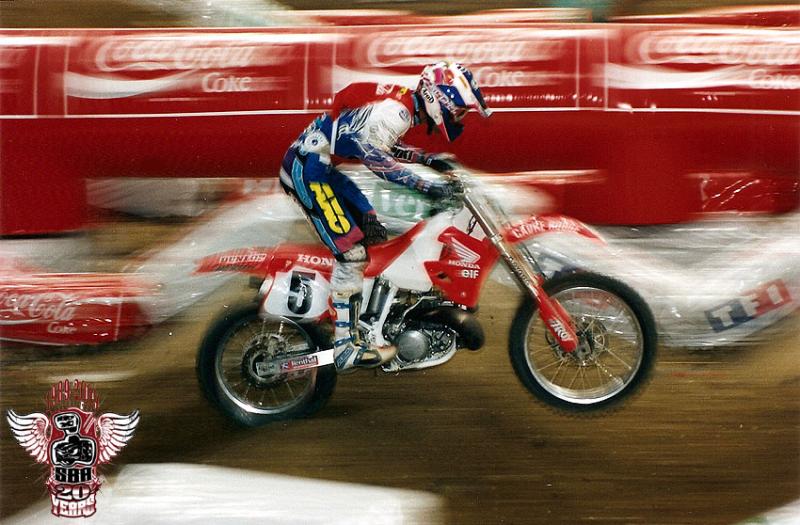 Six-time Stanton was a force in the 90's despite only racing half the decade.
2nd– Jeff Stanton, Honda-42 points
Stanton just about made it into the top ten in the 80's list with his one title and top ten finishes but gets the title of the second best sx'er of the 90's. His two titles, two 3rd's and one sixth in his final year gives him only five scoring years out of the ten. Interesting that the man known as six-time to all of us on the circuit retired when he was disgusted with his 1994 finish of sixth when most riders would have been pumped to do that well. He was only 26 and surely had more than a couple of years hanging on and finishing top ten but that wasn't what Jeff wanted to do. No rider that I can think of made a bigger transformation in his career than Stanton, in his Yamaha days he was never in contention for a win, never mind a title. He switches to Honda, lives with Rick Johnson and comes out swinging in 1989 with the title (after RJ got hurt but he was still right there.) His 1989 season was like MC's '93 in that it came out of nowhere. Anyways, Jeff is the second best supercrosser of the 90's and I'm sure when I tell him that, he'll be angry and vow to improve.
3rd– Mike Larocco, Kawasaki, Suzuki, Honda- 41 points
The Rock (we still have the cool nick-names in the 90's but they're hanging on by a thread here) was a model of consistency in the 90's scoring a top ten finish an incredible nine out of the ten years. The one year he missed the top ten in points ('93) he came out and won the opener and probably would've been in the running for the title but broke his wrist at some point. Hell, when he switched to Suzuki's in '96 he absolutely hated the bikes and the team (and in fact just straight-up missed a race because of being unhappy and everyone knew he tried out a Honda at Stanton's place) he still scored a sixth place in the points! He only recorded one runner-up position ('94) but his other finishes were always respectable. He finishes one point behind Stanton and one ahead of this next guy.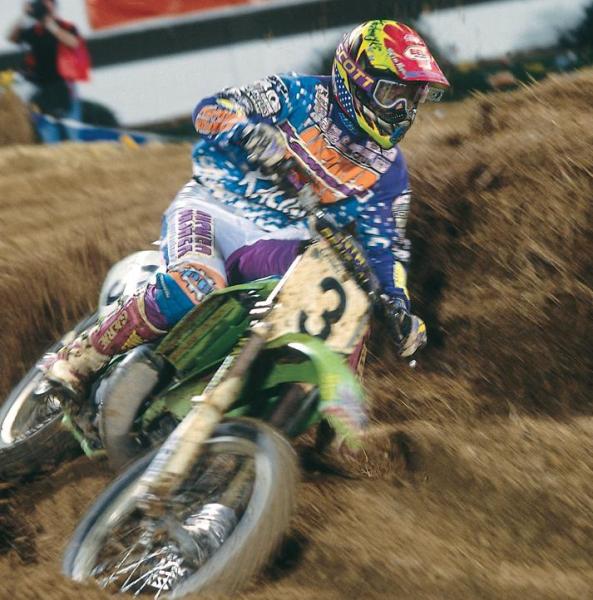 I had to run a photo of Mike Kiedrowski because even though this isn't the best one, he deserves it.
4th-Mike Kiedrowski, Kawasaki, Honda- 40 points
There was a point where Team Kawasaki had two of the most unheralded, vanilla riders in the history of the sport when they had MX Kied and Larocco in the mid-90's. But they were hella-fast. Sure, one of them t-boned the other after a moto but at least it showed that they were still full of fight after a moto. Mike is the fourth best supercrosser of the decade and probably one of the most underrated riders in history. Of his five career wins, three came at Daytona which really cements his status as a motocross specialist. Still, six times he finished in the top ten in points and of that four times he was fourth in the points and once he was runner-up ('93.) If you want a good listen of a guy that was a warrior on a bike and a gentleman off it, take a look for my podcast with him.
5th– Larry Ward, Suzuki, Yamaha, Honda- 39 points
Look at how close the top five are! One more position here and there could have vaulted any of these guys higher up on this prestigious list. I know they care about their rankings on OBS. Big Bird (still loving the nicknames) was just like LaRocco where he scored a top ten position in nine out of the ten years. And just like Mike, he missed the top ten in 1993. I like to think of Ward having two careers in the 90s. He started with a big bang, as a 250 rookie in 1990 he won his hometown race in Seattle after a crazy block-pass war with Jeff Matiesevich ("Chicken" for those of you counting nicknames at home). Six rounds into supercross that year and he was one point behind Matiesevich for the supercross series points lead—these two kids were going to take over! But then…I don't know what happened, but Larry's results just went downhill. By '93 he was a Suzuki support rider and was out of the top ten altogether. Then came the rebirth as a full privateer with the Noleen/Sizzler Yamaha in 1994 (aka Team Cupid, because this was the team that first united Matthes and Ferry). Ward put in some good runs and got back in the top ten that year, and the next year came out on fire and finished second in the whole darned series as a privateer! Later he joined Honda of Troy for '96 and '97, and then Suzuki brought him back for '98 and '99—and he finally got back to his 1990 promise when he once again brought the factory RM250 back into victory lane, at a muddy Tampa race in '98 and then again in Seattle in '99. Only a nine-year lull there. Anyway, Larry sure had the longevity, and that's what puts him in the top five-Weege.
6th– Jeff Emig, Yamaha, Kawasaki- 36 points
Jeff-Fro (yep, another great name) won the '97 title and then, strangely, never scored another top ten finish in his career. He went out with a bang! Emig started the decade slow in supercross with a couple of 10th's, but by then he was already a title-proven guy on a 125 outdoors. He finally started getting the hang of supercross around 1994, and in 1995 he delivered his first career win in Las Vegas when the lights went out and half the field didn't race. Then came his switch to Kawasaki in 1996, where he stopped McGrath from completing a perfect season by winning in St. Louis. By '97 he was clad in that sweet Shift gear, and when MC switched to Suzuki Fro was ready to capitalize, winning five races and the title. What happened after that? Long story. Jeff will always maintain he was a better rider outdoors than indoors, but seven wins and a supercross championship is more than most riders can claim-Weege.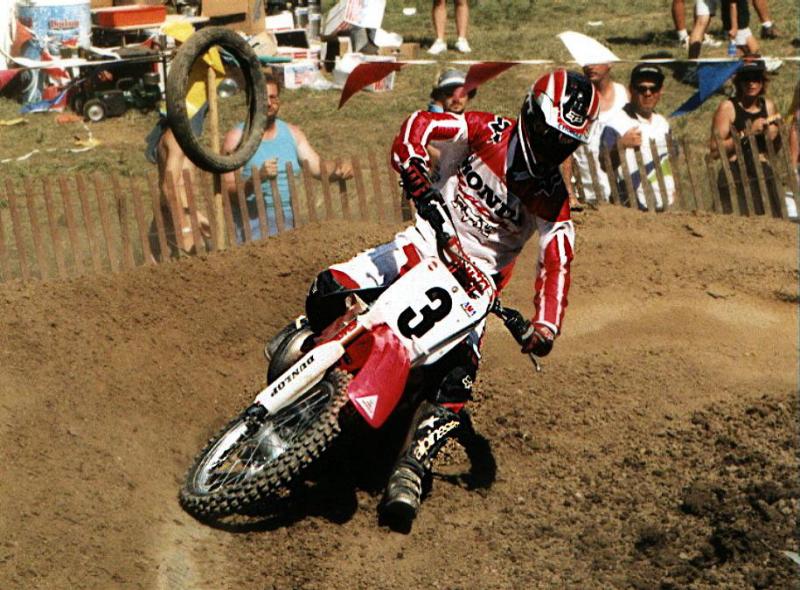 Look for part two of Yogi's comeback to take place at Bercy on a Kawasaki.
7th– Ezra Lusk, Suzuki, Yamaha, Honda, – 32 points
Yogi (sigh….) was a star in the 125 supercross ranks, but looked poised to continue Suzuki's massive run of winning 125 titles and then not having anything pan out on 250s. His rookie 250 season in 2005 was a crash-filled disaster, but by '96 he was smoothing out and ended up third in points. Then he switched to Yamaha in '97 and got into victory lane for the first time. Now primed to win a championship, Lusk was one bad dude in '98 and '99, capturing eight out of his eleven career wins in these two seasons. There aren't too many people who can say they've beaten Jeremy McGrath straight up in a supercross race, but Yogi put in some crazy charges in his Honda days and made it happen. Ezra was a go-for-broke rider who wasn't afraid to crash, get up and go even faster. He couldn't quite match McGrath's consistency, but even today, riders will wax poetic about how fast Ezra could go when he was on. Even without racing the 250 class for half of the decade, he ends up seventh on this list-Weege.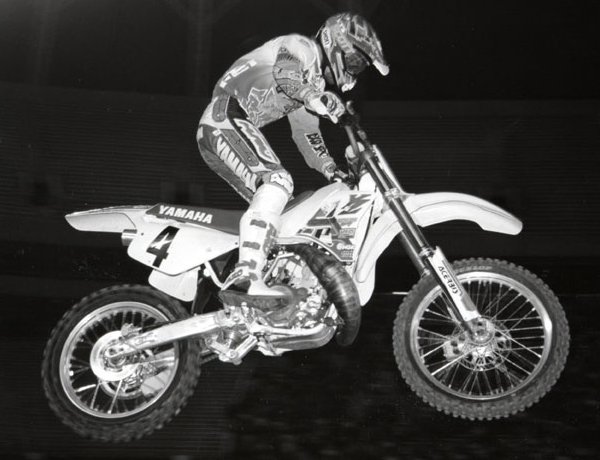 Despite retiring years ago, The Beast from the East still has a ton of fans.
8th– Damon Bradshaw, Yamaha, Honda- 31 points
Oh what could have been? The Beast from the East (I'm going to hang myself) was the man of the early nineties and really should've won one title but had to settle for two runner-ups. He really had two careers with his early mid-life crisis costing him two years of his career and then when he came back (first on a Yamaha and then Manchester Honda) he wasn't the same rider. Or was he? I remember watching the '96 Minneapolis supercross and seeing a still frisky Bradshaw hanging with MC that night but it was just a glimpse of what once was. Anyways, Damon scored six top ten finishes and I'm sure a major regret of his is the '92 title chase and not being higher on this list. Bradshaw is the rider with the most career wins (19) in supercross without ever winning a title. I beg you to not forget that, despite his 8th place here, he was a bad mother effer.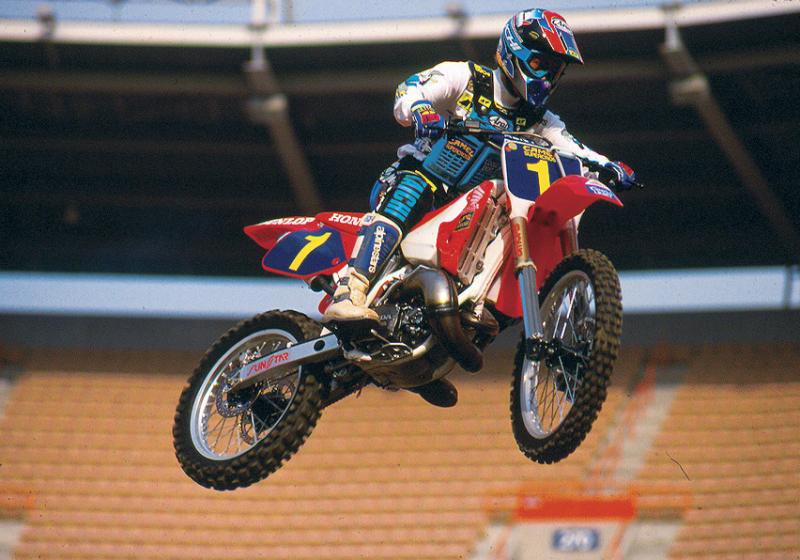 JMB with the number 1 and the Taichi gear in 1992. Looking good JMB.
9th– Jean-Michael Bayle, Honda- 28 points
Speaking of what could have been, here we have the Frenchman known as JMB (it's fine to use your initials as your nickname when it's three letters, you're from another country and you ride like an alien on a dirt bike) as he somehow gets into the top ten with only three finishes in the top ten which are the only three years that he competed full-time in sx. He finished a close runner-up in '90 despite missing two races early, won the title in '91 and then finished third in '92 when he wasn't even trying. I know he said on our podcast that he was indeed giving it his all but he was just being modest, rumors are he rode the whole series with an eye-patch on while dreaming of dragging his knee on a tarmac somewhere.
10th– Doug Henry, Honda, Yamaha- 14 points
The biggest drop off in points is right here so I think you can safely say that there were nine dominant riders of 1990's supercross and then starting with Doug, a bunch of guys that are all about the same. Henry only scored four top ten finishes in the decade with three 7th place finishes and a 5th in '95. Of course you can play the "what could have been" game with Doug as well because in '97 he was leading the points for a good half the season before he broke his wrist in a collision with Jimmy Button. Henry won four career races one being the complete mudder in Dallas, the epic four-stroke win in Vegas and a couple more. He missed a couple of complete supercross seasons recovering from his back injury but would probably have been stuck behind JMB either way.
That's the top ten and here are the five that missed out by oh so much…
11th– Jeff Matiasevich, Kawasaki, Suzuki, Yamaha- 12 points- Chicken (another great one) almost won the title in his rookie year but then didn't do much after that on a Suzuki or a NCY Yamaha. Although he did pull a crap-load of holeshots on his Ron Heben tuned YZ.
12th– Guy Cooper, Honda, Suzuki-11 points- Probably one of the guys that was the fastest rider to never win a supercross (with Lamson, Ferry and Kehoe) Cooper scored the same amount of points in the 80's and 90's!
13th– Steve Lamson, Honda- 11 points- Lammy was never known as a great supercrosser but he could make a 125 sing. He came oh so close to winning one race in Charlotte '95 but MC got him on the last lap. Two 5th place finishes and a tenth are the best he could do in the 90's.
14th-Jeff Ward, Kawasaki- 10 points- Wardy makes the top fifteen in two decades and his career ended in this decade with two 5th places finishes in sx. Isn't it so funny that guys like Stanton and Wardy probably just wanted to puke and jump off a bridge when they only got fifth in the points?
15th-Michael Pichon, Suzuki, Honda-10 points- Two top ten scoring years got "The Pigeon" got Michael the last spot in my rankings. I gave the tie break to Wardy because he's got Pichon covered on the "awesome" scale. Always wanted more from this guy and I bet the teams he rode on thought the same.
Honorable Mention
20th– Tim Ferry, Yamaha- 2 points
Just wanted to throw in Red Dog's eighth place finish in 1999 on the Noleen Yamaha because, well because I tuned it. He made the podium in Indianapolis which was the equivalent of the Pittsburgh Pirates getting a .500 record. I like to think the synergy that Ferry and I had overcame all the other obstacles that were in our way and I especially liked the fact that WE beat MC at this race. Anyways, will Ferry make the list in the Greatest Supercross Riders of the Y2K decade? Tune in next week and see!