Got this letter from a Jeff Emig podcast listener.
Got this letter from a Jeff Emig podcast listener.
Hey Steve,
My name is Neil and I'm a big fan of your podcast shows.
I'm enjoying listening to the Emig one right now and am at the part where Jeff is talking about holeshotting his first pro national. I was there that day in 1988 and snapped this photo of Jeff leading the pack heading down into the (old) 3rd corner.
Anyway, I thought you might get a kick out of seeing it and could maybe pass it onto Jeff if he was interested in seeing it. Keep up the great work on the shows. -Neil
P.S. Since you're such a fan of moto history, you might enjoy picking out all the riders from back in the pack. If you look carefully you can see not only Chicken and Cooper, but also Gaddis, Kiedrowski, Larry Ward, Donny Schmidt, Bradshaw, Tichenor, Kehoe and the defending champ that year, George Holland.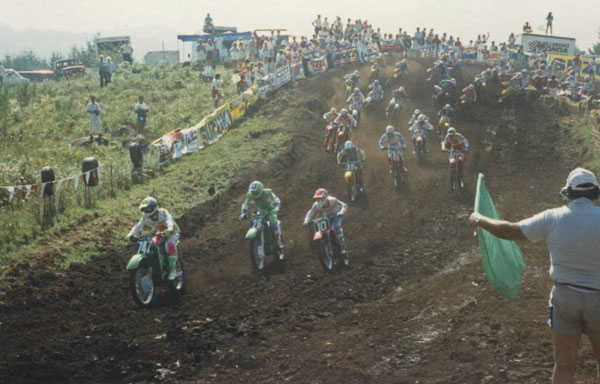 As Emig stated in the Racer X Podcast show, he holeshot his very first national and led for about 20 minutes! That's a massive accomplishment and he probably would've been blowing up the message boards if there had been something like that then.