The latest installment of the mailbag. I didn't get very many good ones for printing so step it up people. Email me at steve@directmotocross.com and I'll get you your stupid answer.
The latest installment of the mailbag. I didn't get very many good ones for printing so step it up people. Email me at steve@directmotocross.com and I'll get you your stupid answer.
Hey Matthes,
I love reading your stuff and listening to your podcasts and I always appreciate your insight into things going on in our favorite sport. I've been thinking about something that I believe would make a really good feature article on your site, in Racer X, or wherever else your stuff shows up on.
Basically, I've been watching and attending supercrosses since I was 12 years old, with the first being San Jose in 1990 (classic) all the way through a couple of supercrosses last year. Like a lot of people my interest in the sport peaked in the late 90's to early 00's when my friend and I dropped thousands of our parent's money flying to five or six supercrosses per year to witness MC making history. While I knew MC would more than likely win, you could always look forward to seeing a technical, unique track that challenged the riders and made practice the best part as you watched riders piecing together jump sections and have to use everything they had in the bike to make it (especially with a 125).
I'm now a Finance Director for a public company so when it comes to two things I don't miss any details. Those two things are motocross and ways to improve profitability. I noticed a few years ago that the promoters were bringing in substantially less dirt which has to be saving them hundreds of thousands of dollars over the course of the year. I know you have pointed this out a couple of times, especially last year in observations. I'm not that big into conspiracy theories, but the whole easy tracks make for better racing probably just helps rationalize their theory of bringing in less dirt!
I also remember that in observations last year you said a big change was possible for 2010 tracks which I really looked forward to, but looking at the 2010 track maps it looks like Feld is sticking with the boring track designs. Were you eluding to possible water crossings that you mentioned a few weeks ago that the factories are saying "no way", or was there something else that could have happened?
Anyway, back to my point. I think a story or just a blog on your thoughts on track design would be really interesting to see. It would be cool to compare some track designs and pictures of sections of how things have changed, and I think many in the sport would agree they have changed for the worse! I can't see how the tiny triples at Jacksonville are the same as the triple RC went upside down on in Pontiac in '97. What is going on? Some quotes from the riders would probably back this up. People have dabbled in the conversation here and there, but a full blown feature may drive a lot of interest and maybe a movement as well.
The entire world knows the likelihood of having a competitive season in the 450's up front is highly unlikely and the James will peel off numerous wins this year if he doesn't self-implode. I don't think I can stand watching a season of guys jumping everything on lap one of practice, staying super low off every jump and barely having to move around on their powerful four strokes.
What do you think? Again, I appreciate your work.
Jesse
Great letter Jesse and some good points in there as well. I'm absolutely in the "We need more dirt" camp and one only needs to watch some classic supercrosses to realize that today's tracks pale in comparison to those ones. I've spoken to some current track builders, ex-track builders and riders and they all agree that the lack of dirt seems to be getting more and more prevalent. Here's the deal in case you don't know. The same dirt is used year in and year out in the different cities. It's simply stored under an overpass, in a pit or wherever Feld Entertainment works out. So if you account for the dirt that's removed on the bikes year after year and you don't bring new fresh stuff in, you get where we're at now.
Every so often you hear someone saying that this year's track has all new dirt and we're reminded that it's at considerable cost. In fact my talks with some of the Dirt Wurx guys reveal that the cost of dirt is one of the greatest that the promoter incurs when hosting a supercross. This year at San Francisco, Nick Wey, upon receiving the gas card money, made a crack about giving to the track guys to "build more jumps." This was because, of all the races, San Fran was pretty evident when there were a couple of short sections with no jumps! It was a glaring lack of dirt to anyone that had been to a few supercrosses in their day. The lap times at San Fran were only six to seven seconds more than the US Open!
One other thing that you see in the old races is the track surface going from wall to wall but I'm sure that's impossible nowadays for insurance reasons. So yes, the lack of dirt is a concern and in these tough times, don't look for it to get better.
Another part of "What's up with the tracks" is the bikes have progressed so much that they've almost out-grown the riding surface. To keep up with the horsepower and torque these bikes make nowadays, Feld would have to build jumps that go to the top of the stadiums. The advent of four-strokes makes the tracks easier and easier. Remember when 125's couldn't jump both triples? Remember when you made a mistake on a 250 two-stroke and couldn't jump first triple of a rhythm section? Well, those days are over as the bikes allow the riders to make mistakes and still jump whatever they need to.
The fact is James Stewart rounds a turn, quads a section, touches down once and triples out into the next turn. The bikes and suspension have gotten so good that the race is now almost run error-free. The mistakes make for good racing and we're not seeing that right now. All the racers have full-on supercross practice tracks, the suspension guys have figured things out (look no further than the down-sizing of shock shafts and fork sizes. The teams have figured out that bigger is not necessarily better when it comes to suspension components. Also the advent of a check-valve in the shocks have been a huge help for whoops) and so the riders can just click it into second around the rhythm sections and fourth in the whoops and they're all good.
Another reason is the fact that Dirt Wurx builds the same type of obstacles week-in and week-out. Triples are 67 feet, the transitions are always built well-in short, just like the bikes and riders have gotten better, so have the track builders.
It's telling in the fact that the one track that was different and presented a challenge to the riders was the retro Anaheim 2. And guess what? The riders bitched non-stop about that track. They didn't like it because it made them think and adjust the way they ride.
I'm not sure what to do, I know for a fact that the guys at Feld have thought about rubber whoops that don't get one lined and break down. They've talked about ramps ala the Jeremy McGrath race, they've even polled the teams about water crossings and been shut down. So they're trying but to me the first step is to buy more dirt. How's that, 700 some words to think about, thanks for the letter!
Steve,
Watching the MXdN it occurred to me that the USA and US-based riders were on production-rule bikes, while many of the regular GP riders were on works bikes. How much of an advantage was that and should have that been tossed in with "B-Team" and the rest of the my dog-beat-your-dog BS following the race?
And this is more of a story idea than a question, but do you have any good stories about race-start schemes not involving modern fall-back start gates? Been around for awhile and back in the day, there was a whole "cheat the start" sub-culture involving timing fall-forward gates (from like 30ft back). Then there was cheating neutral gear salute-starts by starting in gear and holding/releasing the engine case clutch arm with your foot. Hard to cheat rubber-band starts, but it was hilarious to watch guys getting clothes-lined while jumping a start. Couple times I saw guys stretch it and then have it snap and blow the guy clean off the bike. Good times, indeed. Got any of those stories?
Johann K

Johann, I'm not sure how much the full-works bike thing helps out the Euros. The American bikes are pretty good and aren't far off of the factory stuff. Plus as we all know, James Stewart could jump on an '85 Gilera and probably finish top three so the whole bike thing might be a tad underrated. When I went to the German GP this past summer, one of the highlights for me was just looking at the factory bikes and drooling over them. The biggest advantage that the GP bikes have, in my opinion, are the weight. The US bikes are right at the limit and probably could use a carbon tank or subframe to lighten it up a bit. So no, I don't think it was much of a disadvantage for the USA team but if they would have lost, I'm sure this would have come up on the forums.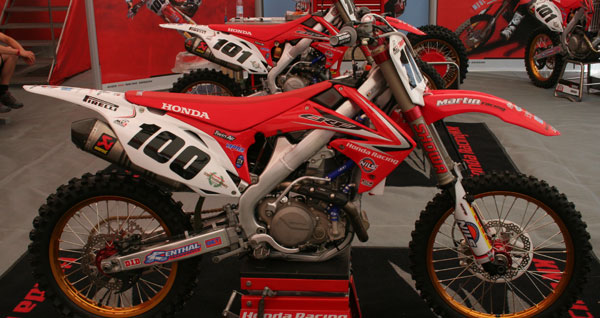 This bike wouldn't be allowed in America and that's too bad.

I grew up with mostly rubber band starts with a couple of tracks that had a backwards falling gate. Those tracks were considered the jewel of Manitoba motocross. So I've seen plenty of guys get the band hitting them and yanking them off the bike. Good times. We also had flag starts here and there. One time, I jumped the flag and just kept going. It was awesome to lead the 250 pro class for a lap or two before the guys caught up. I figured I was always getting 5th or so why not win the moto, get docked 5 spots and finish in my usual position? Not much difference except I would have those glorious laps in the lead and be able to pick up chicks after the race that didn't realize I went a full five seconds before anyone else.
Steve,
First off, thanks for answering my last set of questions. That was awesome. I clinked on the link and saw my questions at the top of the page, way cool! Let me see if I can come up with any good ones;
1) What do you think of the new YZF450? How did Stewart get to race it at the US Open if it's not homologated? Was it the "Stewart effect"?
I think that bike is revolutionary. I really do. It will be a big advantage over anything else out there and you'll see the other OEM's going that way. The theories that Yamaha used to position everything is sound and the bike will be a great supercross weapon. I'm not so sure why it's heavy but from the magazine guys and racers I talk to, they can't feel that extra weight.
As far as the homologation question, I have no idea how he was allowed to race when the refs were getting on the teams about not having the right size numbers. If you find out how he was allowed to race, let the other teams know also.
2) What is your pre-season top 5 for the 450 supercross?
My top five are
James Stewart (of course)
Chad Reed (I think the gap between him and JS will be bigger)
Ryan Villopoto (Has to get in shape but knows the pace from last year)
Andrew Short (Everyone counts him out and then, he's there)
Davi Millsaps (Contract year+ mega-skills=good year)
3) What team is Ferry riding for?
I don't know. I'm not sure if we'll see The Dog in supercross this year, it's looking bleak.
4) Would you ever go back to being a mechanic?
Yeah I would. It would have to be a good deal and allow me to live here in Las Vegas because there's no way in hell my house could sell right now. I do miss it sometimes though.

5) How do you think Reed and Villopoto will co-exist?
They are both pooh-poohing any talk of fights or whatever but I've been in a truck with three fast guys and trust me, things come up all the time. I'm not saying they are going be at each other's throats or anything like that but to think they'll go twenty-nine races and not have some sort of shit-talking go on is asinine to me.
6) What is Windham doing for next year?
He's on GEICO Honda by the skin of his teeth. He came really, really close to not having a ride in 2010. I realize this letter is old so I'm sure you probably know by now.
7) How about some more "old school" race observations? Those are hilarious. I have a greatest supercross DVD collection and it's awesome when RJ's on the podium with like 4 sponsor hats stacked on top of one another and Larry Maiers asks about the race he says "I pretty much kicked everyone's ass, nobody had anything for me" classic.
Those old supercrosses are awesome for sure but the Observations from them are a lot of work and I don't get many people clicking on them or emailing me for comments. So I'm not sure if they are loved or not but I will need to fill in time this off-season so look for another one at some point.
8) How about a weekly podcast with Damon Bradshaw? Love that guy.
I'd like it also but I don't think the Beast would be up for that. I gotta get him on another one at some point though. He's awesome.
9) Why wasn't Admiral Akbar more prominently featured in the Star Wars movies? He's an Admiral
I think his hideous looks had something to do with it. He probably smelled like sardines and pee. The thing is, he's an admiral and what are you going to do if you're some lowly X-Wing fighter pilot? You can't go to the Rebel Alliance Human Resources and complain your boss stinks and is absolutely horrible to look at. You'll be fired in no time and Ol'Ackbar will still be an admiral. That's how I see it anyways.
Thanks!
DJ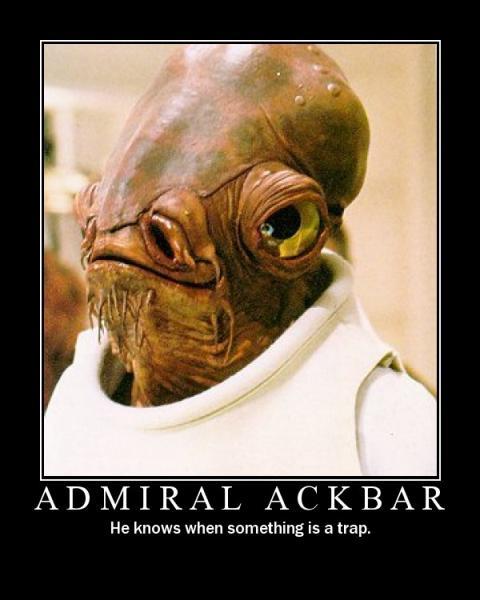 He is an ugly dude, no doubt about it.