The Golden Boy speaks to me in Bercy about his memories there as well as all the new teams he's now in charge of at Dunlop.
The Golden Boy speaks to me in Bercy about his memories there as well as all the new teams he's now in charge of at Dunlop.
Me: Broc, you were here at Bercy at the very beginning and I'm curious to know what you remember from that very first Bercy Supercross?
Broc Glover: Well it was really fun. It was back in 1984 and at the time I had done some races back here and had a good relationship with Moto Verte and Xavier (Audouard) so when they asked me about putting on a supercross, I said I would come. Then they asked me to ask my teammate Rick Johnson if he would go and I did and Rick agreed. Then they went after some of the Honda guys and they got David (Bailey) and Johnny (O'Mara) to sign up as well. Danny Laporte was already over here racing so he came over also and that was it, there were five of us Americans here with supercross experience and we had a lot of fun.
Can you imagine the spectacle that this race has turned into now?
Well to be honest, it was more of a spectacle back then it is now. It was an unbelievable back then with how loud the crowd was, the pom-pom girls, the music and lights. The entrances that we used to have were crazy. We were like rock stars, they had mechanical hands and I remember going up to the rafters and walking around on the scaffolding was crazy. I'm not pumped about heights so it was a little scary for me. Even the guys that drove the bobcats were nuts, they would just spin around and put on a show for the fans. It was amazing and I'm sure they spent a lot more money back then. It's still a fun race and is probably the most prestigious supercross in Europe to win.
How did you ever do here?
I don't remember all my results, I know I won some races but I was never the King of anything like that. I don't really remember to be honest.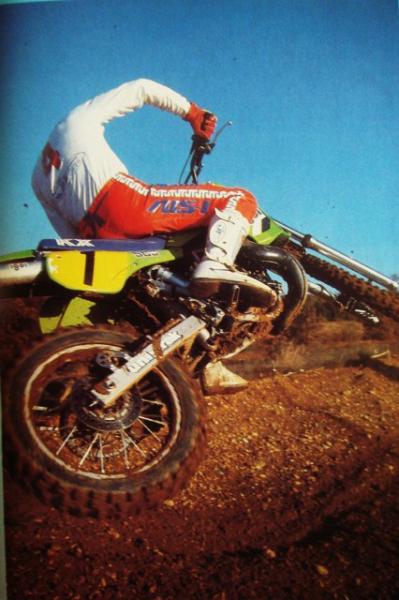 My brother found this ultra rare photo of Glover on a Kawi. I asked him about it and he said it was for a shoot-out for Moto-Verte magazine in France back in the day.

So now in the present day you're at Dunlop tires and with Bridgestone pulling out you have most of the teams right now, how is that going for you guys?
It's great right now. We're enjoying the feedback we're getting right now and anytime you can work with the Chad Reeds, James Stewarts, Ryan Villopotos and of course the Honda factory guys you can really learn something. It's really, really good. We've got the JGR guys signed on now as well. And of course, we have the Pro Circuit team which has probably won the most championship teams out of anyone. My guess is that they have more titles than any other team out there.
We're really looking forward to it, it's going to be a lot of work but we're up for the challenge I think.
Have you learned anything new from working with these different teams and riders?
Yeah, we have. We've had factory Honda, Factory Connection and the KTM guys for years and yes, absolutely we've learned some new things. Some of the teams testing programs are really accurate and we've been seeing that these teams have it together. We'll try a particular tire on one brand and get really great feedback from someone, then we'll try that same tire on another brand of bike and it will finish somewhere in the middle of the pack. It is interesting how some bikes react differently to tires and I think that some riders and teams have learned that they need to set up their bikes a little different for our tires as well. Which is not different than it is in roadracing. It's funny how that transfers over to motocross which I'm not sure I really thought was going to happen. A little bit of chassis adjustment and all of a sudden a tire that you're not happy with becomes one of your favorites.
What's been the feedback so far from the riders on the Dunlops?
Well, so far it's been good. You know some riders have certain feels that they are after and it's taking some time. We're still making adjustments and in the last two or three weeks, we've really made some progress here. All the way up to Anaheim, we'll still be making tweeks no doubt about it.