Here's a reader named Brett Jones and his report from the Canberra SX in Australia. Thanks to Brett for this little write up and photos.
Here's a reader named Brett Jones and his report from the Canberra SX in Australia. Thanks to Brett for this little write up and photos.
Hi Steve. Not doubt you would have seen the results of last night's Supercross in Canberra but I was able to obtain some gossip you may or may not be interested to hear. Here we go…
First of, I'll start with, who I believe, is one of the nicest personalities in the sport, Michael Byrne. The Byrner told me that he will be back racing in the US in 2010. He has no deals finalized as of right now but said that he'll be racing in America, deal or no deal. He also said how much of a struggle it has been for him to get used to riding the Honda (especially after spending the last three years aboard a factory Suzuki). Limited testing time and lack of special parts has been a thorn in his side as he is getting frustrated with not showing his full potential.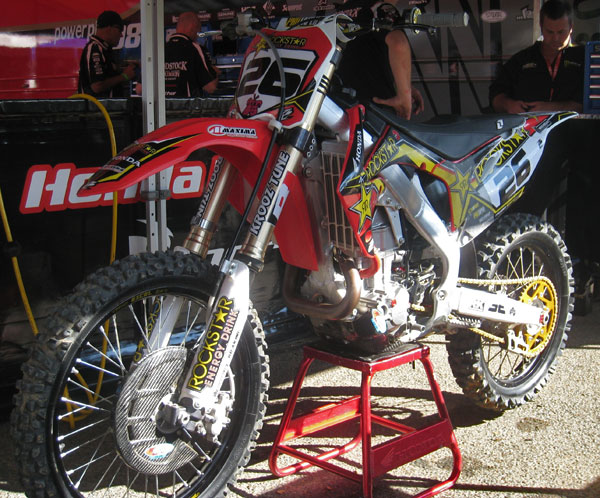 Byrner's Honda. Must be hard to just jump on a bike that alot of other people say takes time to get used to and go fast.

Byrne's team mate at Canberra, Dan Reardon, was looking much more comfortable aboard his Honda (probably because most of the parts on his Australian bike are the same parts that he had on his Factory Connection Honda). The track at Canberra was very slick and Reardon struggled with traction due to the lack of tire selection. Reardon's Mechanic, Charlie Costanzo has been working overtime getting the Honda up to speed but told me of their frustration they we're having with tires. The problem with tires will be a bit if a common theme as you will see.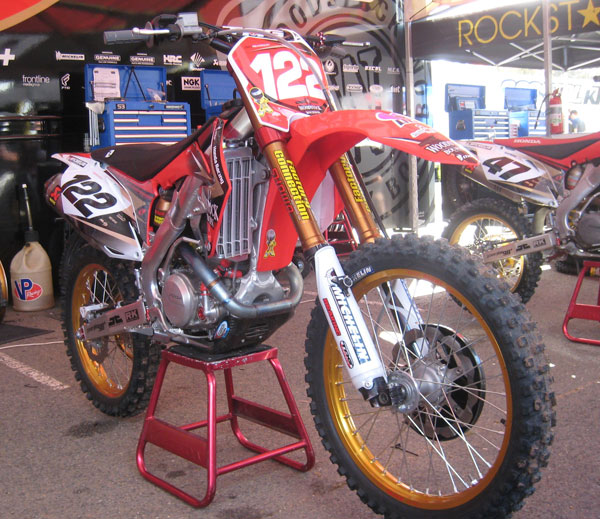 Reardon has been on fire in this series and here's his bike. It looks close to his GEICO bike to me.

The other rider in the Honda semi was no other than 'The King', Jeremy McGrath. I don't have to tell you that this guy is a class act. He was having a lot of fun doing the occasional race and I have to say, MC still has plenty of speed. He may not have the legs to go twenty laps but he can still mix it up with the best and he showed the Australian crowd that classic style which took him to seven AMA Supercross championships. The guy rocks! Also, it was great to listen to him talk about how much fun he had racing at the recent Powder Mountain event. (There is great footage on the Racer X web site of David Pingree following MC with a helmet cam…worth a look).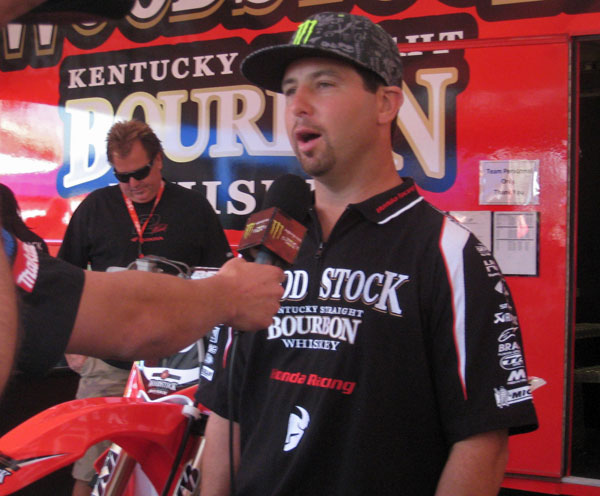 MC is in the house and no matter where he finishes, he's still the man.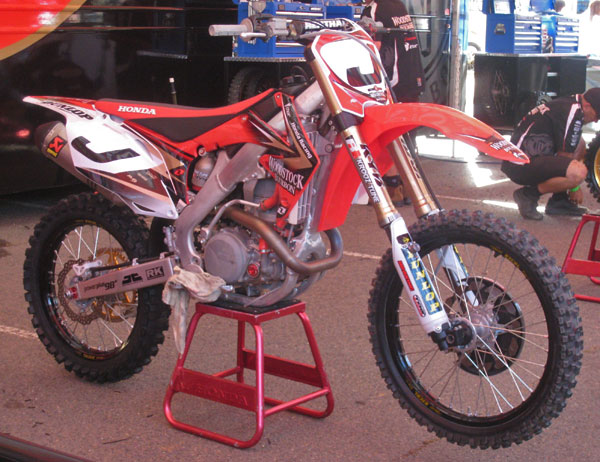 Look, Jeremy's so good, he just gets the letter "J" which means he's the Juan.

This brings me to Chad Reed. The Canberra event is the third race I've been to this season and each week it's quite obvious that Chad is definitely getting used to the Kawasaki and getting it dialled to his liking. He looks real comfortable and is looking very, very fast through the whoops. I must admit that Chad is let down by his starts…something he really needs to work on. Here's the interesting part. I overheard a conversation he was having with his mechanic and fellow Aussie rider and friend Matt Moss. He was frustrated with tire selections. They have experimented with different combinations and pressures and even tried grooving the tire but cannot get a handle on it. I was also surprised to hear that the right tire selection could mean a difference of up to a second and a half to two seconds a lap!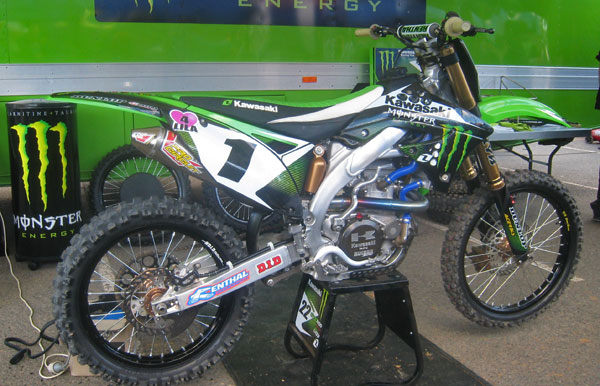 Reed's Kawi, still getting used to saying that.

Reed had a nasty crash in the third moto and didn't finish the race but he looked to be OK as he was moving around freely after the race!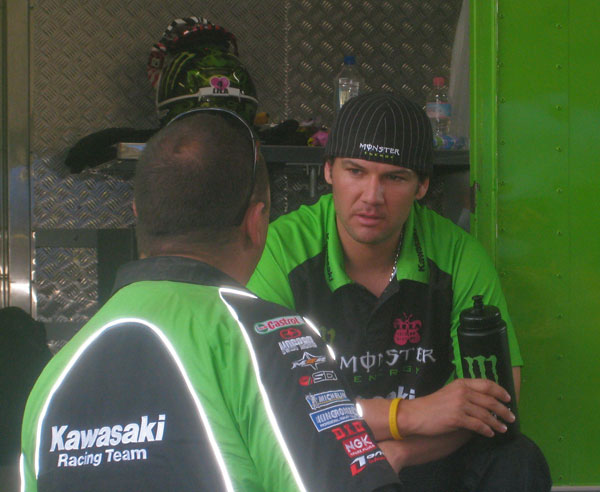 In regards to Brett's story about the tires, I spoke with Broc Glover at Dunlop and he's heading down under to test with Reedy. He mentioned that Chad is still on old specs and hasn't tried the new tires that everyone seems to like.

The race winner Jay Marmont was amazing, not only being at the event but to win the race after tragically losing his young daughter only a few days earlier. Jay rode with his heart on his sleeve and it was a special moment to see the emotion after the race. It made me so proud of the motocross community. Congratulations on the special win Jay and Godspeed to Lila!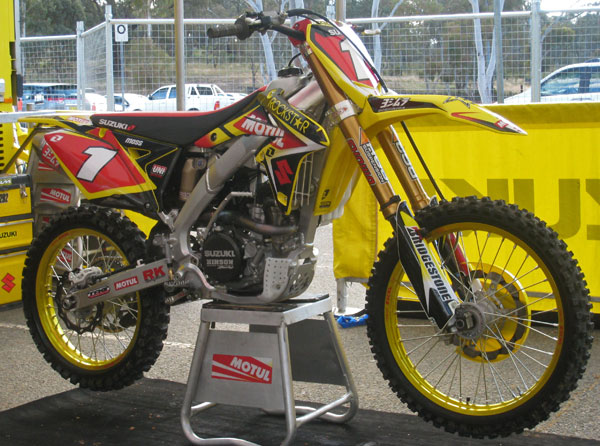 Matt Moss's RMZ 250. He's undefeated in the series right now I believe. He was supposed to come to America, not sure what's happened with that.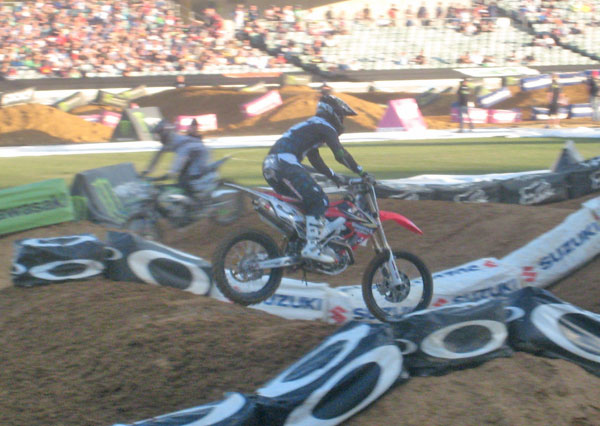 MC on the track, hey Brett's no Cudby but thanks for the shots anyways! Pulpmx.com, where readers can actually get shit posted!