JT$ (#51 here) busts out a holeshot and a great story for us.
JT$ (#51 here) busts out a holeshot and a great story for us.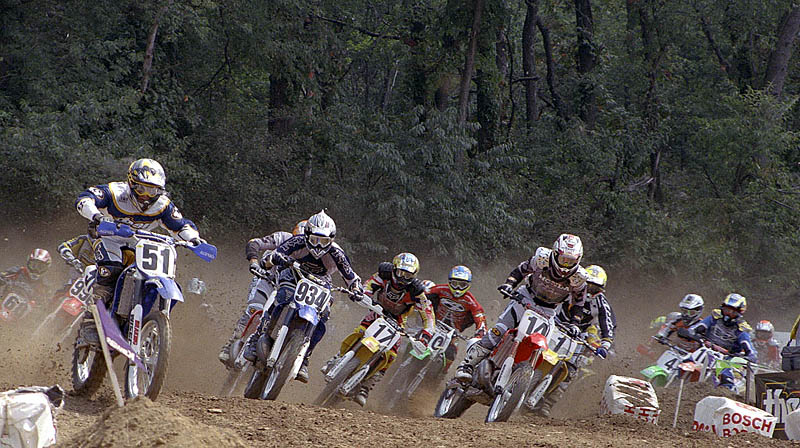 "So, the year is 2000. I had a great year in supercross that year, racing both classes and setting a record for the most double mains qualified for in a row. To be honest, I didn't feel like I was all that fast, but the competition was nothing like it is these days. As the outdoors started, I was still privateering it… My dad was driving the country in his Ford van, and I would fly back and forth so I could train at home and try to have a steady program. He really took one for the team on that deal, often times sleeping in the van, driving all night or whatever it took. I didn't appreciate it enough then, but as you get older your perspective changes and I definitely owe him big for that.
I remember at Glen Helen, a couple of Canadians were waiting at my van when I came back from practice. They introduced themselves as Jason Mitchell from Blackfoot Honda and Kevin Smith (I think) from Honda Canada. They were interested in having me come race for them in the Canadian Nationals, starting in June. Now, back then, the Canadian series wasn't what it is today. I didn't really know much about it, and things were going so well in the states that I pictured myself getting a shot at a factory ride one day. So, in my infinitey wisdom, I told them thanks but no thanks and that was that. So, I raced the first 3 or 4 nationals and was doing pretty well.. I think I won the top privateer at 2 out of the first 4 races and was finishing anywhere from 10-14 every moto. I kept in touch with Jason at Blackfoot, and had also met "Rollerball" Ross Pederson at Hangtown. Rollerball was the rider coach for the team and made it clear to me that he wanted me on the team that year. The main problem was that their budget was more or less accounted for… They had Blair Morgan, Doug Dehaan, and Jay Whipple all on big bikes and they didn't have money for another guy. I had commitments and signed contracts in the US, and it just wasn't possible to drop everything for Canada unless it was a great deal. I remember simply telling Rollerball that I couldn't do it for free, there was just no way I could ditch my sponsors mid season without a really good reason. So, lo and behold, Rollerball and Jay Whipple got into a huge ordeal and there was a freshly vacated spot on the team! I remember having this feeling of relief after the last conversation with Rollerball, that I had finally put it to rest that I wasn't coming, they didn't have any budget, etc. The next day, he calls me and tells me of the change and being an off weekend for the US series, wanted me to come race Calgary that weekend! Now, if anyone reading this has ever met Ross, he pulls no punches and isn't scared to tell you how it is. So when I reiterated that I couldn't do it, he let me know that if I came and performed well, I would get the budget previously allocated for Whipple. Now, keep in mind, I had never been paid to race before. This was a really good deal and honestly changed everything. So, a day later, my dad and I boarded a plane for Canada.
I raced in Canada for the rest of the summer, finishing 2nd overall at the first 2 races I did and then hurting my wrist at Moncton and struggling through the rest of the season. I don't think I prepared enough or took racing serious enough back then, and if I had, I think I could have won a race or two. As the Canadian series wound down, I looked forward to racing again on my Yamahas. Steel City was the last race, like it is again now, and is the setting of the picture here. I remember the track being really good that day. They didnt work on the track as much for the motos back then, and line choice was really important. I felt like I had that track pretty dialed in and most of the top guys were just going through the motions after a long summer. There were no posted lap times in 2000, so everyone went on how you felt in practice and the moto's were always a mystery as to who would be fast, etc.
So the gate drops on the first moto, and I remember getting a good jump but it wasn't earth shattering. My Pro Action motor that year was fast, but more smooth than anything and with no holeshot devices back then, it helped on the starts. As I climbed the start hill, I couldn't see anyone on either side so I just kept it wide open and headed for the bend. I remember seeing a fender as I turned left but as I cleared, I realized I was going to holeshot this thing! I controlled the first turn pretty easily and its funny, when you holeshot, it gets eerily quiet. Normally, there are bikes in every direction and its literally chaos as everyone is jockeying for spots and trying to stay upright. Not this time! I couldnt really hear anyone, as its off camber coming into the 2nd turn and everyone was braking. DV was right on me and notice how far inside I was coming into that right hand turn. I had left the gas on a long time coming into the 1st turn and it put me pretty far out of position for turn 2. I think I led for another straight away and then the dam broke! I was riding way too conservative the first lap and I think I went from 1st to 9th in one lap! I settled in though and went on to finish 11th in the moto. Strangely, in the 2nd moto, I started 10th or so and moved up right away and finished 7th! Weird how things work.
So, looking back, this was a great day. It was my first clean holeshot in a national (I holeshot Unadilla in 99 on a 125 but Mike Craig passed me instantly). I rode really well all day and scored my best moto finish in that point in my career. It was the last race of the season, so it was a great way to end the year. Everyone remembers the last one, since its 4 months until the next official series race. It helped me with my contracts for 2001, and I felt like I made all of the sacrifices my family had made all year seem worth it."