I'm missing a couple of months but let's take a look back at some of the covers and content of all the Motocross Magazine's in 1983. This whole thing was a ton of work so I'd appreciate it if you read it and don't look for this to happen again anytime soon. It was kind of fun though.
I'm missing a couple of months but let's take a look back at some of the covers and content of all the Motocross Magazine's in 1983. This whole thing was a ton of work so I'd appreciate it if you read it and don't look for this to happen again anytime soon. It was kind of fun though.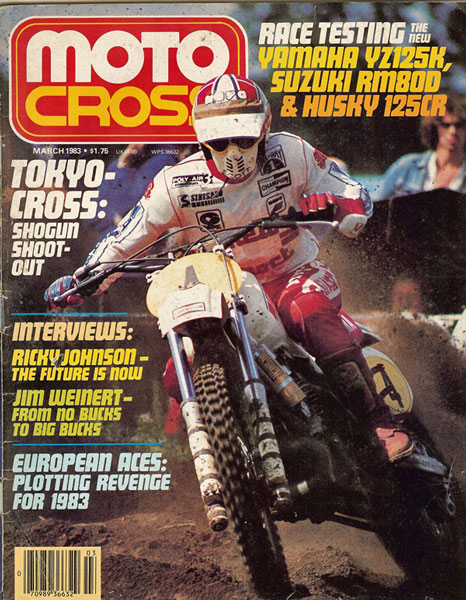 The March issue is a good one but Andre Vromans is on the cover for some reason. This is a year after he made a wrong turn and helped Brad Lackey win the 500 World Title. Speaking of Bad Brad, although he's no longer an active racer, he's all over the place in this mag. There's an update with him and two ads, one of which is for Metzeler. He's carrying a tire out of some sort of other dimension and has jeans and a Metzeler jersey on. If there's a name for a male camel-toe, Brad has it right here. The mag also has a test on the brand new YZ125 which by all accounts was a turd and the magazine basically admits it with a "If this was last year, this bike would be a winner" line. There's a test of the new Husky twin-shocked 125 that says "If you want a bike for a little bit of motocross, some hare scrambles and some play-riding, this bike is for you" which is never a good sign.
A Tokyo Supercross race report has all the details on Ricky Johnson's win and the story goes on to tell us that "Supermouth" Larry Huffman arranged this little get-together of riders to travel over to Japan. That makes sense because Ross "Rollerball" Pederson was also at this race. Larry was Ross's in for this race, no doubt about it. David Bailey got second, Broc Glover third and Rollerball fifth. First Japanese rider was in twelfth.
Interview with RJ also where he talks about his heart breaking loss the year before when his wheel exploded and he lost the national championship. He's quoted as saying "1983 will be the year that I will or won't be a superstar" which is funny because Too Hip had a horrific '83 season. He broke a collarbone at the first race then dislocated his hip later on. But judging how the rest of his career went, I think he did ok even though his prediction was wrong.
It must be an all RJ issue as there is a race report from the CMC Four Stroke Championships where Johnson wins with a 3-1 over Jimmy Ellis' 2-2. RJ's on a bike that looks like it is held together with duct-tape and chewing gum. The photos of it make it look like something from Road Warrior that Lord Humongous would ride. Anyways, the last sentence says that it's a day to "show the world that four-strokes aren't dead, in fact they've never been more alive." If they only knew…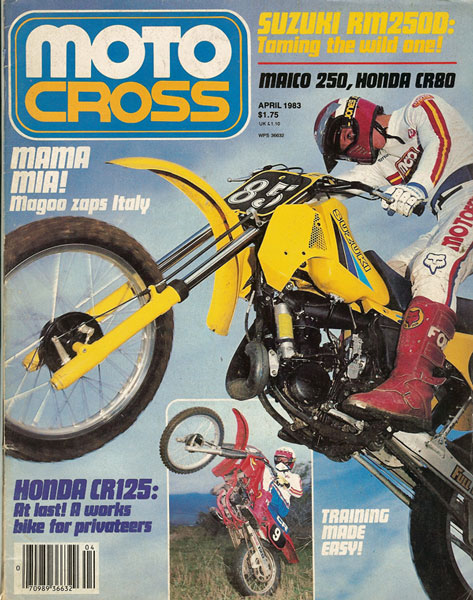 The new 1983 RM250 debuts with the also-new CR 125 in the smaller shot. Probably should have been the other way around as the mag says the new RM is smoother, more controlled and easier to ride which translates into slow. They liked the '82 but don't seem to be fond of this bike. At least Suzuki put a safety seat on the '83 model. I remember when bikes didn't have that and all you could buy an aftermarket one. The first guy that had one at our local track was the equivalent to the first caveman who discovered fire. We were all in awe.
The CR test goes much better, the editors have massive literary boners over this thing saying that the tracks all over America will be red, if you plan on winning this year in the 125 class, you had better be on a red or green bike and on and on. History does say tell us that this bike was good. A test with the new Maico 250 Spider (why can't we name the bikes today after animals? That would be cool) is kind of vague when it ends with "With a bit of suspension and engine magic, anyone can weave their way to the finish line." Huh?
There is an interview with the original black motocrosser, Andy 'Bro-Show' Jefferson. There's also a riders meeting story that was in last month's issue as well. They basically ask a bunch of pro riders the same question and we read what they had to say. Last month it was a question on whether or not the works bikes should be taken away and not surprisingly, most factory guys said no and privateers said yes. Imagine that.
This month the question is if the pits should be opened to fans and almost everyone says no. Take that you nosey fans. One of the only guys to say open? David Bailey.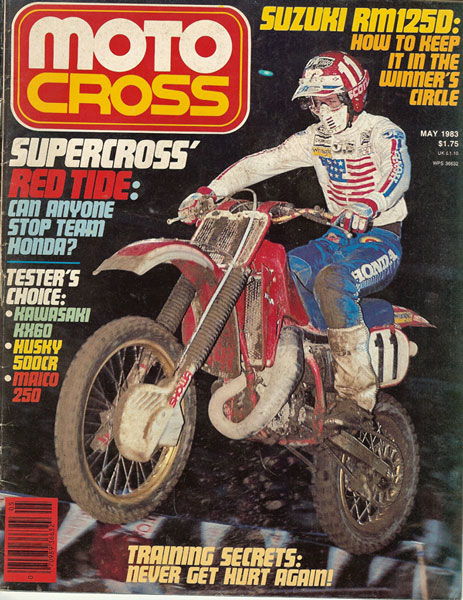 The May '83 issue has complete Anaheim coverage as well as the usual bike tests that include the Husky 500, Maico 250 and a KX 60. I challenge anyone to find a more eclectic mix of bikes all tested in one motocross magazine than this. The pit bits have a little write-up that Donnie Hansen was at Anaheim and is still recovering from his MXDN crash and unable to defend his 250 mx and sx number one plate. Donnie would never race seriously again. Sad story for sure.
The new product sections have a DG pipe ad featuring Barry Carsten on an RM125. Just kidding but there is a new Husky rear fender/numberplate combo thingee that you can buy to make your Husky look like the old KX's. It's sold by some company called Pro Circuit. Wonder what ever happened to them?
The opening round of supercross was won by David Bailey with Johnny O getting second on a last corner pass on Broc Glover who just ghost rode his bike into the starting gate and walked off in disgust. Bob Hannah fell in the first turn and came from dead last to fourth. The big controversy was a water pit put in by Mike Goodwin and had to be taken out after practice when the teams threatened boycott. Nice to know that twenty-seven years ago the tail wagged the dog as well.
There is coverage of rounds two and three in Seattle and it seems a Hurricane hit the Kingdome. Hannah swept both nights with Bailey getting second both times. Steve Martin finished fifth one night which is about 15 spots better than I had ever thought he ever did. Hannah goes on in the story to say the track sucked and that he's better than everyone.
The verdict on the Husky 500 is that it's a fun bike to ride, doesn't break, needs to lose at least ten pounds and needs more power. To to think about how slow it must be when the editors are wishing a 500 had more power! The Maico test is more of a "what you can do to make it better" test and they recommend spending a shit-ton of money on it. Imagine that.
There is a test of the new style of stand to replace your milk crate and it's an all-plastic stand that is made by HRP. Remember these ones that got super slippery when wet and let your bike slide off unless you were on a perfectly flat piece of ground? That was a small flaw in the design. They do say it's a good product but the $69 price scares them.
There is a test on the '83 RM 125 and the word is that it's smoother, easier to ride and more controllable which is exactly what they said about last month's RM250. In other words, Suzuki really blew it with the 1983 model year. It would be a long climb out for the previously dominant company. The '84s sucked, the '85s sucked. The '86s were a little different but still sucked, '87 saw a new blue motor but still a ton of suckiness and only in '88 did they finally have a good bike with the 250 only. Anyways, the mag says that pipes and porting are easy to get and handling and suspension aren't so this bike isn't that bad. Yeah except the part where you add more power and the handling goes away.
Just in case we don't realize the Suzuki is bad, there is a mini-shootout with the new KX and the verdict is that, in the words of Motocross magazine, "Kawasaki beats out the Suzuki with ease." And that is probably taking away a few points for the ugly-ass Kawi rear fender/numberplate thingee that Mitch sells for Huskys.
The KX60 is highly ranked for the green teams first ever try at making a 60. I remember the KX80 in '83 was THE bike to have. Everyone who had one just cleaned up in every race I ever saw. Anyone reading this who had one of these bikes just slowly nods their head and smiles when talking about that bike.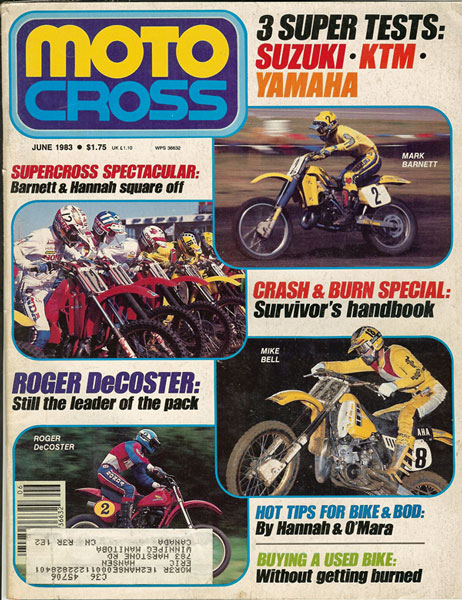 The June issue has a YZ60, RM500 and KTM 250 test so forget what I was saying in the above story. Apparently Motocross Magazine is trying to find the most jacked up bikes in history to test each and every issue. In the Pit Bits section, there is a paragraph about Darrel Schultz and how he's gone missing. His car was found at an airport parking lot after a month, his phone number was disconnected and Team Honda doesn't know where the 1982 500 National champion is. I'm not sure how serious the story is but I have to think it's pretty serious because no one has done ANYTHING on Schu since he retired. Maybe he's still missing?
There's a Brad Lackey update in which he announced that he is retiring from racing but that he's still very busy burning many bridges. Ok, I'm kidding but it is very strange that the guy won his life-long title and can't get a ride the next year right? He raced the 1983 500 USGP on a Yamaha and it was the only time he wore the number one plate. I interviewed Bad Brad a while back for Racer X and he seemed like a good guy.
There's coverage of the Daytona Supercross in this issue and Hannah kills'em again. Man, I guess Bailey was right when he told me how fast Bob went this year. He was determined to show Yamaha what was up after their relationship ended on a sour note.
The KTM 250 test is weird for me because I thought the 1980's KTM's all basically sucked. We never saw them in Canada, they were like an alien bike to us. The Canadian dollar made them almost double the price of a Japanese bike so no one ever rode them. In this test though they say the 250 is awesome and "has the power, handling and details equal to any Japanese racer." Wow, heady praise for sure. They then go on to say that the price makes it tough to get one of these because they are, ready for this?, a whole $2800.00.
The RM 500 test is much like the other RM models in that they say a less skilled rider will love the easy power, predictable handling and won't notice the badly undersprung suspension. Here's the actual words they use- "A serious, experienced rider will be spending some time (yes, they emphasized the word time) fixing the spongey forks and over sprung, under damped rear shock and some money (yes, they emphasized the word money) to make the motor sing. Whether or not the RM 500 is the perfect choice for you depends on the rider. Which one are you?" which means basically the bike really, really sucks because there is no way anyone reading it wants to admit they are shitty and the bike can work for them.
Do you think the Suzuki engineers responsible for the 1983 model year committed Hara-Kari and just fell on the sword over in Japan? I feel that it's time for me to remind you dear readers that Ross 'Rollerball' Pederson finished top five in the Canadian 500 GP on this same bike. Yes, he's amazing.
There's a whole 'Tell us a Story' with Roger DeCoster in here and I swear I didn't take the format from this magazine for this site. It's just RD commenting on some pictures which I always thought was way cool but the internet allows the subject to go on and on and not be constricted by space.
The YZ60 test says that if you're up against a KX60, you had better be prepared to work a whole lot harder 'cause the Kawi is so much faster. I think that's like saying your sewing machine is better than another guys. I'm not really sure why these guys are bothering to test 60cc bikes. Maybe Jody told them he didn't want the 80cc little pukes in his magazine so therefore Motocross Magazine has to do it?
Interview with Gary Semics in which he talks about his assault on the 500 GP's. It didn't go well, let's just put it like that. Did you know that Gary got a one year old works Honda to ride in '83? I didn't. Did you know that Gary finished seventh in the world in '82? I didn't know that either.
Some Atlanta sx coverage which was a massive mudder. Mark Barnett won with Hannah second after a first turn crash. There's that Hannah again, just simply on fire and with Bailey's ninth, Hannah's lead was now eleven points in front after four rounds. Look for the leader, he's on a Honda indeed.
Ross Pederson finishes eighth by the way.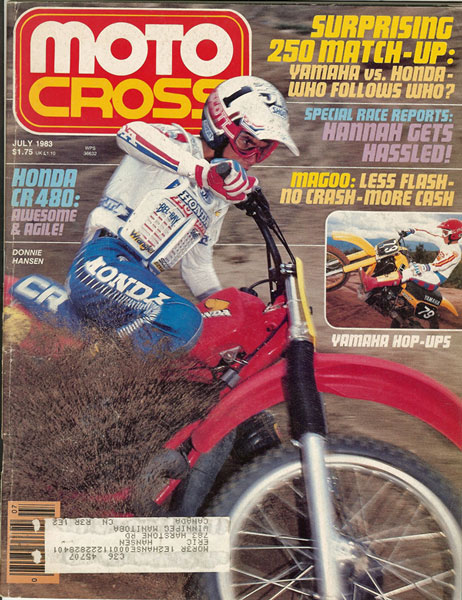 The July issue has Donnie Hansen on the cover test riding the new CR480. Later on this year Honda would re-name the bike the CR500 but the cc's would be 491. Confused yet? Anyways, this issue has racing coverage galore with the Hangtown motocross season opener and two supercrosses to report on.
The Hangtown national was a mudder with every shot having the guys just covered in slop. Mark Barnett wins the 125's and is trying to win his fourth tiddler title in a row. The guys go one to say that his bike is noticeably down on power to the Kawasaki of Jeff Ward. Imagine if I were to come out and say that in 2010? I had a KTM guy wanting to fight me at Millville for just typing that the KTM's sounded different.
Danny Chandler won the 500's with a 1-2 finish and guess who won the second moto? Yep, one of the all-time underrated motocrossers, Alan King. Got to find that dude one day for an interview. The 250's was won by, who else, Bob Hannah. Buckwheat is making a mockery of the 1983 season, he's the man on those trick works Hondas.
There's a test on the all new, technological marvel that is the KTM 504 four-stoke. It says at the end that if you want to get some fun back into your racing career, then look at getting this bike. Which is the exact same thing people are saying about a two-stroke these days. The more things change…
Included in this issue is a mini-shootout between the YZ and CR 250 in which the YZ surprisingly wins. I always thought the Honda's were so bad-ass in the mid-80's but I guess not. The staff of Motocross Magazine even admits in the story that this is a big surprise.
The Houston supercross was a double header and when Hannah took the lead on night one, he literally waved bye-bye to Glover and sped off for the win. Jesus, can you imagine the message boards if Stewie did this to Reed in 2010. The next afternoon, Bob fell in the first turn, broke his shifter and rode around in third gear the whole race. He still came from last to ninth. Barnett won on Sunday and it seems that something has to happen to Bob to allow anyone else to win a race this year.
There's an adver-torial on buying new plastic for your bike. The examples are that you can give your YZ a different look with white side panels and fenders. The only problem with that is that you still have the ugly-ass yellow gas tank to deal with.
The crew loves the new CR480. They say that they would pick this bike to race against anything else out there. Wow, who knew an air-cooled, drum braked machine that is as wide as a steam ship was that good?
The Dallas supercross went down and guess who won? Nope, not Hannah but long-forgotten Mike Bell. Bell had to deal with a kid named Ron Lechien for a few laps but then claimed the victory with Hannah second and Lechien third. This would be the last win of Mike Bell's career and he would retire at the end of the season.
There's a profile on the newest sensation Billy Liles who says that "Bob Hannah won't be on top forever" and that he will be right there as the next guy. Well, he forgot about David Bailey, Rick Johnson, Ron Lechien, Johnny O'Mara and many others because Billy was never able to get to the top. He still had a great career though and showed speed at times. In fact he might be the fastest rider to never win an AMA supercross and national.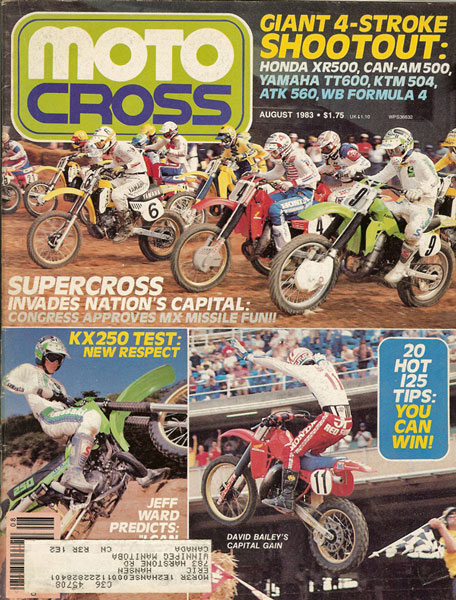 The August issue is pretty cool and I remember this cover as a kid. I'm telling you this whole getting a shit-ton of magazines in the mail has been both a blessing and a curse. The blessing is reading these stories and taking me back to a time when I just worried about riding and when the next Star Wars movie was coming out. The curse being that it's 11:18PM right now and I'm still up looking at 26 year-old magazines and feeling like the biggest dork ever.
Anyways, there's a section in there about moto people where it profiles different industry folks and this month it has Doug Domokos and a guy named Dave Coombs. One guy could wheelie on a piano wire and the other one helped shape motocross into what it is today. RIP guys.
There's a full page ad for "Jammin" gear which is indeed owned by "Jammin" Jimmy Weinart. This ad is ground breaking because the tag-line says "To be number one, you gotta be jamming" and under that says "Just ask Jenner and Jimmy!" And this is the freaking awesome part because there, in a Jammin jersey, is gold medal winner in the decathlon Bruce Jenner! Yeah that's right the old senile dude on "Meet the Kardashians" was at one time into moto! Who knew? How did this connection come about? You see the craziest things in an old motocross magazine.
There's a KX250 test with Jeff Ward riding the machine. It's crazy to think that there are so many issues that have top stars riding the production bike for the camera. It was like no big deal back then. Can you imagine Yamaha calling up James Stewart and asking him to come out and ride the new 450 for Dirt Rider? You wouldn't get the words "test ride" out of your mouth before there would be the buzzing noise of a hang-up. Anyways, they like the bike, it has disc brakes and a vented front number plate all standard on the machine.
There's coverage from the Gainesville national where Bob Hannah doesn't actually win. He's sidelined for this race with stomach flu. He can only beat himself at this point ladies and gentlemen. He's like Godzilla and the 250 class is Japan. Anyways, Scott Burnworth won the first 250 moto but only after local hero Kenny Keylon threw a chain with only a few laps remaining. Billy Liles won the second moto but the Little Professor won the overall with a 2-5 and RJ was second with a 7-2. Reminds me of Washougal this past summer. Barnett went 2-1 and O'Show 1-2 while Kent Howerton, who had to have been pushing 40 at this point, won the 500's with a 1-1.
There's an all four-stroke shootout which at the time probably seemed like the weirdest thing ever for the crew to do. Some of the bikes have headlights on them! There was a Yamaha TT 600, an Al Baker XR500, a White Brothers KTM 504, a Can-am Sonic mx that never tells us the cc's, an ATK 560 and a White Brothers homemade bike. It has upside-down forks, disc brakes, a Rotax motor and Honda components. Can you imagine if MXA showed up in next month's issue with a homemade bike to compete with the current OEM's? That would be classic. Come to think of it, the Cannondale was kind of like a homemade bike.
There's a Tell Us a Story featuring Tony Distefano which makes me feel good because this means TonyD stretches out his lead in the most page count held in a Hi-Torque publication world record. He was Jody's buddy back in the day and like clockwork they come out with a little story on him every three, four months detailing his career.
I went to three of his schools when he came to Canada and I don't remember much but I do remember him riding a Husky (which I had never seen before) and I remember him absolutely eating shit trying to turn a double/double section into a quad. He cartwheeled his brains out and we wondered if the school was over. He got up slowly and told us to "go do laps" which was code for "I think I broke something and I'm going to go lie down now."
There's sx action from Pontiac, Kansas City and Washington DC (?!?) in here and Hurricane goes 1-4 in the two night Pontiac race. The story tells us that he was still feeling the effects of the flu and would've mopped the house with everyone had he been healthy. In Kansas, Barnett won after Hannah crashed into a wall off the start and could only finish eighth. Rick Johnson had his best race of the series when he finished sixth. Years later he would throw himself in front of a bullet train if the best he could was sixth.
In RFK stadium, it was a war between Bailey and Hannah with David winning in the end. Barnett though had grabbed the points lead after Kansas and with his third, he stayed in the lead. After reading all the stuff that has happened to Hannah this year, if I had read that he got shot with a elephant tranquilizer but shook it off to get ninth-I wouldn't be surprised.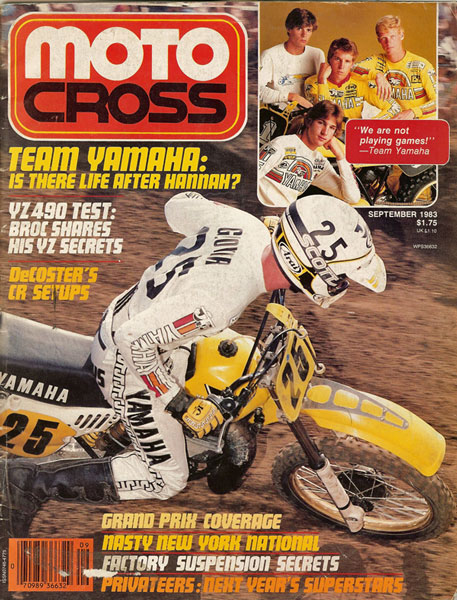 The September issue is chalk full of goodness. The editor, Ketchup Cox, writes his column on today's rider and they don't appreciate the fans. He goes on to lament the riders rushing in and out of the races and worrying about whether they can catch their flight home more than talking to the fans and the press. Is it 1983 or 2009? I can't tell. He says that with the "enormous salaries" the guys are getting, it's not too much to ask them to stick around and make nice.
There's a pit bit about Factory Yamaha, with Mike Bell and Rick Johnson injured, is putting privateer support rider Warren Reid on the vacated factory machines. That's good to know that this isn't a recent trend in our sport.
The Moto People section has a mustached Mitch Payton profile where it goes on to say that Mitch has expanded his Husky-only shop and is now making pipes for other bikes. I think this was a good move myself. It then says that Mitch and his crew have acquired a reputation for being thrown out of more restaurants than nuclear peace demonstrators.
There's coverage of the Binghamton national where the headline reads "A rock festival." Ouch. Honda debuted their brand new liquid cooled works CR 500's here with Magoo struggling on the bike while teammate Goat Breker got second on an air-cooled older version. Glover won the 500's going away and Mark Barnett won the 125's with a 2-1 and O'Mara went 1-3.
The 250's was won by, who else, Bob Hannah as he went 1-1 and by all accounts was the man this day. Bailey was second with 3-4 finishes and I wonder who got third? Hmmm, could it be that is was Canadian superstar Ross Pederson? Yup, with incredible 7-2 finishes on a bike that was probably crap, Ross got the final spot on the box. The luster is a little worn off when you see that Jim Tarantino went 5-3 for fourth. Still, awesome to see THE ROSS on the box at a US national.
Hop-up story on how to get your CR working to its full potential. It recommends swapping out your stock stator for a Motoplat one. It also says to replace your stock 125 forks with CR250 legs (a deal at $205.84 per leg!) and a CR480 triple clamp. Jesus guys, can I just get them re-valved? That seems a little extreme no?
There's a top privateer list of that season and some of the names include Karl Jordan, Jim Holley, AJ Whiting, Rodney Smith, Jeff Hicks, Steve Burdette, Frank Lamp JR and Denny Bentley.
There is an interview with the complete Team Yamaha squad and in the photo they are getting mud thrown at them while standing around a bike. I think this is a veiled reference to ex-Yamaha rider Bob Hannah and all the mud-slinging he's been doing towards his old team. The team of Broc Glover, Ron Lechien, Rick Johnson and Mike Bell all go on to say that Hannah's full of shit, they love each other and the team. Lechien says that they are not going to call Hannah a jerk but in the above paragraphs, they basically all do that. RJ says that him and Barnett got into it at a race a while back and Mark was so mad he punched out a car windshield in the pits! Wow, that's amazing. Then he says that he went and talked it over with Mark and they're cool but with Bob, you can't talk anything over. I think he's right about that as a few years after this, Hannah wants to go and kill Keith Bowen for some reason. I think Hannah didn't need steroids or anything like that, he just fed off his anger and got stronger. Like the Incredible Hulk.
Again with the guest tester as Glover rings out the YZ490 for the magazine. The bike rates well with the guys and there is a side-bar on Glovers factory bike and…it looks exactly the same as the bike they tested. Well except for an Ohlins shock that is. Poor Glover, it's a wonder why he didn't end up in an insane asylum after all those years riding YZ490's.
A weirdo shootout between a Derbi 125 and a Cagiva 125 grace us on page 50. Yes, I just said that. The Cagiva, with a little cute elephant as its symbol on the tank, rolls to an easy win over the Derbi. The Spanish Derbi "misses the mark by a wide margin" and I think that Derbi ad money probably also missed the Hi-Torque offices after this shootout.
In the new products sections, there is an ad for a EML Sidecar chassis and that's something that you just don't see in MXA anymore. Also there is Gold Belt Tacki grips, O'Neal pitboard and Wilcox Pro Action jersey.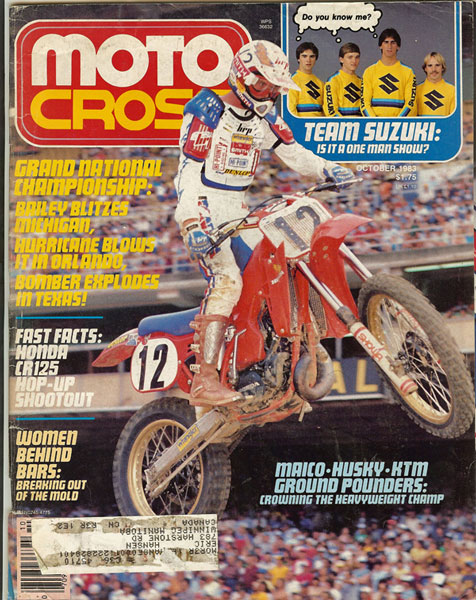 The October issue has Hannah on the cover in all his glory. That bike certainly will go down as one of the sweetest rides ever. Besides being superfast and all the wins he has, Hannah will be remembered by me as the pioneer of the chest protector. Who out there reading this did not have a version of his HRP Flak Jak? There were so many copies out there that almost anyone riding motocross in the '80s (and I'm pretty sure that if you're reading this thing, you're like me-an '80s mx dork.) had one at one point or another.
The moto people section contains a guy by the name of Super Hunky, Mickey Dymond and Jim Tarantino. Tarantino was called the "King of Saddleback" but as of this writing was holding down 5th in the 250 national series so I would say that, take away four guys, and he's the king of the 250 class. See, I never thought that Jim was much outside of a local So-cal dude but this proves otherwise. Super Hunky is just a legend and his stories are still pretty funny today and Dymond went on to have a pretty good career in motocross and is still around.
There's an open-class bike shootout between a Maico 490, a Husky 500 and a KTM 495 and it probably should have been titled "Weirdo 500's that you will never buy shootout." The Maico wins in a landslide and that's probably not a surprise as MXA brings up the fact that the early '80s Maicos were the bomb every few months. The KTM's motor was the best but it seems that the test riders wanted to be able to turn every now and then and not just ride the bike on the salt flats. Somehow, even with two shocks, the Husky gets second.
The Orlando supercross race report finally tells us what the hell happened to Hannah this season. At Orlando Hannah showed up with a hurt wrist from a practice crash. He soldiered on and tried to race but was forced into a DNS. Ronnie Lechien won his first ever supercross race on the 224 Yamaha. This rookie kid was turning out to be pretty good. With Hannah's injury, Mark Barnett moved into the points lead.
The Red Bud national report tells us that the crowd there was really rowdy and blew up an outhouse and that the place was packed. It's nice to see that nothing had changed over the years. Hurricane Hannah tried to ride but an eleventh was the best he could do from his injured wrist. It's all falling apart for Hannah right now. His lead in the supercross series is gone and after his Red Bud win, David Bailey is only three points behind in the outdoor series. Barnett's bike breaks while he's in the lead in the second moto to give him a 1-DNF score and Broc Glover is starting to catch fire in the 500's and goes 1-1.
Much like they did last issue with Yamaha, there's an expose on Team Suzuki in here. Mark Barnett goes on to say that with Hannah's injury it looks like he's out of it but his 34 point lead isn't safe because "Bailey is really coming on." Oh how right you would prove to be Bomber. He also says that O'Mara and Ward haven't beaten him in the 125 motocross series but that "their mechanics have." Ouch on that one Bomber. Other members of Team Suzuki this year include Alan King, George Holland and an underrated Scott Burnworth. The original Burner won some motos this season in the 250 motocross class and was always a great starter. In the story the riders all complain about Suzuki's policy of having the riders practice all week on production bikes and then show up on the weekends and race the full-works bikes. That does seem strange to me also.
There's a shootout between aftermarket companies SD Racing and Pro Circuit. They take a CR125 and have both companies do it up and the guys match'em up. The PC bike was the choice of the expert and intermediate riders while SD gets the nod from the slower guys. Larry Brooks is one of the test riders and he, not surprisingly, chooses Pro Circuit as the best pipe, best power spread and bike he would want to race.
Lake Whitney national report and Lechien is on a roll with another 125 national win on his OW Rotary-valve YZ125. This bike was widely reported as being pretty fast back in the day but when I worked at Yamaha I asked Bob Oliver about it and he said it was good but was nothing that great. He was totally unaware of the hype that I bought into as a ten year-old. Remember what I said about Billy Liles being the fastest guy to never win a national or supercross? Oops, scratch that as the "Kaw-boy" goes 1-1 for the overall. Remember, Hannah's out with a wrist as Al Michaels would say.
In the new products, there's an ad for Oakley B-1 grips but those things will never work. I don't think this company will be able to do anything but goggles really. They should stick to that and not worry about anything but goggles.
There's also the new Simons UDX-60 upside down forks that you can buy for your bike that retail for $679.00. That's probably equivalent to 7 million dollars back then. I remember the first guy in my local area that showed up with upside-down WP forks on his Kawasaki. My dad was blown away and wanted to know why anyone in their right mind would take off a perfectly good set of forks and replace them with these. Needless to say, Tom wasn't shelling out any money for these things.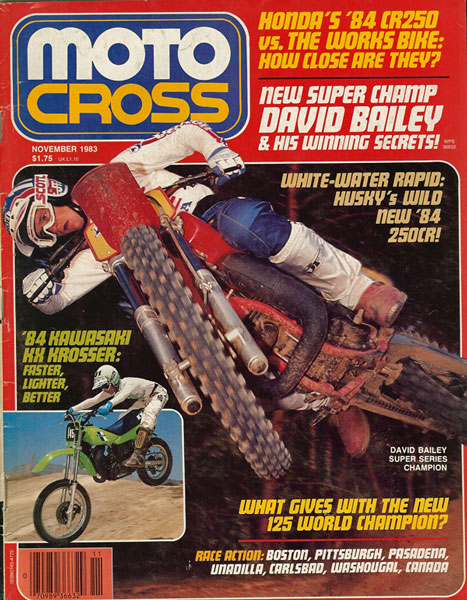 The November issue has da champ on the cover. David Bailey ended up winning both the supercross and 250 national title in 1983. Despite Hannah being the fastest man this year and Barnett holding the sx points lead late in the season, Bailey comes up on top. And new for this season was the addition of the Grand National Championship which was also won by David. In the pit bit section there is a little write up about Barnett and how he lost the 125 outdoor title by a few point, the sx title by two points and the GNC by three. That adds up to $250,000 that went bye-bye thanks to Ron Lechien and his ability to hold off Barnett at Millville.
There's also a picture of the new Bell Moto-4 helmet and who didn't have one of these at some point? And who didn't lose the rubber plugs in the front at some point thereby forcing you to put duct tape on them when it was muddy?
The Supercross series wrap-up reported on the Pittsburgh, Foxboro and Pasadena rounds and Barnet had the points lead with two races to go but disaster struck when, in the semi race, Barnett's Suzuki once again gave up the ghost and he couldn't transfer to the main event. That was it, with one round left Bailey grabbed the lead with his win. Man, every issue this whole year it seemed like I read something about Barney pushing his bike off the track. The final at Pasadena was won by Glover with Barnett second and Magoo third. Bailey finished sixth and it was enough to give him the win. Notable at the final round was Marty Tripes coming out of the weeds and lined up. According the mag, he was battling with Lechien for the final transfer spot and went down, injuring his shoulder.
There's a story about living with your RM's but nowhere in the entire article can I find the words "Sell it, buy a Honda and you'll win."
Big interview with Bailey where he talks about how he rode part of the season with a broken foot, he says that Barnett is just as good as he is and that RJ tries too hard and wants to win so bad that he crashes out. As usual, you get the impression that DB is a classy guy. Me being the Barnett fan back then, it was hard to hate the dude who seemed so cool.
There's a series of mini-interviews and one of them is with Jim Holley who says that he's going over to Japan to race the series over there. He's going to get paid 50K and seems pretty happy about all of this. We all know now that Jim didn't go over there for the '84 season like he said he was so I wonder what happened with that?
Report on the Washougal national where Hannah returned to action after flying to Japan for some experimental work on his injured wrist. He was leading the first moto by over 45 seconds when his tranny broke and he pushed his bike off. The curse of Hannah I guess. RJ wins the 250's, Barnett the 125's and Glover the 500's.
A Unadilla 250 USGP report has Bailey winning with defending World Champion Danny LaPorte second and Brian Myerscough third. This was the race that Flyin Brian had won but faded in the end and lost it. He dealt with some sort of virus all year. The real story is Ross Pederson finishing sixth with a 5-6 on the day. At least to me it is.
Right after this report is one from the Canadian USGP in Quebec where Kees Van der Ven goes 1-1 over "Gorgeous" George Jobe and, wait for it, Pederson. The story says that The Ross had the same times as Jobe and the home country fans were going berserk the whole time. I'm telling you people that Rollerball was one of the greats. You people just don't know it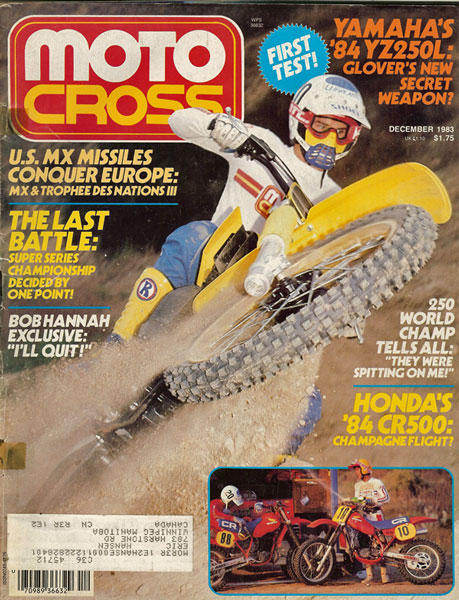 I covered this issue inside and out right HERE.