When I look at the 2010 Monster Energy Supercross series, there are a few stories that jump out at me as being interesting.
When I look at the 2010 Monster Energy Supercross series, there are a few stories that jump out at me as being interesting.
The two main combatants, James Stewart and Chad Reed, will both be fine and they will at some point piss each other off and profess extreme dislike for each other. I'm not sure that Reedy will be able to make as much of a race for the title as he did this past year for a couple of reasons.
One is that James Stewart won't give him that window of opportunity to get some ever important confidence. Last season, the change to the YZ450F wasn't an easy one for Stewart as he struggled in the early rounds with an ill-handling bike. This opened the door for Reed to get in there and almost capture a couple of wins. And here's the thing, even with a bike that visibly didn't allow James to get through the whoops without incident, he still couldn't grab a win.
I just don't think the set-up is going to be a problem for the L&M Yamaha team, they are on it and as team manager Larry Brooks explained to me recently, James is trusting of the team a bit more and will allow them to dictate the direction of set-up a bit. Another reason is Chad's lack of dominance down under in the supercross series in his home country of Australia. He was beaten a few times, suffered a couple of crashes and looks to be still getting used to the new Kawasaki. So we'll see when the gate drops, those two will most likely battle and I could be wrong about Reed not being on the same level because really, who would've predicted he would be so good in 2009?
No, one of the more interesting subplots to me involves Team Red Bull Honda Racing's Davi Millsaps and whether or not he can take the long awaited step up to become a permanent front runner. I'm talking week-in and week-out results that, at worse with no crashes are a fifth, at best he's grabbing the third spot consistently. There is no doubt that had his contract been up for renewal instead of teammate Ivan Tedesco, it would've been Millsaps on the street looking for a ride but life being what it is, it was the national winner Tedesco knocking on doors.
It seems like Davi has been around forever and we've been waiting for this enormously skilled rider to blossom but the reality is, he's going to turn 22 in February this year. Three years in the premier class a career does not make and perhaps the critics (which have included me at times) should just sit back and see the complete book before we just read a chapter and judge.
Perhaps the worst thing that could've happened for Millsaps was finishing fourth in the series a couple of years ago. That season included two wins (Detroit and Atlanta) six other podiums and over half the time, he was in the top ten. That showed everyone that the kid who quickly grew into a man was ready to battle with the best of them.
And that right there is part of the issue with Davi. He's got so much talent and his style is almost like a Kevin Windham, the dastardly "Is he pushing or not?" question that comes to mind. It's just a style that that doesn't always look like he's going all out. And like Kevin, the question in the pits is-where is that desire to win and the dig-down-deep fortitude needed to overcome adversity?
It's been long whispered in the pits that Millsaps is not in the shape that one needs to be in to compete for wins and championships and that he doesn't have the commitment to be the best that so many others have. It says something when, last summer, the Honda guys were more willing to fly out to Texas to test with Andrew Short than to drive an hour up to Victorville and test with Davi. They knew that whoever went out to Shorty's in Texas was going to see the benefit of their hard work and that the guys who went out with Davi could end up just be wasting their time.
By here lies the conundrum with Davi because Millsaps captured a moto win last season while Andrew Short did not. That day at Budds Creek, once again, showed us that he can do it. The spark is still there and more importantly, the skill is there as well. Yes, he faded near the end and just about got passed but a win is a win.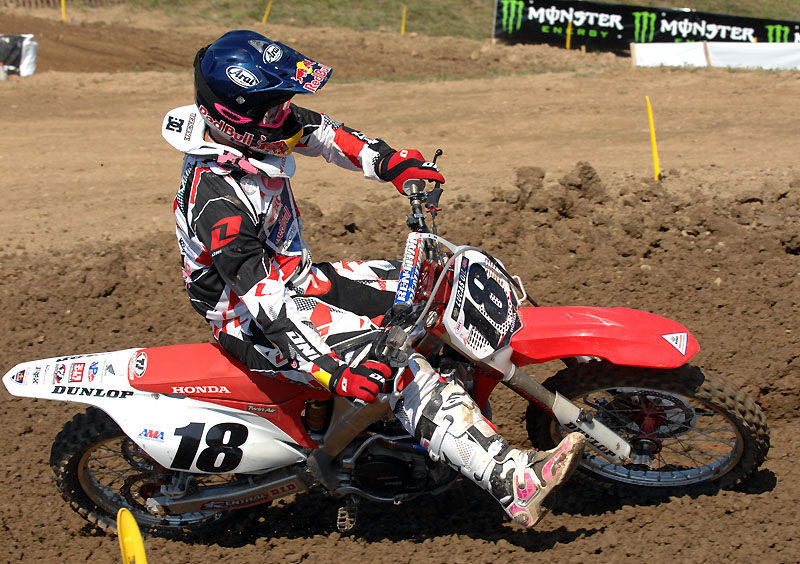 There are plenty of people wondering when the light is going to come on. Photo by Stone

There are whispers from the entourages of Millsaps that his struggles in 2009 lie with the all-new Honda CRF450 that Honda came out with. The bike is certainly a radical departure from past years and among the media, there seems to be a love-it or hate-it mentality.
This summer while I asked some of the people associated with Davi what was up, they said the bike wasn't fit for him, that he was too big for it and that it wouldn't handle the rough stuff. They all made it sound like the bike was the problem but to me, a former factory mechanic, that's way too easy of a way out. The people that whisper about the bike probably don't realize that they're severely underestimating Factory Honda and the way they go about modifying the motorcycle. It's a fact that Honda probably tests more than any other team out there, that they have more support from Japan than any other manufacture. Whatever Davi asks the guys at Honda to do to the bike, they can. If there is a problem with the motorcycle than it is small, something that a rider can ride "through" if you know what I mean.
I don't know what the true story is to be honest and as with most of these things, the answer probably lies in the middle of "he doesn't care" and "the bike sucks." What I believe to be true is that Davi is/was burnt out from the grind of being a professional motorcycle racer. Think about it, we've been reading about this kid from Cario, Georgia since he was on 80's. His mom and dad were the ultimate motocross parents, his mom going so far as opening up a training facility that is still tremendously popular with riders from all over the world. He's been groomed to be a motocross superstar, pushed all the time to get better and always had the pressure on him to perform. And perform he did, winning amateur titles all across the country and showing that he had the right stuff.
Somewhere along the way he met his future wife and by all accounts, this drove a wedge between mother and son. The mom maybe feeling a little threatened that she was losing the boy that she put her life into and the son finally getting the freedom to make his own choices as a man. It's a predictable scenario that has played out many times before in all sorts of sports prodigies. It's nothing that a little time and perspective change from each side can't fix. These things sometimes have to happen and as we've seen in our world with the Damon Bradshaw's, Damon Huffman's and Ezra Lusk's of our sport that time has a way of healing things as well.
Too much money, too few wins and a maturing process inside a boy that's turning into man all equal a sense of self-satisfaction that very few are able to shove to the back of their mind and do another 20.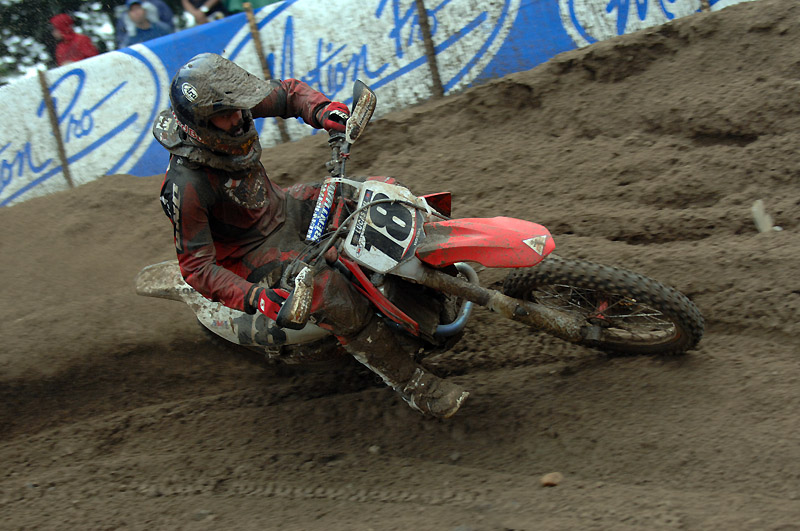 To me, watching Davi ride is cool and I think he's going to come on strong this year. Stone shot

After a few inevitable injuries that a motocrosser always endures, Davi's sx performance slipped dramatically in 2009. He's no longer viewed as the next thing and is just in that next pack of riders that, with the right breaks, could make it onto the box at the end of the night.
And that's a damm shame because Millsaps has all the tools to become one of the best, he just can't figure out to open the toolbox quite yet. There are glimpses here and there but not enough focus and from all accounts, hard work are put into the day to day preparation. One person that has extensive time spent down in the Tallahassee region told me that Davi was "the laziest human being alive" although I have to think that's a little far off the mark. Especially with myself still alive and kicking.
The point I make in bringing this probably erroneous fact up is the perception is out there with the other riders that he doesn't do much. Imagine if you were halfway through your moto, looked up and saw the #18 Honda a few corners in front of you? The mental boost from knowing that he's going to get tired and fade would certainly help you out.
So what do we have for 2010? Well we have an enormously talented rider who is now on the last year of his contract, someone that needs some stellar results to be re-signed by Honda. There is nothing like the thought of the gravy train coming to a halt to motivate someone to try and get back to the grindstone. Having had some personal changes happen to him this past off-season, Millsaps has an opportunity to make something happen again. Another year on the finicky motorcycle can't hurt, getting back in with his mom and her teachings should help and if he can just work on working hard during the week, things should come together.
Which what's going to happen? I don't know to be honest but don't be surprised to see an old face become reacquainted with the podium in 2010.