David Bailey. Rick Johnson. Jeff Stanton. JMB. Jeremy McGrath. Ricky Carmichael. Those are some of the greatest riders to ever grace the sport of American supercross and motocross and they have another thing in common as well. They all rode Hondas and rode the red machines very fast for many years.
David Bailey. Rick Johnson. Jeff Stanton. JMB. Jeremy McGrath. Ricky Carmichael. Those are some of the greatest riders to ever grace the sport of American supercross and motocross and they have another thing in common as well. They all rode Hondas and rode the red machines very fast for many years.
Since Carmichael left the team after the 2004 season, there hasn't been much to cheer about for the once dominant Honda team. Just five race wins in five years and no championships in the premier classes (250, 450 mx and 450 sx) and really, no sign of one coming anytime soon as well. In Europe, it's even grimmer, with one World Championship in nine years. Teams such as CAS and Martin Honda fly the flag well in recent years but it just hasn't worked for Honda across the pond in recent years. What happened to the OEM that used to just produce champion after champion?
Bailey, the winner of four titles for Honda explains Honda early mystique this way "It started for me with the Elsinore. Helping out at my dad's schools in the early '70s, I saw so many of them. The look and sound of that bike is unforgettable. Then came Team Honda and all the guys wore those unmistakable red, white and blue jerseys. Then the "Red Engine Type 2" works bike era really set them apart from everyone else. When I was young and hanging around the races with my dad, I always wanted to go see the Honda's and was never disappointed"
Eventually through his great rides on a privateer Kawasaki, Bailey managed to score a factory Honda ride "My first year there was 1982 and that bike was the most radically advanced bike in MX history. The next three years were filled with more incredible works bikes, rocket 500's, trips to Japan to see incredible bikes that never made it with crazy front ends, a 250cc twin cylinder and more" he explains and brings up another point of Honda being on the cutting edge "They were also the first in creating a testing facility when they carved out Hondaland."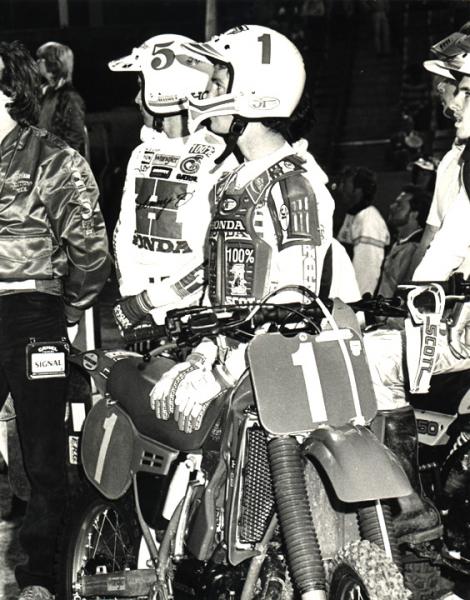 This picture just says cool.

Honda has been successful in practically every racing series it has ever tried to enter in its companies history, be it Moto GP, Indycar and even F1 to some degree with the engines it supplied. In the sport of supercross, Honda was an innovator and a leader in the pits and they are still in some ways. The 2010 season sees the factory bikes come with a hydraulic clutch, a first for a Japanese manufacture. Just taking a look at the CRF450's of team riders Andrew Short or Davi Millsaps and you can see the attention to detail and the money poured into the machines.
So why the lack of success in recent years?
To try and trace back what happened to Honda you have to head back to the 1986 season, back when the AMA made a bold decision to implement the production rule. This started the erosion of talent heading to Honda as for many years, the works bikes that HRC Japan sent over to America were vastly superior to anything that the competition was on. The days of Honda poaching superstars like Bob Hannah, Rick Johnson and Ron Lechien were starting to slow down starting in 1986. Sure, home-grown riders like JMB and McGrath would still fall into their laps but the days of riders flocking over to the red team strictly for the equipment was coming to a slow halt. "Everything was going strong until the production rule came into play in 1986. That's when the whole thing fizzled" says Bailey "The team members didn't get along and their run was over until they hired Carmichael."
Honda essentially 'bought' Carmichael as Kawasaki didn't have the money to keep RC, and for their investment Honda certainly reaped the rewards as RC won every title he was on the starting line for. A subsequent move to Suzuki for RC produced the same result which, in my opinon, says more for RC than the red team and its capabilities.
As production bikes got better and better, the rest of the OEM's caught up and the machines became less and less a factor for the riders as they shopped their services around. Honda winning five races in five years certainly isn't a case of them backing it down or not caring about being the best. They still have a big and experienced staff and, as I said earlier, they still have the high dollar trick bikes. As a matter of fact, Honda still gets its production motorcycle built in Japan and shipped over as complete "works" machines. None of the other OEM's do that, they all start with a production machine and massage it from there. So clearly, the effort is still there over at the big red machine, it's the results that have been lacking.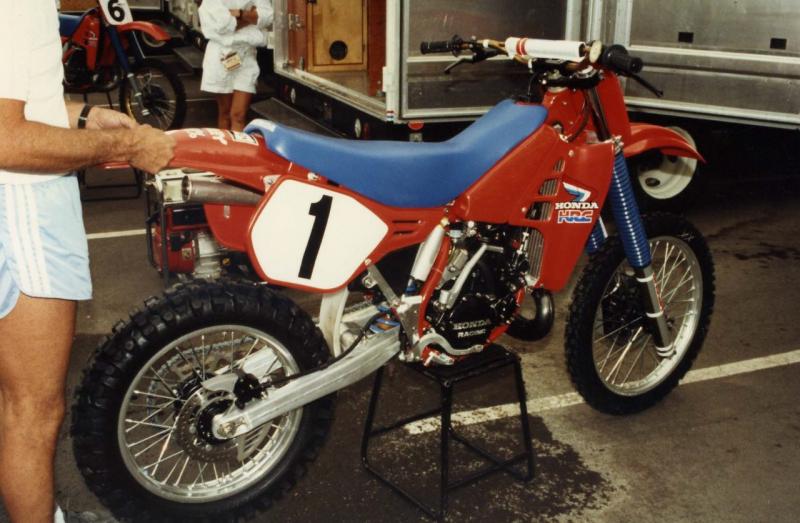 This might be the trickest bike ever, the 1985 HRC250.

Some rider decisions have been curious to be sure (Tommy Hahn on a 250F?) and some looked great on paper but just didn't work out the way either party wanted it to (Ben Townley) but to write off Honda as a team that doesn't have the will to win anymore is quite a leap.
There have however been a few missteps along the way with machines. Honda isn't scared to put something out there that is groundbreaking and revolutionary. They mostly get it right but a few times in the last few years, they've swung and missed. The 1997 CR250 was the first modern production mx'er to have an aluminum frame but it was plagued with handling issues. It took many revisions of the original frame to get to where they are at now. Then there was the all-new 2009 CRF 450 and it's "less is more" design. Basically what Honda did was shrink everything as small as they can and make a compact, tight handling motorcycle whose center of gravity was a selling point.
The magazine tests of the bike were mostly negative and those close to Millsaps blamed a lot of his lackluster 2009 season on the fact that he couldn't agree with the machine. He's a big guy and the bike just didn't fit him the way he would like it. The bike didn't get great reviews from Chad Reed either, as he test rode the machine while looking for a ride last summer. "My own personal opinion is that the production Honda is the worst bike out of the Japanese brands" says the two-time supercross champion who, although he won't admit it, took a spin on a Honda once or twice in the summer while trying to make up his mind on which bike he wanted to look at.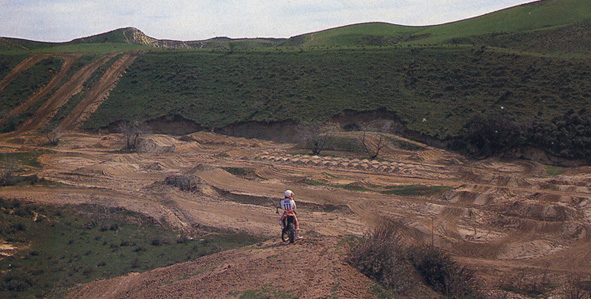 JMB out at Honda-land, the state of the art testing facility.

The current riders over there won't comment about the machine besides the usual, "Everything is great" but I really wanted to know what it was like to ride at Factory Honda. I wanted to know if the ghosts of past champions bear down on you around every corner and if the whip is cracked each and every time a win isn't recorded.
One of the good guys in the sport is Andrew Short and he's ridden Honda for a while now. When asked if there is pressure over on the red team he had this to say "I've been here for six years now so maybe I've become numb to it (pressure). When I came here, I just thought that I had to win and might've shot myself in the foot a bit with that. Obviously you have to expect to win and all that but when you start putting a ton of pressure on yourself, that's when things go wrong" says the man who has recorded two of Honda's five wins in the last five years.
"It can be dangerous to put so much pressure on yourself but I've learned a lot along the way. I had a successful Lites bike career and that moved me into the 450 class. What they expect from me is the final thing and that's winning a supercross title for them" says Short which is revealing for the fact that what he says is pretty much what every team says to its high-dollar riders.
What's it like to work at Honda? Who has the actual whipping responsibilities? When I asked Shane Drew, a Honda race team member for 14 years and current head of the chassis and suspension departments, he laughs and says that it's no one. He then adds this:
"I've heard ever since I've been here from the outside about how much pressure Honda puts on its riders and that's not accurate at all. It can't be any more pressure than any other factory team and I think every rider puts a ton of pressure on themselves because they're on factory Honda. That's where pressure, if there is any, comes from in my opinion" says Drew, himself a former AMA national number holder.
He goes on to explain what happens when the team is working behind closed doors down at headquarters located in Torrance, California "For sure the goal is to win, that's why we all do it and everyone works hard all week in order to do that. What we try to do at Honda is surround the riders and crew members with the best people in the industry and everyone learns from each other to try and come up with the best solution for whatever problem the rider has with the bike. Now having said that, when we go into our meetings, we all see the number one plates from every title they've won since 1973 on the wall. We all have a sense of the history of winning that Honda has had over the years."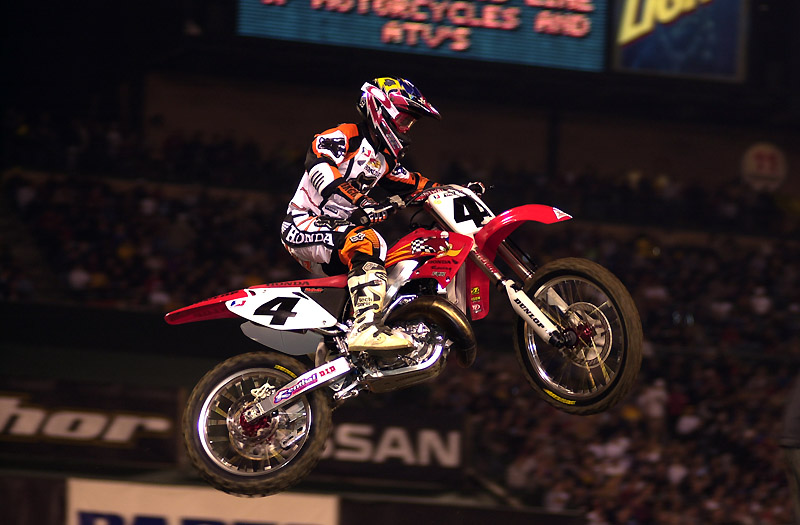 There was nothing wrong with Honda when RC rode there. Photo by Carl Stone

Short knows exactly what Drew is saying and he backs up the work the team puts in to help him succeed "Those guys are cool and have been there for me. They've been supportive and given me all the tools to succeed. They are hungry to win, maybe more than ever before, because myself, Davi and the guys that have been here recently haven't gotten it done for them. I have a sense of urgency to go out there and get that win for them. They're on our sides and now we have to deliver for them and hopefully we do."
Bailey sums it up the best he could when he told me "Now the team is as organized as ever, the bikes are amazing and cleanly put together, but they aren't winners anymore. "
So what can Honda do to get back to being the place to be in the pits?
Well, the way to get back to the glory days is not that simple really. In the '80s the team had the absolute best bikes but that field has leveled quite a bit. They used to spend more than anyone else to go racing but that too has shrunk in recent years and although the team still probably spends as much as anyone out there, there isn't the win-at-all costs mentality that was maybe there in the past.
The last two years, Chad Reed has been on the market and available for hire and he's ridden everything but red. During James Stewart's undefeated motocross season a few years back, it was no secret that he was leaving Kawasaki at the end of the year. Here was Honda's chance to get the premier talent in the sport who was at the peak of his abilities and they weren't interested. They were even primarily backed by Stewart's personal sponsor of choice (Red Bull) and the union didn't happen.
Says one industry insider who preferred to remain anonymous "It used to be no big secret that if Honda wanted a rider, they could out-bid anyone else in the pits and grab them. That's changed in recent years and it looks like the management has decided that having three or four guys along with support teams at the same price as having a James Stewart is a better investment."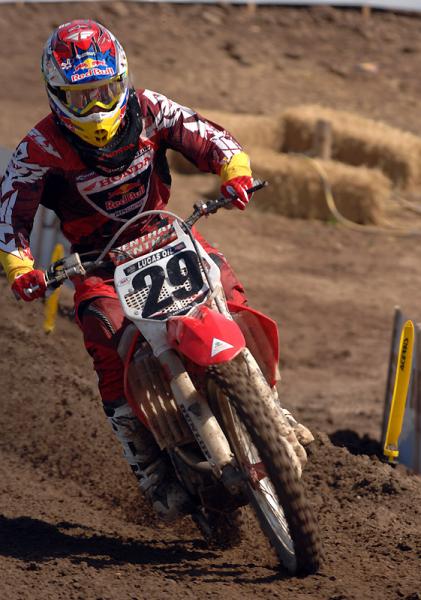 Andrew Short has come as close to winning as you can possibly be without actually doing it. Photo by Carl Stone

When asked how Honda can get back to dominance, Drew's take on it is the rider makes the team "I think that we all know that in this sport, the rider is huge. When we had RC and (Kevin) Windham a few years back, we won every national and supercross but one or two or something like that. No one was calling me and asking me about the pressure then!"
Bailey's take on what can get Honda back to being the premier team in the pits simple-win.
"Marty Smith won. The powerhouse teams of the 80's won! Carmichael won. They don't win anymore and the bike no longer stands out. If they hired Stewart and he spent the rest of his career there surpassing McGrath's record and developed a new bike and rode outdoors with a teammate he could take under his wing to continue on winning after he retired it would help, but the fact is it would take several more Stewart's to make it like it once was"
He goes on to say "Teammates is a word that could also describe Honda during their dominant years. I had teammates like Johnny O'Mara, Lechien, Hannah and Danny Chandler. At one point we were on the team together. Another year had me, O'Mara and (Rick) Johnson together with led to the "Dream Team" in Italy. Can you imagine a team today with Stewart, Villopoto, Dungey and Pourcel all on the same insanely trick Honda's for example?"
If Honda ever signs one of the big two, then they can win consistently. It's that simple. With homegrown youngsters like Trey Canard and Justin Barcia coming up through on the GEICO Honda squad, maybe they will end up just finding their Ryan Dungey or Ryan Villopoto. That rider will make the jump up to the 450's and immediately become a front runner. Right now with Short, the Red Riders have a racer that has finished top three in the points in five consecutive series. Certainly he's no slacker and no one on any team would turn that performance down.
So really, like a lot of things in the sport, it boils down to the rider. There is no doubt that Honda has the equipment, the personnel and the resources to be on top again. They aren't going away and history certainly suggests that the winged ones will emerge again as the best once again.