The scanner in the Matthes house has been busy.
The scanner in the Matthes house has been busy.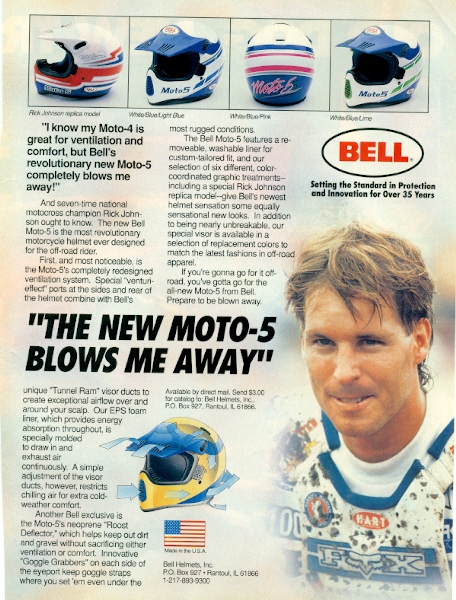 This quote should be changed from "The new Moto-5 blows me away" to just "The new Moto-5 just blows." Who was in charge of making sure the visor was in the right position for photos? They should be fired. The Moto-4 was an iconic helmet for many reasons and then for some reason they came out with this thing that didn't fit, was ugly, the mouth-guard was an inch away from your mouth, the rubber thing on the top fell apart and the visor had holes in it to allow dirt through. Other than that, it was great.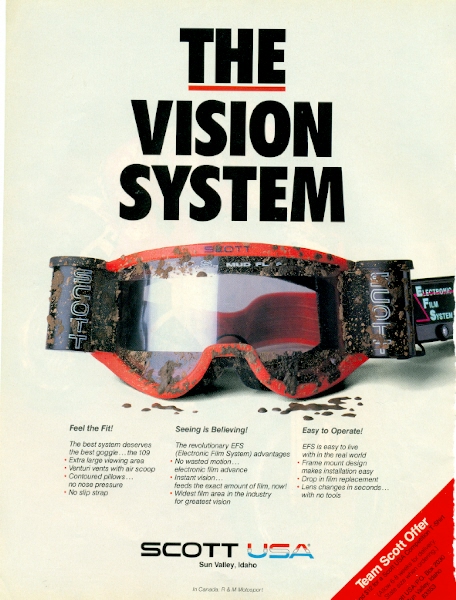 Still on the subject of blowing, this Scott EFS thing follows that same path. It was a light sensor that moved the film which is a cool idea except that the film advanced all the time. You would go in between trees and the thing would move. I had a Moto-5 and yep, I had a pair of these as well. I think, after exchange, they cost $429.73 Canadian and the film wasn't cheap either. They then got rid of the sensor and changed to a button but it wasn't much better either.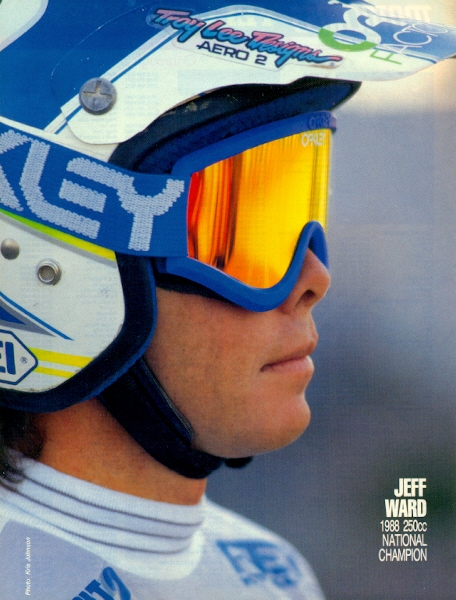 An Oakley ad that just reeks coolness. I had some iridium lens goggles and they scratched if you looked at them wrong. They were oh so cool though. Wardy ran the open face look for a long time.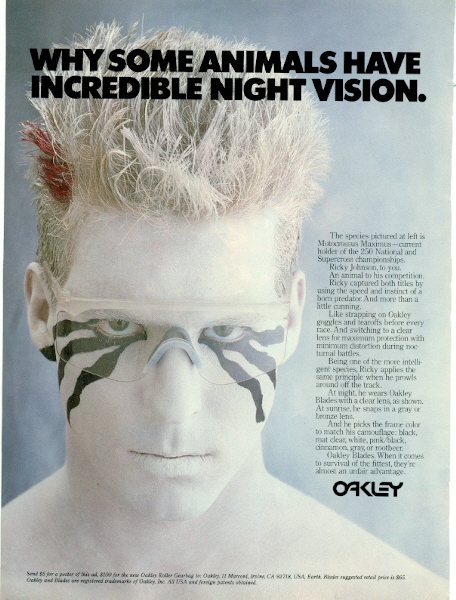 Another sweet ad and between this and the naked "Thinker" Fox ad, RJ was on the cutting edge of pushing products. Man, I loved Oakley blades and you know those glasses that are shaped like googles Oakley first came out with years ago? Last time I was in PC, Mitch had a pair with a clear lens that he wore when porting.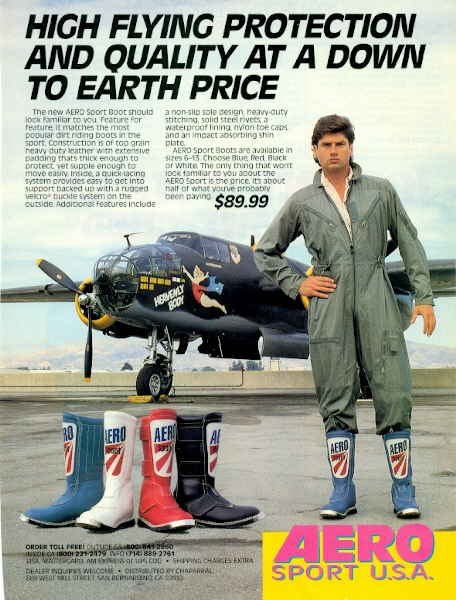 Did anyone have a pair of these? I scanned this ad because I just want to point out that if your an unknown moto company looking to break into the scene, don't come out of the gate with an ad that has nothing to do with MX. A pilot? A bomber? Really? C'mon man…it's like that Wolfsport ad with the dudes holding giant swords. It's not going to work, get a guy on a sweet looking bike, have him exploding a berm and call it a day. Jesus, why do I even have to point out why this ad is dumb?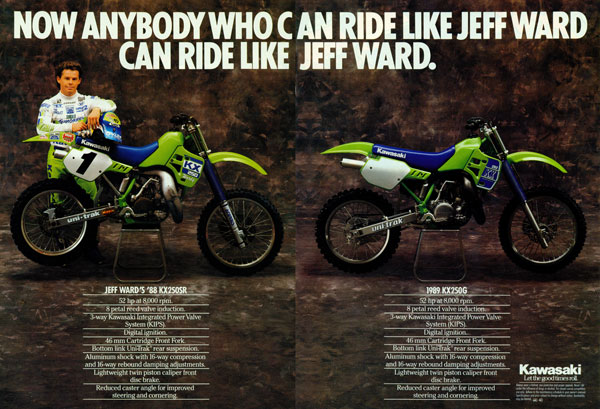 Kawasaki usually has cool ads and this one is no different. Wardy's race bike and then the new '89 Kawi's with some convienent things that are the same. They don't tell you about the works transmissions, titanium bolts and other cool things. The '88 KX250 was pretty good but as wide as a steamship. The '89 was a little slimmer and worked just as good.
Seeing as how Fox is all mad at me for making fun of Josh Hill's gear, I thought I'd throw this in here to show them that, at one time, they made some awesome looking stuff. I'm sure everything will be forgiven now. Anyways, I had two of these prints and my brother had a couple as well.