We go behind the story of this famous ad.
We go behind the story of this famous ad.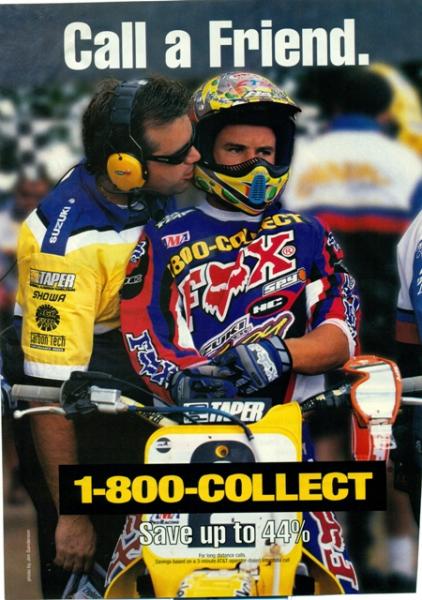 This was a pretty big deal in the pits when it happened. Don't the MC Suzuki days just seem weird now?
"I came back to work for Jeremy at Red Bud that summer. Suzuki wanted to make a change with MC's mechanic and this picture is from the starting line that July 4th. That race was pretty cool, we came so close to winning it! So 1-800-Collect wanted to make an ad with Jeremy and we were talking about stuff when someone says "Why don't you do Call a Friend." It was literally a ten minutes conversation between Jeff Surwall, who was running No Fear, and all of us. So we worked it all out and it was my idea (laughs)…of course it was.
I had been his mechanic for years but decided at the end of the 1996 season that I was done working for him. It was pretty simple decision for me, I was starting a family, had a son and I decided to just be a dad. I was very fortunate to be around some great guys in my career. My team managers and I always had conversations about life and where it takes you. To e honest and very frank, I didn't want to wake up one day and just go "Wow." I didn't want to travel anymore. So what do I do? Well I was fortunate that I could stay in the industry and get a job that didn't require me to go to the races every weekend.
That didn't last long though!
When they called me, it was an easy decision to come back. Suzuki and Surwall worked it out well together so that I was able to go back out on the road and then when the nationals ended, I still had my job there at No Fear. It was always just going to be for the last half of the nationals, everyone knew that. I wanted to watch my son grow up and Jeremy understood.
There's nothing like being around the races, you get hooked on the adrenalin. I think anyone that works with a group of people that are all on the same page, have the same goals and are moving forward to it realize just how special that is. And I mean that for any walk of life-no matter what you do for a living.
It was a learning experience for everyone involved and it worked out for the better that he left, he won a few championships afterwards. All those guys on the starting line can win, they're all amazing. The mental side of going out and racing is tough, you have to have your game on and all the pieces have to be in place. Jeremy and Suzuki both wanted to win races and we got to a place where the bike got better that summer. For whatever reason, come the end of that season some decisions were made to split and it worked out ok for both parties.
I jumped into it right away and I had relationships with a lot of the guys at Suzuki already so they welcomed me with open arms. Whatever I needed to have, they helped me out. Fortunately, it was two-strokes at that time and they're all the same. Mike Larocco Sr was on the team at the time and he was a lot of help. He got me up to speed on what they had done, what they were doing and how the bike was. As far as Jeremy and I, we never missed a beat really. It would have been nice to have done a little better as far as results go but Suzuki ended up winning a few years later with Albertyn and MC won on the Yamaha.
I think there were a lot of things going on with the switch. For me, it was one of the funnest times that I had in my career. I got to work with Roger DeCoster at Suzuki and we just really tried to get that bike better. It was cool because some of the things that we found out made their way into production that next year. It was a cool experience for sure. It was unfortunate that it didn't work out for Jeremy to stay at Suzuki. I had retired and gotten off the road and I'd like to think it was easier for us to get back together, the trust factor was there. We came into the scene together and we worked really well together. Everybody has buttons that they need pushed once in a while, including me, he knew how to motivate me as well. We clicked, I don't know what else I can say.
Getting off the topic a bit, when MC was starting his race team, he was asking about who I thought would be a good guy to get and I rattled off a few names. Then he said that he was actually thinking about me! So off we went again to go racing, that was about three years or so, my wife and I talked about it and we were in a position to where it was going to work out. It was a supercross-only deal so that was appealing to me. It worked out well and Jeremy's is just an amazing guy."