Read the transript of the Carey Hart interview right here, you know, in case you didn't listen to the show. And if you didn't…why not?
Read the transript of the Carey Hart interview right here, you know, in case you didn't listen to the show. And if you didn't…why not?
Me: Thank you for coming on the show.
Carey Hart: All good dude, no problem.
Me: So let's talk about it… thoughts on the season? It's over. What do you think?
CH: I thought it was a good year. I mean, we had our ups and downs, just like any motocross program does. You know, you can't really control injuries and stuff like that, but I think for the most part Kenny and (name?) and Berluti did a good job of getting the guys to the races and giving them all the tools they needed to. And the guys really stepped up and performed.
Me: You had to have been happy. I mean obviously Boni had some injury problems, but I wasn't so sure Blose would do as well as he did. I thought he did pretty good.
CH: Yeah, I think this being Blose's first year on the big bike, like a solid year, I think he did great. He came to town and worked hard, did the homework and put in all of his hours. I mean hey, he's riding that top ten bubble and we're happy. I definitely know Boni had a tough season, he tweaked his knee pretty good early in the season and he's actually going in for surgery today for it. You know, he sucked it up and did the best he could and got through the season. It's tough and especially, I can speak from this side, you can't control injuries and you can't control getting hurt. All you can do is try to rise above it and go out and put down your best ride
ME: You seem like a guy, you're a former race so you know the deal… what's it like as an owner to sit there and watch guys maybe not perform as well as you want them to or hope them to? What kind of owner are you? Are you throwing chairs or are you yelling back at the truck?
CH: I mean the thing is, I've been on both sides of the fence so I can relate to what the riders are going through. Kenny can back this up. I've always sat down with our guys and said 'Listen, if you guys are putting in the work during the week, and I've been this way since day one, 'if you guys are putting in the work, doing your homework, you're training, you're testing, you're practicing, that's all you can do.' Everybody wants to go in on Saturday night and win and do their best. At the end of the day, you can only do what you can do. And it would be a different situation had the guys not been doing the time during the week and working hard and not buckling down and training but these guys did just that. So I mean you've got to take the good with the bad. So no, I'm not that type of guy. But hey, had the guys been slacking during the week, yeah I'd be the first one back in the truck raising hell and making a stink about it, but all my guys have always worked really hard and trained really hard. And that's why we keep our race program based out of Vegas.
We can keep an eye on them, and know that they are going to the gym, know that they're going to the test track and not just calling in from Florida or calling in from Arizona and saying 'yeah I'm doing my homework and I'll see you at the races.' That's why we set our program up the way we do. That way we can kind of micro-manage them a bit. Like I said, at the end of the day everybody wants to show up and win and the reality of that is that only one person wins every weekend.
And, like I tell these guys, no one's harder on a racer then a racer themselves. So to have a third party come in and hammer on them, yelling and screaming and all the rest of it, I mean that doesn't do anything positive or good, it just turns them into more of a head case. And be more worried abut the next race coming around and more concerned about keeping their job as opposed to just going out and doing what they have to do.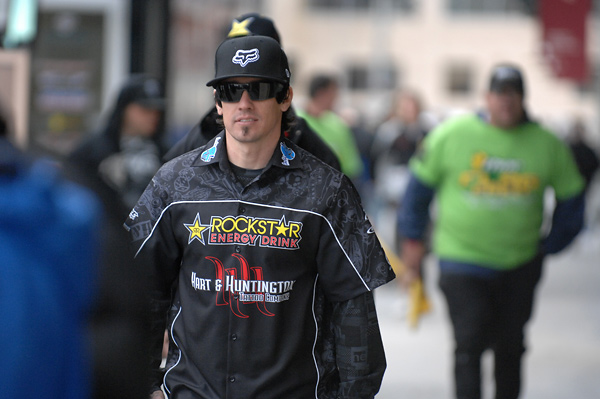 Hart's a busy guy. Lots of very important stuff going on with him. Which is the exact opposite of me. Photo by Lissimore

ME: You're absolutely right. A couple of things that I think are really cool about you guys and your team… For one, the pit presence is awesome. You guys are killing it on that and Feld is really embracing you guys. I mean they're right there with you and years ago, as we all know, that wouldn't have been the case. So it's cool to see that come around. Also I like the fact that you let Josh Demuth ride the last little while. That's cool, just come on, bring your bike, it doesn't need to be a Honda, just join the team and do the best you can. That's kind of cool, that speaks volumes for your program.
CH: When we got into supercross, I know it's unrealistic to think you're going to show up and win. It was only realistic to know that these last couple of years going into racing, we'll say ok, we got some really solid riders, let's set realistic goals. Consistently make mains and shoot for that Top Privateer Award. And that's what we did last year, that's what we achieved. So with that said, we have to create a way to not only build a fan base but maintain a fan base. And how do we do that? It's to let these kids and adults alike walk away feeling like they were involved with something. They come to our truck, and we did the Rockstar pong last year and this year, we're just being very interactive with the crowd, and that's how you establish and create a fan base without having the results to back it up. I think that's a crucial part of a building process, because you know there's only two ways to succeed in motocross, and that's to create a fan base or to go out and win races.
And I'm going to be honest, we haven't had the financial means to go out and win races. I mean it takes money to go establish that talent for your staff and also the parts to go along with it. So I think we set realistic goals and we try to keep it fun and interactive and have cool looking bikes for people to come by and look at. I'm always out there hustling autographs and the riders are too, they're always out there talking with the fans and vice versa. It's always a building process and that's what we've kind of built on these last couple of years. And now for 2011, we've already been working hard on 2011 and its time to kind of step up to that level and its like, 'Ok, let's lock down some guys that can get on the box and be consistent top-five and start being a threat on the track.'
ME: We've touched on Blose, having some issues….
Kenny Watson: Speaking of Blose, I don't want to cut you off Steve… but today we just got the call from Blose. Mid season, right before Jacksonville, we came up with a new setting, were doing some testing and he had a spill at the track and complained about his wrist a bit. He dealt with it, did his thing, rode with a little pain. Well this weekend they had that long straightaway coming in and that big sinkhole, and after the first practice he was really complaining about his wrist. He went and got it checked, and they really couldn't give him an answer. Well, he got the call this morning that he had had a broken navicular for the last six races. That just shows you right there the heart the Chris Blose has. He twisted his ankle where most guys would have put it up and sat on the couch for two weeks. He stuck it out, that kid has a lot of heart and that's what we ask for from the kid and his goal was to make it to every race.
Me: Yeah, and you could see him limping bad from that ankle. It wasn't minor.
KW: Carey was there when he did it, and Hart was one of the first guys to say 'hey dude, if you're not feeling up to it, you don't have to ride. And he (CB) said 'well I'm not here to watch.'
CH: Definitely. As a rider, you have to listen to your body. At the end of the day, and I've learned this firsthand, its one thing to suck it up and get through an injury and ride and at the sane time too, sometime those injuries can take you completely out and get you hurt worse. And I learned that the year I tried that flip in Philly. I went in with a busted shoulder and I knew I shouldn't be riding, but I fed into the pressure and I went out and hurt it worse and shattered my foot and ankle and all kinds of other stuff. And these guys always want to go out and give it their best. The last thing they want to do is sit on the sidelines and watch, but sometimes you've got to listen to your body. With that said, like you said Kenny, Blose has just so much heart man, he's just a little fireplug. He's just a stocky little kid and he'll ride though anything. He's just got so much heart.
Me: You touched on it a little bit, on 2011. Now I've been around the pits a little bit, hearing some rumors, saw you talking to some bigwigs, different teams… are you stepping it up big in 2011? Do you know yet? Are things still going?
CH: That's definitely the plan. I've been working, along with Steve Astephen, my manager, who represents the team and myself. We've been working on 2011 for a couple of months now. I want to get way ahead of the curve. We got over a three year hump, which is usually hard to do. This was our third season of Supercross and now going into season four we really want to make a splash. I've been working really hard and if everything goes as planned, you know I don't want to rock the boat, but I got some pretty solid irons in the fire with some outside corporate companies that are going to come in and really kind of elevate our team to where we can we can team up with a factory program and become a self-sustained factory program to go out and start winning some races, or at least start getting on the box.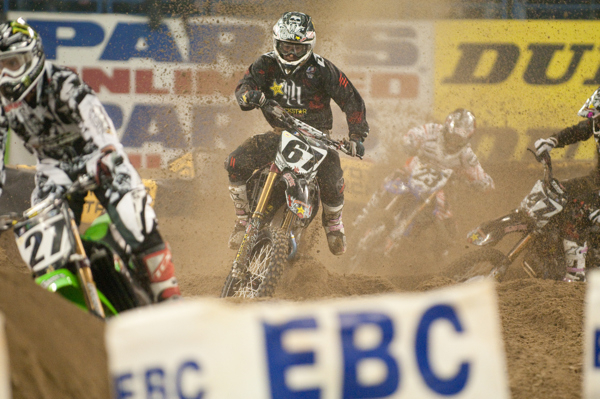 Blose fought hard to have a pretty good season in his first full year on 450's. Pic by Lissimore

Me: Sweet. That would be cool. Let me ask you this. On an A-Z scale, grade Kenny Watson's performance this year.
CH: Z being good or Z being bad?
Me: Z being the worst, just like school.
CH: No, Watson is top-notch. One thing I have to say about him, we've been working really closely over these last few years. It's funny to kind of look at any industry really, not just motocross, you go into any industry where things have been done a certain way, for the history of it. People are kind of set in their ways and they think, 'this is the right direction, this is how we have to do it.' And when we came into this and I'm sure you've hear Kenny say this before, I came into this as a business. This isn't going to be just ran from the hip, and here's a credit card and here's your riders and here's your semi and go out and race and let's figure out where we are at the end of the year. It's P&Ls and it's all that kind of fun stuff and running it as a business. It was a huge learning curve for Kenny. Having to follow a spreadsheet of pluses and minuses and what he can spend and what he can't spend. And he's taken it really well. He's been able to learn the fast track of Business 101, and to be able to string dollars along and go out and shop for the best prices on flights and hotels and I know it sounds kind of innocuous but those are the things that make people be able to go out and race and continue racing. I know we can all pull up a horror story about a team that came in hot and overspent and they were gone a year later. And this is a business.
Me: We could pull up about 50 horror stories.
CH: Exactly. And that's the thing… Kenny, like I said, in a really short amount of time, he's learned, he takes it in and he knows how to take the tools and go out and run after the series. At the end of the day, I think Kenny was top notch in these last few years, and really even this year. Each year he learns more and more and I feel completely comfortable having Kenny run this program as long as we're out racing.
Me: Wow, Watson.
KW: Can somebody get me some Kleenex? That's the nicest thing you've ever said about me.
CH: Don't get too comfortable buddy.
Me: But hey, we didn't get a grade.
KW: Believe me, I won't. But we've come a long way from the podcast when you were yelling at me about the flat tires.
CH: Oh yeah… and believe me I still do some yelling. I have to say, there was one time this year… where obviously always fall third, fourth, fifth when it comes to the race team….We came into supercross and I had just gotten out to California and just finally got my outdoor bike built. And not to pat myself on the back, but my time is just so limited. If I can free up three hours to go riding I want to maximize it. So I load up my stuff, its Saturday morning, and I head out to the local track.
And I always ask Kenny "my bikes dialed, right? I don't have to worry about wheels falling off, no crazy stuff?' Well sure enough, I get out to the track and I'm out there riding with double throttles. And I just snap. So Kenny is at Supercross trying to deal with everything, and I'm on the phone screaming up and down at him about how I'm at the track with double throttles and I can't ride my bike and I've got supercross gearing on my outdoor bike, so yeah, he got a good chewing out on that one.
Me: So give us a grade though Hart, we need a grade. It's very important for the listeners of the show.
KW: Hart, I told him I never got an A in my life. I don't expect to get one now, because I wasn't perfect.
CH: No one can be perfect. I think at the end of the day, we have our learning curves and we figure things out as we go and that's a big part of it. All in all, Kenny does a really solid job. And our sponsors can speak to that. I mean even though he walks around the pits with his ass hanging out and his pants around his ankles, looking like a knucklehead… aside from that he does a really good job.
Me: Alright, I'm going to give it a B then. Hart's not gonna say. I'm going to say you got a B. Maybe you got an A last year when Boni was Privateer of the Year. And if things don't work out with race team, maybe you can be a fulltime internet radio personality like Ellis. He's gold on these shows.
One last question, I always like to ask this whenever I talk to you. What's going on in your life? What are you doing tomorrow or next week? What's on your schedule? Because you're one busy guy.
CH: It's hectic. I mean honestly, I'm still down at the office. It's almost 7:00pm and I haven't left yet. This is my one day in the office, tomorrow I'm actually testing my race truck, so I'll be out testing all day tomorrow. And then off to California. I've got about ten days of stuff and 2 ½ months of work before I head to Europe go back out and do another tour with my wife. A lot going on, it's just that time of year. I'm trying to run three, four businesses and kind of maintain. The one nice thing is now that Supercross is a wrap, I can kind of put the day-to-day behind me for the next three or four months until we're back up and running. It's a constantly evolving, moving piece. It's either the nightclub, the clothing business, or trying to ride. I'm actually really just trying to focus on being an athlete for awhile. I've got a lot of new sponsors this year and we're doing a lot of stuff with H&H and different companies like Smith and ONE Industries. So I've got to try and perform, get the product on myself and get out and shoot photos and stay proactive. It's hard. It's a really hard juggle.
Me: Yeah, I bet. And you forgot the tattoo shop in there too when you were naming all those things off. You lost track.
CH: Yeah, actually we're opening a new shop in Niagara Falls. It opens in two weeks. Yeah, there's a lot going on, a lot of moving pieces. Just trying to keep them all on the level, keep my head down and work hard.
Me: Well hey, thanks for coming on the show, and thank you for letting Watson do this.
CH: All good! All good. You know, Watson needs a place to have a voice, and I think he does a lot better on radio. I was listening to him do a TV interview a couple days ago and I think he had a 'miss' because he kept saying 'and uh, and uh, and uh…" Sounds like his jetting was a little off.
Me: No, he's good on the air. You'd never realize it, but he's really good. People at the races have been coming up to him and talking to him about the show so you know, it's catching on. Hey hart, thank you again for taking time out of your busy schedule.
CH: Anytime. Actually, I'd just like to take this chance to thank to Rockstar, you know, all the sponsors that make it possible for Kenny to go out there and have a job and keep racers on the payroll, and keep contributing to the amazing world of motocross racing. Without those guys we couldn't do it. And keep an eye out for big things with Hart & Huntington Racing next year, because we're trying to step it up and go bigger and better.
Me: Right on, cool. Thanks Hart.
CH: Alright you guys, take it easy.