As I've always said, this is your site as much as it is mine. So with that in mind, some guy named Michael sent in this funny story about his ride day with a celebrity in Las Vegas. Good stuff.

As I've always said, this is your site as much as it is mine. So with that in mind, some guy named Michael sent in this funny story about his ride day with a celebrity in Las Vegas. Good stuff.
This is a strange but true story about a motorcycle adventure that I experienced back in 2005. I am a sales representative by trade, and make my living traveling across the country. Many of these trips are to attend trade shows. Like many people who share in my profession, I have traveled everywhere in our great country but have actually seen very little of it. I made the decision back in '05 that I was going to take control and actually start to make time to enjoy these trips that take me away from my home and family so often. While planning a trip in February to Las Vegas, I thought how cool it would be to go riding in the desert. I grew up riding and racing hare scrambles in the woods of Missouri, so I though the change of scenery would be nice, and I was able to schedule a guided tour of the lovely Las Vegas area via dirt bike.
I spoke to a very nice lady on the telephone from a Riding Tours company I found on-line. She gave me all the details of my day trip, and explained that a guide would pick me up at my hotel, lunch and drinks would be provided and after giving her all of my size information a full set of rental gear would be ready to go along with a fully prepped off-road bike. I went ahead and booked the date for this wonderful sounding adventure (which I paid in advance for), and began counting the days until my trip.
9:00 am. Like a kid on Christmas morning, I waited outside my hotel for my guide to pick me up. I was looking classy in my dress slacks and loafers, as I had to cut out of a breakfast meeting in order to hook up with the guide.
9:49 am. I had been sitting on a rock wall, freezing my ass off when a black Hummer with a KTM on a Hitch-Haul whipped into the parking lot of my hotel. Turns out it was my guide, running just a tad bit late. I jumped into his Hummer, and once the smell hit me I immediately nick-named my guide Cheech. Who knows, perhaps he had glaucoma??? Anyhow, Cheech went on to apologize for being late, but he couldn't find the keys to the trailer that held my fully prepped bike, rented helmet and gear, lunch and everything else needed for a days ride. No worries, however. We were going to Chuck's house, and he was going to help us out. Great start to the day. And by the way, who the hell is Chuck??? I figured Chuck might have some extra keys to the trailer. Cheech was hungry, so we went through a Mickey D's drive-through for some breakfast (which I paid for).
We drove not to far off the strip, and pulled up at a garage set behind a house. In said garage was where Chuck lived. Oh yeah, it was CHUCK FUCKING SUN!!! Cheech and Chuck are buddies, and Cheech lays the sob story on about how I booked this great trip (which I paid for) and so far have gotten two things: Jack and Shit. Chuck was the KTM rep at the time, and had several bikes in his house/garage. Cheech rummaged around in his gear bag, and found a helmet his Rotweiler had chewed the liner out of, and a pair of size medium gloves. Chuck had some old-ass pants and a pair of boots that were about a size 9. This would all be great except that I am 6'2 and have size 11 feet. But, not one to complain I stuffed myself into this gear and tried to ignore the smell of the helmet. Luckily the off-road tour company did send a Moose Enduro Jacket (which I paid for) and Cheech had it with him, because there was no chest protector available and it was cold as hell.
Cheech had his own bike, a KTM 525 MXC. Chuck was on a 525 EXC and loaned me a brand-new 400 EXC. We fired 'em up and headed right down the street, through a couple of new construction sites and straight up a mountain. Well, they went straight up the mountain. Went straight up the mountain, jumped the 8' ledge in the middle of the mountain and then crested the top. I slipped and slid towards the ledge, bounced off of it and then promptly destroyed the brand-new KTM 400 as it slid backwards down Mt. Giganticus. I ended up walking up the mountain in my size 9 Crap-Star boots, while Chuck walked down and rode the 400 up to the base of the ledge, did some bitchin' seat-bounce thing, and roosted up to the crest of the hill. With the embarrassment, altitude and stupid clothing I wanted to quit, and asked the guys to just take me back to the house/garage. With a little rest and a pep talk (and a top-off puff for Cheech) we were on the way. The view from the top of the mountain was really cool, and hard to believe that there was such great riding so close to downtown. I don't know if we were supposed to be riding up there, but it was beautiful.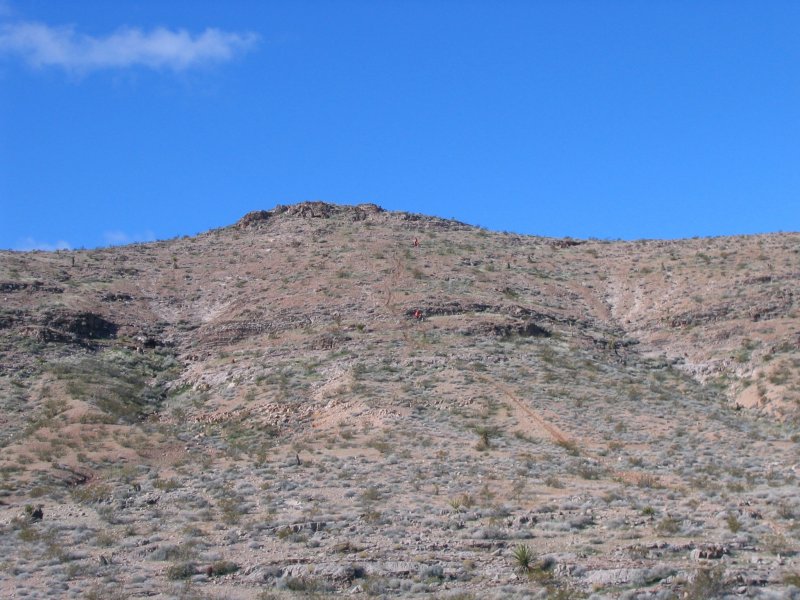 Here's the mountain that Michael had to climb.
The going was much better, with some really cool single track through rocks and cactus. Oh yeah, and some very scenic baseball-sized roost from twin 525's. In the first 5 minutes, my "Tour Guides" forgot that they were with a C-Class woods rider who had only seen sand at the beach. I tried to keep them in sight, but hitting a Yucca plant wide open in 4th gear convinced me to slow down a little. Then I slowed down a whole lot more, because I ran out of gas! Seems Cheech and Chuck forgot to check this little detail off of their list.
We found a discarded water bottle along the trail and stole some gas from each 525 to get me rolling again. Disaster avoided, we finished the first half of the ride to the only place that made sense: A Bar. The Pioneer Saloon, to be exact which is located exactly in the middle of B.F.E., Nevada. We drank our lunch (which I paid for) of Budweisers and Bloody Marys, which the Pioneer is apparently famous for. There was some crazy German guy in a rental Corvette in the bar, and he didn't speak English. But he must have been a KTM fan, because when we were outside he kept pointing at our bikes and shouting "Super Duke! Super Duke!" over and over. There was another mountain behind the bar, about as big as Mt. Giganticus from earlier. With the help of liquid courage, I pinned the throttle on the 400 and made it up this time. Herman the German was very proud of me. He yelled "Super Duke" at me a few more times and then peeled out in his 'vette.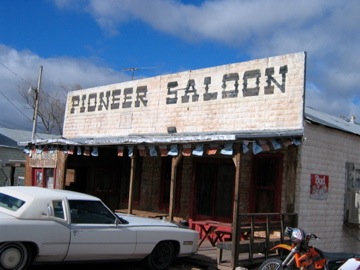 Here's the saloon where the argument started.
While drinking at the bar, Cheech and Chuck got into a friendly argument about the final top gearing of the KTM MXC vs EXC. This lead to a friendly race down a 2-lane asphalt road to see which of the mighty 525's was faster. It ended up being the MXC, with the speedo reading at like 102 mph or something stupid like that. The EXC only clocked a measly 101 or the like. I didn't get to see the race, because I ran out of gas again once I hit the blacktop road. Water bottle to the rescue again! It's a good thing so many people throw water bottles out of their windows, because we sure as hell didn't have any water bottles to drink out of.
After taking the blacktop to put gas in the bikes (which I paid for) Cheech and Chuck though it would be better to go back to town "the fast way". The fast way was to ride WFO on power-line roads through big-ass rocks and rain ruts. Again, C-Class woods rider here! I scared myself countless times, but managed to survive the rampage. Chuck even doubled back and gave me some tips about riding a gear higher on the 4-Stroke so the rear end didn't kick like a mule when I hit every gigantic rock that I looked at on the trail.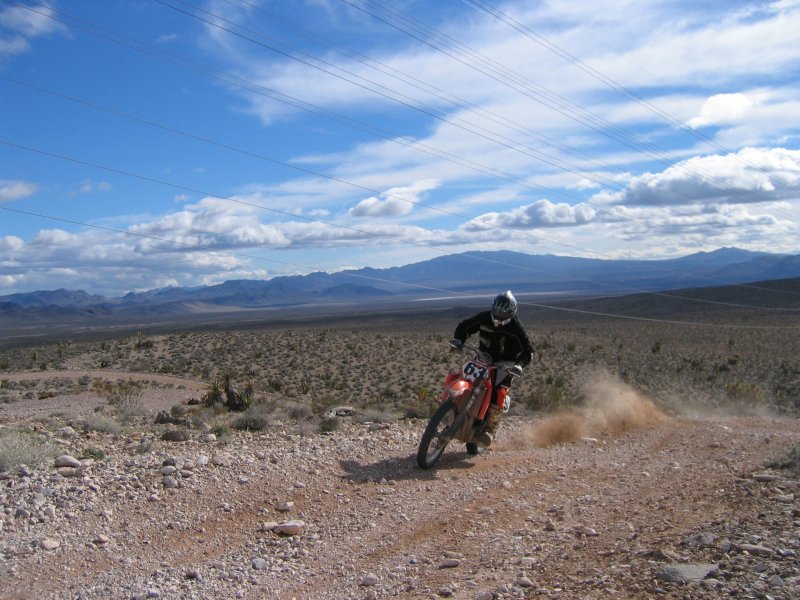 Here's Chuck sporting the familiar number 63.
Chuck Sun is Chuck Sun, and Cheech was no slouch. These guys were absolutely hauling ass, and we stopped again to settle another friendly argument that stemmed at the bar. One of the 525's had suspension modified by Dick's racing, and the other was stock. So Chuck and Cheech took turns bombing up this whooped-out sand wash and rutted power line road to see who's suspension was better. I think the Dick's Racing bike won the shoot-out, but I was busy trying not to puke bloody mary into the smelly dog helmet and didn't get to see the final results. Also, by this time Cheech's eyes were so blood-shot that I think it was having a negative effect on his terrain-reading ability.
We motored into Chuck's palatial house/garage and I pried my now-purple toes out of the smurf-sized boots. I gave Chuck my address so he could send me a bill for all of the plastic I ruined on the KTM 400. Cheech drove me back to my hotel ( at 5 miles per hour) and gladly accepted a nice tip (which I paid for). I had a dinner function that night, and was so tired and sore I couldn't even eat. It was a long, crazy and surreal day, but who can say that they have spent the entire day on such an adventure with a National Motocross Champion?
And this, my friends, is a true story!!!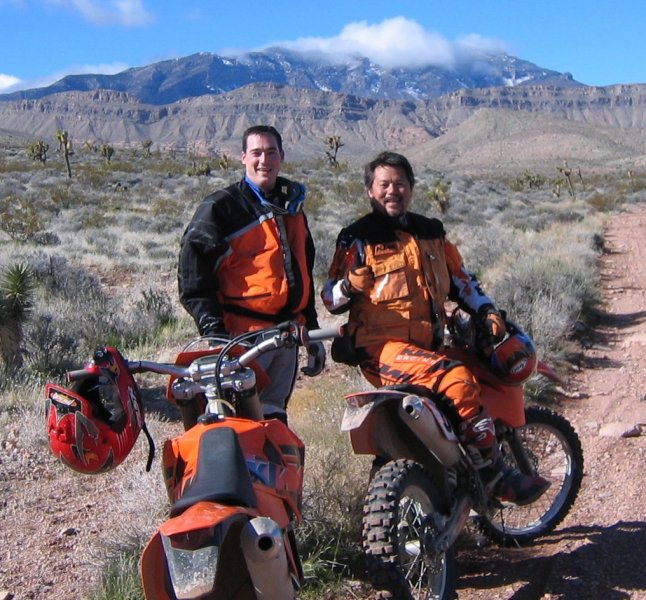 Chuck Sun, the 1980 500cc national champion and the author of this story pose for the camera.