I go back into the time machine and ask Ferry and his mechanic that year to tell me about a picture.

I go back into the time machine and ask Ferry and his mechanic that year to tell me about a picture.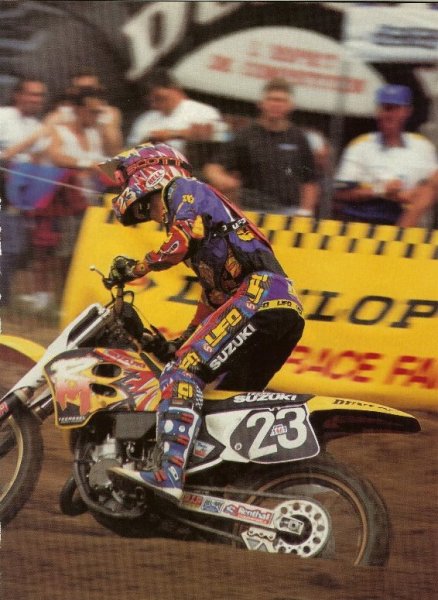 Southwick, 1995- Tim Ferry
Tim Ferry:
"I'm pretty sure this is Southwick from 1995 and I remember that I won a moto this day. This is one of the best bikes that I had ever had. It was real simple, I didn't have many options to choose from as far as motor stuff but it worked well and just the geometry of the frame or whatever, it worked awesome.
This was my first year on Suzuki's and I remember that I signed my deal at this race the year before. Ray Tetherton brought me my deal and I signed it right away.
They tried to reinvent the wheel the next year with the bikes and it was horrible. The thing that was cool with this bike was these forks, they worked so good and we had them only in outdoors. They were pretty good, this bike was solid. I don't really like the look of this bike that much though.
I won a moto here, I won one at Budds Creek and Hangtown also. I remember that I straight-up beat Lamson here in the moto and I had no clue on how I did it. I just rode around out front and won but I was amazed at myself really. I rode off the track after winning and said "I just beat Steve Lamson…" It was really hot that day also.
After I broke my jaw in sx, I had a bad first race but started coming on after that. I was in second in the points behind (Damon) Huffman around this time. I started riding good, I really think that being on a fast, good handling bike made all the difference for me this year. I was always up front off the start. Every time I won a moto, I always got like 5th or whatever the next moto.
It boils down to the fact that I didn't know how to train, I didn't know how to take care of my body and didn't know what I was doing being a professional motocrosser. Fifth or whatever was still good but it wasn't what I was capable of.
I wore UFO in '94 and '95 after leaving Fox and I remember that they sent me all my gear in this big box at the beginning of the year. That was for the whole season! It was a little weird. I think I got paid $6000 for the whole year and I was making maybe $1500 from my goggles and the boots were Sidi's and I made probably nothing from those. I didn't like the UFO gloves though, they were like hockey goalie gloves! I ended up wearing Thor gloves I got from (Buddy) Antunez with all the labels ripped off.
My gear was looking pretty good this year I think, although I'm not really matching the boots to the gear though. I remember that these boots would feel like slippers after you broke them in. My gear came with my name and number all printed right into the jerseys and back then, that was super cool.
I think I got $24,000 from Suzuki with good bonuses, I would make a couple thousand for winning a moto and I was so pumped. I got $5000 to win a supercross and I was so happy.
This helmet was a Bell Moto-4 and I remember that helmet was horrible. The liner would always pop out! At the time it was good, but it didn't work. The rubber was always coming off also.
We had box vans and Leeroy was my mechanic, it was cool for me. The first thing I noticed about this picture was why did Lee put my AMA tech sticker right in the middle of the numbers? (laughs)
Craig Decker was my teammate but got hurt early on, we had Lusk and Huffman and Albee. I didn't talk to Roger (DeCoster) much this year, he was a 250 guy and this class was pretty much a sideshow to him I guess. He had come to the team in '95 to be the team manager and he didn't really sign me so I don't think he was into it. Suzuki itself had made a big push in the 250 class this year and they kind of let the 125 program slide a bit. They were the 125 team to ride for up until this year and then that started to go away.
I just want to stress that the next two years, the bike was horrible. We had to change the ring every moto, I think I would've won races if it wasn't for those bikes."
Lee McCollum
"This was my second year at Suzuki, the first year I worked for Phil Lawrence but he got hurt and I didn't do much. So this was my first year with Timmy as his mechanic, the first thing I remember was when I met him. I didn't know who he was but we had to go to Japan for a sx race and I bumped into him at LAX. That was the first time I met him, he was with Ron Tichenor. So that's how I met him, at the airport. From there we raced and started doing that thing.
He's always told me that bike was so good, I think that some of it had to do with the fact that was his first ever factory bike y'know? I mean, the bike was good (laughs) but you know how it is, your first love is always the best, your first factory bike is the best. He just wasn't used to that kind of equipment. I remember that when we started doing our testing, I went to Suzuki, got a bike and a bunch of parts and then drove across the country to Florida to do some testing. I stayed with Tichenor also out there. We went out testing every day for a week and tried cylinders, heads, pipes and carbs to come up with the best possible combination and once we found that, we raced with that all year.
I remember that I liked working with him, he always had a good demeanor about him and Timmy's still like that today really. He was a good kid to work for and looking back in hindsight, I wish he would've worked harder back then at it. I know that he didn't work as hard as Roger (DeCoster) wanted him too back then! (Laughs) Looking back on it, he probably agrees with me!
We won the very first supercross that year and then we went to Houston and went to do the triple, was in second gear and came up short-breaking his jaw. Funny story, I went to the ER with him because there was no one there from his family or anything like that. I ended up helping the doctor! He asked me to come over and hold something while he stitched Timmy up, I was like "Who me?" and he said to come on over and help him out. It was weird!
We had a good team that year, there was some rivalry on the team because Damon Huffman and Ezra Lusk were already on the team from the year before, Huffy had won the sx title the last two years so there was that. When we went to the outdoors, where this picture is from, well things got tense. At Hangtown, Timmy was running up front that day. Hughes, Huffman and Ferry were top three and Roger was on the radio asking what was going on and why was Timmy battling Huffman when Damon had the overall. I didn't say much, this was the first or second race of the year and it was a little early for that kind of stuff. Ferry was winning and I wasn't going to stop him! Not that Roger wanted to stop him but Huffy was going to win the overall if he beat Ferry and Timmy was pulling away.
Nobody really talked to Ferry after he won, that's the way it pretty much went. It was a little weird for sure, we were on a team but we were in box vans so we were kind of separated a bit. I remember leaving that race and I just had this weird feeling like something bad happened.
The next two years, he was right. We did have some problems with the bikes. They redesigned the bikes and we had some issues with the pistons and rings. The rings would hang up in the port and we had some reliability issues. They didn't run as well, the '95 bike did run well. Timmy wanted to run last years bike but Roger and Suzuki weren't having that at all. It was tough to tell Timmy that he couldn't worry about that, he had to look forward.
We had those conventional forks also that next year and they didn't work that well in supercross either. He wanted me to put the upside-down forks and I asked but they said nope. It was frustrating for sure.
As far as the look of this bike, I thought it looked cool. The colors were bright and Technosal made our graphics back then. That next year, 1996, our stuff didn't look that good. It had some white in it and had those forks, didn't run that well and was a big hassle come to think of it."