Here's what I think about the riders and how they finished this season. Let's count them down, 20 to 1! All photos by Carl Stone.

Here's what I think about the riders and how they finished this season. Let's count them down, 20 to 1! All photos by Carl Stone.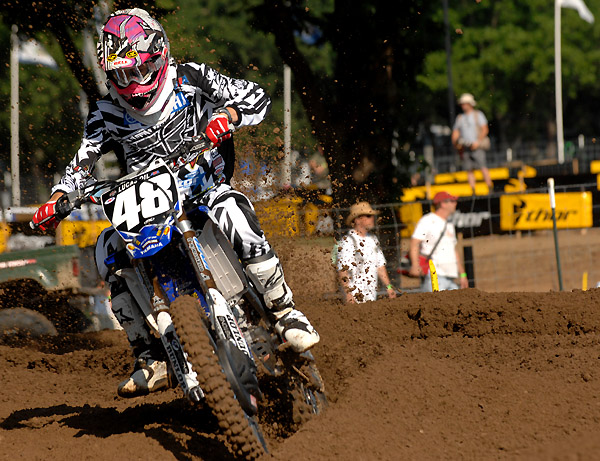 20th– Max Anstie-72 points. This British teenager jumped to the pro ranks before he was probably ready to avoid the AMA age rule and now, after a couple of frustrating years, he heads back home to race the GP's next year. He seems like a nice kid but there were definitely more than a few people who said his dad was the biggest problem he had. I cannot say for sure but I do know that, outside of one moto at Texas (and one at Budds Creek that he got tired at) he never really did all that much to justify his ride. He got hurt and missed the second half of the year but before that, he had eight motos with points and eight motos where he scored a zero.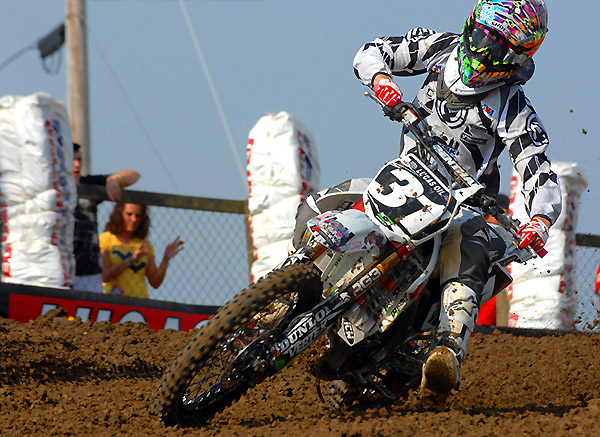 19th– Matt Lemoine-76 points. Matt didn't do all that much this year in his first with the Suzuki City team. A talented rider who's good at jumping, Matt probably didn't have the equipment needed to make it up to the top echelon of guys but he probably has more talent that a 19th in points. He missed the last four motos and before that he had ten motos with points and ten motos with zero points which is way, way too many.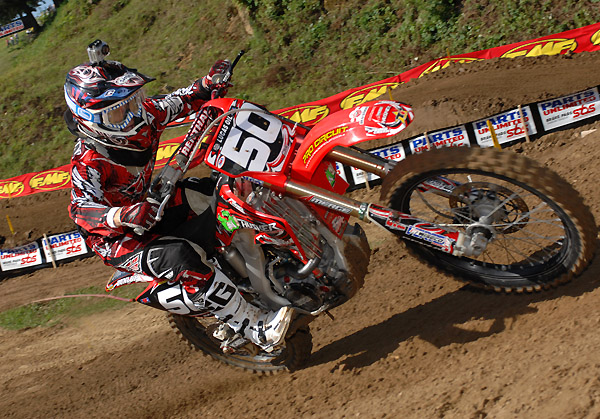 18th– Alex Martin- 90 points. Alex, a friendly kid whose dad owns the Millville track, had a pretty decent year. He's a full-privateer struggling to get to the races and it certainly doesn't seem like his dad just tries to spend everything he has on Alex to get him to the top. He didn't go to Hangtown or Pala (probably because of expense) otherwise he might've jumped up a few positions in the points. Oh yeah, guess where his best finish came at? Yes, that's right, Millville where he scored 17 points.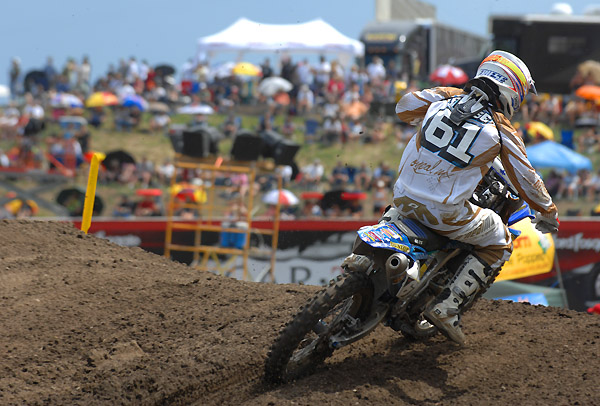 17th– Vince Friese- 91 points. Freise, a second year rider for the Motoconcepts Yamaha team, never seemed to build on his second year on a pretty good team. He improved his points position by five but missed four motos this season compared to none last year. He is definately one of the more, uhh, aggressive guys out there who pissed off more than a fair share of guys. Still, in his second year on pretty good equipment, I think it's reasonable to expect more out of Vince. He's a good guy, good starter but sometimes if I'm a manager, I want to see better rides.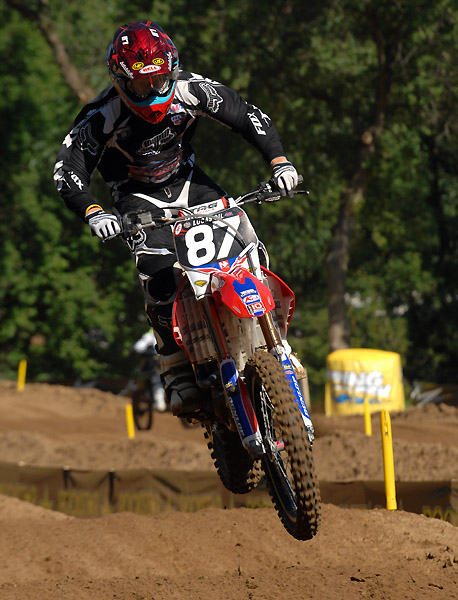 16th– Les Smith- 94 points. Smith, a kid from North Carolina that used to (or maybe still does) train with Jeanie Carmichael, is pretty hyped up by some industry guys did decent in his first year on the circuit. Riding for the Honda of Troy team, Les seemed to get better as the year went on and had his best race of the year at Pala. Go figure. Les kind of bombed out of supercross so it was good to see him somewhat redeem himself outside. Only five motos with no points indicates that he was out there finishing inside the top twenty and not crashing/giving up/bike breaking and I like to see that.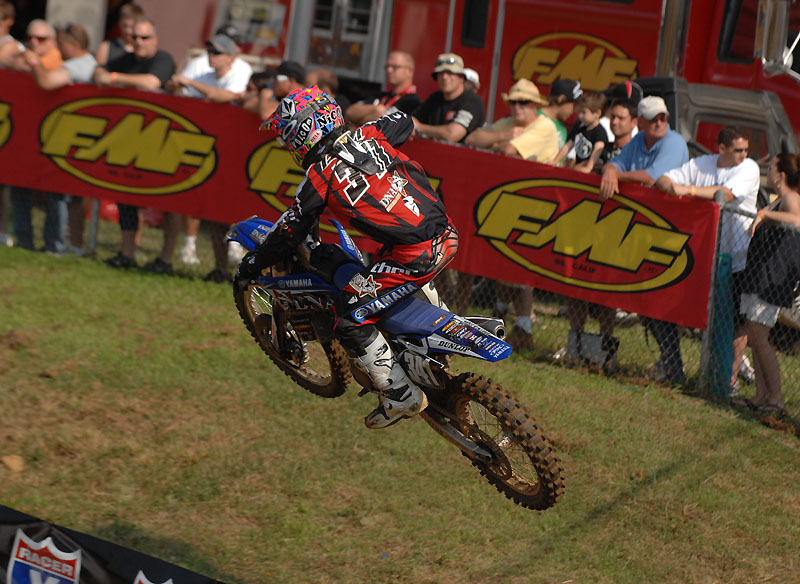 15th– Nico Izzi- 114 points. Poor Nico, he had a bad injury last year with his heel and truth be told probably came back to early. Izzi had a terrible outdoor season and it's amazing that only two years ago this guy was fifth in the points, had some podiums and was a rising star. What a cruel sport we are all fans of. Anyways, Izzi was working with trainer Randy Lawrence and I think Nico needed to get his money back as he looked to get tired quite a bit and faded a bunch. I suppose it takes time to get into shape and hopefully next year Nico can get back to the level that he was at.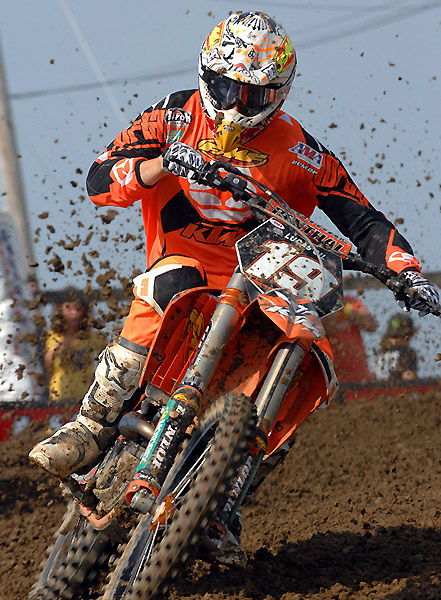 14th– Tommy Searle- 116 points. Searle, the runner-up to Tyla Rattray a couple of years ago, will be headed home to England to race the GP's next season. Tommy struggled over here in America and KTM decided to get another top GP rider to come over and fill Searle's shoes in Marvin Musquin. Outside of Hangtown where he came within a lap of winning a moto, I can't remember ever thinking to myself "Wow, Tommy Searle is really on it today." He missed half the races with an injury so I suppose his 14th in points is actually pretty good all things considered. Consider me underwhelmed at this Vice-World Champion's American stay. He did have some cool looking gear though.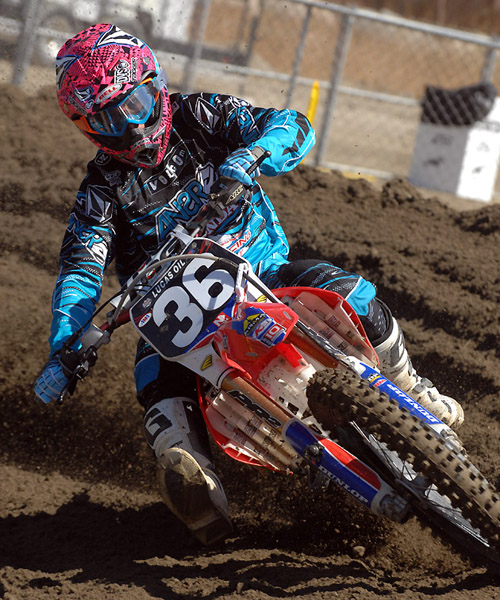 13th– Darryn Durham- 137 points. Durham probably did about the best one could hope for considering he was a second year rider on a team that is worse than his last years team. A season ago, DD got 12th in the points on a Star Racing Yamaha and this year, he's 13th on a Honda of Troy machine. A stylish rider that put a photo of his bruised ballsack on Twitter, Darryn has the look of a guy that should be going faster but you wonder if he takes it seriously off the track. When you start getting up into the top ten in points, those dudes work at it and treat it like a job. Still, I think the best a guy like Durham could've done was around ninth so this isn't that bad.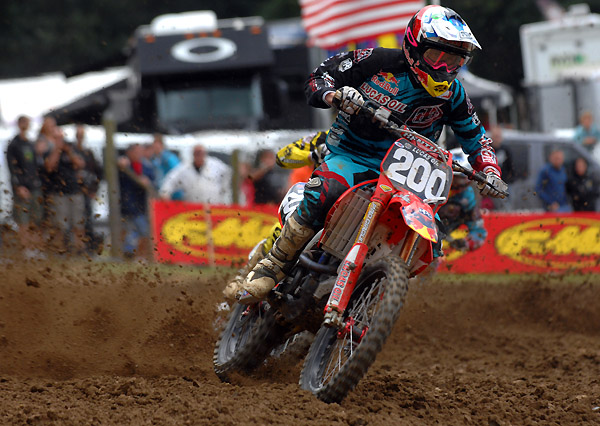 12th– Cole Seely-160 points. One of the bigger surprises for me in the 250 class was Seely making the podium in the first moto at Pala. Definitely a new breed of rider that is much better in supercross, Seely got a bit lucky in getting that third (with Pourcel's misfortune and Canard going down) but hey, kudos to him. Apparently Cole suffers from ADD and can't focus long enough to pound out motos but obviously he's worked on that. He'll be back on TLD next year and should be a front runner in sx. Jeff Ward really pushed Troy Lee to hire him and it looks like Wardy knew what he was talking about. Imagine that.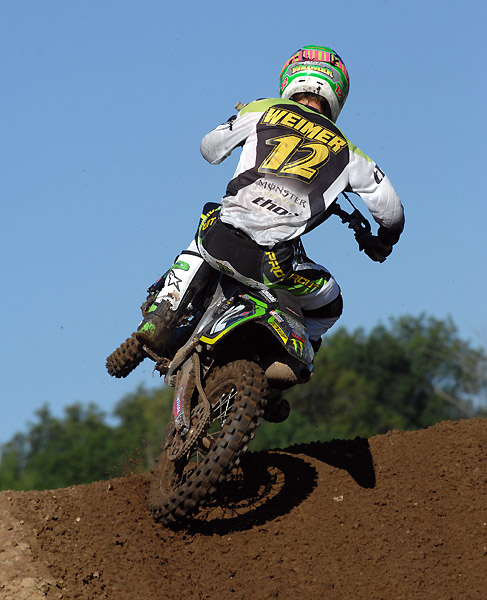 11th– Jake Weimer-195 points. Jake the Snake certainly didn't build off his great season last year when he won two nationals. He came into the season cold but that happens a lot to the west coast guys going for a championship, they are too focused on wrapping up the title and may not put in the work outdoor riding and testing that they need to. See Weimer last year for more examples of that. Anyways, Jake wasn't very good all year but started to turn it around a bit before getting injured and missing the rest of the year. He had made the podium in two of his last four motos before having to pull out. I'm not sure if Weimer's sucky outdoor national season will hurt him in finding a 450 ride.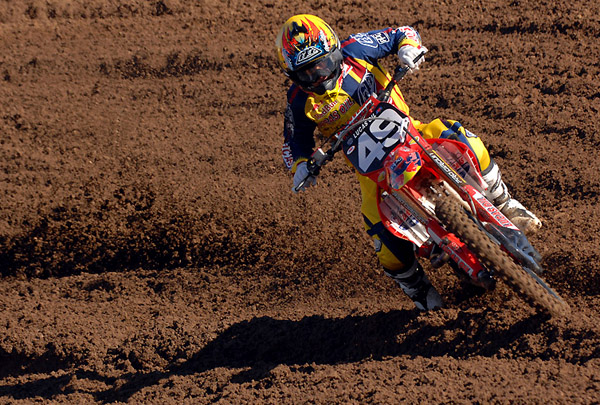 10th– Wil Hahn- 213 points. Hahn was a real surprise this year and would've finished much higher in the points if he hadn't missed eight motos. Funny that Wil was basically the last guy hired out there and not that much was expected of him but he went out there with some good equipment and on his last chance and made it happen. He ran up front quite a bit outside and seemed to be in shape as well. Considering that his previous best finish was somewhere around ninth or tenth, this year was really, really good for Wil. Obviously GEICO Honda agrees, as he's going there next year.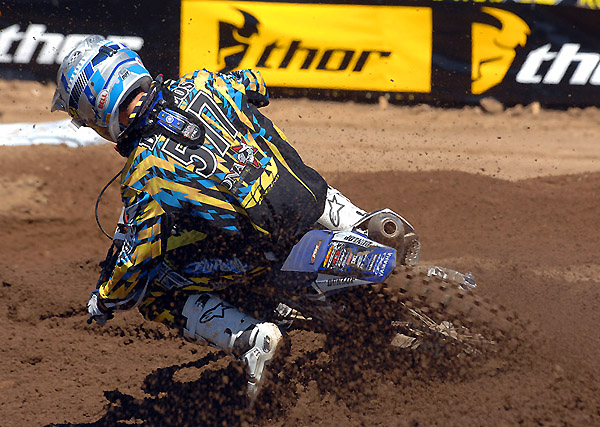 9th– Martin Davalos- 251 points. Star Racing had a few people scratching their heads when they signed Davalos for what was reportedly a big money deal. Then when he didn't do that well indoors (where he's always been better) it looked for a long season for Davalos and his team. Surprisingly, I think Martin did pretty well this year outdoors. He certainly looked like he could be in better shape for many motos (hey, can't we all?) but a top ten in the points at the end of the year seems pretty good. His best finish in a moto was a fifth at Washougal in the first moto.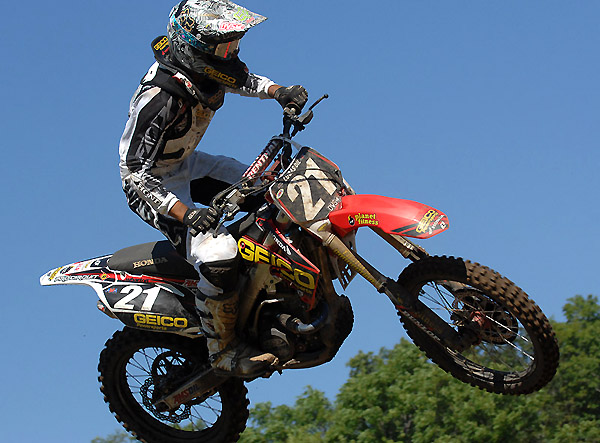 8th– Blake Wharton- 285 points. There haven't been too many guys who have had quieter seasons than Wharton. He was the consistently the lowest scoring guy on the GEICO Honda team but an 8th in points is nothing to be ashamed about. Wharton's ride at Unadilla in the first moto was great when he got a second. There's nothing wrong with Blake and his riding but he's just there y'know? He could be better, but he could also be a bunch worse as well. I think he's going back to GEICO next year.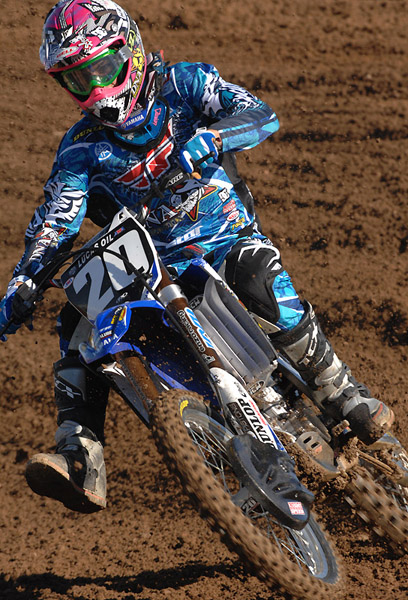 7th– Broc Tickle-287 points. Tickle was kind of like Wharton, fast but maybe didn't get enough credit for his rides. He did miss four motos and had he raced those, he probably would've gotten sixth in the points. Many times in the motos Tickle was the first non-Honda or Kawasaki out there so that's probably an accomplishment of some sort in a year where we saw a GEICO and Pro Circuit stranglehold on the class. Tickle decided that if you can't beat'em, you better join them as will move to the Pro Circuit team next year. Now we'll see just how good Broc is and hopefully he gets a little more excited next year when he wins a race.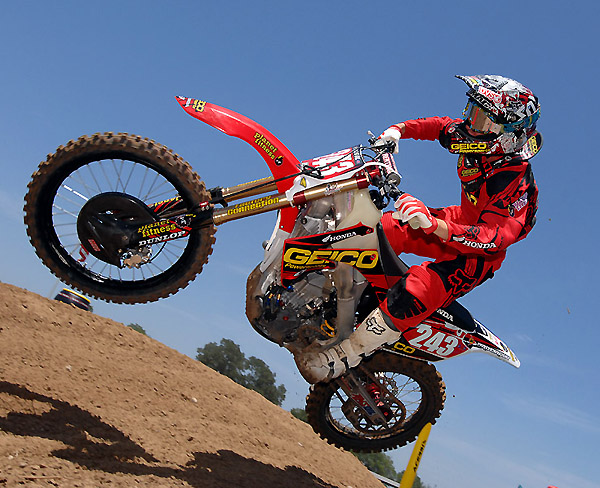 6th– Eli Tomac-327 points. Eli came out like a house on fire this season when he won Hangtown and once again showed us that when these kids skip supercross and have a while to prepare for the mx season, well then good things usually happen. For more on that see Justin Barcia and Josh Grant. Anyways, Eli came out at Texas and was still hella-fast. He got a podium in the first moto and then was in position in the second for the overall before melting down in the heat. And that was the beginning of the end for Eli who couldn't recover from that heat exhaustion at the next few races. Tomac recovered to put in some good rides near the end of the season and if he hadn't won Hangtown and almost won Texas, we'd be saying how great he did this year. A sixth in the points first year out is solid and you know that with his dad being Mr Bob Gnarley mountain bike dude, Eli will be a little better prepared next summer.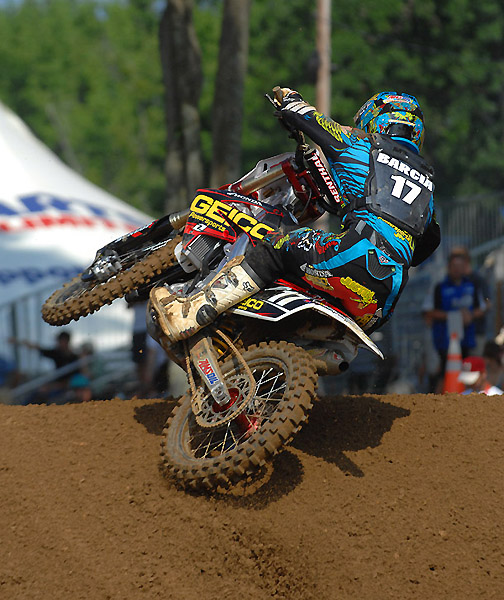 5th– Justin Barcia- 348 points. I don't know but for some reason Barcia seemed to be a bit calmer this season from his whirlwind rookie year. Statistically he didn't have as good of a season as last ( last year he was also 5th in the points with 340 but he had nine podiums to seven this year and he won a race last year and was shut out this year) but I think that's ok. He needed to keep it on two wheels more often and I think it was mission accomplished this year. Justin's star is still on the rise and he's still exciting to watch but you know when Jaws came out everyone was freaked out by the shark but by Jaws 2, we all knew what the beast looked like. So maybe Justin is riding exactly the same as '09 but we're all just used to it. I don't think so though.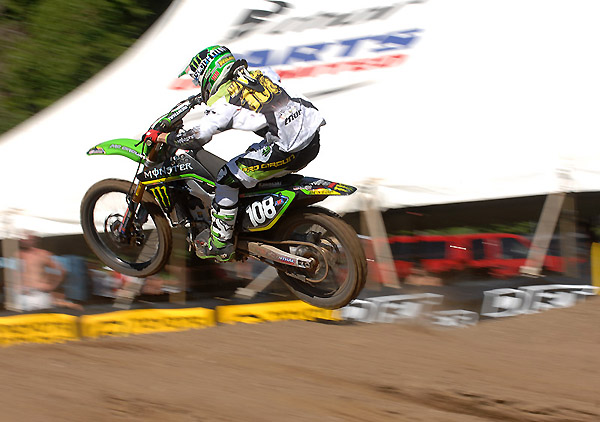 4th– Dean Wilson- 437 points. Dean's rookie year was pretty damm good. In fact I don't think you could say that it could've gone much better, two wins (and should've been a third if he didn't give it away in Texas) and always out front first time on many of the tracks is very good methinks. He had one bad moto all year (Steel City first moto) and his blazing speed will serve him well in the future. He's a good kid, outgoing and seems to enjoy being a moto star. He's got a real cool, hang it out riding style that will serve him well in the 450's because he's so tall and right now, I would say him and Marvin Musquin are the favorites to win the 2011 250 title. He's that good and going to get better.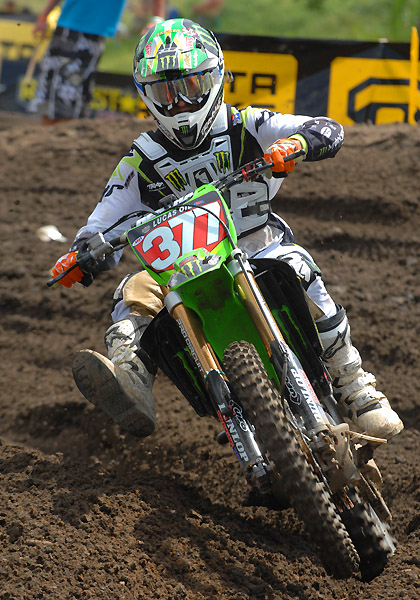 3rd– Christophe Pourcel- 443 points. Oh man, what could have been for Pourcel. He very easily could be a four-time 250 champion right now (two sx, two mx) but instead he has had tough luck the last two national seasons. I like Pourcel, he's overcome a lot to race here and he's amazing on a dirt bike but I feel like he maybe thought he had this class covered pretty easily until it was too late for him to stop the momentum train that Canard was driving. Hard to believe he only won two nationals all year and his problems in the second motos were either mental or physical depending on who you talk to. There is no doubt though that he had a tough time when it got real hot and he had to suffer a bit. Whether that's because of his accident or not is to be debated. I think his style will be better on a 450 though but I have to admit, there isn't nearly the same "Pourcel is going to kill it on a 450" talk that there was last year. His star has lost a little bit of its luster with this outdoor season and he has to prove that he can win now against the big boys.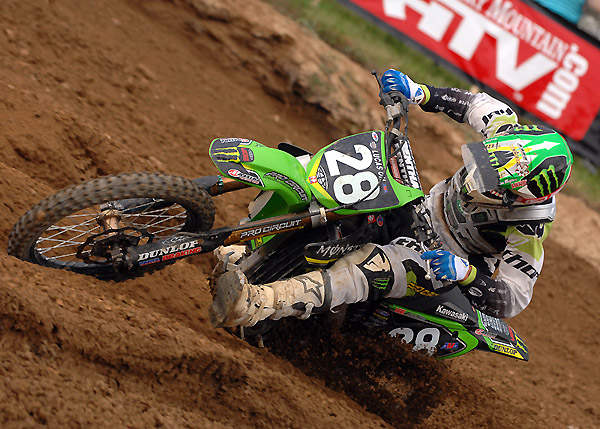 2nd– Tyla Rattray- 446 points. Rattray came on like gangbusters this year in getting second in the points. It was a put-up or shut-up season for him as he struggled a bit last year outside and has now missed supercross two straight years and to his credit, he stepped it up this year outside. Although it didn't look very good after Hangtown. Tyla rebounded from that so-so performance, he won Texas and kept it up from there. Rattray is in killer shape, charges hard the whole race and it's amazing to me that he only led one lap all year. Yet he won two races! Anyways, this friendly South African is going to try and stay healthy for supercross and he just needs a tick more raw speed to be my number one contender for next years title.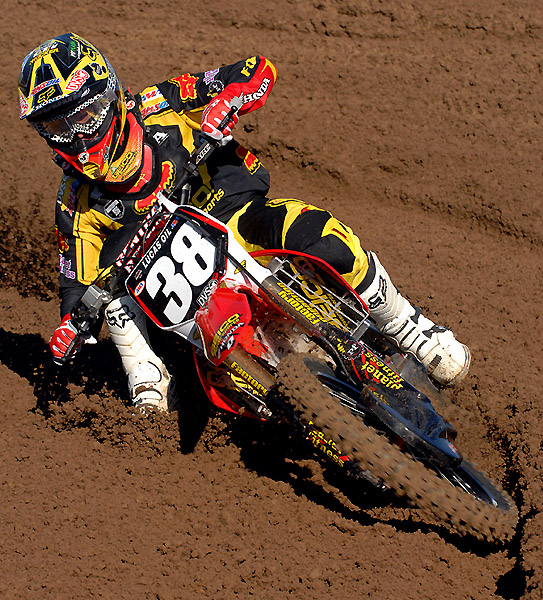 1st– Trey Canard- 474 points. An unbelievable comeback from over fifty points down, Canard won the title and shows that as a rider, you can just never give up. Canard seemed to turn his year around at round five at Lakewood and kept the momentum going all the way through to the end. He hired Tim Ferry to be his riding coach/mentor and even though I'm a big fan of Timmy, seriously, it had to have played a role in Trey winning this thing. He ended up winning five races so really, it shows that he was the fastest guy in the class. His speed was great, his starts started getting a lot better after he got on his roll (imagine that…I've long contended that starts are more mental than anything else. If you know you can win, you'll get a decent start) and this unbelievably friendly kid was the talk of the outdoor seasons. Canard had never finished an outdoor season before and is moving to the 450's next year so he had to make this one count. And he did.