We're in the new age of information and Chad Reed's showing us the way.

We're in the new age of information and Chad Reed's showing us the way.
Lead-in photo by Steve Cox
Chad Reed has won 38 supercrosses and currently sits third in all-time indoor wins, he's won two SX titles as well as an outdoor title. His percentage of podiums to career races is astronomical and simply put, he's one of the best riders that the sport of supercross/motocross has ever seen.
And he's desperately looking for a ride this year.
Coming off the worst year of his professional career, Reed either opted out of his Kawasaki deal or was told his option was not going to be picked up (depending on who you believe) and was left without a home for the quickly upcoming season. Reed never felt comfortable on the Kawasaki in 2010 and it showed. Despite winning the Australian supercross title, Reed never had much time to test the machine, the switch to Dunlop tires wasn't an easy one for him and him and Kawasaki guys just never meshed. It was a marriage that was doomed to fail. Also coming apart was Chad's relationship with long-time clothing sponsor Thor whose threads he has worn since coming state-side in 2002.
Once he was done with Kawasaki, Reed took to the electronic freeway like a dog to a T-bone. Showing off his choices of apparel on Twitter (@crtwotwo), showing us images of him riding a new bike (if you looked close enough, you could see the familiar exhaust of a Honda) and generally asking his fans and supporters what he should do for 2011.
It was a fascinating look at an athlete using social media to reach out and let fans into what goes on (usually) behind closed doors. It was much like another higher profile athlete did this summer as basketball's LeBron James became a free agent and had the potential suitors come to him and present their cases as to why they would be the best fit for "The King". We know now that James took his talents to South Beach in a horrible made-for-TV program called "The Decision" that got him panned by pretty much everyone.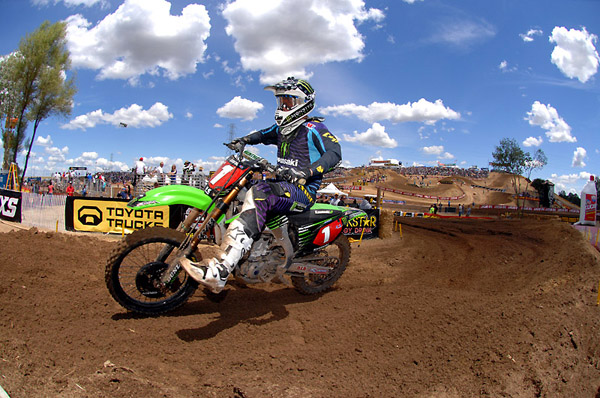 The Chad Reed on a Kawasaki thing definitely didn't work out save for a moto win here at Hangtown. Photo by Carl Stone
Reed's not going down that route by any means and except for those few that would criticize him for leaving a cat to die while rescuing an old lady from a burning building, the response to Reed's openness has been positive. I believe that his tweets and his willingness to do interviews (him calling into the Pulpmx Show all the way from Australia for example) has won him some new respect from fans that clamor for more openness in our sport. I've gotten more than a few emails like the one below from a reader named Brad:
Steve,
Just wondered your take was on how Chad Reed is going about his quest for a new team in 2011. In my opinion, a very, very good idea, as to the general public it looks like he's not going the "traditional" way in seeking for a team by doing it with agents behind closed doors. Chad has thus far gave a sneak peak as to his different gear deals (even though it could have all been a sham, it sure kept everyone on their toes), possible bikes that he would be riding, and most recently the teams he is looking at. Although there may be some backshop action that the general public is not seeing, nonetheless, it looks like he is running each bike through its paces, and picking what is best for his program, rather than chasing the highest paying team.
Will this change the way teams and riders make their upcoming season decisions? Who knows? But I can't help but think ever since Chad started those somewhat harmless Tweets a few months ago post-Thor, he's had everyone wondering what's up next for the TWO-TWO. It has definitely kept me as a fan of the sport on edge, and can't help but root on that way of testing, if you will, out the possible programs that would be available to that rider. Had MC done that back in '03, things may be different! Anyway, just wanted to weigh in on that and get your thoughts, as you ARE privy to some of the backshop banter.
Thanks, Brad
Like I said, this is just a sample of what's come in my inbox. I truly believe that Reed has earned himself more fans and increased popularity from his tweets, interviews and new way of reaching out to people. It's even more of a surprise to me, a guy that worked at Yamaha on the same team as a young Chad Reed. The racer I knew at Yamaha didn't always have that much time for the media and seemed to not be able to say the right things when he was frustrated at not winning. He's done a complete 180 in the way he handles himself and is able to expresses honesty, bravado, fear and confidence all in one interview. To break that down for you, he makes himself seem real.
So the hunt for a ride begins for Reedy and it started with him buying a Honda, getting Pro Circuit to build him motors and suspension and riding at home in Florida. It struck me as weird for sure because in a few interviews in the past Chad has not spoken highly of the all new revamped in 2009 CRF450. But for whatever reason, a Honda it was and Reed really enjoyed riding red. By all accounts from people who have seen him ride the bike, his old speed and style was still there on the Honda. Going out and dominating the first round of his Australia supercross series certainly reinforced that the red bike works for him.
We've all seen the rider that bravely talks himself into liking whatever brand he's just signed up for (Jeremy McGrath and KTM for example) but with Reed, and this is just my opinion, you can hear it in his voice that he feels the Honda is for him. And as one insider told me about his time at Kawasaki "He (Reed) needs to feel loved and despite all the race wins, he's like all of us-he wants to be told that he's doing a good job. Those guys (Kawasaki) didn't cater to him and wrote him off too early so he wrote them off."
So what now for the two-two? Well, one thing that certainly made the most sense to many of us is a ride with Hart & Huntington as H&H owner Carey Hart is managed by Wasserman Media Group who happens to be the same management company that Reed is aligned with. With owner Carey Hart stating many times that his team was looking to step up this year and him walking the walk with acquiring a sponsorship from Dodge, the match seemed to be there except for one thing. The bikes that H&H picked to ride are Kawasaki's due to Suzuki and Honda competing directly against Dodge in the pick-up market. So scratch that deal. There were some last minute talks about Chad riding a Honda off to the side or maybe a Yamaha but nothing materialized. Everything seemed to be in place except for the most important thing and that was the machine. No way was Reed going to get back on the green machine that so frustrated him in 2010.
In recent days we've all heard about Chad returning to the Yamaha track to try out a YZ450f for the Valli Yamaha team, there is no factory Yamaha team but this would be the next best thing to that. Valli Yamaha works closely with the factory and with Jimmy Perry, Bob Oliver and Keith McCarthy still around and working behind the scenes, it would certainly seem like a reunion could work.
I talked to Valli Yamaha Team Manager John Mitcheff about Reed's ride on blue and this is what he had to say
"Who wouldn't want that guy to ride for them? Every team is interested in him and it's just a matter of working on the funds once he decides on what he wants to ride. We're in a standstill until he decides what bike he wants to ride" said the championship winning mechanic turned manager.
Says Mitcheff "I'll tell you this, he tested the bike and I thought it went really well, a guy like that, in my book, if he didn't like it he wouldn't have kept riding it. We made changes every time he went out and he said he had fun riding it. I think it went well."
When I pressed him on what's next, Mitcheff would just say that they are on hold until Reed decides and when I asked him how his speed was on the bike, John laughed a bit and asked me how I thought he would've looked on it. Question answered I suppose.
The day after that, Reed continued on his magical mystery tour with a stop at the Honda track to ride the Troy Lee Designs Honda machine and Transworld Motocross magazine caught up to Team Manager Tyler Keefe about how that test went.
"Well, Chad raced a Pro Circuit Honda in Australia and he is obviously a big fan of the combination," said Keefe. "And we are a Pro Circuit Honda team, so it seems that all of the cards are falling into place. Chad really liked the bike today, and now there are some business deals to be sorted out. We're all excited about the possibility of Chad joining the Troy Lee Designs/Lucas Oil/Honda team."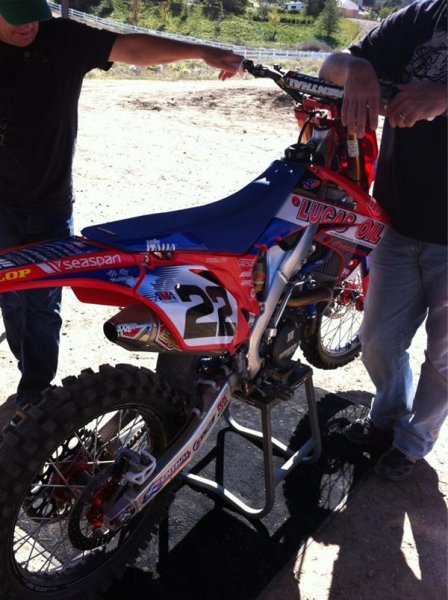 Here's @crtwotwo's Tweet pic of his day out with TLD Honda.
So now we wait.
What's the guy going to do? Well glad you asked me because I'm going to lay it out for you using what I know, what I heard and some speculation. I do believe a few things and those are that:
1- Chad wants to race a Honda.
2- Chad won't race for what he thinks is a small salary. And why would he? He's got money in the bank and he knows that the riders he's going to battle for the 2011 supercross title (James Stewart, Ryan Dungey and Ryan Villopoto) have everything working for them. They have the trainers, the tracks and the support crew around them. Reed's been to the top and knows what it takes (and how much money it takes also) so why do it half-ass?
So knowing that I think he's caught in a bit of a dilemma. With TLD Honda being a west coast only SX team and times being tight in regards to sponsorship, can Troy Lee step up with the extra expense of travelling to another eight races on the other side of the country. What about gear? Of course Reed would have to wear TLD and with them being a smaller company in terms of gear sold, it's another reach to pay Reed what he needs to wear their gear in my opinion. They have the bike he wants- a Honda CRF 450 modified with Pro Circuit components but do they have the money?
Now Valli Yamaha, they have some money, they have backing from Yamaha in terms of special parts and they can let Chad do his own gear deal which will bring some extra money in for Reed. But the Yamaha YZ450F is a different breed of motorcycle and it doesn't mesh with everybody. We haven't seen someone ride the radically different bike at the front of the pack (save Anaheim 1 and the first moto at Lakewood) and maybe the thought of starting from scratch so close to Anaheim is causing pause in "Camp Two-Two". Like he has said a few times, the Honda makes him feel like he did on a Suzuki and he's got it in his mind already that he likes the Honda. That's a big step towards red if you ask me.
So what does he do? Take the money at a Valli Yamaha (who make a good bike and have a good crew) or take the bike that he's already raced (and won) on but will pay him less money?
Or maybe he takes door number 3 and starts up his own team, riding Hondas with Pro Circuit making the magic? I'm not sure if this can be pulled together so quickly and with enough funding to make it work but hey, stranger things have happened for riders of lesser caliber of a Chad Reed. If he goes this route, it will be eerily similar to Jeremy McGrath's Suzuki "team" in 1997. A team that now, years later, many involved say was pulled together way too late and not organized well enough.
So that's the three things that I see happening and I'm not sure which of those scenarios is the favored one. I know that one thing is for sure, @crtwotwo will be keeping us all up to date along the way.
And that's pretty cool if you ask me.