A friendly guide to all the moto sites out there on the world wide web…

A friendly guide to all the moto sites out there on the world wide web…
I love this sport and everything around it. I've been riding since I was five and raced for twenty years week in and week out. And I've gotten a unique look at this sport from a number of different angles. First as a kid growing up in Canada with one race a year on TV and reading every magazine, every month, for a long time. I was much like you guys reading this article but only if you never get to go to any races or had the internet. Then I started wrenching on and off in 1995 on the AMA circuit before getting a full-time gig in '96 for the PJ1 team and from there, it was a mechanic for many riders and many teams (two of them factory KTM in '00 and '01 and Yamaha from '03 through '05) until I quit turning wrenches and picked up a pen to write about the riders and ironically, the men turning the wrenches.
So first I was a guy who got all his information from the media, then I became a guy who gave the information to the media, looking at them with one eye cocked, and now I've become a media guy who is trying to get the guys with one eye cocked to give me information so I can give it to the guy who gets all his information from me. Got it? Good.
The point is that I feel I have a good grasp on much of what goes on in and around the sport and I'm also reading and watching a lot of what is put out there. I've worked for Transworld Motocross and now I write for Racer X again(I was there from '07 through '09 before some budget cuts made me look elsewhere), so I have an idea of what goes on behind the scenes at those two competitors and what makes them tick. I also write for directmotocross.com which is a website about Canadian moto. I once wrote a blog for Motocross.com, I write for DBR Magazine in England, Motocross Magazine in England and Premier Motocross, a website in France. I have a podcast show and a regular Monday night internet radio show that I host. Wow, I'm tired just thinking about all that.
And of course, I own Pulpmx.com. But you knew that already.
It's never been better to be a motocross fan in this world, there are so many venues to get information on your favorite rider/team/track/race/energy drink model it's ridiculous. I remember in '99 there was Racer X and some goofball typing a column called "Blogandt." That was about it, there was Cycle News Virtual Grandstand and 1-900-Moto numbers. Nowadays there are videos posted after practice for pete's sake! So like I said, it's never been better to be a moto addict who craves information. Pretty much everyone's thirst for moto knowledge can be quenched nowadays with everything that is out there.
What I thought I would do is talk about the different internet mx media sources out there, what they do best, what they do not so best, and my thoughts on them. Obviously this has the potential to piss off some friends but I thought you people would like a look at this from, like I said, a guy who's been on every side of things.
And for a little different look I approached a PR guy (or girl?) for one of the big teams to look at this column, the sites I'm talking about and give me his opinion on them. Now he works with some or all of the sites and didn't want his identity be known so we'll just call him PR Guy. In the words of the great Kenny Watson, this guy (or girl) has been around a long time and has done a lot of things. Here's PR Guy's intro-
Having more than a decade's worth of experience in PR in a wide variety of sports, Steve asked me to give an independent and objective view as a sidebar to his write-up on motocross websites. The following opinions are formed from years of consuming news and pitching stories to the web. One thing I would be foolish not to mention, is that fact that some of these sites also produce great glossy magazines. As motocross fans, be thankful you still get such great coverage that is not only immediate through twitter and websites, but also in magazines that do a great job in promoting the sport.
Thanks PR Guy and again, these reviews are for web only-nothing to do with magazines.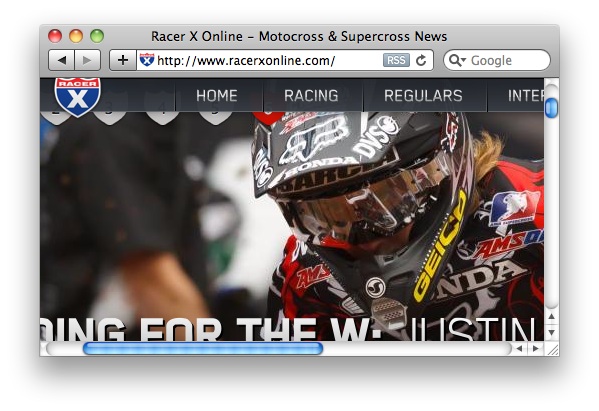 Racer X- to me the premier moto site on the web.
Racer X- Now of course everyone reading this knows that I work there right? Let's get that disclosure out of the way ASAP. You can read this as slanted or you can know that, as my past work proves, I'm just dishing out my honest opinion on something.
Simply put, Racer X is the ESPN of the moto world, they are the 900 pound gorilla in the room and I know other sites say that their traffic is greater than RXI's but I doubt that. They are the moto crack for most of the worldwide fans and they are the first thing that many people check in the morning. You can hear numbers from anyone but I've been there to see firsthand how big the site is and it's called "the angry phone call" test. Which is this, I've had my phone ring within minutes of putting up something edgy on RXI and over on TWMX, it was a while before the cell rang or in many cases, never. This is both a good thing and a curse really. The flip side to being so influential and such a primary source of news is you are also scrutinized by everyone. There are more than a few calls made from advertisers, riders, rider agents-whomever you can think of, trying to curry favor with RXI and get something modified, talked about and in some cases, even taken down.
Life time moto man Davey Coombs (DC) runs things over there with second in command Bryan Stealey staying in the office and making sure things are run right while DC and crew are all over the country. Billy Ursic is influential in the magazine end of things. DC is an amazing editor and always stuns me how he can turn a story that you're pretty proud of into something that is much better. He's got a real ability to tell a story and every time he sends me something back that he's worked on, I realize that I suck. There are plenty of people who wonder if Davey wears too many hats and maybe he does but I believe that most people know he has the sports best interests at heart. He's a fan of the sport and hasn't really lost sight of that. He can also bench race with the best of them.
RXI is also a leader in the "big picture of the sport", concentrating on the Lead Law debacle, posting press releases for everyone, working closely with Feld to get the word out (which truthfully I don't always think is reciprocated but I know DC is great at looking at the big picture) and there is more of a "let's help the sport out" mentality out of Morgantown. Of course, with MX Sports running the Nationals and based out of the same building as RXI, you wonder about the conflict in reporting news that may upset a track promoter or a sponsor of the series but to me, it's a non-issue as one example I can think of is David Pingree being critical about the Pala parking situation as well as some other roads into the nationals.
The increased role of Jason Weigandt (another disclosure- a good friend of mine) on the web site is a great thing, he's the outdoor national announcer, a great writer and he really understands the issues of the sport both good and bad. He's a great writer for sure, Simon Cudby is universally regarded as the best photographer and videographer Matt Francis is even getting rave reviews from competing sites so that should tell you how good he is. I know Ping is trying to become a fireman, EMT or rocket surgeon but I wish he'd write more to be honest. His stuff is always gold.
PR Guy's Take: When you first come to Racer X the design of the site is flashy yet, easily navigated. The columns of stories let you know exactly what you are getting and one of the best features of the site is it's scheduling. Personally I like knowing that on Monday I'm going to get all of the weekend's race results, an interview with a top story (mostly a race winner) all the way through Friday with Racerhead which gives me the latest news of the week. Across the board I see Racer X as the most mainstream of the moto sites because it seems to target people looking for not only the results but also how the riders got the results. The most troublesome part of the site for me is advertising sentence/paragraph that leads every story. I know advertising is what drives these sites, but when the ads blend into the copy it becomes distracting. If the ad paragraphs were more obviously separated from the story then I would enjoy the stories more.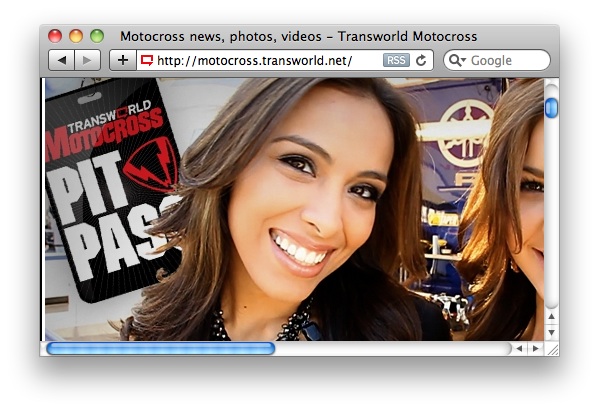 Transworld isn't scared to go there.
Transworld Motocross- TWMX has raised its game on the web side in the last year or so, they are a different site than RXI in that they test bikes and products associated with bikes. For sure they have stepped up and really pioneered moto video on the web and there is barely a typed word on the site nowadays. The crowd that reads TWMX is a little different from the Racer X gathering and both sites cater to its clientele very well. TWMX tends to go for the freestyle dude or casual rider who is younger and not so much into racing. The site is also edgier than Racer X with its Dirt Shark videos and model shoots. The editor in chief Donn Maeda is a friend of mine and most everyone in the industry knows Donn from his roost at Cycle News, to MX Racer and now, TWMX. He works very hard and I don't think he's weak in any areas, he's a good writer, photographer and videographer.
The thing that I find interesting about TWMX is, because Donn is such a presence at TWMX the other guys get overlooked a bit. Brendan Lutes and Chris Kinman are great guys and both very capable of putting out great work. The new guy Jordan Powell seems to be a nice kid as well. Lutes and Kinman are just both quiet and unassuming guys and nothing they do screams out "Hey look at me!" like some other people who write for a living (By the way, I'm probably guilty of this quite a bit but that's my style so suck it). Case in point, I've met many a media guy who has never spoken to either guy! Like I said, good guys over there at TWMX and in a way, I'm not even sure you can compare the two big sites- they each appeal to different people and each does what they focus on very well.
One of the reasons I feel like I know they cater to a different crowd is I always felt like my podcasts especially were a bit out of place over there. For example, the best one I've ever done over there as far as numbers was the Jeremy McGrath one. It's a name that everyone, even the flat-billers, can associate with. It was crickets for a show like the one with JT Racing founder John Gregory. Over on Racer X, I've gotten more mail and more views for ones such as Dave Arnold or Rich Taylor- shows with people that are influential, with great(!) stories but are behind the scenes. Not to mention my shows were never inside the top 50 Sports Podcasts on iTunes when I was at TWMX and now at Racer X, almost everyone has been at one point. This isn't to point out that TWMX isn't on the level of RXI, it's to point out that the crowds each site appeals to is different.
PR Guy's Take: Probably the MX leader in multimedia content, Transworld is the place to go to see an entertaining look at what goes on in the pits during the races. During the week Transworld does a good job of capturing the MX lifestyle, not just the races. Targeted toward the younger fans with pin-up shots and Dirt Shark videos (although one could argue that if you've seen one Dirt Shark video, you've seen them all), the site has a strong entertainment feel though sometimes it seems to lack in the hard news.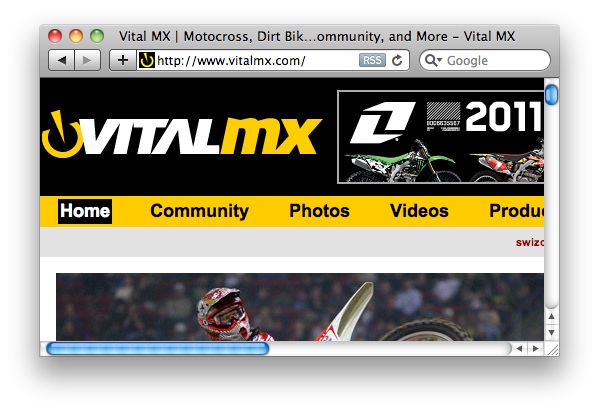 Vital MX. The site that has so much good (and evil) stuff all mixed up!
Vital MX- A site run by Steve Giberson who's as solid of a guy as you're going to get in the mx media community. I could probably go around and get crap talk on any guy out there by someone but there probably wouldn't be a peep about the guy known as "GuyB". He's a good dude and great at photography, and although he doesn't write very many editorials or columns, his stuff is solid. It's a site that is light on text and heavy on video and photography. Did you know that Vital is owned by the same guy that started Transworld BMX/Skate/Moto/etc years ago? Now he ditched the print and went with an all web presence in Vital MX/Skate/MTB etc. Anyways, GuyB runs a tight ship and you're not going to get any earth shattering columns out of him or much of any opinion one way or another but you are going to get the facts behind each race, some nice shots of what went on and the rider's side of things. Steve stays out of the drama and because of that, he's liked by pretty much everyone in the pits. Although even the calm, passive GuyB pissed off J-Law at one point or another.
What Vital is really known for (probably to Steve's chagrin?) is its message board which is a clear leader in the industry. Pretty much everyone reads it and those who say they don't, are probably lying. The board is just called "Vital" by everyone and I'm sure Steve sometimes wonders if it's more of a determent to the site than a positive. Although he started the board years ago, before Vital took over, it's reached a point where many of the posts are more and more negative and aggressive than years ago. It's just a reflection of society I suppose. The thing that must bum GuyB out is that the board often overshadows his work on the main site which is usually top-notch. It's not odd to find Steve out at the test tracks just hanging out, shooting photos and getting some top-notch info.
PR Guy's Take: This site is laid out in a very economical way giving you the top stories and features with just a scroll down. The race day features like pit bits give the hardcore race fans exactly what they are looking for, not just the scenes of a supercross or motocross but also an in-depth look at the machines. The post race videos are also good, but more written content would help the site reach more casual fans. Speaking of fans, Vital is probably the home of the most vocal fans in the sport and they use the forum to spread a lot of vitriol and even the truth sometimes. While many in the pits read the boards, it is only for entertainment as most of the posters take themselves too seriously and are the vocal minority of SX/MX fans.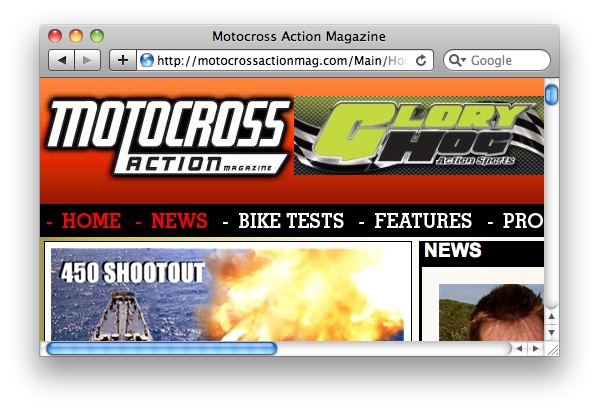 MXA marches to its own beat, no doubt about that.
Motocross Action- Motocross Action or MXA as they are known by everyone, is the grand ol'lady of motocross publications and that's appropriate because their website looks like it was designed by an old lady. But the simplicity and layout of MXA's site is really all part of the plan and of course the magazine that is stuck in the 80's wouldn't have an updated site. That would make too much sense. Anyways, MXA uses the site to promote the words and gospels of its editor Jody Wiesel. Right now, it's on an anti-four-stroke crusade and so we'll see bits and pieces here and there telling us all that the thumpers suck. For a while it was promoting the USGP which was taking place at Glen Helen where all the magazine's editors ride. Before the USGP was awarded, it spent a lot of time degrading the FIM World Championships promoter Youthstream. Sometimes in the past it seemed that MX Sports ruled and was a good thing but when they got into a dispute with, yep-you guessed it, Glen Helen, they turned into the devil.
As long as you know what you're getting when you go there, you'll be fine. If you want to know the results from the Saturday REM races, you'll get a firsthand account but you won't get that for every national or supercross. You're never really sure if you're reading a press release or an editorial sometimes because there will be some "added" words here and there in what looks like a normal PR. A couple of guys there John Basher and Zapata Espinoza (I've been reading MXA for so long, I remember when Espinoza was just writing in letters looking like a weirdo before getting a job with MXA) are both good dudes but they are powerless to stop the one man march going on over there. I do hear from fans that the typos and information mistakes are high but those that live in glass houses shouldn't throw stones.
PR Guy's Take: With a very basic layout that is easy to navigate Motocross Action's website more than likely attracts only the most hardcore of the hardcore motocross fans, the readers that don't want fluff but only substance. Within that substance is usually one or two hot-button issues that seem to get run into the ground. If you're looking for the latest news from the pro pits, this probably isn't your first stop, but if you have a steadfast opinion about a motocross issue, this is the place you either get fuel for your argument because you agree with Jody and his group, or it's the place you go to get even more pissed off because you hate what you are reading.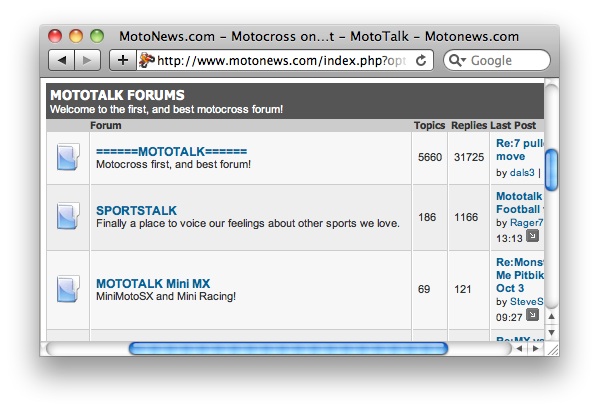 They were the original pioneer in moto sites but Motonews hasn't kept up with the times.
Motonews- At one time Motonews was a giant in the moto web world but is now sadly a shell of its former self. Steve Bruhn was there and providing the first real information from the races and pictures of what went down. Once he left, the site went downhill fast. There isn't any news from the races on there that you can't find elsewhere with better reports and photos and the message board that once was a must-read (Mototalk) rarely provides any new info or breaks any new ground with thought provoking posts. I should put a caveat in here that I really don't visit the site much anymore but I used to be an active member.
PR Guy's Take: To be honest I hadn't visited this site in a couple of years until Steve asked me to do this write-up and I can say I haven't really missed anything. This is the most simple design of any of the sites and there is very little information other than the actual race results and a short description of the race. There is also a message board but it seems to have fallen to the wayside much like the main site.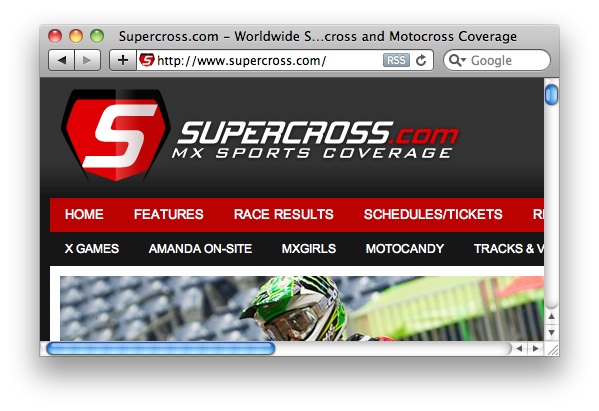 Supercross.com is much more than supercross.
Supercross.com- Nice looking site and I know the owners once battled the supercross promoters for the name but they are at the races so everything must be cool. There is a message board but much like Vital, you have to wade through quite a bit of crap to try and find a diamond. SX.com has something to do with motocross legend Rick Johnson, either RJ owns it or he's part of it or something. Generally when he contributes something to the site (pretty rare though) it's interesting and cool and I wish he'd do more. There is some race reports from the races, a girl named Amanda talks to some of industry people but after reading through it for three days, I'm wishing I learned more information. A lot of style but not much substance on the site but again, nice looking.
PR Guy's Take: Supercross.com has evolved a lot and is a good informational site with some original content. Surely the site benefits from having the url supercross.com which is a bit of a misnomer as you can also get coverage of the GP series in Europe as well as the AMA Nationals. The site also has great database of popular riders with photo galleries and links to twitter and facebook. There is a good mix of print and video, but the writing could be more informational rather than mostly telling the same story as most of the other sites.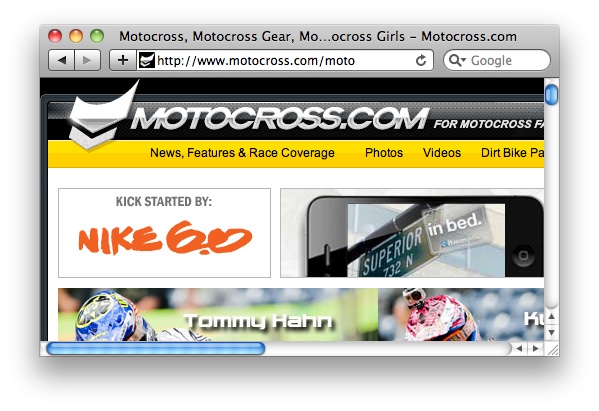 Motocross.com should get better now that there are more staff and more resources devoted to it.
Motocross.com- Forever a graveyard for careers (Tim Olson, Brendan Lutes) motocross.com is revamping for what seems like the 749th time when Source Interlink purchased the site from the WMG group. Source is the same guys that own Dirt Rider magazine and Jimmy Lewis is the editor of Dirt Rider. I spoke with Lewis at one of the Anaheim's and he told me the future plans for the site and it sounds like there's a real site coming and not just some sort of warmed-over store. The first move that Lewis did was go out and hire Steve Cox to head up the re-launch. Cox is solid in the writing and the photo department, he may not be the best at either but like GuyB, he's one of the only guys that can do both very proficient. Cox sometimes tries to make sure the reader knows that he's the smartest guy in the room but he's well connected and knows the sport well. So far, and it's early, the guys have done a great job but it's really tough for sites to compete against the Racer X and Transworld goliaths.
PR Guy's Take: One of motocross.com's strongest assets is its link to AOL's grindtv.com. This partnership will get a lot more of the casual fans seeing SX/MX content which is a good thing for the sport. It is a good thing the quality content is shared with grindtv because the motocross.com site looks like a shopping site and other than the rotating billboards it is hard to find the stories.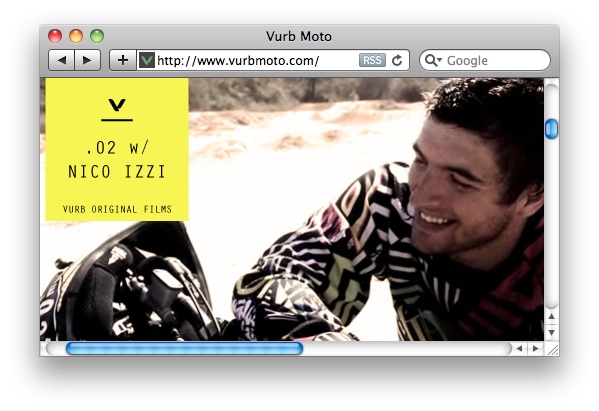 Vurb Moto- the site that amateurs read!
Vurb Moto- Vurb is a site run passionately by Wes Williams and Brent Stallo and probably some other dudes I'm forgetting about. It was for a long time, an amateur moto site only but in recent times, they have switched it up and added some serious coverage on the pro side. The site is big on video and short, concise blog style entries. You're not going to get a lot of written content but what you do get makes you think and stirs some people up and to me, that's a good thing. You're supposed to read something and then have to think about it, agree or disagree with it and then move on with your life. A site like SX.com which I profiled above has much more written content than Vurb but you leave not thinking about what you read. Vurb, with its Studs and Duds and Chargers vs Anchors blogs, at least puts it out there and you may not agree but at least it's substance. The popular DMXS radio show is also hosted over on Vurb and I have to think that's been a boost to the traffic on Vurb. I know the Pulpmx Show has definitely helped Pulpmx's stats.
PR Guy Take: As one of the newest sites in pro sx/mx Vurb moto offers a new and different look at the sport. Though it is a video heavy site there is good written content that once you find it on the site (easiest way is the blog link at the top). As this site is relatively new to covering pro SX/MX I think it will continue to grow into a site you will want to check out especially with the streaming and archiving of the DMXS radio show.
And finally, in all fairness, I asked PR Guy to take a look at Pulpmx.com and this is what he said:
Pulpmx.com: And finally an objective review wouldn't be complete without a look at this site pulpmx.com. I would say this site is targeted at the hardcore fans with its podcasts that feature a lot of the sports history, as well as timely subjects. More casual fans probably have no idea who this Ross Pederson guy is and why is Steve always talking about a crappy 1970's James Caan movie. Because much of the content is shared with Racer X, (or Transworld in the past) one of the things that people do go to the site for is to stream the pulpmx radio show which always seems to get good guests and is lighthearted enough to laugh at itself. For the content that is exclusive to pulpmx (like this story) there is usually one or two quality tidbits but they aren't seen by many people because the site still trying to grow its presence in the industry.