The king of the MXA covers tells us about his favorite one.

The king of the MXA covers tells us about his favorite one.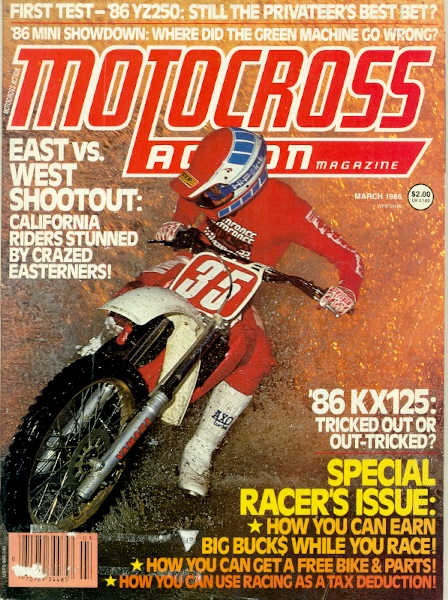 Brooks on the beach!
"This was 1986 and it's my favorite MXA cover ever and I've had a lot of them! This was up in Santa Barbara or Santa Cruz I think. Somewhere north of LA because I was living in Pasadena and it was a far drive if I can remember right. Myself and a photographer named Mike Kroger were there to test the new YZ250.
We were up above the beach up there, we parked the truck and made our way down to the water. I had to trials ride down these rocks to get there, we were going to do a complete photo shoot down there and get some cool photos. So I was down there and did some sand turns, got a little berm going when I spotted these rocks. They looked like Evel Knievel ramps so I was jumping off those onto the sand. I kept going and saw these two other rocks that were close together and figured I could double them.
I didn't really notice the moss growing on them I guess and I hit it and cased the other one or whatever. I woke up lying on these rocks with the bike on top of me! I guess I spun or something. I was out cold and I remember coming to in motorcycle gear lying on the beach I was trying to fit it all together. I had a helmet, boots and everything else on, it didn't make sense. Anyways, I figured it all out and came to and Mike helped with the details. Obviously I was dingy and not feeling it anymore. My bars were bent, the bike was beat up but we had to get some shots. Mike suggested just going down to the water.
So I would go down there, wait for the waves to go back out and then charge at the water and treat it like a berm. I was sliding into the waves and then taking off when one time I went a little far into the water and I guess it made a good shot. The sun was setting and the photo turned out awesome. This whole thing happened within forty minutes or so. We couldn't be down there too long because the cops were going to bust us. I honestly think that it's the best cover they've ever had and I'm not just saying it because it's me, it's just so different from anything else. You can see the bar looks a little bent in this shot. I wadded up pretty good, I remember going over the rock and then, bam- waking up in my gear on the beach.
As far as the bike is concerned, it was ok. The Yamaha's back then were average bikes. I remember that it had really good bottom end and then nothing up top. They also looked kind of bland with the red seat and red radiator shrouds. They were a normal Yamaha back then, they weren't great but they weren't bad either."