Some guy named Mcread wrote up a little report on the first GP of the year and we thank him for this.

Some guy named Mcread wrote up a little report on the first GP of the year and we thank him for this.
World Motocross Championship
Round one Bulgaria
Photos courtesy of Youthstream
So, the first GP is in the books, but the fast, jump infested hillside track in Bulgaria left fans with more questions than answers as to what will lie ahead in 2011. Here is a look at the top contenders and surprise performances of the first the GP of the year.
Ken Roczen was the favourite in MX2 and he didn't disappoint. The German teenager romped away with two easy victories on his outdoor debut for KTM. His starts were his weak point last year (and arguably a major factor that cost him the 2010 title). But in Bulgaria Roczen gated at the front all weekend, whether that is down to the stronger KTM engine or his time spent racing supercross America ( where starts are crucial) is open to debate, my guess is it is a combination of the two.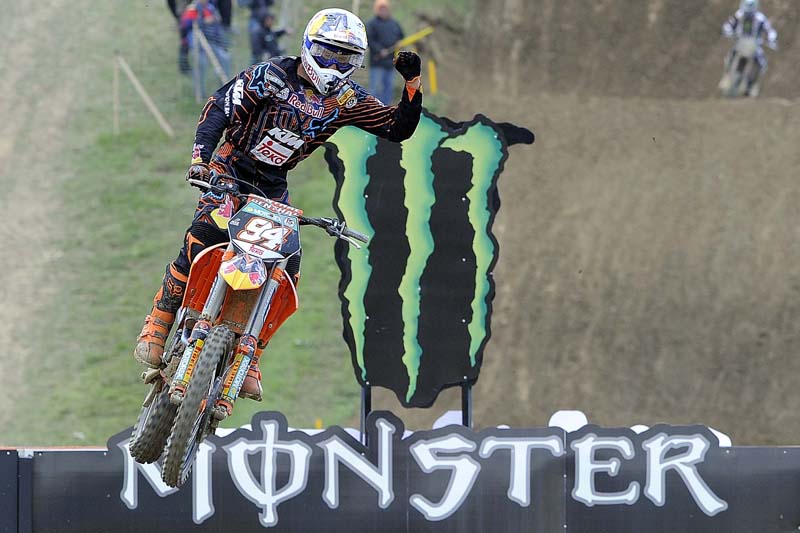 Ken Roczen was the favorite in the MX2 class he went 1-1 on the day.
On this performance it could be a long year for everyone else, but Tommy Searle still believes. Two solid second places gave Tommy the ideal platform to build his title assault, but he can't afford to let Roczen keep getting the starts. Searle is more focused and determined that ever, and if he can get away with Roczen, expect fireworks, because Searle has a point to prove.
In direct contrast to Searle's unwavering self-belief is Jeffrey Herlings. The sixteen year old Dutchman had a slightly disappointing GP with a fifth in race one after gearbox trouble and third in race two after losing the battle with Searle. Herlings' stunned the world in his interview after the second moto declaring, "it is my goal to be second in the World Championship behind Ken." Surely team boss Stefan Everts will not be pleased with such a defeatist attitude at such an early stage of the season. Especially coming from a rider who has as much talent and speed as Roczen. Maybe Herlings is playing mind games and will come out with all guns blazing at his home round in Holland in two weeks time.
In the spirit of making judgments to early it looks to be a three way battle for the championship between Roczen, Searle, and Herling – based on Herlings regaining some self- belief of course!
American title hope Zach Osborne was fourth overall just missing the podium he coveted in the first round. It was still his best result in Bulgaria, but arm pump struck the Yamaha rider and he failed to get on the pace of the leading three for a full moto. The rest of the middle of a very strong top ten comprised Jeremy Van Horebeck (5th), Arnaud Tonus (8th) and a surprisingly steady Max Anstie (6th) who will be pleased to leave his first ever GP with solid points.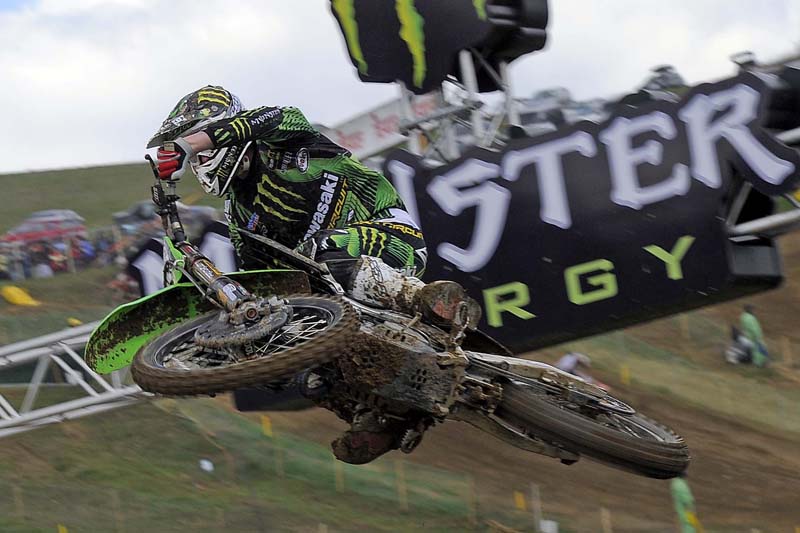 Pro Circuit Europe team member Tommy Searle ended the day in second overall.
Disappointment of the day was pre- season championship contender Gautier Paulin. Showing great speed in timed qualifying, Paulin didn't get out of the gate well all weekend, and on a track that was hard to pass and with a strong top ten Paulin could only must seventh overall. If Paulin wants to make a run at this championship he needs the starts, but being a bigger guy than his rivals, this could prove difficult on a consistent basis.
Special mention should go to Husqvarna who got a fine 11th overall with Alessandro Lupino on their return to the class showing the bike is capable even on a high speed track. However it wasn't all good for the team with Michael Leib failing to make the races after continuing to suffer from a concussion following a crash a few weeks ago.
MX2
1. Ken Roczen
2. Tommy Searle
3. Jeffrey Herlings
4. Zach Osborne
5. Jeremy van Horebeek
6. Max Anstie
7. Gautier Paulin
8. Arnaud Tonus
9. Nicolas Aubin
10. Christophe Charlier
MX1
In an MX1 class that boasts seventeen riders that have either won motos or GP overalls, there was always going to be some surprises in Bulgaria. But would anyone really have predicted MX1 debutant Steven Frossard to be the fastest man on the track and Tony Cairoli to get ninth overall ?!
Frossard, making his debut for Rinaldi Yamaha, was a revelation all weekend. He dominated the qualifying race and did the same in the first moto on Sunday. The second moto really showed his speed when he moved from sixth to first passing early leader and championship contender Clemant Desalle. A careless mistake while having a four second lead left Frossard having to mount a charge for Desalle again at the end only to come up short despite posting his fastest lap of the race on the penultimate lap. Frossard is for real and could be a championship threat on this performance.
The happiest man must be Clemant Desalle. The young Belgian won the GP, and looks ready to really go for the title this year. A bar banging duel with Frossard showed that he has lost none of his fight and aggressiveness but he is maturing with every race and has put himself in pole position for the championship.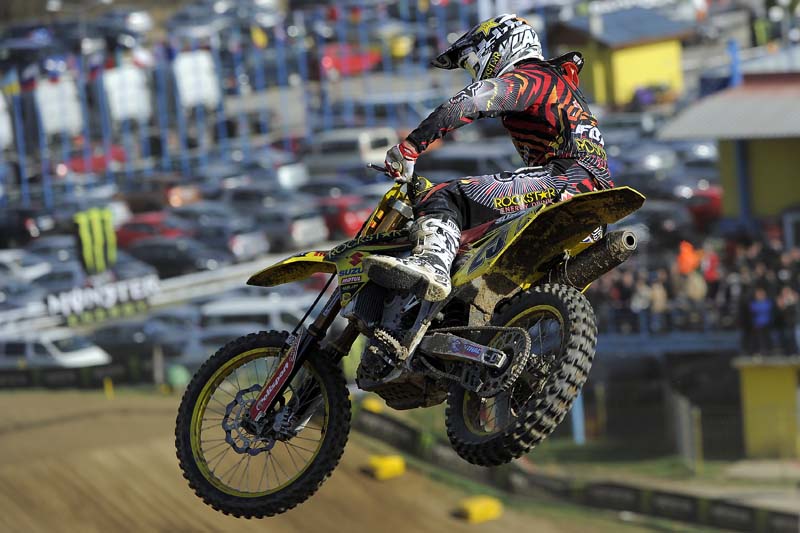 Clement DeSalle won the first GP of the year and with Cairoli's injury, may have instilled himself as the favorite.
Jonathan Barragan is back. The Spainish Factory Kawasaki rider showed his best form since 2009 and battled for the second moto lead en route to third overall. After dislocating his hip last year, Barragan is back to full fitness and has finally gelled with the Kawaski. The rest of the class should beware.
What happened to defending World Champion Tony Cairoli? Two bad starts combined with twisting his knee in the first moto, gave Cairoli and uphill task. Ninth overall was all he could do against the strong competition and Tony is suddenly 22 points down on championship leader Desalle. Cairoli will be desperate to win in Holland on his favourite sandy going at round two. He can't let Desalle or anyone else build more confidence and momentum.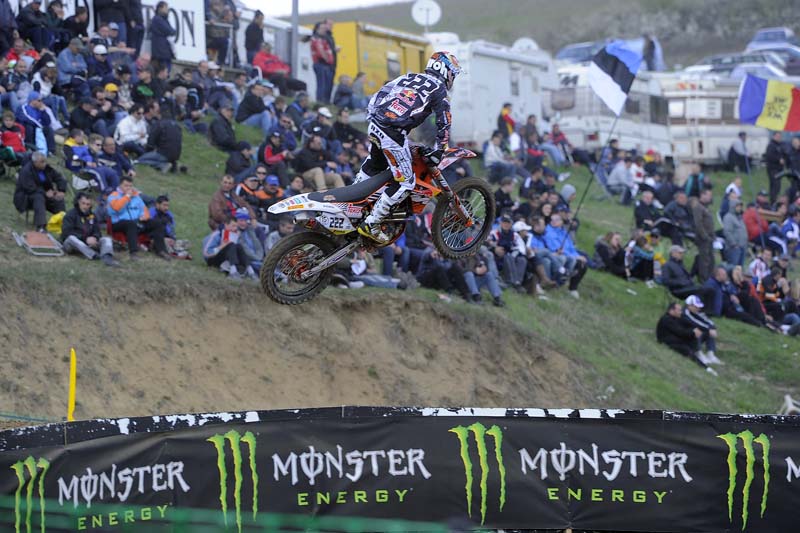 AC222 twisted his knee in practice and struggled to a top ten on the day. He's getting checked this week to see if there is damage.
There were a number of pleasant surprises in the top ten, most notably Kevin Strijbos. The former two time World number two has been in the wilderness in recent years and finds himself on a privateer Suzuki, but he was flying in Bulgaria. Seventh overall and battling with his factory rivals hopefully means a return to form for the talented Belgium who still has the talent to be world champion in the future if he can get back on a factory team and remain injury free.
The Factory Honda team also had a good weekend. After two years of poor results, Honda signed Evgeny Bobreyshev and Rui Goncalves to step up their program. Both delivered on in Bulgaria going fifth and sixth overall respectively.
MX1
1. Clement Desalle
2. Steven Frossard
3. Jonathan Barragan
4. Max Nagl
5. Rui Goncalves
6. Evgeny Bobryshev
7. Kevin Strijbos
8. Davide Guarneri
9. Antonio Cairoli
10. David Philippaerts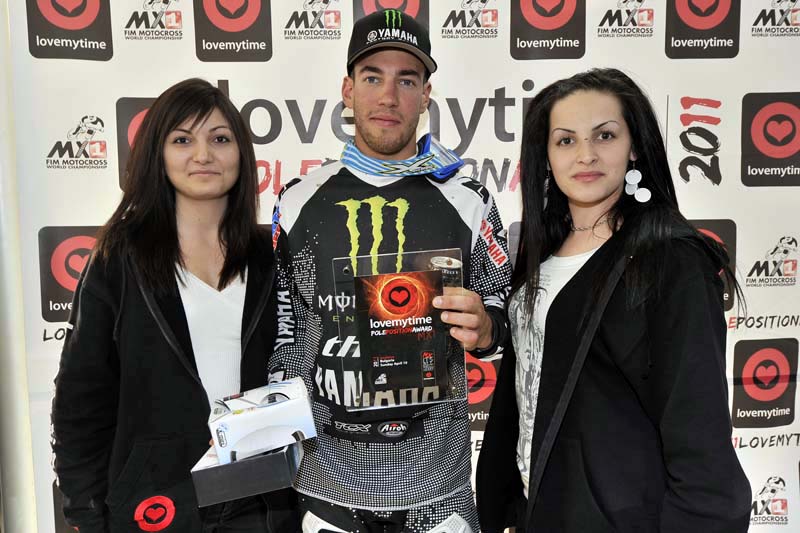 Rinaldi Yamaha rider Steven Frossard impressed many this weekend with his ride.