The beast from the east tells us about a photo in the first of a three part series. How exciting!

The beast from the east tells us about a photo in the first of a three part series. How exciting!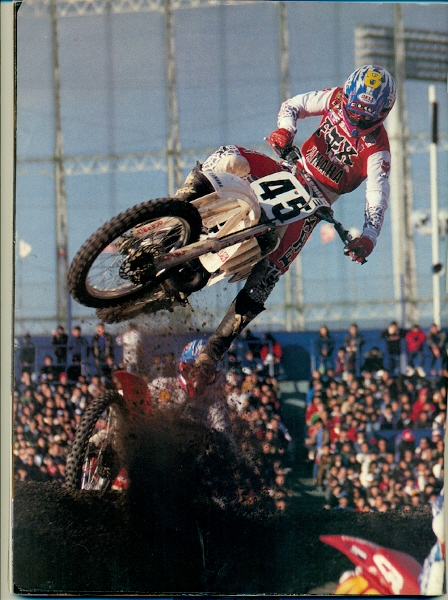 Bradshaw. 1988. 16 years old. Winner, Osaka Supercross
"This photo is from the end of 1988 when I turned pro. It was in a Fox ad that they ran in all the magazines. I went over to Japan and it was a back to back with Osaka and then Tokyo. This photo was from Tokyo where I didn't win and didn't do that well for whatever reason. This track had weird dirt and was pretty crappy and I can't remember which race was first. I was 16 years old and I had ridden some nationals at the end of the year and these were my first pro supercrosses.
It was a shock to win Osaka for sure, I had no expectations to do anything-not even make the podium. After practice, I think my times were pretty good and they were where they needed to be to do better than we all thought. Myself and Ricky (Johnson) had always been friends from when I was a kid and I got the holeshot in the main event and I remember the track was hard to pass on, it was real rutty. I don't know if I was the fastest guy but I didn't make any mistakes I guess. RJ was just running into me over and over. I remember that it was a right hand turn and he was on the inside. The ruts were deep and I remember that his handlebars were hitting me on the back of the head! I was like "Holy shit" and I started to get pissed now and thought ok, I guess the friend thing was over. He also had a winning streak from hell at the time, he was the man. So I won the race and broke his streak, we're standing on the podium and all he said was "You little shit, you screwed up now because when you call home and say you didn't win, everyone is going to wonder what happened" and you know what? He was exactly right.
It was a big shock to win but it was really cool and it was the beginning of me thinking that maybe I could do what everyone thought I could do. This picture is pretty famous, I've signed a whole bunch of them over the years. This is one that I'll never forget, I've seen so much of it. I kind of wish that the other rider wasn't in there and I guess if it was now, they would just photoshop him out! I don't know who got third but it might've been Wardy. The fans were always so enthusiastic about us when we went over there, they treated us like kings. They all looked up to us and at that time, the Japanese riders were so far behind us in terms of talent, they were in a different ballpark.
I remember going to Tokyo and having some pressure on me to win so now that I think about it, I guess Osaka was first!"