4 Men, 9 Points.
4 Men, 9 Points.
Photos by: James Lissimore
Man, what is it about Florida? Last time I was in Florida I skipped Swizcorner Daytona. Last week I was again in Florida and skipped Swizcorner St. Louis. Maybe I just figured TWO Pulp talking heads would be overkill for race coverage without #beingthere.
At any rate, I've fired up the MacBook to hit on a few things which made Seattle interesting to me.
SX Lites
I was fully expecting my boy Broc to handle the field in Seattle. After-all it was the site of his first win in 2010 and he has shown when the conditions get "unCalifornia" his confidence surges and slick-condition skills shine. This Seattle track was pretty unique in that it was essentially precipitation free but in truly typical Seattle fashion, the ruts were peg draggers in the mains.
Following the awesome heat race battle between Broc and TLD's Cole Seely I told Mrs.Swizzle that Broc would handle him over 15 laps. Let's be honest, prior to Seattle, Seely had earned himself a reputation as a California kid who struggles when the dirt gets unpredictable. One thing, a rather big thing, made me reconsider my post heat race thought. Cole just got done riding a Factory Honda 450 for the last few weeks. Anyone who has ever gone from racing a big bike, back to a little one knows the renewed fun factor and confidence that comes from getting re-familiarized with the more flickable machine. Not to mention the irreplaceable experience of a continued race schedule while your competitors are training and practicing only.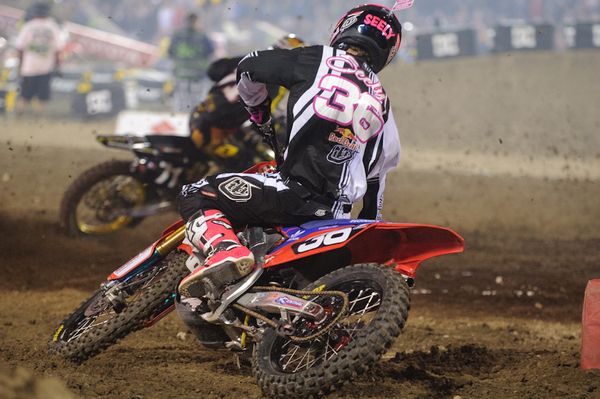 No longer just the "California Kid".
Cole Mentioned after both race wins in Seattle how important he felt those weeks on the Factory CRF450 were. Cole looked great and lucky for me, Broc had already been picked in my weekly betting pool so I put my faith in the temporary Factory Honda 450 mounted Cole Seely. Thanks Cole, for proving my theory right and your slick condition reputation wrong. You owned the field in Seattle.
Eli Tomac didn't look so hot in the beginning of the Lites main but as ET has shown since the start of this SX season, he adapts quickly and begins moving forward. When Eli caught his stride there was little doubt he was going to catch Broc, Seely on the other hand was just flowing out, front having built a comfortable lead. With better starts he will be difficult to beat in the last two races as well as the 2012 Lites SX season.
Tomac is another guy who, like Seely, I didn't think had the skill set to shine in the unpredictable Seattle conditions. What do I know? I guess it's just an additive they put in Tomac and K-Dubs water bottles in that Geico rig?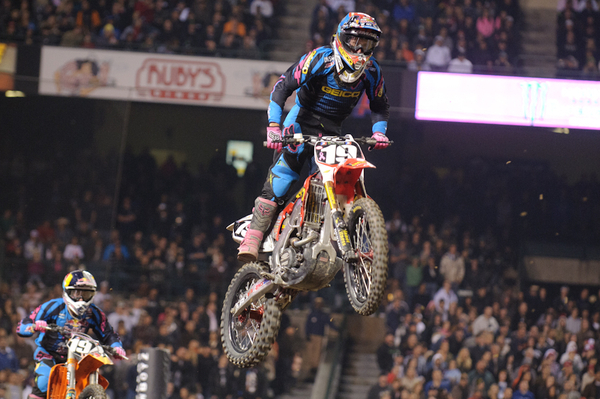 The Book of Eli: Start slow, finish strong
Tickle rode solid as usual. He seemed to have the points lead on his mind and was in safety mode. Don't push it, ride smart and leave Seattle with the points lead. It worked. If Hanny wasn't injured Broc would have needed to push it and I believe he would have done just that. It would have been nice if Broc could have kept Eli behind him but it would have been silly to risk the points lead by battling with Tomac who was obviously feeling it. I hope when it comes down to it, Broc won't hesitate to ride as aggressively as is necessary to bring home this title. Nothing dirty like Hanny's handling of Kyle Cunningham a few weeks back but taking it by the reigns is something BT20 needs to do when the track isn't so sketchy.
I'll be totally honest, I have nothing against Hanny but I was fully expecting Cunningham to run it in hard on him when passing him. After-all, Hanny's got one coming from him. Maybe Kyle is just too nice and didn't want to get him when he's injured? Good thinking if so. All taking an injured Hanny out would do is make you a pariah amongst fans and racers alike. This story is unfinished I believe.
Kyle has a lot of speed(obviously with the top qualifying time) but as usual, he has a tendency to crash. Kyle's ratio of speed to crashing has been leaning more towards speed this season, I hope it continues in that fashion, he's a good kid.
The Styla seems to have overcome his back problem and pulled down a 5th. For his first SX season I think Tyla is doing awesome. He's been injured a bit but he's learned fast and his consistency has been great for a SX rookie. You can't help but pull for Tyla, a great dude who is so serious about being the best he can be. I'm a big fan of this no BS guy.
Weird, when I was thinking about Hanny's 6th place finish, my first thought was, very impressive. Then I looked at who finished behind him and with the exception of Moe, Davalos and Paluzzi, I really wouldn't expect anyone back there to be ahead of even an injured Hanny. Props to Josh though, to come from where he was last season on his PC ride when he would pull off or putt around after adversity, to now, where he is gutting out some certainly painful injuries to still find himself a serious title threat is a big step. Mitch has done what many teams before him could not, make Hanny want to work to live up to his potential instead of just relying on his potential's reputation.
It's always exciting to come back to the first West coast race after their hiatus. Confidence shifts, injuries heal(or in Brocs case, occur) and we revisit our preconceptions formed from the first part of the series.
SX Class
We saw another compelling finishing order to bring the overall points for the top 4 closer than ever. Can you believe the top four are separated by a total of 9 points with only two races to go?! It's unheard of in motor-sports, especially in SX where rider confidence swings on a pendulum and winning streaks are the rule, not the exception. It was such a bummer to all of the sports fans to hear of Trey Canards injury this week which will see him sidelined for the remaining rounds. Trey had an incredible rookie year.
RV's homecoming to Seattle wasn't what he was hoping for. Though he left retaining the points lead, you can bet your ass he wasn't expecting to score a 4th at home. With the way RV's main event started, coming back to 4th is a great ride though. There was carnage in the first, well second, turn of the main which saw RV teetering on a tuff block, finally taking off in about 16th place. Considering the only people to finish in front of RV were the three who started at the front of the pack, I'd say RV is pretty happy with his ride. Too bad Speed didn't spend more time covering the hometown guys charge through the field, I'd love to write about it. :-p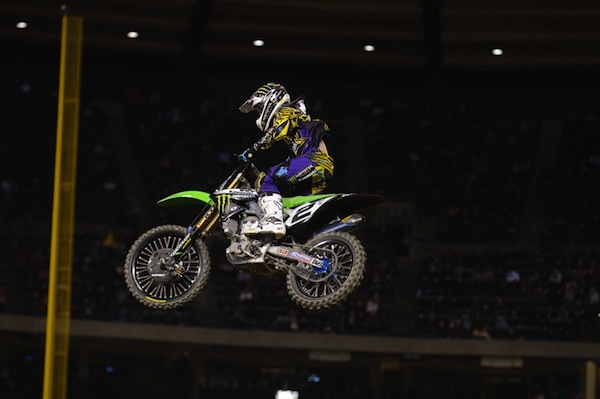 Will RV get another win?
The main event started off great for Chad Reed with a solid 3rd place start which he quickly turned into the lead. Unfortunately for Reed, his first trip into the whoops was abysmal. He didn't hit his rut and was forced to pull his feet from the pegs to use as outriggers while regaining balance, meanwhile Stewart passed on the outside. Reed regained the lead momentarily in the corner following the whoops but it was short-lived.
Chad appeared to be struggling with the deep ruts more-so than he typically would in the beginning of the main. He found his mojo and held down a solid second until there were 2 laps to go when he totally boogered himself into the face of one of the rhythm jumps. The culprit? Cross-rutting on the top of an on-off sent him into a nose dive there was no recovering from. He hit damn hard and his bike pile-drove him in the back while he lay on the face of the jump. There is no doubt in my mind his air was gone from one of those two hits. How he got up, remounted and got going again so quickly blows my mind. Imagine how difficult it is to just get your wind back when you get it knocked out of you, let alone when you're fatigued from 18 laps of racing and remounting from that crash. The guy is a stud. He's not resting on past achievements or looking for opportunities to make excuses when shit goes bad. He just sucks it up and presses on.
The crash allowed Windham to move into 2nd and a charging Villopoto to close in and come together with Reed in a peg dragger. The contact bounced them both out of the rut. Reed ended up outside and RV inside through the rhythm section where RV had to check up as Reed moved into RV's line ahead of RV. Leading into the exit of the whoops, RV made an error and tipped over allowing Reed to round out the podium uncontested.
It may sound like I'm blowing Reed lately but it just impresses the shit out of me how hard he fights back when shit happens when he could very easily just spit out cliche's and ride around.
Perhaps being team owner is the difference? The reason is unimportant to me, it's what I see on the track that speaks to me and the Chad Reed of 2011 is the most impressive Reed I've seen.
In past podcasts on Pulp, you may recall that Weegie guy commenting that K-Dub is the rider who shines most when the track conditions are leaning toward the extremes. Sloppy and wet or super hard-packed and slick. The surgically precise K-Dub throttle control seems to fit these dire conditions perfectly. Judging from qualifying times, the Weegie guy looked like a genius. K-Dub qualified first and then went on to win his heat. It was all coming together(and Im sure you'll hear in the Seattle review podcast this week, Weigandt will again state his rock-steady theory and follow it with an inaudible reach over the shoulder, to pat his own back).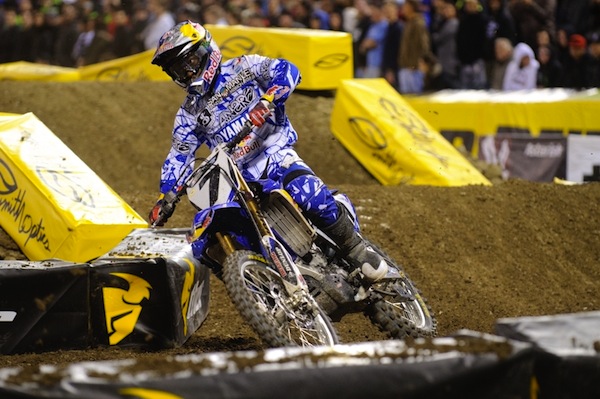 Are things back to "normal"?
K-Dubs throttle control was trumped by a resurgent James Stewart in Seattle. K-Dub was right there with James on the start so there could be only one explanation for James' ability to pull away from Kevin so efficiently. Water loss. Yup, the buckets of tears expunged by Bubba in St. Louis was enough volume to give him the power to weight ratio he needed in Seattle to trump Windhams unparalleled throttle application.
K-Dub may have ridden to the most quiet 2nd place finish in history. If a tree falls in the woods and no one is around to hear it does it make a sound? Well that metaphor doesn't play here because tv time or not, the check still cashes the same. Good to see K-Dub's season highlight is no longer leading Houston before that brutal rhythm crash.
It looked like the old Bubba was back in Seattle. He got a great start, capitalized on Reed's early error in the whoops and rode 20 solid laps on the sketchy track to bring home his second two-race win streak of the year. It'll be interesting to see what James does in SLC because following his first 2 race win streak of the year, he followed it with an 8 race win drought.
We now have a week off which is only going to add to the fever pitch this season has created. Sit back and enjoy. No matter what happens in these last two races, it's going to be a phenomenal end to the best SX season ever.
Yup, I just said that.