Pulp fan John Nelson went to the GP and wrote this cool little story up about his day

Pulp fan John Nelson went to the GP and wrote this cool little story up about his day
Me, Chad Reed and the Elusive Pulpmx Wordsmith
By: John Nelson
Open with an uncharacteristic May day in southern California, the skies are dark, the air is cool and crisp, the ground is soft and swollen from an unexpected late spring soaking.
The day started out with a simple enough objective, take my 3 year old to the US Motocross Grand Prix and initiate him into the world of motocross. What better an opportunity that to say my first race was a motocross grand prix, I already had the memory planned "remember your first race, yep it was the US grand prix in 2011, that was so cool". Alas not to be, the mind of a three year old changes like the wind, favorite toys, clothes, and foods all unpredictable targets of change in their world. With tickets bought and plans set, the words "I don't want to go, I want to stay with mom" were spoken, dad and son adventure over, objective incomplete. Just as I was leaving for the race with hugs passed out and good bye's said, I was left with a parting a comment from my three year old, "get a picture with Chad Reed". So to put this comment into context, the only rider my son is aware of is Chad Reed and it's from a 2010 mx toy that has Chad Reed on his Kawasaki 450. I politely said will do, knowing that the chances of running into Chad Reed at the USGP was slim to none since he obviously doesn't race the GP series and he wouldn't have his Two Two Motorsports semi and autograph line set up this weekend. Mere moto mortals just don't run into Chad Reed. If Chad Reed was even at this race, he would be watching surely in the luxury of the giant Monster Energy hospitality center with all the other industry types. I on the other hand would be armed only with a general admission ticket and a $10 pit pass I definitely wasn't going to be allowed anywhere VIP or rub shoulders with the sports elite.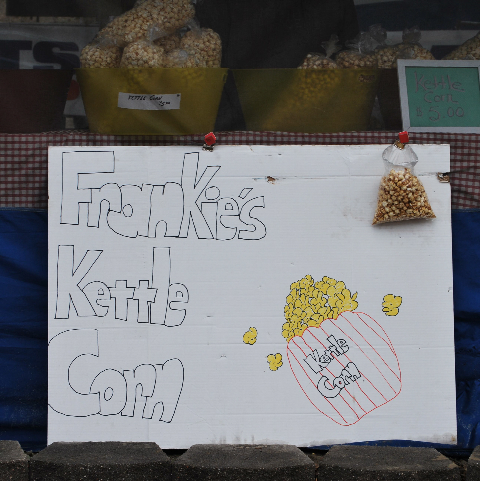 No sign of Matthes here but props to the sign maker on the care he took with this one.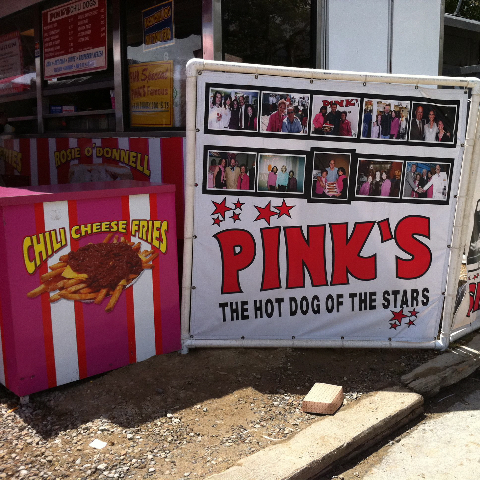 The famous Pink's Hot Dogs was there vending but still no Matthes…
I arrived got parked about 11AM leaving me one hour to spare until the first MX2 moto was set to start. One thing the Europeans are good at is start times, I have found they value a tight well run schedule. Parking was simple enough and quick which speaks well for the organization of the event, but could also hint at the amount of spectators at today's event.
With dark skies, rain soaked soil, and cool air temp the ambience of an authentic GP was set, I imagined myself walking through the parking lot headed to see the worlds best dual in the sands of Lommel. With tickets traded for various wrist bands I arrived at the pits in time to look at today's works bike trickery that is unique to the GP scene. The bikes were simply amazing works of technical art. One thing that stood out, could the forks on today's elite racers get any bigger in diameter? They seem so huge, maybe you only realize the reason when your pinned traveling at 60+ mph down whooped out straight away. An hour passed quickly and the first Mx 1 moto was in the staging area or what I assume in GP terms the parc ferme? Within minutes the gate was set and the familiar whine of throttles in unison revved to 3/4 throttle,
the gate drops and with a roar they were off and so was the days adventures.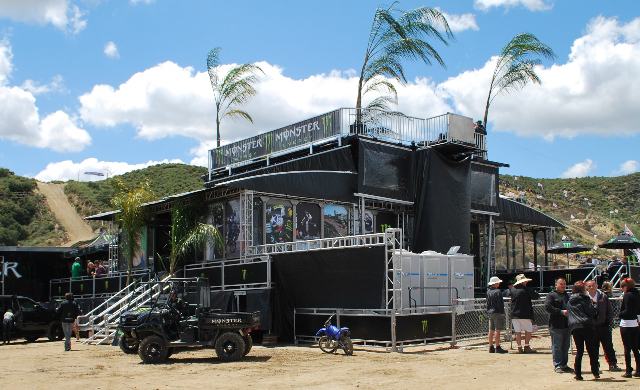 The GP's have a new title sponsor Monster Energy and they brought this impressive building.
Now flying solo sans my mini comrade, I was forced to regroup a bit, I am a bit of a goal setter and like to have a mental plan in place, almost a "things to do people to see mentality". I committed myself to take as many photos as possible to capture the day, I enjoy viewing subject matter through a camera lens, no complex explanation I just do. With the photographic style of an amateur war correspondent I took to exploring the track and the all the challenges that Jody Weisel and mother nature had thrown at the riders. Needless to say both first moto's for the riders were extremely muddy and Glen Helen looked to provide plenty of challenges for both man and machine. A secondary plan also began to form, see Steve Matthes aka Pulp Mx in action. I saw on twitter that Steve was going to attend the event. This might sound a bit stalker-ish but I thought I would keep an eye out for the goateed journalist, say a quick hello and assess for myself "is he a cat or a dog" and then move on? With photos to take and the new goal of keeping an eye out for the man known as Pulp Mx it gave me a bit of a plan to follow.
I tried to cover as much territory during the day as possible, checking out the complete track from most angles, I did the uphills, down hills, most of the pits, the starts for every moto, the bike wash area, parc ferme', infields, muddy straightaways, vest wearing media track locations (media photogs tend to congregate in groups, shooting similar angles something I thought was strange). I felt like I did due diligence in my "Where's Steve" checklist, and came up empty handed, the only thing I didn't go for was Mt. St. Helen and honestly it was just for the sheer laziness of it. I just didn't see a lot of value in getting the birds eye view of the whole track and plus this isn't a dig at Steve but I thought the chances were very low that he would be up there.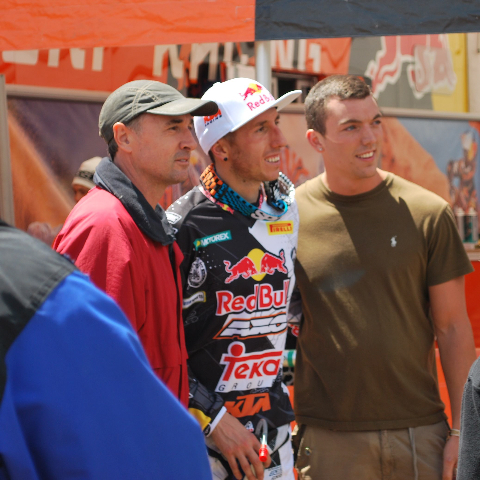 Antonio Cairoli was popular with the American fans.
From my POV the track was very well prepared but still seemed really gnarly, Lord Orange Helmet makes an extremely tough track in my opinion, for comparison, the Donington Park track in England the 2008 Des Nations didn't appear nearly as tough or technical as Glen Helen. Not sure if this is a good thing or bad thing for the competitors, but for Jody being a traditional outdoor guy, I am shocked he makes so many consistent obstacles in a row, the track was very rhythm jump or bump oriented in certain sections. You really can't relax or for the lack of a better phrase lose your rhythm, or you would really slow down. Second moto saw MX2 winner Roczen almost throw it away for that reason and he wasn't going slow in this section, it would have been a dirty one.
In my "Where's Steve" adventure, I had my eyes much more open and I witnessed more of the sights and sounds of the races than if I would have locked myself in a particular part of the track, with a cooler and pop up tent. My simple observation was that while this was a casual day for the fans to enjoy the sport we love, those involved were very serious and working hard at doing their jobs which was cool to see. I also found all USGP competitors to be great ambassadors for the sport, they were very gracious and played to the fans at their various tents. The only thing I wished I would have done different was read the very informative "Official Program". There were a lot of very talented and well known GP riders that I missed seeing or even visiting their paddock area. I would've liked to convey my appreciation of their work with a casual hello or some sort of acknowledgement of their hard racing efforts. When you see the infrastructure of the bike crates, parts, technicians tools, and rented vehicles it is a huge effort to travel overseas and be apart of a global series, for that I give these grand prix competitors due props. If you get the chance, save your money, plan a trip, make the USGP a destination on your calendar it is a worthy event to witness if you are a moto fan. The racing, the access to some of the worlds greatest riders, the amazing works bikes all make for a fan worthy event. Also you just might randomly get a picture with moto fan and celebrity Chad Reed for your kid.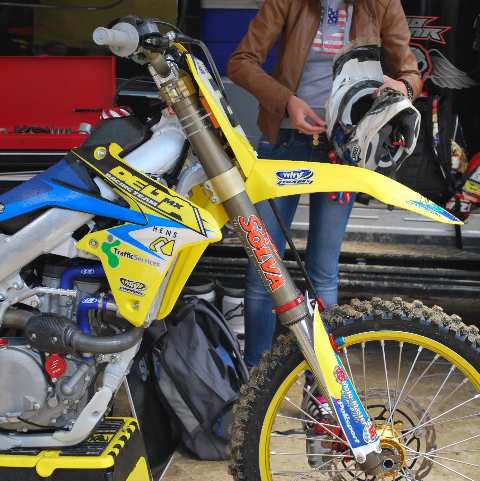 Only in the GP's do you see this kind of stuff. Solva forks!
So "Where was Steve" in the end? I personally don't know but my guess is simply that Steve was doing his JOB! He was probably at the media tent typing away, handing EKS brand goggles out to riders or manfriends, collecting interviews and bits of info for stories, or catching up with the various industry insiders. As a fan of his work I'm glad he was pounding pavement getting the next story or scoop. A bonus for myself and maybe Matthes was any awkward interface of me saying "hey Steve love your work and the show" and him responding "cool". Awkward silence, then we both go our separate ways, pondering our next destination.
Notes: Things I noticed, Antonio Cairoli is a star of the sport as much as Chad Reed and James Stewart are, he has that thing, that top actors and celebs have, that mystery spark. The biggest fan crowd in the pits was definitely at the KTM tent and a large part of those fans were waiting for him. Also the euro's were fast, they were very impressive with their speed and unique styles.
Things I liked about the event, it was MOTOCROSS. The difference I see between mx and sx is the following, motocross whether it is US or European based is fan friendly. You are up close with the action, you see, smell, literally feeling the racing, you get to live the event. The pits are fan friendly and you feel much more apart of the racing scene and less that you are watching a show or event, feeling apart of something is an interesting connection for fans to experience. Case in point, while the MX1 first moto was going off I went back into the pits to watch the mechanics do the fire drill to get ready for moto #2 of the MX2 class it was really cool to see the behind the scenes at work and all the effort the technicians put into the day. If this was an indoor event, the pit party would be closed and off limits after the fireworks went off and the laser lights went dark. I feel it's much more visceral experience for fans.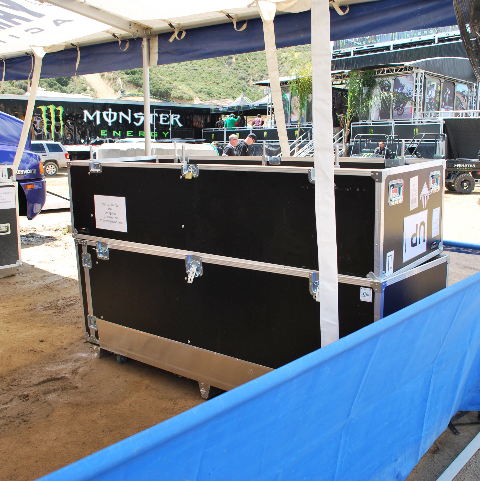 Everything was shipped over in crates like this.
Things I didn't like, simply the lack of turnout, they could obviously do a much better job of promoting the event, in my opinion southern California should be peppered with info in the months leading up to the event. Get the PR out to the masses, not just the niche market of hard-core moto magazines. Revise the plan whatever it is or this race will go away again.
Get more US riders to show up, pay the riders, negotiate with agents, and manufacturers do whatever it takes to get at least one US racer that is a podium contender to show up. Follow the lead of a local socal casino and put up a $100,000.00 again, do the winners take all side bonus or maybe do a $100,000.00 trickle down payout. Just do what it takes to get a top ten rider from the indoor series to respond.
Isn't this race a good tune up like the prequel was, I understand completely all the reasons not to race and the list is long. But the race seems like an opportunity to switch gears and transition from indoors to outdoors be more prepared heading into Hangtown. KTM's Marvin Musquin's ride seemed to reflect this thought process.
US Riders & Industry folks that I recognized providing race support or just at the GP as a fan, from Pro Circuit Mitch Payton & 2011 West Coast Lite championship mechanic Dave Feeney and Lil' Hanny, Doug Schopinsky (former Bridgestone race support), Mike Battista (MB1 Suspension), Dirt Shark & Eric Johnson from Monster, from Yamaha Mike Guerra, Jim Perry, Dan Rambert, Suzuki had Ray Tetherton under the tent, at KTM I saw Roger D. and Frank Latham and DV12. Cruising around was Malcolm Smith, Malcolm Stewart, Jeff Alessi, Sean Hamblin, Rob Buydos, Two Two Motorsports Chad Reed was hanging out with Ryan Sipes, and Will Hahn. Stu, Mark, and Sondra Peters were in the pits, Troy Lee was there in support of Christian Craig and T. Baker. Point being it was cool to see industry folks show up in support of the race. Oh and I read that Steve Matthes was there as well.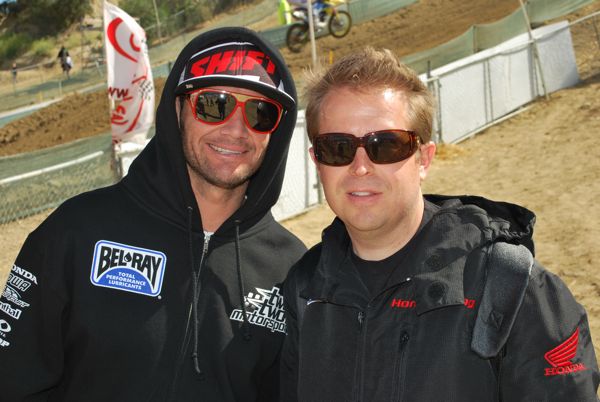 And finally, although I didn't see Matthes, I saw someone better and got my pic with him.