I've been wanting to hook up with Wil for a while now… wait, that came out wrong.
I've been wanting to hook up with Wil for a while now… wait, that came out wrong.
Photos by: James Lissimore
Swiz- I wanna hit the important stuff first, has MX vs ATV Alive put your Mad Skills training program on hiatus?
Wil- I gotta be brutally honest with you, I have not played it yet. I've been busy, then my agent got my game and I haven't met him since Ive been busy and then I flew out today so it's just been a hectic schedule.
So you did make the game line-up then, obviously?
Yeah, I did make the game but I just haven't played it yet. It'll never put my Mad Skills on hiatus though, that's for sure.
I saw on your Twitter, you started riding a little bit?
No I haven't rode yet but I did get released today to start. Using the term "easy", I'm gonna' really really ease into it.
So do you still have some pain?
Uh, yeah I mean a little bit, nothing serious though. I go home next wednesday and then I'll start riding, so another week and I'll hop on the bike.
Is most of the pain just due to the muscle atrophy from not riding in such a long time?
Yeah, just the atrophy of the muscles and whatnot and it being that long since I've used them you know and then obviously hurting them when I did crash.
Does your back feel all good now, so it's just your shoulder?
Yeah my back's 100%, man, that thing couldn't have healed up any better. I'm pretty fortunate with how all that played out and having a such good team around me.
So how are you holding up? Have you ever been off the bike this long?
Uh close, it's been close to almost the same amount of time, this'll probably be the longest but I've been holding up. It's like anything you know, you'll have ups and downs. You have days where it's not the best and it's hard to fight through but you make the best of it.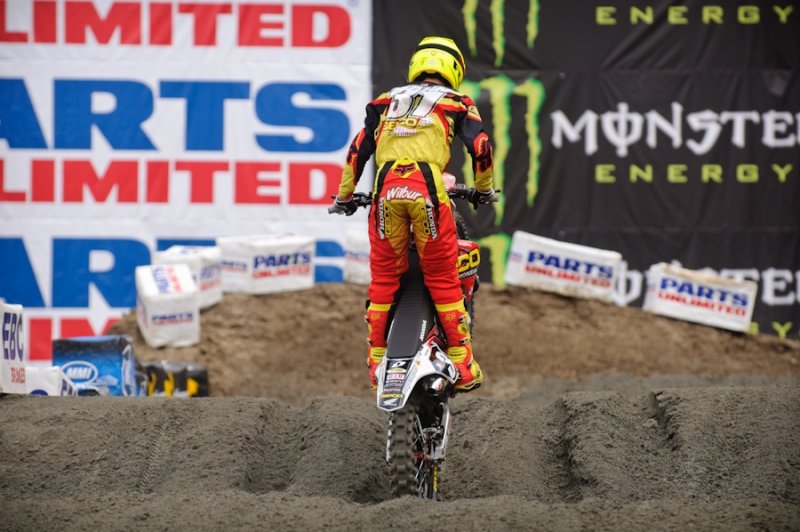 He'll be back soon folks.
With Tommy's problems this year as well, it's definitely been a character building/check kind of year for the Hahns.
Yeah it has absolutely, it's just been one of those years where nothing's really gone right but eventually, it turns around.
I've seen a lot of PMA((Bad Brains reference)-Positive Mental Attitude) retweets in your twitter status which is good to see.
What do you pull away from the trials of 2011 thus far? I know you're pulling a positive out of it somehow.
I think it's just something that you live and learn you know, I don't regret anything. The last crash that happened man, to pull anything away from that would just be luck; Anaheim was more my deal, you know, I put pressure on myself. Maybe I was trying a little too hard or whatever, you know people said but I still don't regret anything between now and then. As far as I'm concerned, you just live and learn and like you said, it's a character building year and fortunately I have a really patient and great time behind me right now.
Any extra pressure when you come back from being hurt so long and having not raced for the team?
No not really, I think it's something better, I get to debut and… maybe it's not as soon as I wanted it to be but when I do I will be ready.
Any sense of letting them down?
No I don't feel like I've really let anybody down. I think that they signed me to do a job and unfortunately part of this job is also getting hurt and you know, they know that going in. You know, at anytime any one of us could get hurt, it's just who and when and what and unfortunately, how. But at the same time, they've been nothing but supportive, like I said and there's no rush coming back. You know, when I come back, I still don't have anything to prove, it's just getting ready for 2012 at this point.
What's your main goal when you return, what would end this year on a positive? Just being healthy, or are you working toward a specific range of a series finish or what?
We're always working toward a goal, honestly, I don't wanna come back unless I can be up there fighting with the leaders. I feel like that's where I belong and that's why they hired me. I'm sure there are people that would say otherwise but I ended on a good note last year, I did get on the podium once and I can do it again. My main goal and focus right now is to find my speed I had before Anaheim and that confidence and go from there and I know if I have all that lined up, then there won't be any problems.
What do you see as the most apparent difference between the TLD and Geico teams?
Just the attention y'know. Not that the TLD guys weren't good to me, I praised them and everything they did for me. They dug me out of a hole but this is the factory team of the Lites class on a Honda. It's just the attention and the attention to detail, the budget, there's a lot more on staff, it's a big team and and these guys bleed to win. It's tough to put into words, it is different but Like I said, I still have love for those guys but this is my dream team and where I always wanted to be and to finally be where I always wanted to be and see it all unfold in front of me; I'm just ready to be on the track.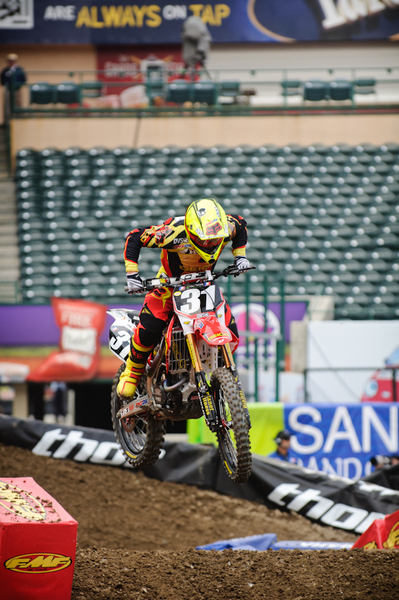 Wil gettin after it at A1.
With regard to the bike, was moving to the Geico noticeably different or did you start with pretty much what you ended with at TLD and just fine tune it?
No it's a totally different package, that's for sure. Over at TLD we had Pro Circuit suspension and now we run obviously Factory Connection suspension. The engine packages are way different, like I said you know, it's just a totally different team and I started off and I haven't stopped smiling since I first rode the bike.
What is your contract status at the end of 2011, was this a two year deal?
Yeah this was a two year deal so I'm still under contract next year with Geico and trying to flip things around for next year.
So which race are you aiming at for your return?
As of right now I would say Millville, is the plan. That's what we've planned on the whole time. Like I said, it could be better, it could be worse. We're just really focused on not rushing it and when I come back, I'll be ready.
What were your thoughts on watching the west series from the outside looking in?
Um… there were some surprises and then also some things that don't shock you; Eli doing well doesn't shock me because I rode with him all winter. You see that potential and you see what he can do and his drive and work ethic and you know he's gonna be good no matter what. You know, maybe it'll take him a few rounds to get going and it did but the kid almost came away with the title in his first year and thats pretty rare. I was so happy for him in Vegas even though he came up a little short but he's young and he rode really well for his first year. Broc getting the title is awesome but at the same time, we're veterans and we should be winning. You know, I put myself in the same category as him, we're the older guys of the class, it's kind of what we're there to do. Not to say it's what's expected but at the same time, it's not like it was a shock by any means.
There were definitely some shocks, some guys that I thought would be better and some guys that did better than I thought they would. It's like that every year, y'know the guys you count out end up doing really well and the guys you count in do really do that well. it's easy for me to say, I've been a professional spectator all year(laughs). Very happy for our team and how it all played out and Justin obviously getting the east title.
Were you surprised that the West had so many winners?
Uhh… yes and no. I was kind of surprised on the inconsistency, at the same time, everyone was riding really well, you know, Roczen was riding good at the time. There's a lot of guys in there that were riding good, the PC guys, all of them were riding good, both coasts had very strong fields.
Any thoughts on the Eli/Seely "issue" in vegas that some questioned?
Honestly it's something that, it's not my part to chime in on, it's not my fight. At the same time, I know it sounds bad but it's just something I have to stay neutral on. It's really none of my business at this point. You know, you see some things that maybe you don't agree with and they see some things they don't agree with. I don't know how the full scenario played out that night, as far as Im concerned, I was a spectator that night but you know, at the same time I wish I coulda been out there helping Eli.
Do you have any thoughts on Pourcel's return?
I'm kind of shocked with the direction he went after he had a deal lined up with us, the Geico team. To each his own, obviously he rode the bikes and that was that. I hope he has a good return, I know it's hard coming back from injury. He's dealt with a lot of bad luck over the past couple years so it's hard not to wish him the best of luck.
Go ahead and give some love to your sponsors who have stuck with you this season Wil.
Definitely. Thanks to Geico, Honda, Fox, Factory Connection, Amsoil, Planet Fitness, Dunlop, Smart Water, Skullcandy, Tag, One Industries, DVS Shoes, Cycra Plastics and Pro Circuit.