Right after Vegas, I called up Justin Barcia for an interview for my overseas client and on this off week, I thought I'd run it.

Right after Vegas, I called up Justin Barcia for an interview for my overseas client and on this off week, I thought I'd run it.
GEICO Honda's Justin Barcia was one of the favorites for the east coast crown going into the season but his chore got a lot harder when he crashed hard in practice at the second round in Atlanta. Barcia, in only his second season of supercross cracked some bones in his hand and made holding on very painful. During the week, Barcia was off the bike and trying to get healthy and then would show up on the weekends to try his best.
His best was pretty good because Barcia made the podium every race and showed none of that bam-bam mentality that he had last year, that kind of mentality that prompted Honda manager Erik Kehoe to pull him aside and give him a talk about calming down. No, Barcia was very consistent, didn't push anything and by the final round at Las Vegas, he had almost a race lead in the points.
In Las Vegas he, what else, made the podium again and clinched his first professional championship. The future is bright for the #17 Honda rider and I called him up shortly after winning to get his thoughts on everything.
Me: Justin, thanks for doing this and that's it, you're the east coast 250 champ. Must be sweet!
Justin Barcia: Yeah man for sure, to be the champion is something that you always dream of and here I am, almost a week later and it still hasn't sunk in all the way for me quite yet. It's weird because we went straight into the outdoor testing and I haven't had time to digest it all.
You had a nice lead going into the last round in Las Vegas but were you a bit nervous?
Yeah, definitely I had some pressure on m. But I knew that I was going to go out there and race hard like I normally do and it would all turn out to be ok. I had a little crash but I was able to get up and finish on the podium to clinch it.
You made the podium in every race and you were more consistent than last year for sure, was it because of your injury that maybe actually helped you just take the points on certain weekends?
You know, you may be right. That might be pretty true that it helped me out. It slowed me down and smoothed me out and it worked pretty good.
What about the different format in Vegas, did you like having your main event and the east/west shootout all in the same night?
It was ok really, I think I would have rather wrapped up the title sooner and have no pressure in Vegas and then you could focus on the shootout a little more. I don't know, I think I like it the other way.
Yeah, in the shootout you crashed and then spent the rest of the time doing whips for the crowd. Were you just taking it easy out there?
Yeah, definitely. I wanted to win for sure but I crashed twice and was so far back. I didn't want to pull off so I figured I would pump up the crowd a bit!
What did you think about the Las Vegas track in general?
I thought it was better than last year for sure, it was tricky and they didn't overwater it too, too much. It was still slick- I lost my front end a few times but overall, they did a good job.
What was your best race this season?
That's a tough one. I would have to say Atlanta was because that's where I crashed and even though I didn't win, (Dean) Wilson did I felt like I rode pretty good in that one considering that I crashed and all. My wrist was jacked up and I had to tough it out. It was like a win for me, it was crazy considering everything that had happened.
I would say probably it was Indianapolis. I probably should've won that one but got second. All my races were pretty good, no maybe it was the shootout because I wanted to go out there and show those guys what I had. And I was good for a few laps before I crashed.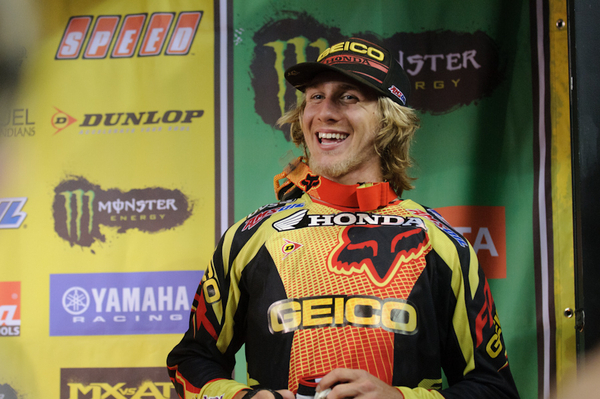 Barcia was incredibly consistent this year in supercross
Let's talk about your competition; obviously we knew Wilson would be pretty good but what about Ryan Sipes? Did he surprise you?
You know what? Not really, I knew he was good and there were lots of other guys in there as well. Guys like Blake Baggett and my teammate Blake Wharton. Everyone was really strong this year. I know Sipes is good and now going into the outdoors, it's going to be stacked again. There isn't going to be anyone slouching.
As far as outdoors go, will the injury hold you back?
No, I feel pretty good. The wrist is a little sore for sure but it's ok and I've been out here in California testing all week and I'm going home tomorrow to go back and get ready for Hangtown. I don't think it will be that big of a deal really. I want to be on the podium every weekend and put in some hard motos each race.
What about the 450 class? Were you watching that in amazement like the rest of us?
Man that was crazy. I was pulling for Trey (Canard) for sure because he's a good guy and he's my old teammate. I was pulling for him for sure until he got hurt. Then once he got hurt, I was thinking (Chad) Reed was a good pick and it was cool to see him do it on his own team and everything. (Ryan) Villopoto was good, Bubba (James Stewart) had his crashes and stuff but he's still one of the best dudes to ever race a dirt bike. I'm a bit of a Honda guy so I guess I was going for Reed.
There were strong rumors that you were going to work with six-time champion Jeff Stanton but that appears it didn't work out, what was the deal with that?
I did talk to Jeff and I still talk to him almost every day. He's got a lot to offer for anyone really, he's a former winner in the sport. We don't have anything official on paper ort anything, we're just friends and it's all good. Maybe something can happen in the future, I'm not sure. He definitely knows what he's talking about and he gives me some good tips.
What did you change on your bike from the start of the series until the end?
Nothing much really, at Toronto there were some big whoops and we made a suspension change. My bike was a little sketchy there and we did some suspension adjustments and it worked great. Honestly, that's about all we changed.
So what's your plan for the next few years as far as your contract and jumping up to 450's?
I'd like to ride the small bike class one more year and then jump up, that's the plan anyways. I have one more year on my GEICO deal and then who knows what can happen? If I had to write it out I'll be in 250's for one more year and then to be in the 450 class would be really cool. Who knows though? It's still real early.