The man known as McCread watched the recent Spanish GP and here's what he came up with. Go Osborne!

The man known as McCread watched the recent Spanish GP and here's what he came up with. Go Osborne!
Roczen and Cairoli back on top!

Photos courtesy of Youthstream
A tight and twisty track in Spain was not one of the riders' favourite tracks so far this year, but it still provided some great racing. With the passing opportunities limited, the start was even more crucial than normal. Perfect blue skies and warm temperatures bathed the fans as they watched the riders battle a hard pack track with many baked ruts that meant any mistakes would be paid for.
In MX2 the 16 year old Dutchman Jeffrey Herlings was coming in with the red plate, but only six points behind was Ken Roczen, the German was still feeling the effects of a crash the week before, but his starts had been phenomenal all season and this would prove crucial in Spain.
Roczen predictably holeshot race one and immediately pulled a four second lead. Herlings had a terrible start but forced his way into third on the first lap only to get stuck behind Nicholas Aubin. As Herlings searched for new lines in order to find a way passed the Frenchman, Tommy Searle took advantage and passed the two them! Tommy began hunting down Roczen leaving Herlings to eventually find his way past Aubin.
Searle continued to chase Roczen and slowly but surely he was making ground, and, with two laps to go as they struggled to get around the back markers, Searle was on Ken's back wheel. Searle knew this was his chance, and when Roczen followed a backmarker on the inside, Tommy swept to the outside getting alongside the KTM only to lose time on the exit of the turn. Roczen responded to the challenge on the last lap and took the chequered flag to win by one second. Herlings had to settle for third, saying he wasn't comfortable with the bike and needed to be faster – his championship lead down to one point.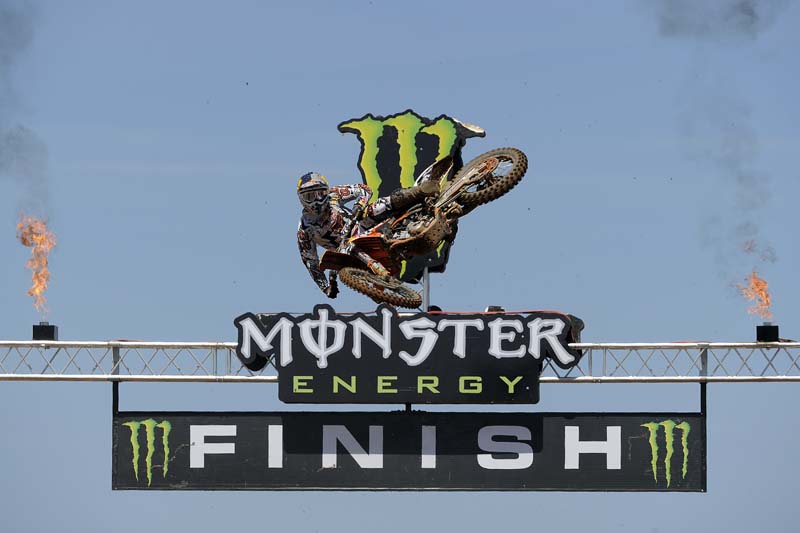 Roczen dominated in Spain to get the red plate back.
Race two was a similar story, this time Searle holeshot but Roczen was right behind him and immediately passed the Englishman and romped away to an impressive 12 second win. This left Searle to fend off Gautier Paulin in second. Herlings yet again had a bad start just inside the top ten, and the Dutchman could only find his way through to fourth after a race long duel with the fast improving Arnaud Tonus.. With Roczen taking the win it gave the German back the red plate and he takes a six point lead going into Sweden in two weeks time.
The other riders had Roczen on the ropes, but Ken has come back swinging and has taken the momentum back, this time he appeared to be more measured in his approach and he has added another string to his already impressive bow… the ability to rebound from a bad results and ride injured. It is worth pointing out he also didn't have Herlings breathing down his neck this time which is where the mistakes came the weeks previous, however it is going to take a big effort and a lot of mental strength now for Herlings to challenge Roczen for the title. Searle is getting closer in speed but he is still over a race down in points and will need a DNF from the KTM biys or a long win streak of his own in order to make up the points, but never say never,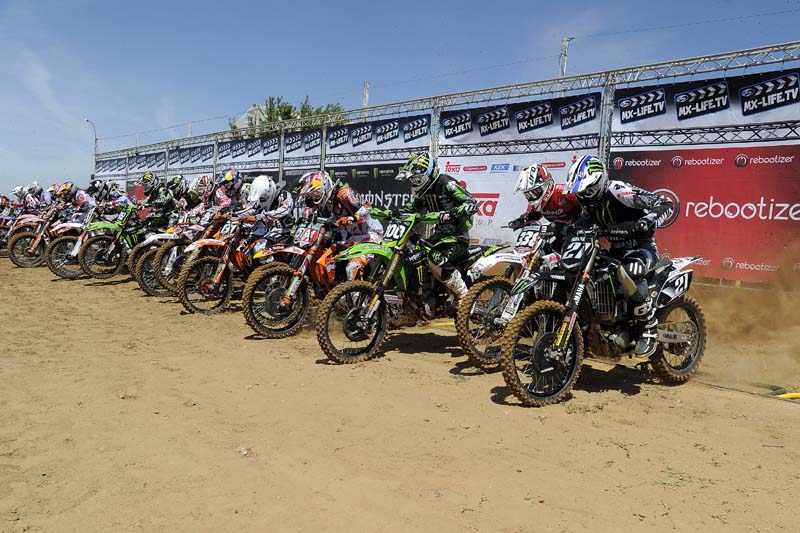 Looks like Osborne got the jump on the pack right here. Ol'Zachery had a tough day in Spain.
American Zach Osborne had a bad day, two over eager crashes in race one left him with a DNF, and a sixth in race two meant Zach lost a lot of points in the championship, countryman Michael Leib had DNF in race one but came home fourteenth in race two in what was his best result so far.

MX2 Overall: 1. Roczen 50pts, 2. Searle 44pts, 3. Paulin 38pts, 4. Herlings 38pts, 5. Tonus 31pts, 6. Aubin 29pts, 7. Joel Roelants 28pts, 8. Glenn Coldenhoff 24pts, 9. Harri Kullas 22pts, 10. Nick Triest 19pts

MX2 Championship points : 1. Ken Roczen 301pts, 2. Jeffrey Herlings 295pts, 3. Tommy Searle 268pts, 4. Gautier Paulin 234pts, 5. Zach Osborne 213, 6. Arnaud Tonus 197pts, 7. Max Anstie 167pts, 8. Joel Roelants 166pts, 9. Harri Kullas 164pts, 10. Nicolas Aubin 151pts, 11. Christophe Charlier 130pts, 12. Glenn Coldenhoff 90pts, 13. Jordi Tixier 83pts, 14. Alexander Lupino 79pts, 15. Oliva Butron 62pts
?
In MX1 Tony Cairoli finally got an overall win, but it still wasn't easy. The Italian holeshot race one and had his four biggest rivals right in his wheel tracks. Nagl, Philippaerts, Frossard and Desalle were all there.
It was an epic race, Frossard got his way into second and began putting the pressure of Cairoli, Desalle had worked his way into fourth and was setting his sights on the leading duo when he went off the track, with netting caught around his back wheel, Desalle would finish fifth with no rear brake. Meanwhile, Cairoli lost the lead to Frossard after a small mistake and despite a relentless charge at the end of the race, Frossard just about held on for another impressive victory in his debut season in MX1.
Race two proved a little easier for Cairoli who once more got the holeshot. This time it was the Estonian Express Tanel Leok who gave chase on the TM, Leok stayed close to Cairoli for a while but was more concerned about holding on to second place as Tony slowly took off into the distance.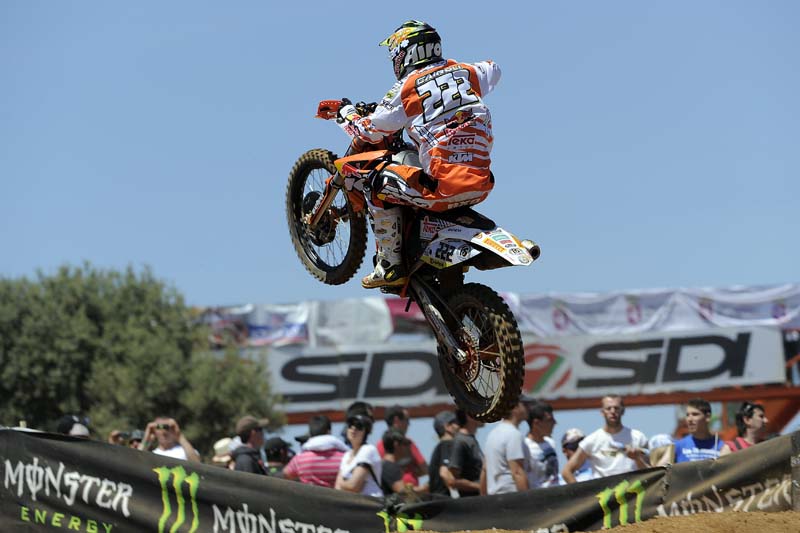 Like his teammate Roczen, AC222 had a great day and made up a ton of points on Desalle in the hunt for the MX1 title.
Championship rivals Steven Frossard and Clemant Desalle clashed on first turn, leaving both mid pack. Desalle made things even harder by going down on lap one and was outside the top ten, but he then put in a sensational charge through the pack, passing people that he had no right to pass on such a tight track. Desalle passed both home hero Barragan (who was having his best ride since Bulgaria) and Philippaerts with two laps to go to move into third, and was only just a lap away from getting Leok in second when the flag came out,. The fight back meant Desalle clung onto the red plate for Sweden by one solitary point. Frossard made a more steady climb through the pack to ninth but was still trouble by his hand injury late in the race.
Cairoli has got the championship lead in sight, but Desalle won't give it up without a fight, and Frossard is waiting in the wings as they head to Sweden. With five different moto winners so far and many more potential winners and podium contenders plus maybe a certain Christophe Pourcel returning to the fray, MX1 is continuing to provide the best motorsport racing in the world, bring on the next round!

MX1 Overall: 1. Cairoli 47pts, 2. Philippaerts 38pts, 3. Frossard 37pts, 4. Desalle 36pts, 5. Nagl 33pts, 6. Leok 30pts, 7. Barragan 28pts, 8. Bobryshev 27pts, 9. Goncalves 25pts, 10. Boog 24pts

MX1 Championship points: 1. Desalle 285pts, 2. Cairoli 284pts, 3. Frossard 250pts, 4. Nagl 225pts, 5. Bobryshev 204pts, 6. Philippaerts 199pts, 7. Goncalves 192pts, 8. Barragan 164pts, 9. Boog 161pts, 10. Ramon 149pts, 11. Strijbos 143pts, 12. De Dycker 137pts, 13. Leok 133pts, 14. Boissiere 96pts, 15. Simpson 89pts