Our man down under O'Rourke took in the latest Aussie MX national and came back with this.

Our man down under O'Rourke took in the latest Aussie MX national and came back with this.
OZervations – Beyond Thunderdome.
All photos taken (poorly) by O'Rourke
Rockstar Energy Drink MX Nationals – Round 6 (Goanna Tracks MX & Enduro Complex, Coonabarabran NSW). Sunday the 19th of June.
My name is O'Rourke, and I am back with another instalment in a little series of race reports I call OZervations. Coonabarabran to most people sounds like the noise you make when throwing up after consuming several hamburgers and about 58 beers. To be honest it probably is, but it is also the name of a small town located about 460km's (300 miles) North West of Sydney (in the middle of freaking nowhere) with a population of around 3000 people. "Coona" as the locals call it is "The Astronomy Capital of Australia" and this past weekend it was home to plenty of stars of the Motocross variety. The galaxy that these stars were located in was the Goanna Tracks MX & Enduro Complex. The facility was absolutely unbelievable as far as the size and quality of the track was concerned. In fact the MX Nationals own twitter account labelled it as "the 8th wonder of the world". Probably a stretch, but it is like no other track located in Australia. With the Pro Open lap times running over three minutes, it is one gigantic track.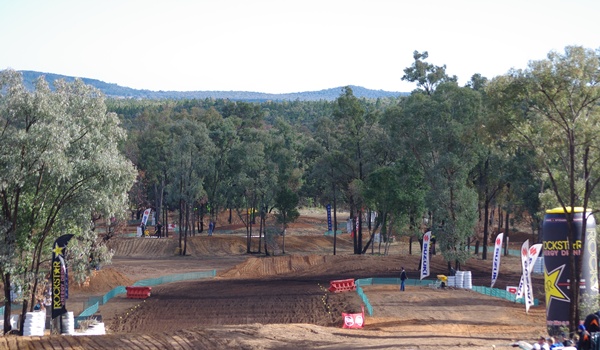 Goanna Tracks was groomed to perfection on a sunny winters day in Coonabarabran.
So after a five hour drive I found myself at the sixth round of the 2011 MX Nationals and really looking forward to some great racing on an amazing track and I wasn't left disappointed. There are three classes of racing here in OZ and the day started with our development series the Pirelli Under 19's Championship. There is a former World Champion riding in this series. Can you guess who it might be? No? Well you're not alone as very few fans would even know that Coastal KTM rider Jay Wilson had attained the title on an 85cc bike several years ago. He put all his experience to good use this weekend by picking up the overall on the day with some would say inconsistent moto scores of 2-6-1-6. Oh yeah, just in case you didn't read my last column, each class races four motos per day. Two motos back to back in the morning then another two motos, back to back in the afternoon. This can make for some interesting results in all classes. Anyway back to the Under 19's. Current series leader Pirelli Raceline Suzukis' Errol Willis had a great start to the day getting 1-2 scores in his first two motos but then a second turn crash in moto three left him finishing in eleventh and a DNF in moto four left him languishing in sixth place for the day. Luckily Errol came into this round with a 50 point buffer in the championship over GYTR Rockstar Energy Yamaha's Luke Arbon. This helped him retain the red plate and amazingly he has still managed to keep forty points over his nearest rival with only three rounds left in the series.
Former 85cc World Motocross Champ Jay Wilson came away with the win, but only just.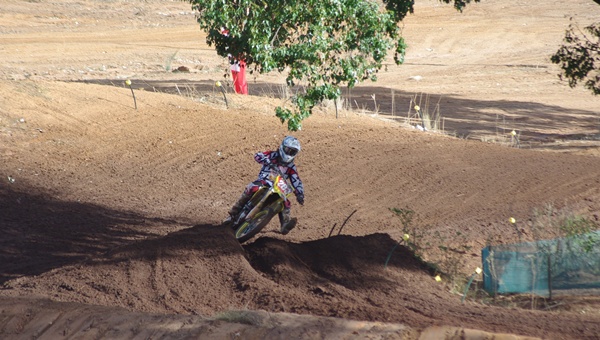 Errol Willis had a day he'd rather forget but still held on to the Championship lead.
Next up was the Motul Pro Lites Championship. There was a dominating performance this round from a rider who surprisingly now sits fifth in the series and that is Matthes' buddy, American Import Monster Energy Kawasaki rider "Filthy" Phil Nicoletti. Big things were expected from Phil before this season kicked off but some inconsistency has proven to be his downfall. There was none of that to be seen at Coonabarabran with moto scores of 1 – 1 – 1 – 3 he was a man on a mission and the large American style track suited Filthy well. It was a battle of the Moss boys rounding out the two other podium positions. Jake (the one who used to ride for TLD and infamously looped out his Factory Kawasaki at Budds Creek) is getting better and better with every round. He is getting his Serco Yamaha YZ250F closer and closer to the overall as the rounds continue and he is for sure destined for a win soon enough. His brother Matt (last years' invisible team mate of Ryan Dungey) who rides for the Factory JDR KTM team has had a broken shoulder blade to contend with but is managing to grind his way through the series to hang on to that magical red plate. He has a rather healthy 54 point gap over Serco Yamaha rider Kirk Gibbs who by his standards was a disappointing tenth on the day. If Matt Moss can keep riding like he did in the final moto where he put on a super hard charge at the end, this years title will be his.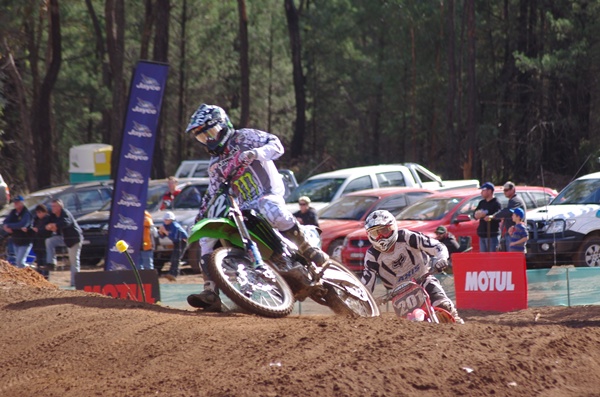 Filthy Phil Nicolletti was the Chupacabra of the Pro Lites field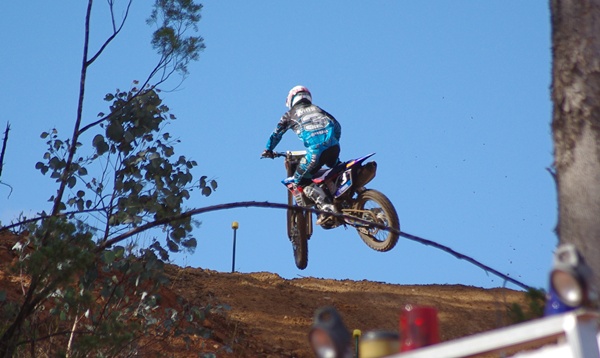 Jake Moss managed to edge out his brother by a Nozzle.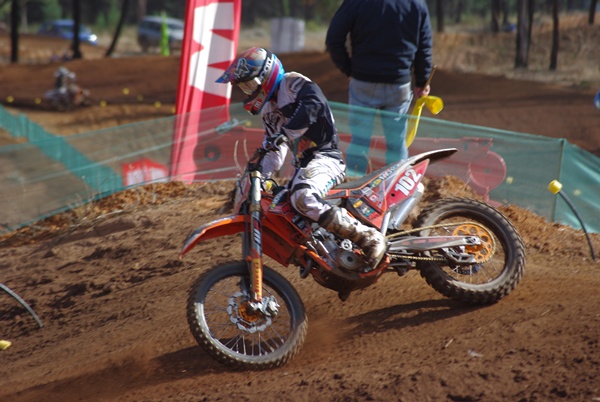 A broken shoulder blade couldn't hold Matt Moss back in the final moto.
Finally we come to the premier class. The Rockstar Energy Drink Pro Opens. I am still in disbelief at the way the class has turned out so far this year. As a wise man once said "Every time you think you have the answers to the questions, they change the questions and then the answers". Well Jason Weigandt said that recently and to be totally honest wise man or not I'm still perplexed about what he actually meant, but I am going to run with it anyway. Before the series started, if you'd have given me $1000 to put down on what team would be leading the championship right now I'd have said Craig Dacks' Rockstar Yamaha Team. With the three time MX Nationals Champ Jay Marmont on the number one bike and former World Motocross Championship contender Josh Coppins joining the team it should have been a safe bet. So instead of sitting one and two in the championship Coppins is third and Marmont is fourth. The two riders sitting first and second are Monster Energy Kawasaki riders Dean Ferris and Scotsman Billy Mackenzie.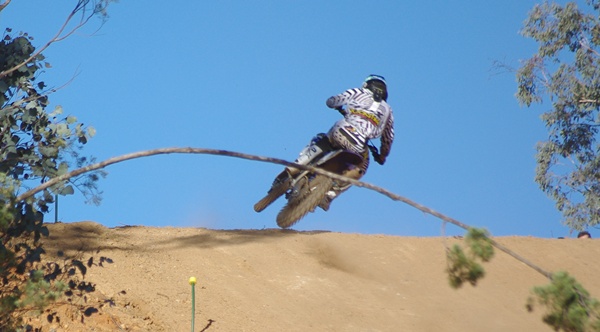 As Tina Turner once sang "We Don't Need Another Hero". Marmont is a true hero of Aussie MX.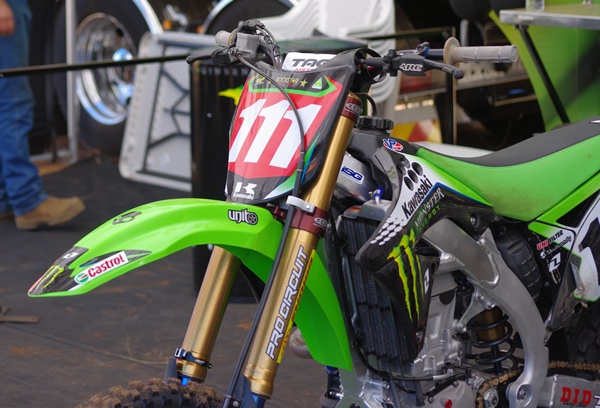 The Factory Rider turned Privateer turned Factory Rider Dean Ferris manages to hold onto the red plate for another round.
This time last year Ferris was a privateer travelling to the races in his van and now he is the current red plate holder in the Pro Open Class on a Factory Kawasaki, how things have changed. Ironically he has held the points lead for several rounds purely through consistency because he is yet to win an overall this year. Unfortunately Dean was unlucky not to get that elusive top podium position at Round 6, missing out by one point from Jay Marmont. Jay has been in a self proclaimed funk this year and just not riding up to the expectations of himself or his team. So he decided to get back to the roots of the sport and pack up his bike and his gear bag and hit the road. No mechanics, no team bosses, no family. Just Jay and his YZ450F. In his two week sabbatical he managed to win the prestigious Manjimup 15,000 in Western Australia and on the opposite side of the country take out the Queensland state championship. Did it work? His first overall position on the weekend would lead us to believe it did.
Rounding out the top 4 was Kiwi Josh Coppins with 3-5-1-4 moto scores for third and Billy Mackenzie who went 1-9-4-1 for fourth overall. Mackenzie was flying out on the track and in his first and last motos, he was untouchable. It goes to prove that in these race formats you have to remain consistent. I mean two moto wins for a fourth is just crazy!!!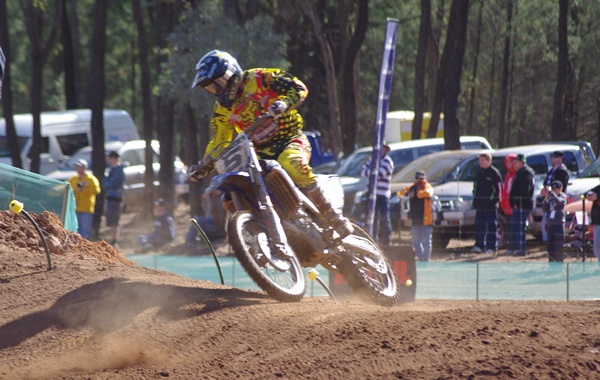 From all reports The Lizard is not a happy camper.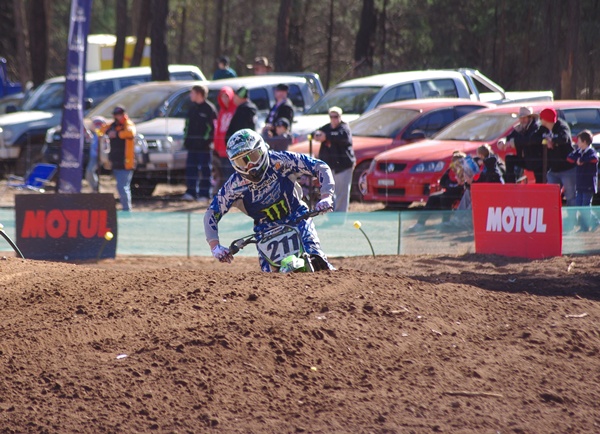 Scotsman, Billy Mackenzie looking for German Soldiers in the Deep Whoops.
I know that these five lap, four moto formats are not for everyone. I'm sure Josh Coppins goes home to New Zealand and cries himself to sleep over it. In saying that, it is exciting for the spectators to watch yet by the end of the day slightly confusing in regards to who is going for the win especially in the final motos. I do like it but I think that having some rounds go back to the traditional 30 minute plus 2 format wouldn't hurt either.
So like I said at the top, the racing was great and the track was second to none. With three rounds to go the championships are coming to a close and I wouldn't be surprised to see any of the top four riders in those classes come away with the top prize. Don't forget if you want to follow me on twitter you'll find me on @itsORourke. See-Ya.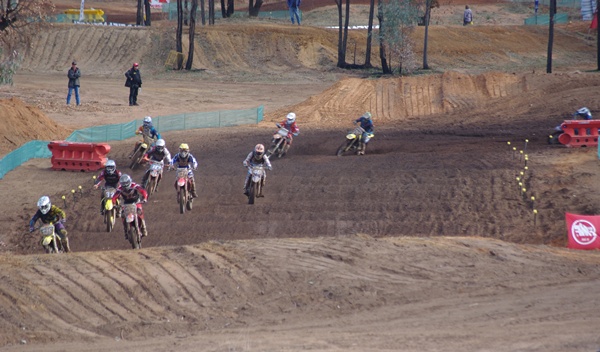 Goanna Tracks has one of the longest whoop sections in Australian Motocross.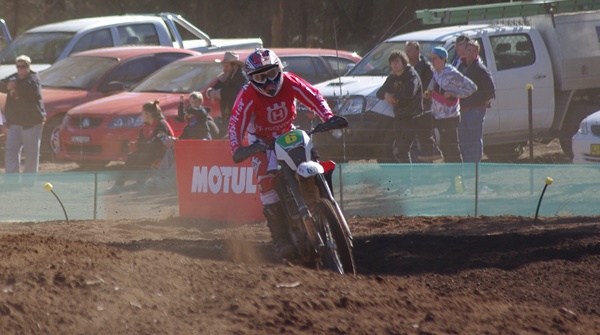 Yes that is a Husqvarna and Yes it's running a headlight. Former GNCC competitor Glen Kearney rode a 310 in the 450 class.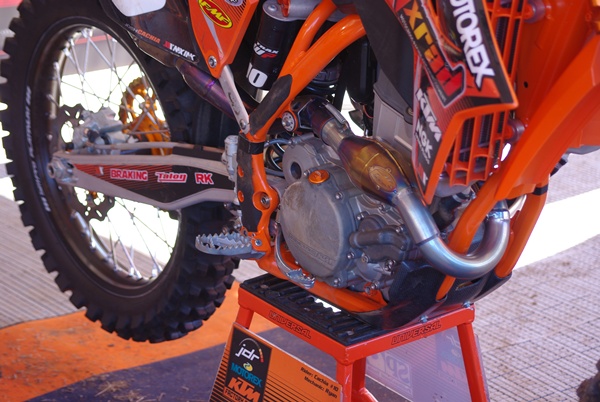 The 2012 KTM's are here and the 250's are now running electric start also.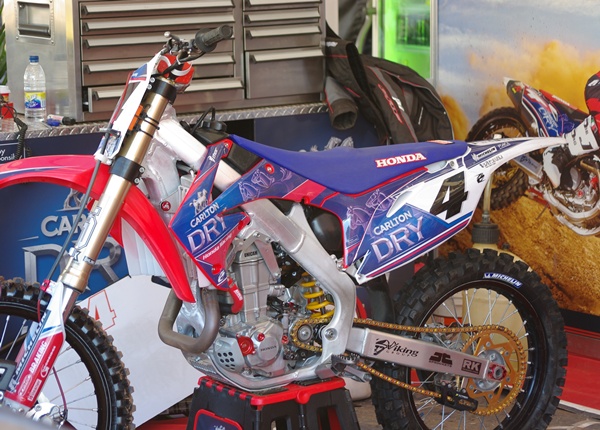 Outside industry sponsors are prevalent in OZ. Carlton Dry (Beer) sponsors the Factory Honda Team. This would be Moser's wet dream, just add Andrew Short.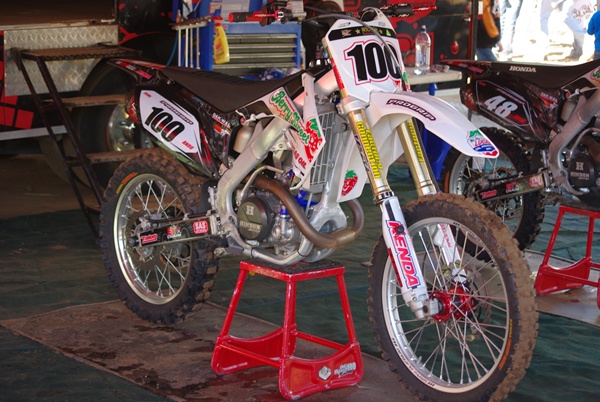 And Craig Anderson's Berry Sweet privateer team is primarily funded by a Strawberry Farm.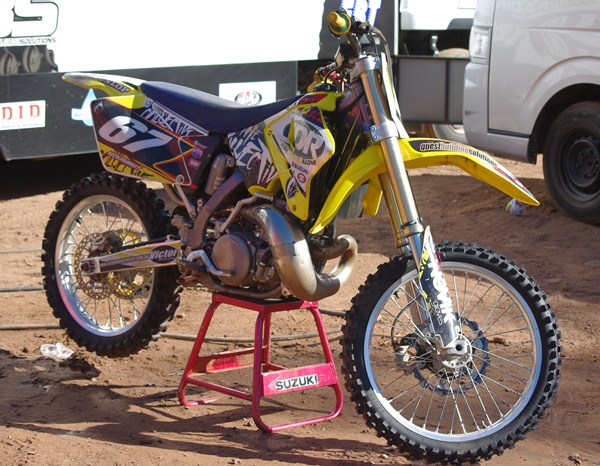 250cc 2 Strokes are more than welcome in the Under 19's and Pro Lites classes. They were well represented.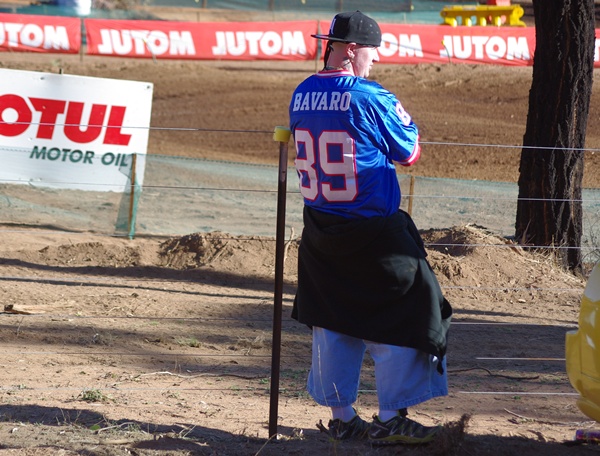 Team Brotocross was well represented in the Aussie outback. (Matthes note: Why in the hell this guy is wearing a 1986 NY Giants jersey with tight end Mark Bavaro's name is a bigger mystery to me than a strawberry farm sponsoring a team)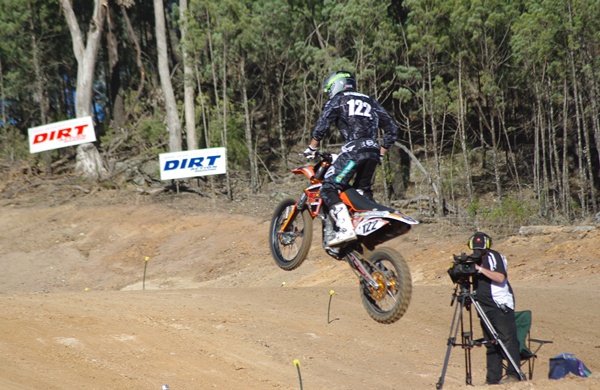 Dan Reardon has made the switch from the KTM 350 to the 450 for the rest of the year. The KTM team manager told me that they just need to find the right style of rider for the 350 to make it successful.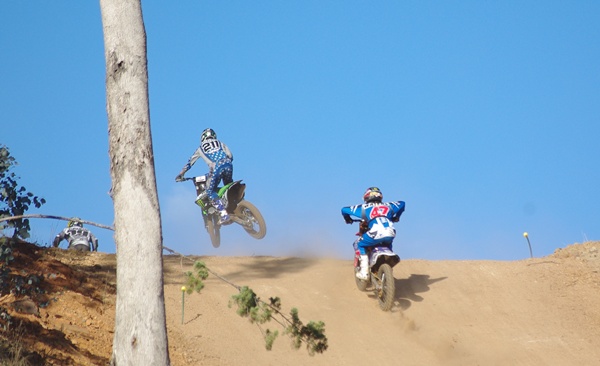 And here's an extra special photo for my two mates from the motherland Spags and Spence of their boy Billy Mac.