Swamp ass, belly aches, poo butt; Oh my!
Swamp ass, belly aches, poo butt; Oh my!
Photos By; Simon Cudby
Its quite the dichotomy, ever since 2007 when RC lambasted Budds Creek for the poor condition of the track, it would appear the proper steps were taken to revitalize the soil because now it is a track many of the racers look forward to. It's very apparent, the racing surface which once was baked, hard and slick has come back and while very rough with plenty of ruts, there is traction once again in the muggy pit known as Budds Creek.
250's
I want to start with a clarification of an observation I have been credited with "theorizing". In the DreamTeam MX fantasy league, I picked Blake Baggett for Texas after seeing his demolishing of the field in Hangtown. Castillo had picked Rattray before my pick, not realizing Baggett was available. Following Texas, Dave "Hey Tell'd"( a voice messaging app we use, pretty cool little app) a smart ass comment about Rattray being the obvious pick. I retorted my own tongue in cheek question about Baggett letting me down the week after he just killed everyone and how he always seems to follow up a dominant victory with a troubled ride. I really hadn't put much thought into it, as I was just responding to Daves smart ass with my own. Then, Pete brought it up on the Pulp Show that week and I was like, wait, that wasn't a serious question; until I thought about it. Sure Baggett's track record of wins and troubled follow-up races was a short one but even in it's conciseness, it was indeed true. Fast-forward to now and it is unfortunately still the pattern Blake finds himself continuing.
So to be clear, the observation of the pattern came about from a smart ass question, not my looking for a flaw in #57, I hope he puts an end to it soon, he certainly has the skills to do so.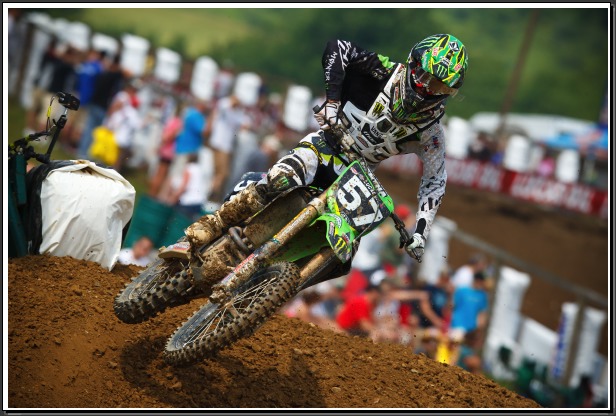 The pattern will end.
Broc finally got A start. It's been a real bummer for me to see him struggle with shitty starts this outdoors season. I was certain that on that PC bike he would no doubt put his poor starts from the past behind him and put in his impressive full moto charge from the front as opposed to the back in years past. It's crazy, he's ridden with 800 in the past, certainly he's watched him practice starts and even lined up with him on the practice gate in Victorville. I'm glad to see him get one, if you can get one, there's no reason he can't get more. I knew he would be his solid self in moto when he got that start. What a great first moto, the top 6 were seconds apart for much of it. Parity in the Lites outdoor class? Whodathunk?
Broc has the stamina and consistency down, it's all starts for him. He needs to change something, who knows what it is? One thing is for sure, Pro Circuit has the resources to pinpoint it and rectify it; it just needs to happen now.
Eli Tomac went 5-5 for 4th. I remember those days from racing when you just felt a little off but then when you went to check the scoring sheets, you see that your "off" day was better than some others in the class who dealt with inconsistency and your overall is ahead of your duplicate scores. It feels decent to finish a race weekend with a better overall than you accomplished in either moto. Eli is a good interview and has been consistent so far, I'll be shocked if he doesn't start making regular appearances on the podium moving forward.
How about Justin Barcia? First of all, some say he's full of shit about having Mono, I say who cares? I like the move. In this sport where nobody ever wants to let anything out, whether he is truly suffering from mono or he's just setting up his competition to rely on his fading, then not, it's a strategy we don't see in moto. Ever, really. It's funny, as soon as he let out that he had mono, there were mumblings of his wrist injury in SX being BS too. Too funny. All of this he said she said, in my opinion, just stems from the pendulum like confidence swings racers rely on for their surges over the course of a series. You can't knock them for it either. Motocross is unique from any other racing with its ratio of man/machine performance ratio and when you're at this level of the sport, confidence is the X-factor; so any way you can build confidence, whether manufactured or not, it is totally justifiable and necessary.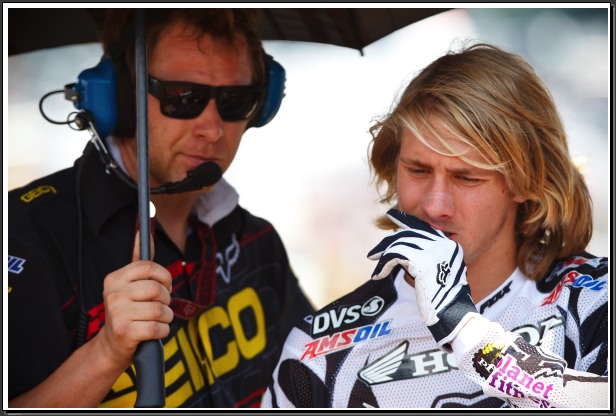 Barcia's hair grows at an alarming rate.
Dean15 is getting a little frustrated with his inability to lay it down twice in one weekend. He's got nothing to worry about, it's obvious he's got all the ingredients so it's just a matter of keeping it together through Red Bud and things will sort themselves out.
Color me unsurprised that Tyla came through again. I picked him for the title for obvious reasons. Past World champ, work ethic like no other, takes this shit so seriously and has always been super consistent when healthy. Tyla is just no bullshit. He comes to the races with a goal in mind and like a calculator follows the formula he has shown to work in the past and sticks to it until the checkers fly. He may not always be the fastest guy, although in Swamp Ass Creek he was in moto 2 but he always moves forward. Happy Fathers Day Tyla. Great gift to yourself.
Assorted
Kyle Cunningham continues to impress with consistent moto finishes and that voice that sounds like he's always about to pass out. Always fast and finally curbing the tip overs. He's over delivering on the Star Yamaha this year.
Swanepoel is doing great as well. 8th in points with only 1 moto not scoring points.
Nico Izzi is having a quiet though consistent year. I really want him to have a good year. He has too much skill to have that heel injury be the career ender it almost was. Even just scoring points in every moto for the rest of the season is a building block.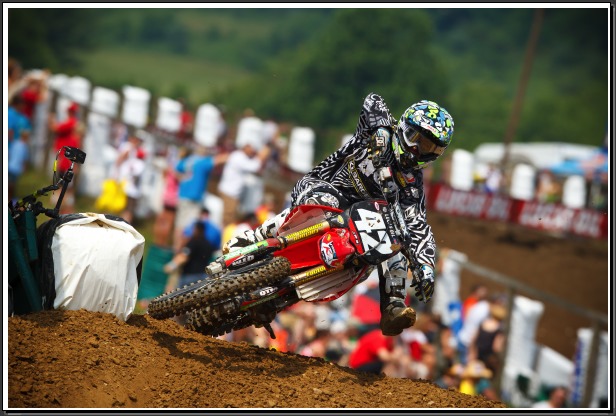 I'm hoping Izzi finds consistency.
Darryn Durham had a great ride going in moto 1 until a crash left him with his front brake caliper dangling and pointless. Such a bummer, Durham is the unsung hero of the Lites class it seems. Everyone is pulling for him. Lots of talk about his privateer status, his sick style and great rides. Like so many in the class, inconsistency is his achilles but that appears to be the law of the land in Lites MX.
450's
Mike Alessi is in a pretty good spot for two races in. His outdoor program took a bit of a set back when he K'O'd himself at the Vegas SX finale. Then he again K'O'd himself in practice at Hangtown, putting himself on the sidelines for rounds 1 and 2. Sure he was preparing for the outdoors but everyone knows you can't imitate racing when you're not racing. So whereas the 4 guys he's battling with for portions of moto's are 4 rounds in, Alessi is only 2 rounds in and when he can throw it down at his sprint pace longer into the moto, he'll start finishing closer to the leader. The caveat to that is, the top 3 Reed, RV and Dungey, are on another level and with K-Dub leaving the series, Alessi may be circulating the track as a very lonely man beginning in Colorado.
Exit K-Dub stage right. Windham started off the series with a holeshot and a bunch of laps led, essentially making his outdoor series complete in the first moto. Its kind of like McGrath nac-nac-ing on the first lap of his part time SX schedule, although Windham's not retiring just yet. He's simply padding his already monumental fan support. K-Dub was all smiles at every round and that's what the fans like to see, They appreciate him because he appreciates them and recognizes how great he has it at this point of his career. He's infallible in the eyes of the fans and that is due to the way he has carried himself and the legacy he has built in racing.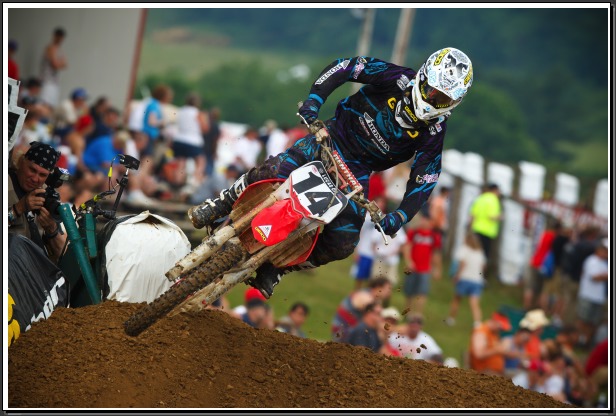 See you at the M.E. Cup KDub!
Villopoto pulled a great start and made use of it by checking out in moto 1. Aside from a stall which gave Dungey a fighters chance, Villopoto was solid and looked to have all the momentum heading into the second moto.
The main story line of Budds Creek in my eye's was RV's Creek Streak. Who would have guessed that his demise would be a "streak" of another kind?!
Did I say he looked solid? Well in moto 2 RV was dealing with a severely cramped stomach which left him trying to get rid of some solids or whatever it may be in mid moto to stifle the cramps and let him focus more on moving forward and less on "relief". Trey Canard would know better than me but I would assume loading your drawers in those conditions would result in some serious burning and rash, potentially much more uncomfortable than gnarly stomach cramps. Toward the end of the moto RV found relief and was able to keep it on the box.. and later on the throne.
Dungey continues to remain consistently right there with Reed and Villopoto but also to his chagrin, consistently fails to move ahead of them and separate. I gotta wonder, at what point does Dungey just decide to hang it out a little. This series? Next year? 2013? The Dunge doesn't strike me as someone who is happy to just always give it his best "comfort zone" and not win. With the work he puts in, I see him reaching a point of, eff this, I need to step it up get more race wins. Dungey was the unfortunate recipient of the polar opposite of what I described earlier about finishing overall better than your moto scores. He went 2-2 for 3rd overall; that's some frustrating shit but you cant argue with the points.
I definitely see RD5 looking more comfortable in interviews and speaking more naturally as well. That's good to see. He has a ways to go but, any change from the robotic podium speak we've grown to expect is a step forward.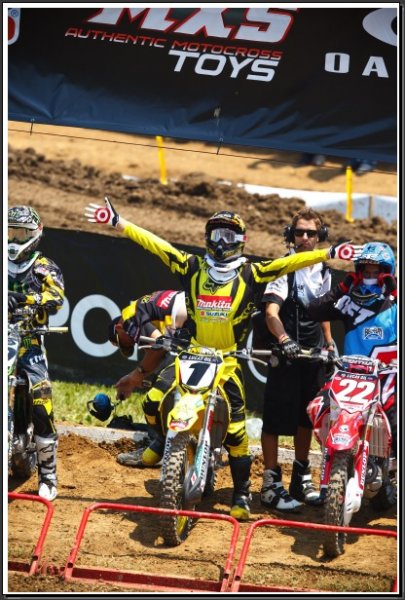 Lord hear my prayer.
Reed continues to deliver on his consistent as ever reputation. Although he pulled the holeshot in moto 1, the always impressive sprinter, Alessi, over took him quickly and brought with him RV. Later Dungey would work past Reed, he just wasn't able to make moves and by the time he worked his way back by Alessi into 3rd, that was pretty much that. His flow around the track just looked a little truncated.
In moto 2 Reed had a worse start but found his flow and corrected the errors he made in moto 1 and pulled down his 4th straight second moto win of the series. That's officially a streak at this point, so how long can we expect this to continue? It's Chad Reed for craps sakes, a smart man knows to not bet against him in the long run. That being said, Dungey's getting hungrier, RV is looking to take hold of the points and Alessi is going to get stronger, time will tell.
Wrap it
Here we sit 1/3 of the way through the series. Do the points look like you expected them to look at this point? What do you see being the story of the next 1/3 stretch? The tracks have looked great so far and the racing, while not as unpredictable as the "greatest sx season ever", has been great to watch. Can't wait to see what the next big shake up is as we head to Michigan from Colorado.
Oh, and when the eff did Townley's black cloud move in with Tommy Hahn. That sucks.