The guy in the red shirt may not care but we do. Go Osborne!

The guy in the red shirt may not care but we do. Go Osborne!
Interview by Jonathan McCready
Photos by Paul McCready

Chasing both the World and British Championships, Zach Osborne is in the middle of a gruelling 14 races in fifteen weekends of rough tough outdoor motocross, and while the last two weekends have been difficult, Osborne is flying the American flag around the world and doing a great job representing the red, white and blue star spangled banner.

Zach didn't have his best day at last weekend's fifth round of the British Motocross championship in Desertmartin Northern Ireland. The defending British Champion dealt with crashes and a mechanical issue that forced him to relinquish the red plate to his teammate Arnaud Tonus. Despite the disappointment, the friendly American was still happy to conduct this interview for the readers of pulpmx.com before he headed home to England to prepare for the next round of the World Championship in Sweden this weekend.
?
It's your first time to Northern Ireland and Desertmartin, how did you find the event?

I struggled today I had probably one of the worst days of the year so far, but I turned it around in the last race and got a second. I had a dumb little crash and then my bike blew up on a jump and I endoed so it was kind of bad to worse, that kind of set the tone for the second moto (Zach crashed again), then I just got my head down for the last one, I was so nervous in the first five laps not to crash. I thought the track was really good, they did a good job prepping it.

You have been having a good GP season so far except for last weekend in Spain?
Yea it was going well, but it was been a tough last week, I had a DNF in Spain, we had a problem with the bike bit in the warm up lap, and that made everything tough. Realistically winning the championship is over for me now being 100 points behind Ken.

When you came to the World Championship you have speed straight away, but now you seem to be all round more consistent every weekend.
Yea I was thrown in at the deep in end and just went with it (in 2008), I got hurt in 2009, but last year was really good for me (Zach finished fourth in the World Championship) and I was prepared really well again this season.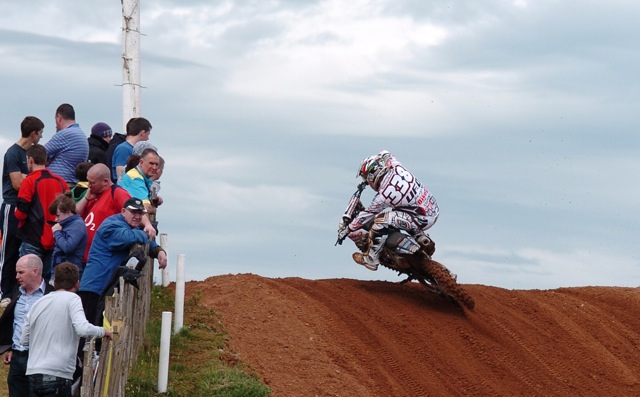 Osborne for Team USA? I like it…
What about the MXDN this year, you are running top five in the world, and nearly won the French GP on the track this year, have you heard anything about being on the shortlist?
I don't really want to say much about it, I haven't heard anything but I would love to represent America at that race, I was so close to winning the GP there, we will just have to wait and see.

You raced a 450 in the British Championship in 2009, it didn't really work out but have you any plans to move to that class next year?
No, I still have one year eligibility to race MX2 so I am going to stay down and try and go for the World title. We are also planning to some supercross next year in America too.

Will it be difficult for you to get back into supercross after a few years away with the timing and everything?
No, I ride some supercross anyway when I am home and I think it should be pretty simple for me to get back into it so I am really looking forward to that!

You have been the most successful American since Mike Brown in GP's, does living in England help with the transition?
I don't know, I was here when I was a kid, so I knew what to expect when I signed up for it if you know what I mean. It is a bit of everything I think. Being from the East coast and not California it is a little bit of a less glamorous lifestyle. I think that helped and I have a lot of good people around me.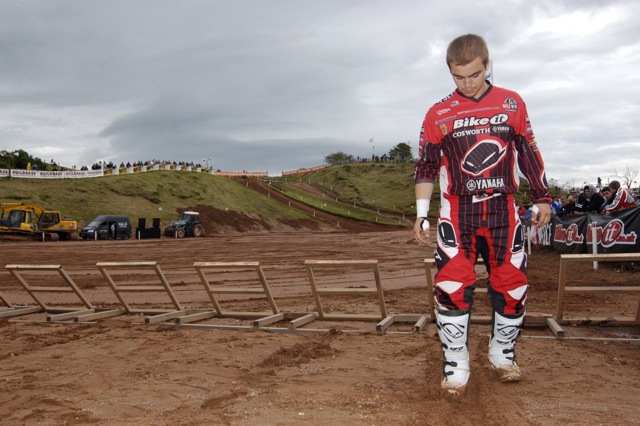 Osborne ponders when he wrote a blog on here and then he turned his back on all of us to go to Racer X.
How long do you see yourself staying in the Gps, do you feel you still have something to prove the American teams?
Yea, I have one more year left with Steve and then I will try and look to go home, but you never know what happens, the economy is still dismal in America, so you never know.

Do you think your success in the World Championship will inspire more Americans to come and race the World Championship?
I don't know really, no-one there really sees it as the thing to do, so I don't know if I can change that single handedely, but hopefully I can make an impact.

How do u compare the tracks from the British to the World and the American series?
It is different. In the America the tracks are pretty much the same every weekend, the tracks are ripped deep and always pretty soft and rutted, whereas here you never really know what you are turning up to. The track here (Desertmartin) was really good I enjoyed it a lot.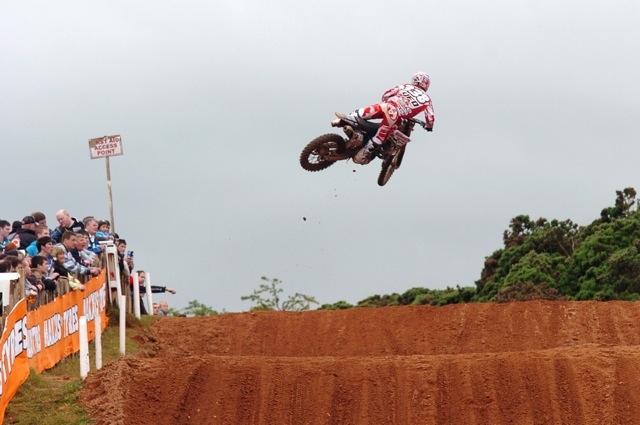 Osborne whips it.