Motocross is a cold hard bitch.
Motocross is a cold hard bitch.
Photos by: J.C. Medeiros & Simon Cudby
I need to start off this week with what had me bummed out following Lakewood. Injuries. Yeah, of course they have always been and always will be part of this high intensity, demanding sport but it really comes to a head when I think of Josh Grant. Here is a guy who signed a one year Honda deal for probably not a lot of salary with the goal of putting a strong year together in hopes to attain a multi-year deal on a great team for 2012. An ambush in the beginning of the "winter-series" sidelined him with a torn ACL, surgery and recovery.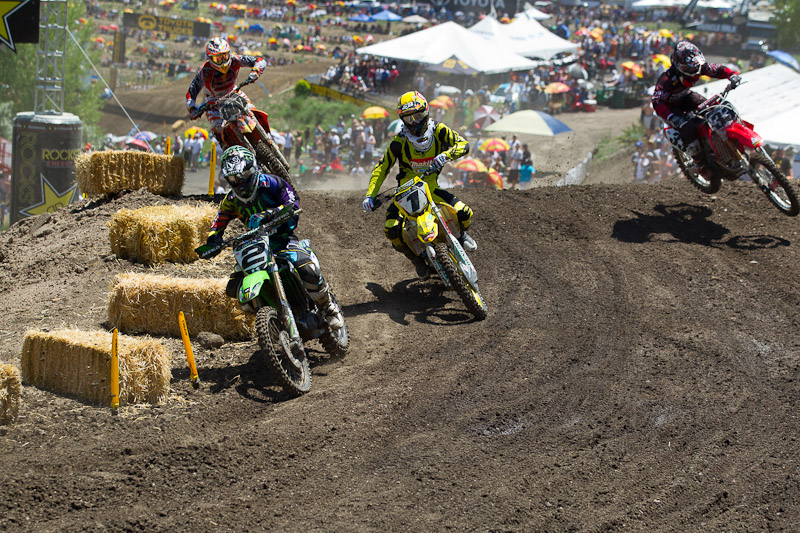 JG33, upper-right before his day was officially over. Photo by: J.C. Medeiros
If there's a positive to his injury, it's that he got to spend valuable time with his wife and son Wyatt. Being home with the fam so much must have served to clarify even more why he puts so much into his career and support those who support him. Now, in his second race back he again finds himself with an injury. Heartbreaking. Josh has so much speed and talent but lately it appears a propensity for injury is trumping all the up-side.
MIke Alessi is another guy who started off this National series with a downer. He was my pick for the title before the season started. I figured if 800 was finishing runner-up to Bubba and the Goat in '06, how could he not be considered a favorite when returning to the big bike this year? So much heart and determination, perhaps too much at inopportune times, such as lap 1 of second practice at Hangtown. Mike returns to the series and is putting in solid performances, then Lakewood moto 2 comes to a premature end with another early crash.
The third rider who comes to mind is Kyle Chisholm. A very serious Houston "winter-series" crash ends his indoor year and threatens to make him miss the beginning of the outdoors. Chizz is a tough mofo, though, and he pretty much says, I might as well get some points while Im working on getting back to 100%, so he lines up at Hangtown. Unfortunately round 1 was the highlight of his National series thus far. That chest injury sustained in Houston has been a real bugaboo for him getting back to the racer he was and is working back to being again. Kyle never stood a chance in the mile-high altitude of Lakewood but he tried anyway. The frustration must be tough but I don't see Kyle losing hope, he can come back.
Now that I've got that sob story off my chest, let's move on to some celebration shall we?
450
I am SUPERPUMPED to see Dungey finally get his just dues and pull down and overall. The mental victory of Freestone doesn't bring with it a payday, like Lakewood. Dungey winning means a better series moving on to the BEST track of the series, Red Bud. You know what had me even more glad than The Dungenator's win? Seeing RV2 pull up to RD after crossing the finish to give him props for the win. Last year while RV was sidelined with that ridiculous leg injury he was frustrated as hell witnessing the year Dungey had when he felt he had him covered. RV wasn't afraid to speak frankly and let it be known that he was confident he would have him covered if he were out there. Fast-forward to this year where Villopoto has pulled down the "winter-series" title he was so focused on and almost halfway through the Nationals he is in great position to make it happen again; it's a little easier for RV to give Dungey props when he is beaten "straight up"(I hate that term). It's easy to understand, when you achieve personal goals you have set for yourself, you are more assured, confident and generally happy which makes it much easier for you to be forthcoming with goodwill toward others. I though it was awesome that RV made that respectful move following moto 2.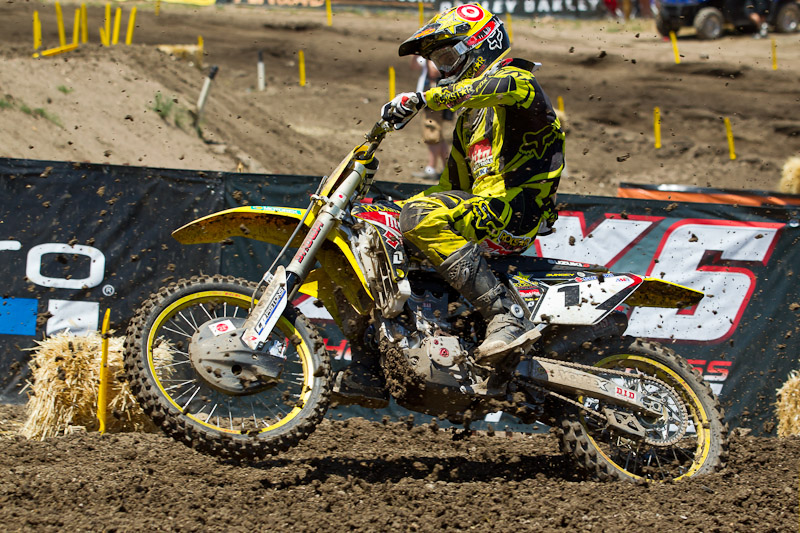 Will anyone else win an overall other than the top 3? Photo by: J.C. Medeiros
Speaking of Villopoto. Dude was on another level in moto 1. While the laptimes tell a story, watching him attack the track tells the real story. He was definitely putting some amazing lines together with an aggression which saw him move from 5th to 1st by lap 3 where he continued to attack, ultimately finishing 8 seconds ahead of Dungey, 43(!) seconds ahead of Reed and over a minute ahead of Kevin Farve, err I mean Windham in 4th.
Reed just wasn't on his game in Colorado. He admitted as much following the race. Finishing 43 seconds back in moto 1 and a minute back in the second despite pulling the holeshot. The battle between Dungey and Reed in the first moto was awesome, do you remember Reed/Dungey/Townley in Red Bud moto 1 last year? Instant classic. Let's hope we get another display like that in at least one moto next weekend.
Two things I pulled away from the 450 class as being the best storylines were the return and impressive ride of Top Jimmy Albertson as well as finally a race weekend of consistency from the new owner of the Townley Black Cloud(TBC), Tommy Hahn.
I've spoken often of my admiration for the elder Hahn. He's got mad skills(yes, lame joke) and to see the bullshit luck he's dealt with since the start of the 2011 season has been a bitter pill. While perusing Vital this afternoon I saw the thread DV made about Hahn's ride, where he also took time to give the YZ450, the team and team owner props. While the team and rider may go hand in hand with a personal victory, I think Tommy's ride is the big thing here and that spreading the glory to the bike and team is more relevant following sustained consistent progress. In other words, let's just give it up to T Hahn now and the support system if he can keep the TBC at bay for a few weekends straight.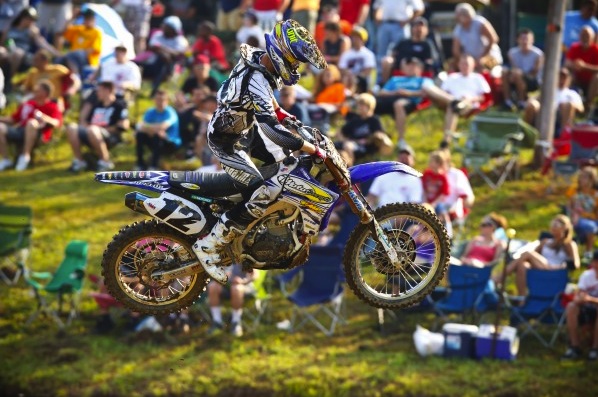 Can the elder Hahn make it two weeks straight when little bro makes his debut? Photo by: Simon Cudby
Now Jimmy Albertson is finally back. Little known back-story here. At round one of the "winter-series" I was paying close attention to Top Jimmy, for a reason. Remember how Jimmy was offering his bike as sponsorship signage "per round"? Well, PulpMX was going to sponsor Jimmy for the Atlanta "winter-series"(deadhorse yet?) and I was going to fly down and do a sort of "Shadow" PulpMX style of Jimmy during race day and through the night. Well that plan quickly flew out the window as Jimmy boogered himself and took a 6 month vacation from racing. I'd like to thank you Jimmy for destroying your leg at A1, if you hadn't my week in Fla probably wouldn't have come about(that's jacked up). At any rate, Jimmy's back and went a consistent 12/12 for, you guessed it, 12th. Welcome back Jimmy!
250
Blake Baggett's new nickname is in severe danger of jumping the shark so I will not be engaging it in this article. Once again, Blake has found himself with another overall win and still he is in 3rd place in points. Think about that, we are 5 rounds in, Blake has won more than half of the overall's and he is in 3rd in points. Amazing! While going 1-1 doesnt really have a downside, for Blake it kinda does. He has to shake the inconsistency curse. I'm not saying he needs to back up a dominant overall with another, a top 4 would be damn fine but a 7th and a 9th is a crazy swing when the dude is stretching out dominating leads on his "on" days.
Wilson finds himself a bridesmaid again but he comes into Red Bud brandishing the red background so I be he's fine catching the bouquet. Remember, last year Trey Canards season went from a yawner, to the beginning of a rally cry like we've never seen before in moto. I'm thinking Dean's not going to give up that red background very easily.
Homeboy Eli Tomac, went from a 2.5 second advantage in practice to 3rd step on the podium. Very respectable but Eli is looking for more. He hasn't been the fastest guy at any point yet this National series but his consistency finds him in 4th. Wait, that "but" should have been a "so". With the speed the top 3 PC guys have been showing on a weekly basis, Eli needs to wick it up if he has any hopes of an outdoor title this year.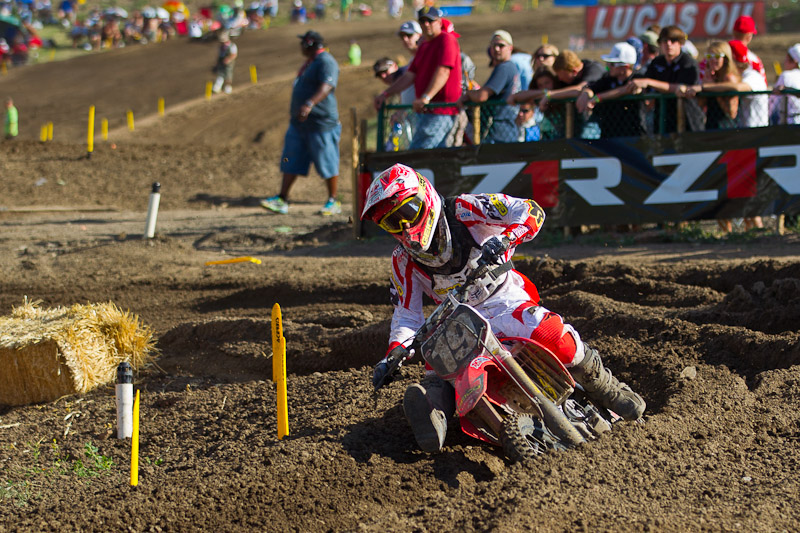 Homeboy E.T. negotiating a rut. Photo by: J.C. Medeiros
Double D is bringing his A game weekly now and it's a beautiful thing to see(Tim Ferry wrote that line). Darryn is a super cool kid who is finally putting things together and figuring out a program that works for him and pays the dividends. Remember DD37, don't walk away from Volcom. #kdublogic
I know 7-DNF isn't worth writing about but Broc's my guy and I am stupefied at the season he's been dealing with. Maybe it really is just a case of too much focus on the "winter-series"(last one) and an inability to release, recover and regroup for the Nationals? Look at Barcia, the dude has mono and though he is getting the starts and putting in good laps, he only finds himself 2 positions ahead of Broc who has 2 mechanical DNF's.
Whatever the case, I'm committed to providing Broc with the words of wisdom he doesn't even know he needs. Those words that will get him the starts he can work with and begin his Canard-esque ascension beginning at Red Bud, a track I know he loves.
See you at Red Bud!