Our man over there, Mccready gives us his take on the GP in Uddevella. Go Osborne!

Our man over there, Mccready gives us his take on the GP in Uddevella. Go Osborne!
Swedish GP
Frossard and Roczen Dominate, Cairoli gets the Red Plate
By Jonathan Mccready
Photos courtesy of Youthstream
MX2
Ken Roczen dominated the Swedish GP to firmly reinstate himself as the top MX2 rider in the World. After a few crashes Roczen has adopted a smoother and more controlled approach to the races in a bid to keep his teammate Jeffrey Herlings at bay, and, it's working. It also must be said that the last few rounds have been hardpack and it isn't Herlings' forte, while Roczen has grown up riding hard pack in Germany. In saying that the race is there to be won and Roczen was imperious, looking every bit the the 2011 MX2 World Champion he wants so badly to be. Before heading to American in 2012.

Ken Holeshot both races and slowly but surely checked out, looking very smooth and in control on the slippery track. Roczen admitting he has adopted a smoother style after his crashes, and it is working better than he probably imagined. Herlings was left in his wake and despite a consistent second overall with a 3-2 score, he struggled to stay on the pace with Roczen in moto two when they got out front together. Usually Herlings can stay on Roczen's pace and try to force him into a mistake, but in Sweden he had no answer and in his post race interview, hearkened back to his mentality earlier in the season of just trying top beat Tommy Searle for second in the series – not the mentality Stefan Everts would like to here.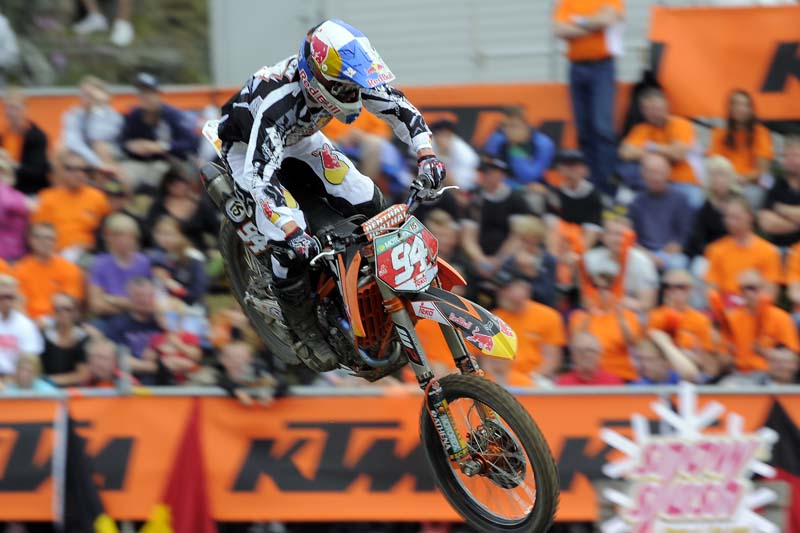 Kenny Roczen is the man right now, after a little lull for a couple of races, he's got the red plate back and is looking good.
Mentally Herlings does not appear to have the same level of self confidence as Roczen and maybe being only sixteen and having a years less experience is hurting him. Sometime you feel Herlings is beaten before he starts, but he does give it his all in the races. With Ken Roczen style self befief Herlings could still challenge for this title, but with the next round in Germany, Roczen's back yard and the place he won his first GP at fifteen, it will be even harder for Herlings to feel like he can beat his German nemesis this weekend.

Third place overall was Gautier Paulin, the Frenchman is getting faster and faster every week, and on the right track he could challenge Roczen for a win. Paulin hasn't been off the podium in the last five rounds and is now only ten points behind Tommy Searle for third in the Championship. Recent go faster parts from Yamaha have helped Paulin get off to better starts and the more he runs with Roczen and Herlings the more he will believe he can beat them.

Tommy Searle had a nightmare day. A bad start and two crashes in race one left him with a damaged bike and a DNF. He came back in race two for fourth, but by the time he got there the leading three riders where long gone. Searle is going to have to fight hard in the next two races to fend off Gautier Paulin who is rapidly closing the gap on his third place.

Max Anstie maybe had his the best GP of his career so far. After being unable to finish the previous GP in Spain due to a big crash in practice, Anstie nailed two top three starts and rode well for a fourth and fifth place in the motos. This was the type of performance that many expected from the Englishman from the start of the year.
Christophe Charlier is getting better and better as the season goes on. The 2009 European Championship rode well to fifth overall and just needs some good starts to learn the pace of the front men.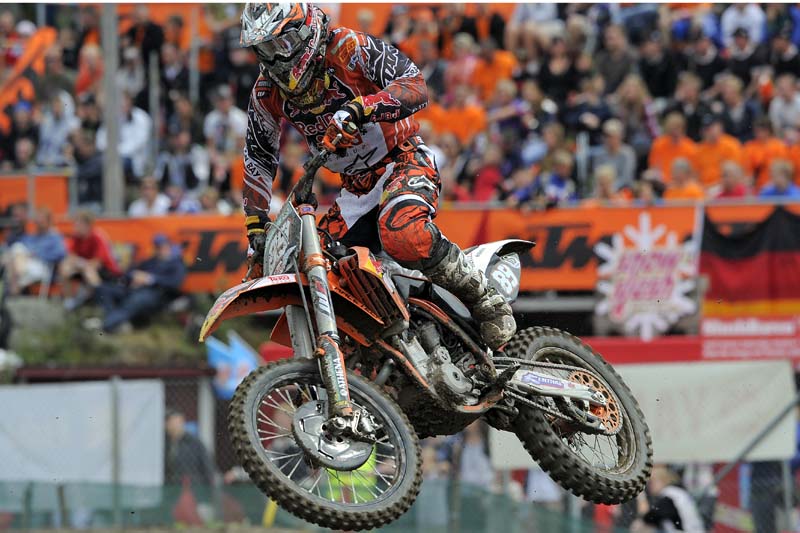 KTM's "Other" guy Van Horebeck made his return to the team this weekend and had some good results.
It was the first race of the season where all the top MX2 riders where actually racing, and Sweden welcomed back the third member of the Factory KTM team Jeremy Van Horebeck. The stylish Belgian came from a bad start to fifth in race one and from dead last to ninth in race two. Van Horebeck is fast and with good starts he could get amongst the podium contenders. It was also welcome back to Factory Suzuki rider Valentin Teillet, and two top ten rides would have pleased the fast Frenchman on his return.
?
America didn't have the best weekend in GP's on independence weekend. Zach Osborne had a top five start in race one but crashed on the first lap and had to fight his way back through to eleventh. A top ten start in race two was promising but Zach just didn't have the pace of the factory riders or his teammate on this slick track as he struggled to tenth place. Zach is in the middle of 14 straight weekends of racing and it appears it may be taking it's toll. Osborne is a fighter and he will come back with all guns firing in Germany, but with the class back to full strength and everybody riding well, Zach needs a good start to find his way back to the podium.

Michael Lieb was thirteenth in race one and had a DNF in race two due to a bike problem. But the American admitted it is more difficult getting on the pace of the GP regulars than he expected after his injury lay off.

MX2 O/A: 1. Roczen 50pts, 2. Herlings 42pts, 3. Paulin 42pts, 4. Anstie 34pts, 5. Charlier 28pts, 6. Tonus 28pts, 7. Van Horebeek 27pts, 8. Aubin 27pts, 9. Osborne 21pts, 10. Teillet 20pts, 11. Searle 18pts, 12. Kullas 15

MX2 Championship points: 1. Roczen 351pts, 2. Herlings 337pts, 3. Searle 286pts, 4. Paulin 276pts, 5. Osborne 234pts, 6. Tonus 225pts, 7. Anstie 201pts, 8. Kullas 179pts, 9. Aubin 178pts, 10. Roelants 168pts
?
MX1
?
The MX1 category was drama filled before they even got to Sweden. Championship leader Clement Desalle dislocated his shoulder while racing his National Championship series in Belgium. Desalle arrived in Sweden not knowing whether he would be able to ride or not, and with only one point separating him and Cairoli he could see his championship hopes going down the drain.
But, the tough Belgian did ride and despite a crash in his qualifying heat on Saturday that left his with more bumps and bruises, Desalle rode with the heart of a champion on Sunday to come away with an eighth and seventh placing, minimising the damage in the Championship, and keeping his title chances very much alive. But with two races in the next two weekends how quickly can Desalle recover and challenge for wins?

Antonio Cairoli was probably licking his lips coming to Sweden. The Italian loves the track and with Desalle injured, it was looking like Cairoli would come away with a big points lead. But on the opening lap of race one, things went wrong. Cairoli lost the front under braking while in second and was hit by a few riders before he was able to remount in last position. As usual Cairoli went to work and stormed through the field to take an incredible fifth place on a hard to pass track with many quality riders. It was the sort of ride that has made the Italian into the living legend that he is.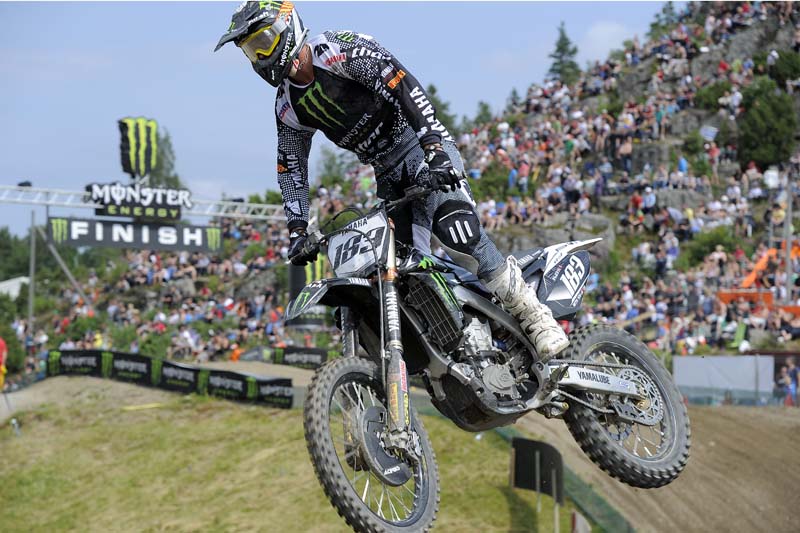 Frenchman Frossard has caught fire lately and starting to get back to his early season form.
A second place in race two gave Cairoli third overall and more importantly the red plate for the first time all season.
Throwing himself right back into championship contention was Steven Frossard. The Rinaldi yamaha pilot was pretty much unbeatable in Sweden. He shadowed race leader Evgeny Bobreyshev in race one before wearing him down and passing him with three laps to go for the win. In race two Frossard holeshot and won by six seconds over |Cairoli. Still dealing with stretched ligaments in his thumb Frossard was hugely impressive and is only twenty two points behind Championship leader Antonio Cairoli. There is a three way fight for the title in 2011 and right now any of them could win it.

Evgeny Bobreyshev is impressing more and more in 2011. The Russian scored his best GP result of his career and lead the majority of race one before Frossard took the lead. In race two 'Bobby' came from way back to pass an impressive list of riders including Steven Ramon and Ken De Dycker to haul himself into fourth place and hang onto second overall in the GP. It was a great result for the Martin Honda team who have really turned things around this season after a few disappointing years in GPs results wise. The full factory Honda backing isn't hurting and it is rumoured Bobreyshev has already re- signed for 2012, and if his rapid improvement continues he could be a top three or even championship contender next season.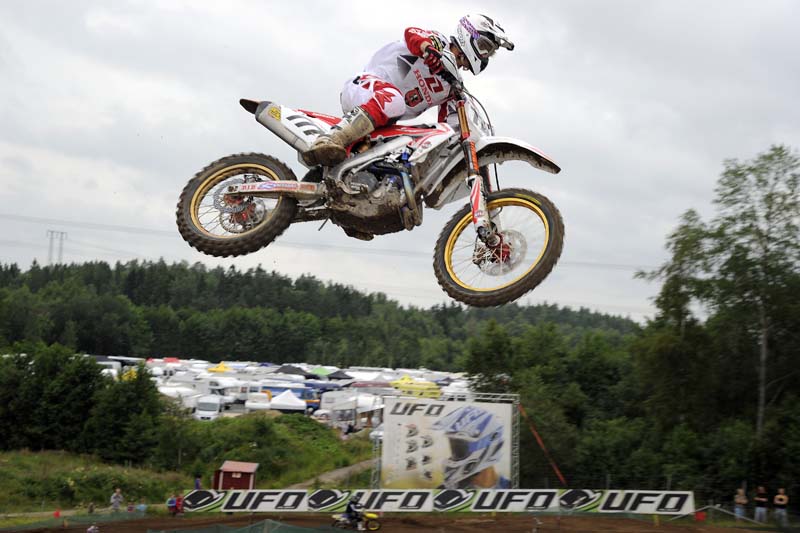 The big Russian nightmare is starting to come into his own this season.
Belgian riders Ken De Dycker and Steve Ramon also rode well, Ramon came from two bad starts to use his smooth style to great effect for fifth overall. While De Dycker came from way back in race one to fourth and despite tiring in race two still finished sixth for fourth overall. Xavier Boog made it two Frenchman in the top three in race one, with his best moto result of his MX1 career, but a crash in race two held him back to eleventh and sixth overall.

MX1 Overall result: 1. Steven Frossard (FRA, Yamaha), 50 points; 2. Evgeny Bobryshev (RUS, Honda), 40 p.; 3. Antonio Cairoli (ITA, KTM), 38 p.; 4. Ken de Dycker (BEL, Honda), 33 p.; 5. Steve Ramon (BEL, Rockstar Energy Suzuki World MX1), 31 p.; 6. Xavier Boog (FRA, Kawasaki), 30 p.; 7. Clement Desalle (BEL, Rockstar Energy Suzuki World MX1), 27 p.; 8. David Philippaerts (ITA, Yamaha), 26 p.; 9. Rui Goncalves (POR, Honda), 25 p.; 10. Maximilian Nagl (GER, KTM), 25 p.
MX1 World Championship standings (after 8 of 15 rounds): 1. Antonio Cairoli (ITA, KTM), 322 points; 2. Clement Desalle (BEL, Rockstar Energy Suzuki World MX1), 312 p.; 3. Steven Frossard (FRA, Yamaha), 300 p.; 4. Maximilian Nagl (GER, KTM), 250 p.; 5. Evgeny Bobryshev (RUS, Honda), 244 p.; 6. David Philippaerts (ITA, Yamaha), 225 p.; 7. Rui Goncalves (POR, Honda), 217 p.; 8. Xavier Boog (FRA, Kawasaki), 191 p.; 9. Steve Ramon (BEL, Rockstar Energy Suzuki World MX1), 180 p.; 10. Jonathan Barragan (ESP, Kawasaki), 176 p.