Let's start this off with some prayer support for Josh Lichtle's family and friends.
Let's start this off with some prayer support for Josh Lichtle's family and friends.
Photos by: James Lissimore
You may remember Josh from a segment on him in the 2005 Special Edition Great Outdoors(it begins at 36:15). Watching it now is more heartbreaking than it was before this weekend. He's a native of the Michigan Mafia who's been at it as a privateer for years. Like I said last week, MX is a cold hard bitch and tragedies such as this are evidence of just that. Josh went down in a corner in the top off-camber late in moto 1(I was standing in the corner filming when it happened), he remounted, began kicking his bike and immediately fell over again. You could tell something was wrong as he didn't attempt to catch himself as he fell over but he got back up, remounted and coasted down the off camber out of sight. Everyone around was cheering for his effort, they knew Josh was local, they began talking about watching him through the years. No one thought it would end the way it did. So tragic. Godspeed Josh.
The Stage
Heat was definitely an issue as just walking around the facility all day had me feeling like my skin was dripping off me like the wax from a candle.
Judging from the amount of rain which fell on friday, you would assume saturday would be a slam dunk mudder. This is Red Bud though, a super absorbent loam with wood chips to aid in its "wicking" ability and lets not forget, it's Michigan where the weather conditions swing like a pendulum. It's totally standard for a 70 degree day of rain and gray skies to be followed by plus 90 degree temps and not a cloud in the sky. Humidity is the x-factor, this year it was predicted to be at 99% by The Weather Channel the morning of race day and there were heat warnings on the Weather Channel site for the area. This day was going to favor those who's training program's have been pushed into the red and it would be a struggle for all others.
Practice was greasy and muddy but by the first Lites moto, the track had come around dramatically and the racing was set to be great. The trials of the slick greasy surface had been replaced by deep ruts which if not hit just right would suck bikes in and steal precious momentum. As first moto's transitioned into second moto's, the track continued to improve; I even saw them watering some areas of the track. Don't confuse an improved track with a smooth track, it was good and rough but the drier soil made the rutted corners less of a bitch for slight errors.
250
I had an epiphany watching the 250 class. I've never been near fast enough to consider racing at the pro level but often, like most who do race amateur, you watch the pro's who seem to smooth out a track and make it look far easier than it is. It works as motivation to make you want to work toward that goal. Watching Blake Baggett at Red Bud did something else to my motivation. He made me want to sell my bike. The dude just demoralized the class. Watching him I thought, there's no way in hell I can even imagine riding as flawlessly as he seemed to for 70 minutes on saturday. I don't even remember RV and Townley going so fast in the awesome battle in 2007 at Red Bud. Listening to Baggett in the press conference was even scarier. He noted how in moto 2 he pulled out a lead, cruised a little to see if Wilson and Rattray were going to make a run at him, saw them gain a little bit on him and said "let's go" and pushed back into sprint mode and sealed the deal.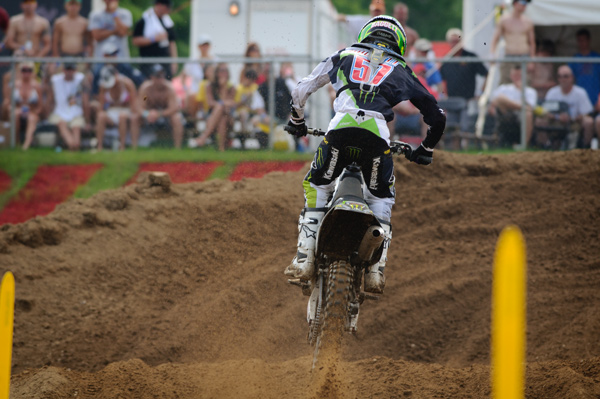 The familiar view of Baggett by his opponents lately.
Baggett without question has the most raw speed in the class, even more important than that, he's beginning to show that it is sustainable raw speed. 4 moto's straight, finally that theory has been laid to rest and his confidence must be soaring now.
Dean 15 was motoring all day as well, there were points I thought he may catch Baggett but BB57 just matched whatever Dean threw at him. Dean still has the red plate heading into Millville in two weeks but the momentum is on another green bike.
Tyla stuck to his consistency plan and it garnered another podium. To be honest, Tyla showed more speed than I feel like he has yet in the states. He was matching Dean's pace in moto 2 and that's saying a lot. Tyla's consistency program may not yield the title he hopes if Dean and Blake also stick to that program but on the two tiers above him. Tyla was my title pick before the season and even with Blake's superior speed and Dean's consistent podium finishes, I'm not betting against Tyla yet, after all, we've got half the season to go.
Kyle Cunningham was awesome at Red Bud. A solid 4-4 for 4th overall in that kind of heat is a real step forward and something to build from. Kyle's only had 2 bad moto's out of 12 and finds himself in 5th in the points. Look who's ahead of him, Baggett, Wilson, Rattray and Tomac. Solid season thus far for Kyle.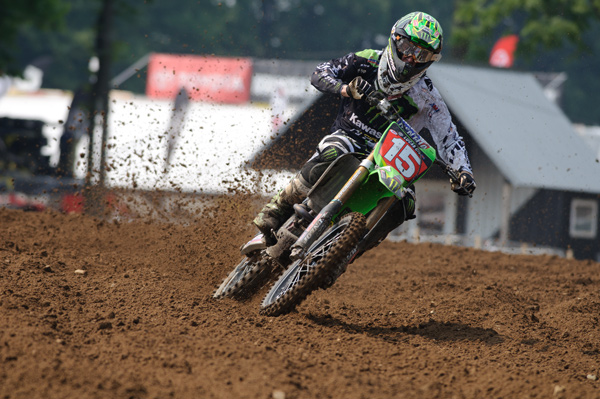 Will Dean hold onto the red plate after Millville?
A broken chain in the first laps of practice for Tickle was not a good omen for Broc. Thankfully, it wasn't a precursor of the way his day was headed. Broc rode solidly, didn't have great or terrible starts, just starts he could work with and ultimately went 7-5 for 5th.
Wil Hahn had an awesome return to racing. I was stoked to see him up there in each moto and see him ride within himself, leaving Red Bud with a solid return to build from. I feel Wil learned a lot from his broken shoulder which he applied at Red Bud. More important than returning with a mind blowing ride, Wil knew it was key to put in solid rides and leave his personal round 1 with a healthy body and confidence. Goal accomplished, welcome back Wil, mature ride.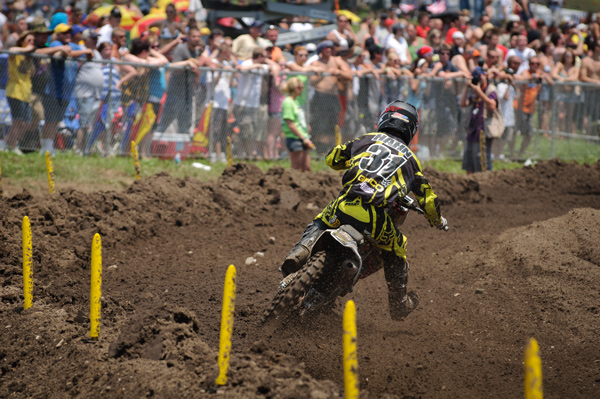 Wilbur in competition for the first time in 2011. Success.
450
9-1 for a 3rd overall? That kind of formula means Ryan Villopoto has some karma working for him. Contrast that with the 2-2 for 3rd overall at Budds for Dungey and you wonder what he did to deserve his "luck"?
If you read my twitter(let's be honest, if you don't you wouldn't be reading this), you saw toward the end of moto 1, I said that Reed was about to cash the 1st moto check from 2010 that TBC(Townley's Black Cloud) stole from him then. This year Townley was replaced with Millsaps in that scenario but he actually faded early to leave just Dungey and Reed to battle for the duration. Millsaps was definitely impressive though, running that pace for the laps he did was pretty exciting and it's good to see Davi's rides at the front this outdoor season.
Reed on that Honda is a duo who I watch and think, man he makes the track look smooth. It's just a combination of his line selection, technique and bike setup that all combine to make racing at that pace look deceivingly achievable.
The Reed and Dungey battle was a beautiful thing to watch for 35 minutes in moto 1. Imagine yourself in such a situation, shadowing or being stalked for that amount of time with the interval only slightly changing over the duration. These guys have mental toughness and a focus that few others in the world do, one of the others who does spent his first moto rallying from an absolute last place charge.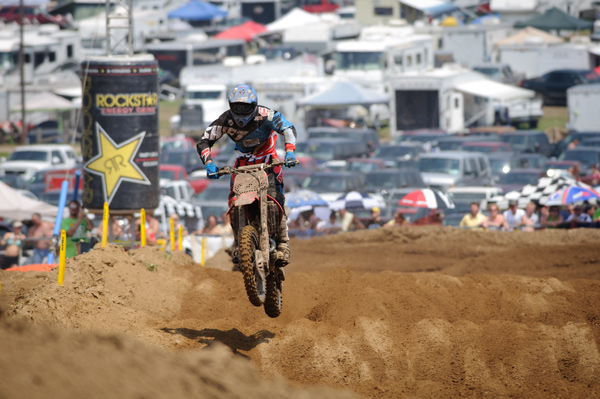 Reed on Red makes most tracks "look" smooth.
RV went down in the second corner of moto 1, lost his visor, jacked his subframe, remounted and set forth on operation:"take no prisoners". This rally-ride from RV made watching the field exciting as each lap after the Reed and Dungey battle passed, you would focus your attention on pin pointing RV's location during his charge forward. It must have been frustrating for RV coming through so much traffic which weren't being lapped though were being passed at lapped traffic speed. There was a lot of revving coming through the off-camber's by RV as he made his way through the slower traffic. By about lap 7 you could easily see RV's side plate flopping around and his unbranded muffler beginning to jostle loose. The bike began sounding a bit more raspy leading me to believe it was bound to fall off. Sure enough, a couple laps later it was gone, though not much louder than when it was on. I was very surprised at the minimal sound difference with the muffler gone.
RV wound up making his way back to 9th which sounds a little lackluster but with as far back as he began, the traffic he had to work through and often slower lines he was forced to take in order to make passes in the pack, it was a solid ride. Even as solid as it was, I'd bet money even RV wasn't expecting a 9-1 to land him on the podium at the end of the day.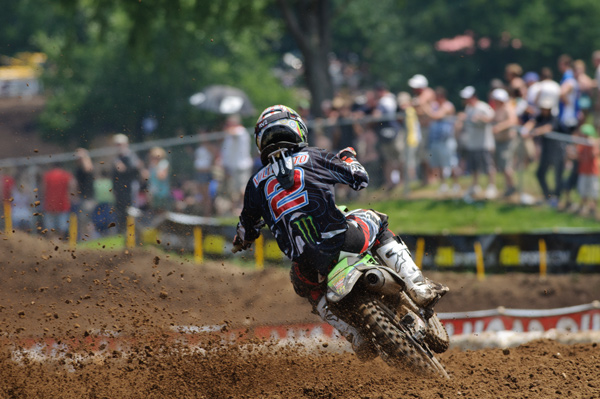 RV2 gettin' down in moto 2.
You may want to fasten your seatbelt now. I'm going to do something pretty crazy. Ready? I'm going to talk about Brett Metcalfe.
Brett put in awesome rides at Red Bud. Looking at his points scored thus far in the season, it looks like Metty's been riding pretty much this solid all year, sans 1 or 2 moto's, and yet still wears the "invisi-cloak" of publicity. I wonder what Metty thinks of this season versus last outdoor's on the Geico 450 where he was 2nd and 3rd most moto's. Does he feel like he's faster this year, as well as the class as a whole? Hey Matthes, how bout you prove you actually read this column and call Metty during the Red Bud wrap-up show with the threesome to see what he thinks? Doubt it.
As good as the RMZ450 is, I'm betting Metty feels as good as he did last year and the class is just faster. That metallic name/number on the back of Metty's jersey should help him get noticed more but what was up with wearing the cooling jacket over the jersey in moto 2? Metty must have been pretty worried about the heat to go over the jersey with that setup. We know Metty has had a heat scare in the past, so chances are good, he made the smart choice running that.
Random.
Super bummed for Matt Lemoine to drive all the way up from Texas to lose a motor 4 laps into moto 1 while running top 10 and then a fresh motor not make it to the gate suffering a fuel/electrical issue on the parade lap for moto 2.
Jason Anderson did not make it to Red Bud, turns out it was Les Smith running his gear in practice due to a shortage of gear for Smith.
Jimmy Albertson was a great cast member for a yet to be released episode of PulpMX TV.
James Lissimore is a super nice guy, not just because he didn't punch me out when we met.
Robb Swiatek is the hardest worker in moto media. Dude huffs it around the track for the first moto's shooting video, sits in the media tent importing and editing, does the RXi Pre and Post shows, gets eff'd over for sleeping in an airport… Teen Wolf is the unsung hero in the media tent.
Oh and for all you who think Cox is a dick or a douche. Cox is one of few people who I know will always be good for a laugh and some conversation at the races, never plays the cool guy game.
Abrasive online? Misinterpreted? Misrepresented? Whatever, online representations are NOT worth the judgements people base off of them.
Wrap
We have a week off before the series heads to Millville, home track of Ryan Dungey, where he simply hauls. Will he make a surge forward in the points at his home track or will Villopoto steal that thunder the way Dungey has from RV in Washougal on Lites? Will Reed begin a new string of second moto dominance? Will a fourth rider join the elite 3 in the second half?
In the Lites, will Baggett continue his win streak? Will Wilson match his pace? Will Rattray step it up? Will Hahn work his way into the podium effectively breaking up the green dominance?
There are so many more intriguing questions I can think of as we find ourselves working into the second half of the season. How bout you come up with your best and call into the PulpMX Show Tuesday night(this week only) to see if you can spark some good debate?