I know it's Friday but I started this yesterday and really wanted to get it up on Thursday as well. Just go with it because 'Friday Farts' didn't sound as good.

I know it's Friday but I started this yesterday and really wanted to get it up on Thursday as well. Just go with it because 'Friday Farts' didn't sound as good.
For years Star Racing Yamaha could never seem to get their program going in an upward direction and at best, one would say that the team seemed to be eternally spinning its wheels. From questionable rider decisions (another shot for Martin Davalos- really? Hiring Max Anstie because his agent brought in the DNA Shred Stix money) to giving up on riders that show potential way too early (Both Wil Hahn and Darryn Durham right now are considered up and coming riders yet they were one and done with Star. Hahn even said he had another year on his contract but for some reason, it was never honored) the team couldn't get any better. Even being named the official Yamaha factory Lites team (oh how times have changed though. The Yamaha of Troy team got a ton more support from Yamaha than Star gets. Times are tough) couldn't stem the tide of mediocrity.
Until this year that is. As I'm written about and spoken about many times, the team of Ryan Sipes, Kyle Cunningham, Gannon Audette and Gareth Swanepoel have really ridden well this year. Sipes had a great supercross season with his first career win and although the outdoors hasn't gone his way, when he's on the gate. He can win-it's that simple. Cunningham is right there at every outdoors and in supercross was pretty good until almost always inevitably crashing (but KC has the one thing that you can't teach. Speed. And lots of it. You can work on the not falling part later), Swanepoel has had the odd flash of brilliance here and there and Audette, well he's a rookie.
On top of that, the teams bikes have been pulling holeshots quite a bit and have never looked overmatched despite having a Yamaha motor as a base that's in my opinion not as advanced as the other OEMs (five valves, while good for reliability limit what you can do in the head. Not too mention the carburetor, which is fine for horsepower but not so good in supercross for consistent throttle response). The combination of motor guy Brad Hoffman and the company Cosworth have been doing a bang-up job on the machines. And the riders have been living up to their end of the bargain.
One of the things that have enabled the team to take this jump up in respectability is in my opinion, the hiring of a real team manager this year. Team owner Bobby Regan went out and spoke to a few guys (Dave Osterman, Chris Mcavoy) and settled on Allan Brown who used to run the KTM factory team in 2000 as well as own and manage Moto XXX for the last 5-6 years of its run. Hiring Brown was smart, he's connected, he used to have his own motor shop so he understood the mechanics of the machine, he knows the process of dealing with riders from his days at XXX and to me, it had to have helped. In previous years, it was Hoffman who was trying to manage the riders, mechanics, truck AND do the motors. This arrangement allowed Brown to handle the logistics and Hoffman to make the bikes run perfect.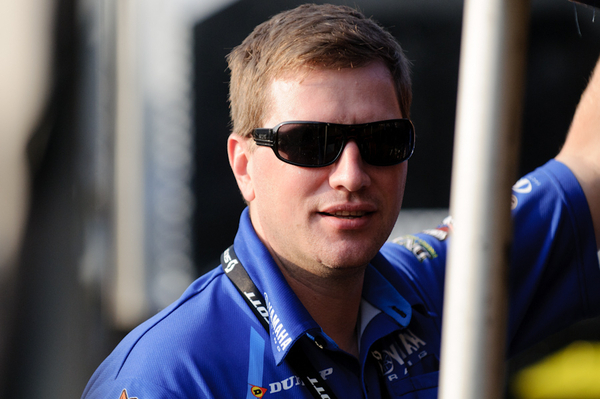 Brown's out at Star Racing. Photo by Lissimore
But for some reason, Regan felt this situation wasn't working out and relieved Brown of his duties after Unadilla. It was a surprise for most everyone and the way Bobby did it left something to be desired (on a voicemail after Unadilla where he never spoke with Brown). Brown isn't really talking about it, he hopes to catch on with another team or maybe go back to what he did last year (managing and part owner of Team Ti-Lube. Remember Nick Wey's team last year?). Regan had to have been contemplating this move for a while as he's already installed former Bridgestone tire guy/Scott Motorsports Brand Manager Doug Schopinsky as the new manager. Doug will do a fine job, no doubt about it but my question is, why make this switch now with three races left when things from the outside seem to be working?
Managers aren't everything to a program to be sure but having worked for some really good ones and some really bad ones in my 11 years as a mechanic, I can speak to the fact that good ones have everyone pulling in one direction. If there's a bad apple among the crew who isn't pulling, they're out and the next one is in. They handle problems immediately, they make strong decisions and having a good manager isn't something that you know you have until you get a bad one. Then you remember what the last guy was like and he did it. Look at the JSE team in supercross, immediately after disposing of original manager Larry Brooks, Stewart went on his career worst losing streak. Now Brooks wasn't on the motorcycle but like I said, and Stewart himself called me one day to vocally dispute this with me, the right manager is important to a team
There are always two sides to a story to be sure and I know from talking to Alan that he was frustrated at times when he couldn't run things the way he would have liked. Still, the arrangement was working, the team was getting results and I know from talking to Yamaha's Jim Perry, the OEM was pleased with the direction that Star Racing was going. I asked someone at Star what the deal was and got this "There was a general lack of communication between the two guys (Regan and Brown). There was nothing dramatic here." I myself wonder why this was done and the timing of it and I hope that Star Racing can keep trending upward. But this does make me wonder a little about their program and if I have to be honest, I wonder if they will ever truly be an "elite" team with moves like this.
****
If some of you aren't into video games, then just skip to the next bullet point. The folks at MX vs ATV Alive recently announced that they were done with the game. And as well, as another kick in the nuts, laid off a whole bunch of people as well. Here's the news release I got from some sort of dorky video game website:
THQ called it quits on its long running MX vs ATV franchise and also closed down two studios, THQ Australia and THQ Phoenix. Bluetongue is shut down as publisher withdraws from licensed kids titles and movie tie-ups.
Last month itself, the WWF/RAW franchise developer THQ announced they aren't seeing much success with the MX vs ATV series and will put Red Faction series into the shelves after a lackluster sale records.
This game was pretty hyped up for a long time and seemed like it was going to be the answer to many moto gamers dreams. When you saw the trailer for the game and it involved punches, kicks and taunts in the commercial, well things definitely got a little worrisome. Once the game came out, the guys down at THQ (while I'm sure they are hard working, good fellows) really pooped the bed with this one. The game was almost unplayable from the beginning and took a long, long, long time to "level up" and get to where your bike was good and as well, the tracks at the launch were, uh, crappy.
On top of all that, the Sony security breach that went down and left the PS network DOA for a good part of two months was the worse thing for the developers as all the Playstation people were unable to get the one track that made the game somewhat worth it- the James Stewart compound.
Now we know that Stewart was the pitchman for the game and I have to wonder how much this played into the overall "crappiness" of the game. There's not doubt it wasn't cheap to get Stewie to put his name on it as well as film some little shorts in it. The big bosses had to have been putting the sales figures under a microscope after writing that check. Did we need James Stewart's endorsement to sell more copies than you would have sold normally? That's definitely debatable.
Once the Sony on-line system was back, things were humming along, I had played the game to the top level so my bike was fun, the tracks were sort of ok after that (how many people just gave up before they started having fun? Who knows?) but there was nothing there for downloadable content. Yeah sure, there were bikes, gear, butt patches, goggles but the meat of the game-the tracks- there was nothing. Finally there were a couple of outdoor tracks that were very underwhelming. Everyone was waiting for supercross tracks. And one glorious day- they were there!
Except they were brutal too. One was ridiculously easy and I played it one time. The other one was more of an arenacross track and was one level above "ridiculously easy". There were so many ways that the developers missed the mark on this game that it became just one comedy of errors after another. The last game put out MX vs ATV Unleashed was pretty good. The on-line racing part of it was weak but tracks were good, riding physics were above average (not perfect) and it was a great first step.
This game though was such a step back that it was incredible to think it was put out by the same group of guys. What moto person in their right, sane mind would put a check mark beside some of this marketing strategy, taunting, track designs and Stewart endorsement? One has to think that inside the company were some real motoheads who just repeatedly slammed their head in a door over and over when the edict would come down from above.
But before the game could produce anymore supercross tracks, the decision to pull the plug was made. And that's it, what seems like a pretty profitable structure (low retail price but another 30 bucks for 6 tracks) wasn't profitable enough and motocross video game fans are left with the question of "Why?"
Why cancel it?
Why such little downloadable tracks offered and at a slow release?
We'll never know. I'm sure a bunch of good dudes lost their jobs and I suppose we always have Excitebike to fall back on (or the VERY underrated ATV Fury) to entertain us. The demise of MX vs ATV Alive, while disappointing, is probably for the best. This thing seemed to be DOA upon release.
And that's too bad. The potential was there.
***
Despite what my Pulpmx Show co-host Kenny Watson says, the Josh Hansen to H&H Kawasaki team is done and the #100 will be taking his talents up to the 450 class where he probably really belongs. I hope for owner Carey Hart's sake, this works out better than the first time he hired Hansen a couple years back only to see Josh struggle to make mains and eventually he just quit the team altogether. Good to see that Hart, a racer through and through, isn't above giving his friend another chance but to me, I'm not sure if I'm banking on act II to be a success.
Hansen should have won the 250 west title last year despite crashing and hurting his hand at the second Anaheim. The problem for Hansen is that, despite making claims to the contrary, drama always finds him in his personal life. He rode for Mitch Payton the last couple of years and Mitch is very demanding of his riders. He's constantly checking up on them, making sure they are doing the right things and generally pushing them to be the best they can be. And most times, it works.
Unfortunately for Hansen, the west series went on an 8-week break between rounds and that's when, according to Pro Circuit insiders, Hansen started to lose focus yet again. His teammate going for the title Broc Tickle was making a charge and this didn't sit with Hansen. He was pulling in front of Broc at the Kawi track, making disparaging remarks about Tickle in videos and at the track and eventually just started changing over in the H&H truck to "get away and focus".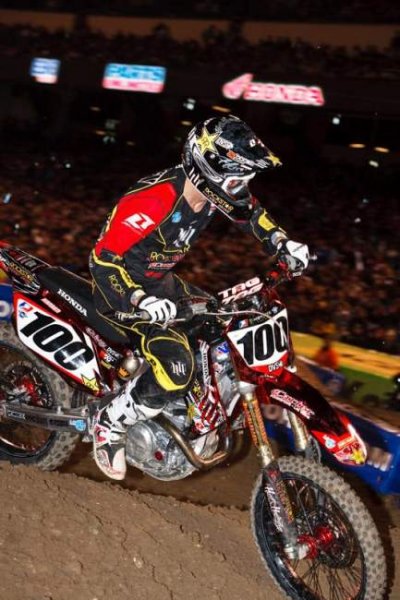 Get ready, we're going to see this again. Photo by Cudby via the Google machine.
Asked on the Pulpmx Show what advice he has for Watson in managing Hanny, Payton said "Get a Locjack tracking system and put it on his car so you know he's not out in Hollywood." The plan for the H&H guys is for Josh to stay in California (last time he rode for the team, he was based in Vegas and that was also part of the problem) and basically do whatever teammate Ivan Tedesco does. When Tedesco goes to the gym, Hansen goes, when Ivan goes riding, Hansen does. That's the idea and not a bad one either. A consummate pro, Tedesco works hard and is a professional motocross racer in every sense of the word.
Maybe without the downtime, this 450 thing will work out for Hansen. I know that Monster Energy really wanted him back with Payton for 2012, they felt like he had a real shot at the title again. Payton mentioned on the show that Josh has to come into the season ready and focused otherwise it will be too hard to catch up to the pack, he'll struggle and get discouraged.
Can he do it? I'm not sure, the jury's out on this one. I do know one thing though- I'll be watching.
***
Bummer deal for Red Bull KTM's Andrew Short who broke both elbows and a wrist while testing for supercross last week. Shorty, who's not having the best of seasons, will now be out for the next 8 weeks or so recuperating. With a contract that is up, it has to be a tough time for Short. Or is it? Some people I've talked to say that the reason Andrew crashed was bike related but that can't be verified. What Short was riding is a mystery as well, him and I spoke on Saturday after Unadilla but I never thought to ask him what bike he was riding. The fact that he was riding sx makes me think now (I'm not calling or texting a guy who has two casts on fresh out of surgery) that he may have been riding the 450 that KTM is going to allow Ryan Dungey to ride next year.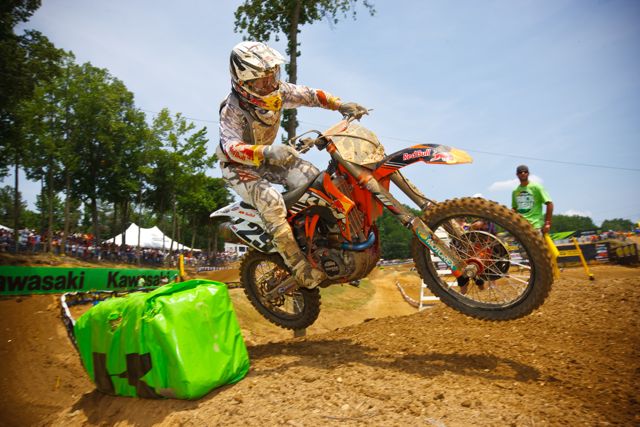 Andrew is out with some arm injuries. Photo by Cudby
Here's the thing, if the crash was indeed bike related, then Andrew just might be looking at an attempt by KTM to re-sign Short for the 2012 season. I know they already were thinking about it, Shorty's a solid top five guy on the right bike and him and the new superstar of KTM, Kenny Roczen, along famously. And I do know from talking to manager Roger DeCoster that the team is worried that Roczen, like any kid who's a star and rich, strays from the right path of working hard and riding. Short can help Roczen with this is the thinking from some of the higher-ups at the orange team. With Shorty saying he wants to ride a 450 next year and with Dungey apparently riding one, would KTM scrap the 350 and allow Short to ride the 450?
I just don't really know and if I had to guess, I'd lean the way that the second 450 rider would have to agree to ride the 350. Then again, maybe not. Anyway you look at it, Short definitely doesn't hold the hammer in these contract talks but with his injury, he may not have to.