Here's a look at the Gaildorf GP through the eyes of our guy McCready

Here's a look at the Gaildorf GP through the eyes of our guy McCready
Cairoli and Roczen crowned World Champions in Germany!
by McCready
Photos courtesy of Youthstream
MX2
History was made in Gaildorf, Germany, when Seventeen year old Ken Roczen became the youngest ever World motocross Champion and achieved it in a fashion it took Stefan Everts ten world titles to do – he won his world title in his home country.
Tears of joy overcame Roczen as he crossed the line and he was still struggling to contain his emotion as he climbed the podium. The realisation of a lifetimes work, combined with creating history and achieving his goal of becoming world champion in front of tens of thousands of your countryman all caught up to him.
Roczen won his first GP at fifteen years old in Germany and now, only two and a half years later, he has become World Champion in Germany , in what was a story book ending to the first chapter in what could be a glittering career. In those two years Roczen has went from boy wonder to German superstar and world wide fame. The normally composed German teenager showed for the first time the weight of pressure from living your life in the spot light and under pressure to achieve from such a young age. When Ken crossed the line to become world champion, you could see all the pressure of all those years released, he had been hiding pretty well, but it was there and in one split second it all came rushing out.
Roczen said it was the best day of his life and he had never had a feeling like it. That is what it means for him to be world champion… and achieve it in his home country. Kenny's popularity was evident when the huge crowd of people from his team to his family and friends ( including Tony Cairoli) swarmed around the new World Champion when he crossed the line. All had ready made T shirts on and banners everywhere. The atmosphere when Ken climbed the podium was incredible, thousands chanted his name and cheered, they were flags with his face adorned and very excited chainsaws revving loudly. Ken Roczen is the MX2 World Champion 2011, and also a German motocross legend already!
However, Roczen didn't actually win the GP… that honour went to Tommy Searle!
In race one Herlings got the holeshot, but Roczen was right there and the duo started to battle it out for the lead. Roczen then stalled in a rut and went down to fourth, with Searle recovering from a mediocre start in fifth as Herling sped off to a five second lead. Then suddenly just as Roczen went into second, Herlings got balked by a back marker and fell off in exactly the same rut as Roczen had stalled in! Roczen inherited the lead as Herlings got going in fifth. A four way battle ensued between Arnaud Tonus, Gautier Paulin, Tommy Searle and Herlings, and it was Searle who would eventually prevail pushing through to second with two laps to go. Herlings struggled to find his early race rhythm and could only manage fifth.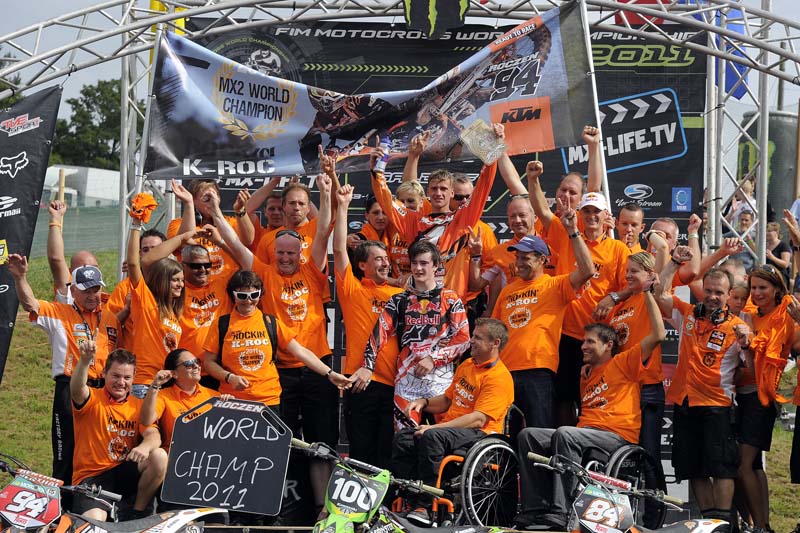 All hail King Kenny!
This meant Herlings hard to beat Roczen by three points in race two to take the title down to the final round. Roczen holeshot but this time he didn't get away, Herlings passed him and Tommy Searle, finally getting a good start was right on Ken's rear wheel. The leading trio, and top three in the championship, were glued together and went toe to toe in what was the best MX2 race of the year.
Searle found his way passed Roczen and almost got Herlings, only for Roczen to pass Searle back. Roczen then attacked Herlings and was going for the double victory when he slid out on a high speed left hand off camber corner. He got up and remounted in third. If Herlings won Roczen would not win the title in Germany, but Searle was on the charge and passed Herlings with three laps to go and put four seconds on the sixteen year old Dutchman. Searle crossed the line elated in his first straight up victory of the year but all eyes where on Roczen as he crossed the line slowly and tilted his head toward the sky in relief and disbelief. Herlings sportingly waiting for Roczen and gave him a round of applause and the warm embrace between the two precocious teenagers show the respect they have for each other., despite both vying for the world title.
MX2 Overall: 1. Searle 47pts, 2. Roczen 45pts, 3. Herlings 38pts, 4. Tonus 38pts, 5. Paulin 33pts, 6. Anstie 27pts, 7. Roelants 27pts, 8. Aubin 27pts, 9. Lupino 23pts, 10. Butron 19pts
MX2 Championship points: 1. Roczen 635pts, 2. Herlings 585pts, 3. Searle 526pts, 4. Paulin 458pts, 5. Tonus 391pts, 6. Anstie 369pts, 7. Osborne 295pts, 8. Kullas 287pts, 9. Aubin 269pts, 10. Roelants 253pts
MX1
However, Ken Roczen wasn't the only KTM rider to make history. Antonio Cairoli equalled Roger DeCoster and Joel Smets tally of five World Championship, and the Italian in only 25.
There are only two riders who have won more world titles in the history of the sport, and they are Joel Robert with six and of course Stefan Everts with ten. The way Cairoli is going, (he has reached five world titles title quicker than the great Stefan Everts) he could at least equal and beat Robert, and maybe even get close to Stefan's seemingly unobtainable ten titles. Cairoli is a living legend and to win three MX1 World Titles on the bounce against such stiff opposition is a testament to his ability, versatility and determination.
In race one Cairoli made a poor start but steadily worked his way to third, however he was already crowned champion before he even crossed the line as Steven Frossard, second in the Championship, crashed out and was taken to hospital ( not ideal for the French MXDN team, but he has no serious injuries and has vowed to return at the final GP round in Italy). Russian hero Evegeny Bobreyshev won the race impressively after coming back from injury but it was a close run affair as yet another top French rider challenged for the lead. Xavier Boog the factory Kawasaki rider, caught Bobreyshev in the dying laps and was only half a bike length from taking the win, to card his best result of the season.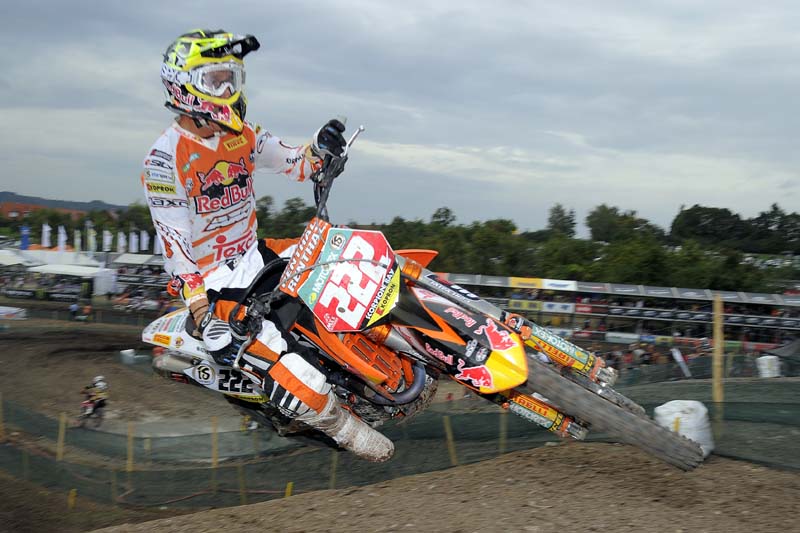 Cairoli is the man once again in MX1 class as he clinched his fifth world title.
All heads then turned toward the finish line as Cairoli rode across joyously to take his fifth World title. The KTM team were ready with banners and T shirts and greeted one of the greatest motocross riders of all time with champagne and celebrations. Cairoli even had a party trick lined up, as he ran to a pre rehearsed inflatable chair sat in it with little pretend palm trees all around him -it was a very Rossi-esque move, and shows just why Cairoli is such a popular world champion. As well as giving everything on the track he is always giving back to the fans off track as well.
Christophe Pourcel had a big crash in race one forcing a DNF due to bike problems, but he rebounded with a holeshot in race two and cleared of to an impressive victory. Pourcel is back and is just awesome to watch on the 450, he makes it look so easy and reminiscent of the great Stefan Everts. Meanwhile Cairoli came back from another average start to get into second, he attempted to close Pourcel down but then decided that he would settle for second and seal his fifth World Championship with the GP victory.
Cairoli took the overall victory and Bobreyshev held on for second in the GP despite fading badly in race two and getting the green fencing stuck in his rear wheel, losing his back brake. Boog was seventh in race two and did enough to claim third and take his first podium of the year.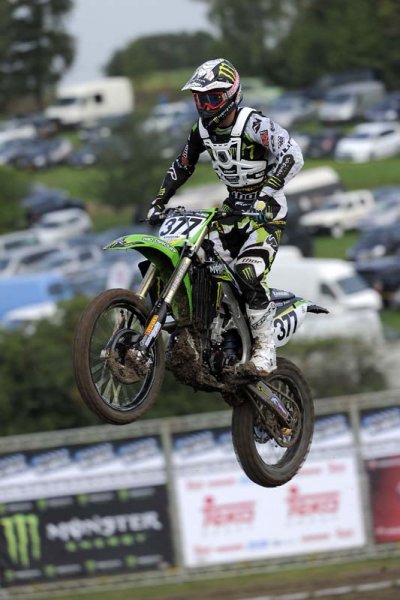 The 377 is back and in a big way. What's he going to do next year? Stay tuned.
Kevin Strijbos rode well in both motos for fifth overall as he prepares to lead team Belgium in the nations and Anthony Boissiere had his best ride of the season in moto two with a third place, yes, yet another top Frenchman in form!
But the day belonged to KTM, winning two world titles in the same day is testament to the riders, staff and machinery under the management of Pit Beirer and Stefan Everts. They are doing something right, and they want to do the same in America.. don't bet against the same success happening there too!
MX1 Overall: 1. Cairoli 42pts, 2. Bobryshev 38pts, 3. Boog 37pts, 4. Goncalves 33pts, 5. Strijbos 32pts, 6. Boissiere 31pts, 7. Nagl 29pts, 8. Pourcel 25pts, 9. Aranda 25pts, 10. Simpson 24pts
World MX1 Championship points: 1. Cairoli 574, 2. Frossard 472, 3. Desalle 461, 4. Nagl 428, 5. Bobryshev 412, 6. Goncalves 386, 7. Philippaerts 308, 8. Boog 294, 9. Barragan 288, 10. De Dycker 268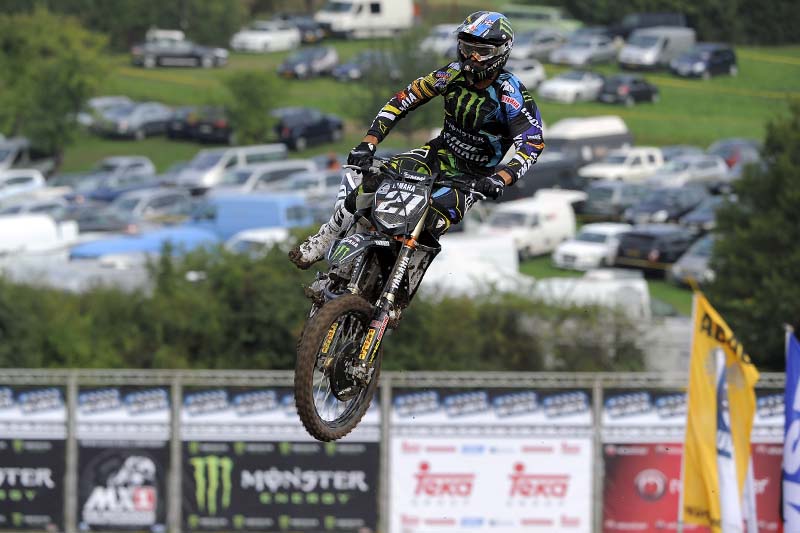 Gauthier Paulin in the MX2 class on his way to a fifth overall on the day. He'll be on the 450 at the MXDN riding for France.