Shorty has had a rough couple weeks so I rang him up to see how he's been dealing with this devastation… then I made things awkward.
Shorty has had a rough couple weeks so I rang him up to see how he's been dealing with this devastation… then I made things awkward.
Photos by THE James Lissimore
Swizcore- As everyone knows, you've had a pretty devastating occurrence to deal with for a couple weeks now. How are you coping in these dark days?
Andrew Short- It's been hard, it's been a big adjustment and change in my life. At first I didn't really know how to deal with it but lately it's become a reality and I'm just trying to cope with it day by day and make it through. It'll be over quick though and I'm just looking forward to better days ahead.
So was Moser's twitter blackout something you were prepared for or did it sneak up on you like a couple broken elbows and wrist?
Honestly I was just so foggy coming out of surgery and was just in a daze, it didn't settle in until a couple days after and it caught me by surprise. It's definitely different every day but I'm learning to deal with it. Like I said earlier, I'm just trying to move forward from here.
Let's bench race. You know how it is, when you crash out, the guys still in there just keep progressing, twitter waits for no man.
Do you think Moser can come back at the level he was when he crashed out of the twitterverse?
Well, there's never a dull moment with Moser. I don't ever know what to expect with him, he always comes out swingin' and you know, he's kind of similar to Stewart. He always looks fast but you never know when he's gonna bust out with something crazy. Like at Daytona jumping the wall and the gator pit then the next moment he crashed gnarly so, Moser's the same way. Never underestimate his wittiness or his dirty sense of humor.
How impressive is his fortitude and dedication to you? He must've clipped upwards of 500 followers at this point.
I hope he has another account. I feel bad for him, I almost want to tell him he needs to just get rid of it but he's dedicated and there's only one Moser. He's definitely 29 for life that's for sure. Through the thick and the thin he's always a 29 fan.
Now you and Jackie have been married for a while now, you actually share the identical anniversary to my wife and I, AND we both have a son named Hudsen(or Hudson) so Moser can suck it but; I'm sure you felt there was nothing Jackie and you hadn't shared but really, there's nothing like the honesty of a wife having to wipe you when you finish doing your deal.
Was dealing with that more awkward than me asking you about it or no?
No it was no big deal, you know she had two broken wrists from 2005 when she raced at Mammoth-(Jacki yells "2004" from the other side of the house), so it's like payback so it's really not that bad. Pain pills make it so sometime you don't even have to wipe.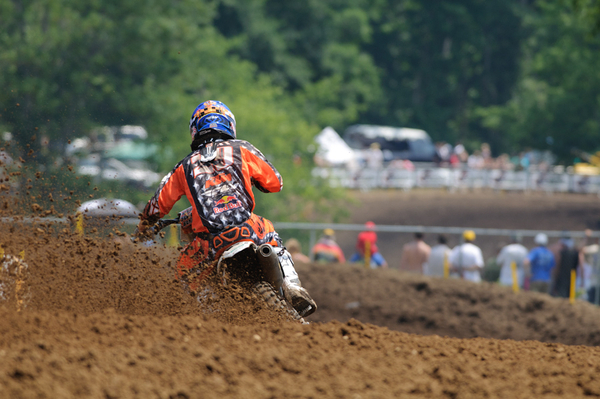 It's been a trying year for Shorty but throughout, he's been smiling.
Ok, onto some less pressing topics- The last few rounds of outdoors have all seen some crazy things. Obviously you'd rather be out there but what comes to mind when you think of the rounds you've watched from the couch?
Just the fire in your belly, you become numb to the racing when your there doing it week in and week out. This is my 10th full season of racing, I haven't been injured that much and it's been a while since I've sat out for some time so it kinda puts everything in perspective especially with my deal being up. It really makes me think about where I am in life and what I want to accomplish in terms of racing and off the track as well with my family and our future. In terms of racing it really puts a fire in my belly and gets me re-focused cause this has been my least successful since maybe 2004. I've had a lot of successful seasons but this has been my worst in a while.
Will this be your longest time off the bike since turning pro?
Honestly I wont miss much racing, just these last 3 or 4 and I should be riding by mid-October/early November. The worst was my ACL, I was out for 6 months which resulted in me missing my 450 debut and 8 or 9 SX's. It's not the first time I've had to rebound from injury and I always tend to come back strong and rejuvenated so I think its kind of a blessing in disguise. I feel more motivated than ever and Im at a good place in my career so I want to make the most of it in the upcoming seasons.
So how scared are you of the possibility of Facciotti racing full-time in the US next year?(I asked Matthes if he had any quesitons for Andrew and of course, this is the only thing he sent over. It just never ends with that guy)
I never underestimate anybody on the gate. I've learned to just focus on myself. Life's easier that way and racing is a lot simpler when you're just focusing on yourself.
Can you tell me when the nationals transitioned into a 35 minute sprint race?
I feel like it's always been that way, especially in the Lites class, it's always been chaos but maybe that's cause I was always back further in the pack? It never let up until 2008 or 2009 it became more strategic. Maybe the field wasn't as deep in those years? I feel like everyone learns each year and the pace increases each year and this year is is an extension of that with everybody getting closer and closer. The days of RC winning by over a minute aren't there anymore, the depth goes so far now.
Last two questions
Would you ever go to a Cradle of Filth concert with me?
Yeah probably not. For one I don't even know who they are and they sound pretty gnarly. I'm not into that.
For the record, I love Jesus too, I just happen to also love really gnarly metal as well. (We both laugh).
Will you join my twitter riders union?
Yeah for the stupid stuff yeah. Our definition of stupid stuff may be a little different but–
That will all be hashed out in the first meeting of the Union, we'll get that all squared away.
Oh I thought there were already guidelines but yeah, if there aren't guidelines yet, for sure.
Nope, Im just gathering support right now.
Okay, yup you've got my support.
Cianciarulo is out, he RT's everything and thinks it's hilarious. JT is out too because he sleeps through the meetings as we've heard. Even if he wants in now, I wont let him in because he's shown he doesn't think its a big enough deal.
I didn't know he was back on Twitter?
He's not. He says he's not and I respect his claim of no and assume that he's telling me the truth. (debatable)
Word associations.
2012
Redemption
450
Fun. I want to ride one next year.
PulpMX
Funny
Moser
Dedication
Watson
Unique
We got onto shooting the shit and I forgot to get him to thank his sponsors so I'll do it for him.
Thanks to PulpMX, the Short family, the Lord and Moser!
(Disclaimer- Please, all you moto fans who take shit way too seriously, this was all in good fun.)