The time has come. You know, as a moto superfan, this time of the year is a tough pill to swallow. The track markers have all been removed, signage; stolen or rolled up, awnings stowed and race rigs put into hibernation.
The time has come. You know, as a moto superfan, this time of the year is a tough pill to swallow. The track markers have all been removed, signage; stolen or rolled up, awnings stowed and race rigs put into hibernation.
Photos by: THE James Lissimore
(Im so glad I wont have the option of forgetting the damn photo credit for a few months)
Man does this suck.
We do have the MXoN to look forward to and the Monster Energy Cup is mere weeks away but as far as the grueling series battles, we're S.O.L until A1 comes again. But really, what more could we ask for than what we were spoiled with in the 2011 race calendar? The retrospective story is on the docket but for now, let's wrap up the outdoors series with what caught my eye at the Pala finale.
First of all, the landscape of southern California tracks sucks. Yeah I get it, it's the desert and there's nothing they can do about it but the lack of any greenery makes for a real drab scene to race in. No biggie, just an "Observation".
That Pala track is something else. The obstacles are absolutely insane to hit at the speed they carry on that track. The "Huckabuck" section blew my mind every-time they ripped through it. Especially in 450 moto 1 when Dungey led RV into it and Villopoto grabbed a handful pulling even, then passing the Dunge by the end of the section. Sheer madness. If you were to get out of shape at that speed, in that section; it's game over. And I'm talking the breathing game.
Pretty shocking that neither of the Ryan's did go down in that section with all the little mistakes they were trading for much of moto 1. It was similar to last weeks first moto with the 1 and 2 finding themselves bumper to bumper many times between gate drop and the checkers. As close as they were on the track and in points, watching the race it just felt like an RV2 title clinch was a foregone conclusion. Dungey would distance himself from RV slightly, then he'd make a mistake and RV would draw close again. Dungey didn't seem to have the urgency I would expect say Reed or Villopoto would have if they were down 14pts with a possible 50 on the line. I'm becoming completely unsurprised with his status quo. Don't get me wrong, he rode his ass off and was flying but the differences between those two guys are so minute that urgency, aggression and acts of God are really all they have to work with to make those differences work in their favor.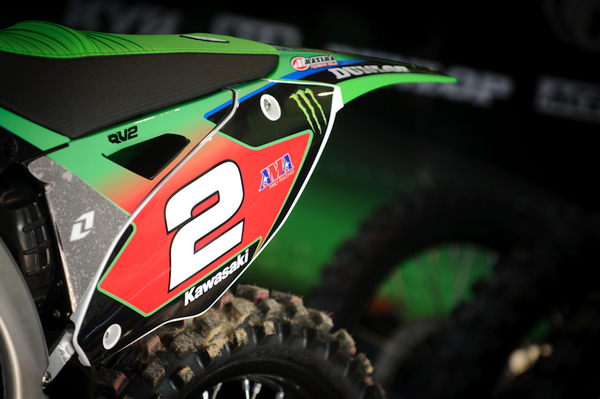 The 2012 Kawi 450 definitely played a part in this title for RV.
In the end, Dungey came away with the overall and a genuine smile on his face. His excitement on the podium was great to see if not slightly confusing. It had a few things crossing my mind as to what would have him so geeked following his second #1 plate loss in 2011.
Thoughts of:
1. Rejoining Ian and The Man when the next title chase begins.
2. Getting his swerve on following the MX Banquet.
3. Just happy to end the season with the O/A.
4. Closing out a super stacked year in 3rd and 2nd where seemingly everyone questioned the validity of his two titles from his rookie year.
Like I said, I don't know but he was noticeably happier and seemed more comfortable on the podium than at any other time in his pro career. I'd say its a pretty safe bet that Dungey was faster this year than last even though he didn't come away with the hardware or plates. This is what really interests me though. Many people have said, including the GOAT, that Dungey's biggest asset is his ability to absorb gainful input and apply it to his program and race craft. We've seen it from him year after year. Always improving and fine tuning himself. Perhaps his happiness came from this very thought, looking toward what his gains this season will mean when 2012 begins?
Little Guys
Wow, Wilson has looked absolutely unstoppable this outdoors season. Wait, what did I just say? Dean 15 unstoppable? Isn't this the same guy who was frustrated and down on himself for what seemed most of the series, say until Unadilla? Round 9!! Have a look at the kids consistency:
2, yup 2 moto's out of 24 off the podium. 11 Moto wins and 3 overalls. Terrible, just a terrible way to win a title. Dean's a great kid who really wanted this title and wears his heart on his sleeve. He's not afraid to be honest with himself and others when he's not happy with the head space he finds himself in. It's great to see and a refreshing quality, you know, honesty. Especially in this sport where people are constantly lying to themselves and others using positive reinforcement blowing sunshine up asses in the hopes that it will yield better results and build confidence.
Good job Dean, just keep being the free-spirit you are and congrats.
Whether Dean really was cross jumping BB or not is beyond me and my Samsung, as I didn't see any blatant instances on the broadcast but one thing is certain, Blake was convinced it was happening. Was and has been happening since they were amateur rivals apparently. 57 was fired(!) up about it and the Pro Circuit team saw its first instance of public fracture this season. That's pretty remarkable considering how close three of the four teammates have been since round one outdoors. I loved seeing Blake's honesty on the podium. Politically correctness sucks and makes me wanna vomit when I see it, honesty is always best. I think we have the makings of a great Chicken/Beast from the East rivalry as soon as one of these guys moves to a different team.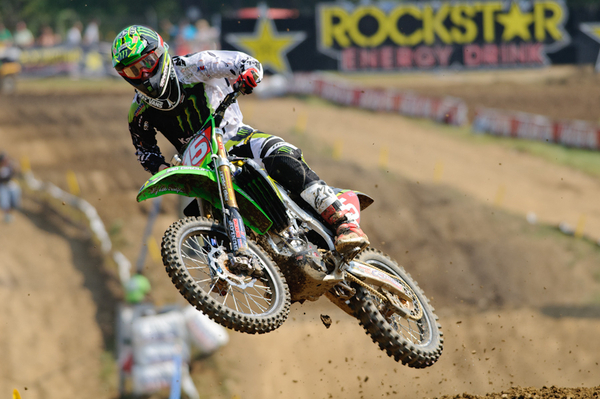 This dude's got more #1 plates in his future.
Bonus Pts
I wonder if Reed had any words for Barcia after the 17 ran him down in turn one of moto one, turning him into a red speed bump for multiple riders?
Dean's line through the Huckabuck(yes I'm using that term for effect) roller's was downright dirty. Very impressive.
Tickle's nightmare outdoor season finishes the way it went all series. A bad start and charging from the back salvaging points. Actually, it's pretty amazing to me that he ended up 7th in points; until that is, you realize 7th in points is over 200 behind the next PC rider. I had really high expectations for Broc this outdoor series. His troubles in the past were always starts, he would get a poor start and charge his way back to a respectable finish. I figured it was a no brainer that when he got outdoors on a PC bike, top starts would be a foregone conclusion. Guess not. Whether it's faulty technique or wrong place/wrong time doesn't really matter, the result is the same. I can't help but think that his SX title negatively affected him heading into outdoors. It's not the first time we've seen it. Only a year ago we saw the same kind of transition for Jake Weimer, though Jake was also hindered by a nagging back injury. I hate to say it but I think if Broc hadn't won the SX title, his MX series would have gone much better.
I hope Moe is alright, that was a nasty digger and the last thing he needs is more injuries to recuperate from.
Thanks
It started out as me wanting to put my thoughts on saturdays action to keyboard, then Pookie suggested the name and suddenly I found myself getting less sleep sunday nights. I'm really happy with a few of them, usually the editions following a race with profound or compelling occurrences. So thanks for taking a moment to read even one Swizcorner. I'm excited to write some one-off articles during the off-season but not writing every week is gonna be nice too.
See you in January and a few times in between.