Thanks to Steve Cox from Motocross.com for supplying me with some photos from the event. I'll be sure to return the favor down the road when I learn how to take pictures (ie; never).

Thanks to Steve Cox from Motocross.com for supplying me with some photos from the event. I'll be sure to return the favor down the road when I learn how to take pictures (ie; never).
Photos by Coxmx.com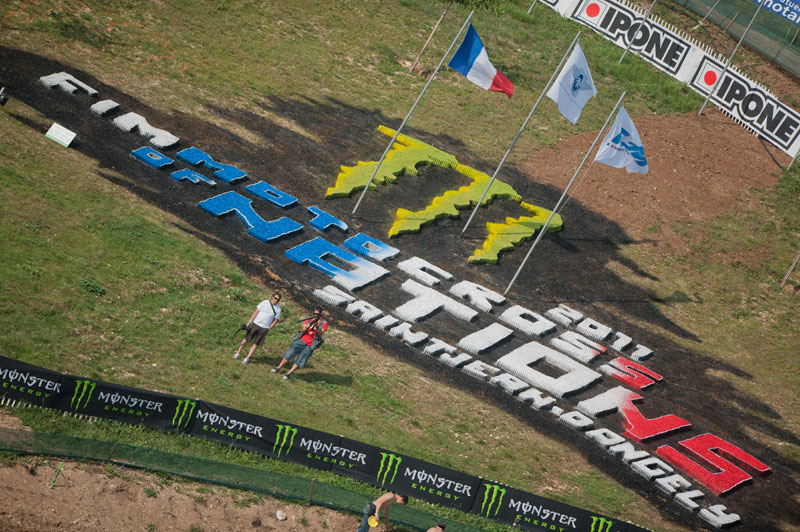 My wife and I debated for a while what this was, I thought it was grass cut in the shape of the letters and then painted. She just wanted to look at the pretty sky above it. It was on the far side of the hill and I was too lazy to go all the way there. By the way, good job to the two jerkies for getting into the shot.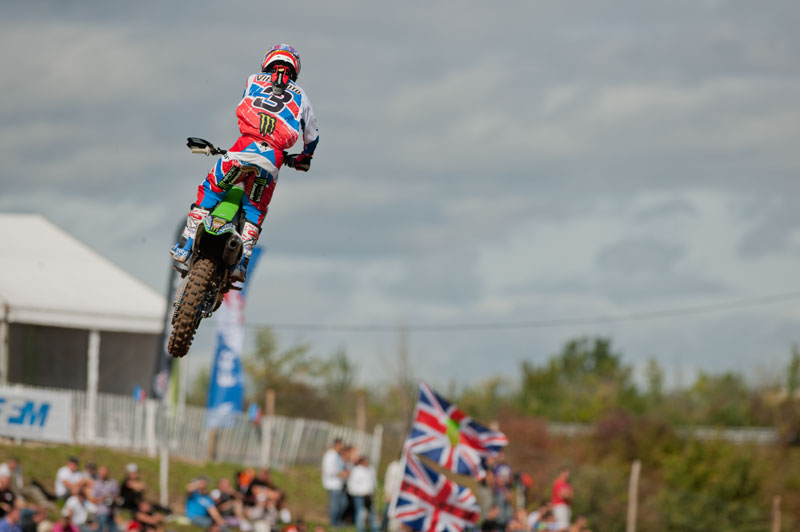 I guess if there was an American hero, it would be Ryan Villopoto who dominated the last race to help USA win the event. In his first moto, he didn't get a good start but I think if it had remained dry, he might have won. The rains came down and made the track really, really slippery and hard to go fast on. RV settled for a third in that moto.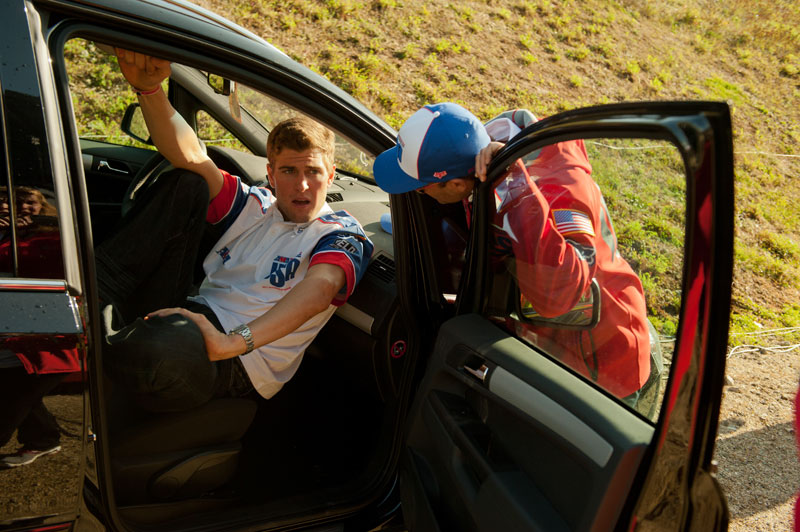 Ryan Dungey went 2-2 in his two motos, one behind Reed and one behind RV. Here he stretches it out in a rental car.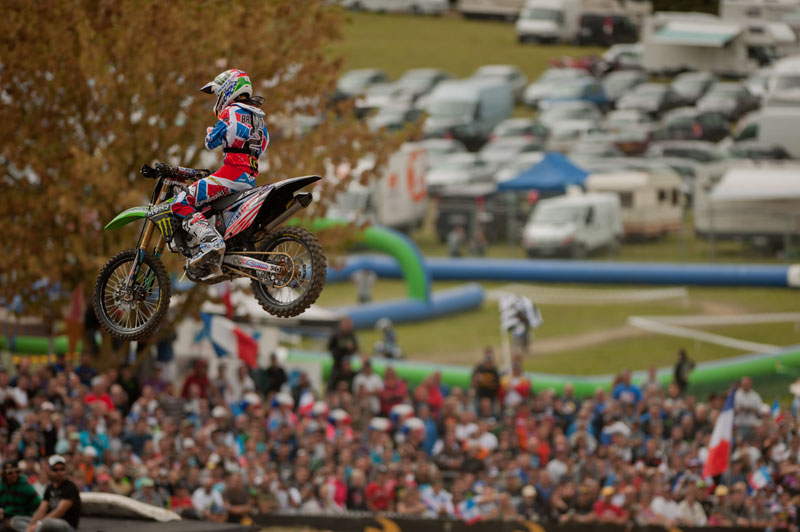 Blake Baggett had a rough MXDN no doubt about it. I'm sure if he were to be honest, he'd admit that he did not have fun at this race. He got bad starts, crashed a bunch and got roosted with rocks and mud both of his motos. If USA had lost, he would be kicking himself no doubt but because USA won, who cares and no one will remember his crappy day.

Cox sent me this panaramic shot of the facility and this picture really doesn't capture just how shitty the track was.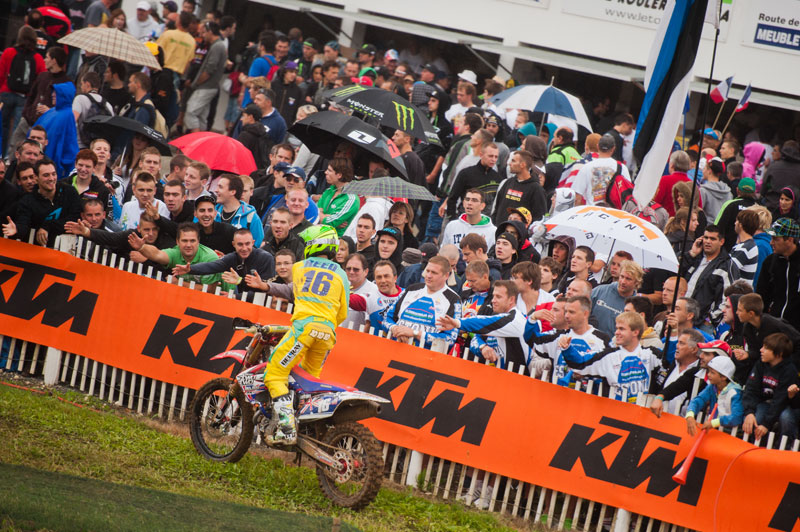 Reed won a moto which has to be one of his many career highlight for the Aussie and he ended up helping Aussie to their first ever podium finish. The one guy in the blue there just really wasn't impressed with Chad at all. No high fives for him!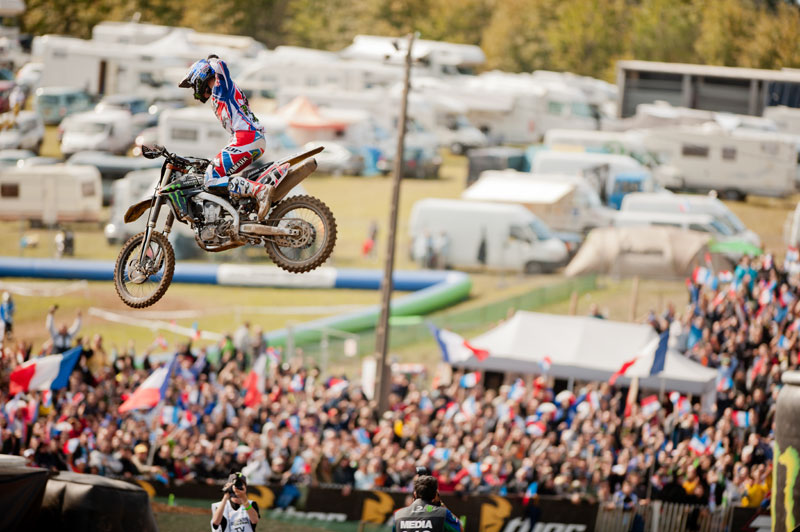 If I told you before the race that France's Gauthier Paulin would win a moto outright against Ryan Villopoto, would you have believed me? No exactly so that's why I couldn't get it when I was telling everyone how impressive he rode and they would come back with how lucky he got. Huh? The guy battled with Herlings for a while before pulling back out and winning, that's impressive.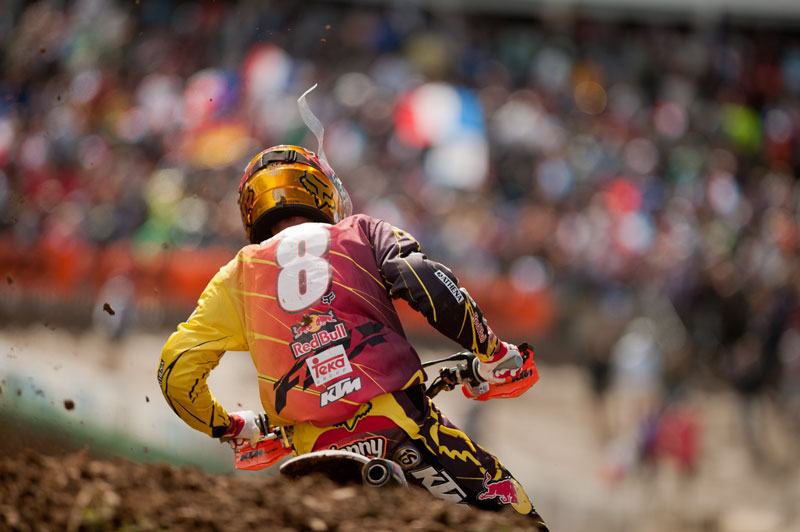 But maybe the most impressive rider out of everyone on Sunday was Ken Roczen who came from about tenth in the first moto to challenging for the lead. On a 250! Roczen was on fire no doubt about it and showed that he's such a special talent.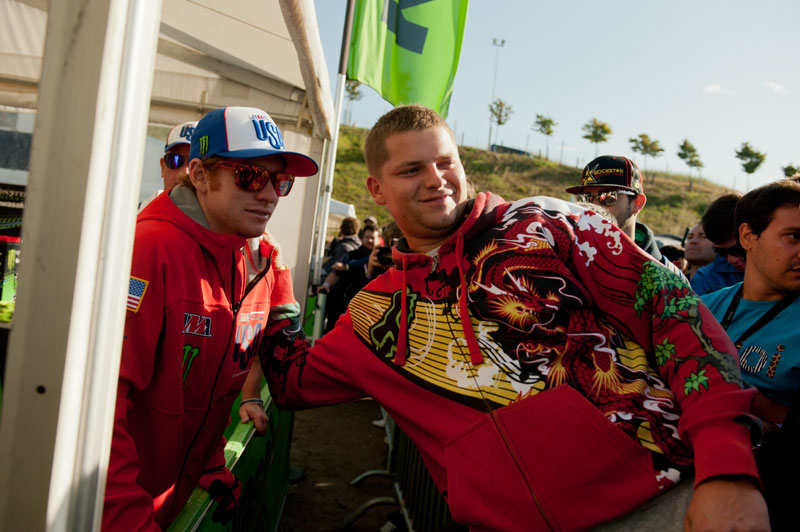 RV takes some time for the fans of France.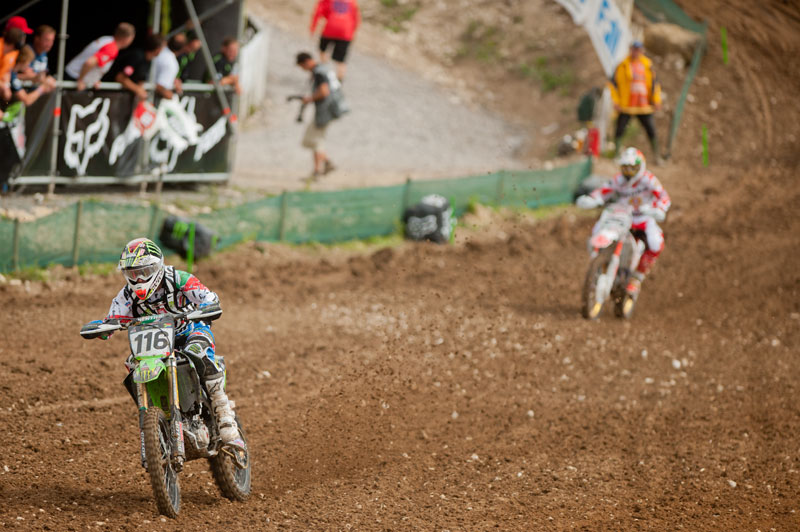 A bit of a surprise at the race was South Africa's Tyla Rattray who rode the 450 in MX1. He was pretty good really and better than I thought he would be. I know he badly wants to ride 450 outdoors in USA next year and I'm sure he hopes his rides impressed someone at Pro Circuit/Kawasaki.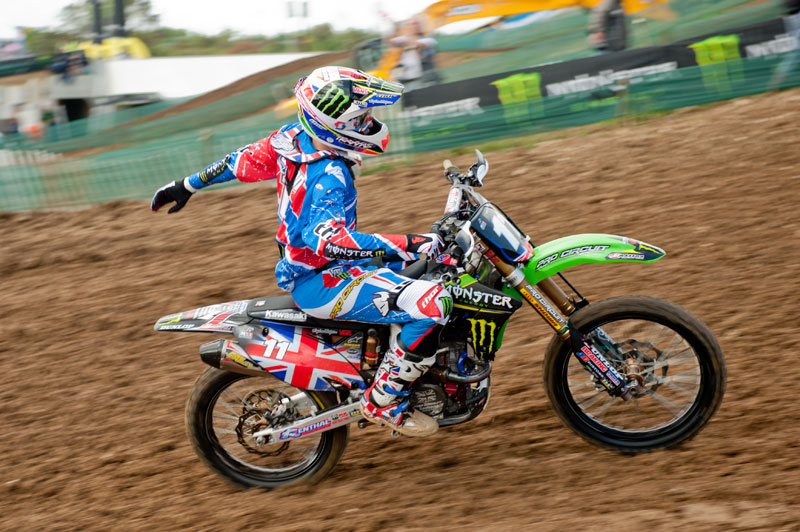 I don't know what Dean Wilson is doing here, I'm thinking it's got to be the parade lap. Dean rode the best he could with a sore wrist but it was obvious that he wasn't on his game in France. After the race, he had a cast on and he may be out for a while. 250 East series anyone? Between USA, England and South Africa, I'm surprised if Thor didn't run out of red, white and blue fabric for their riders.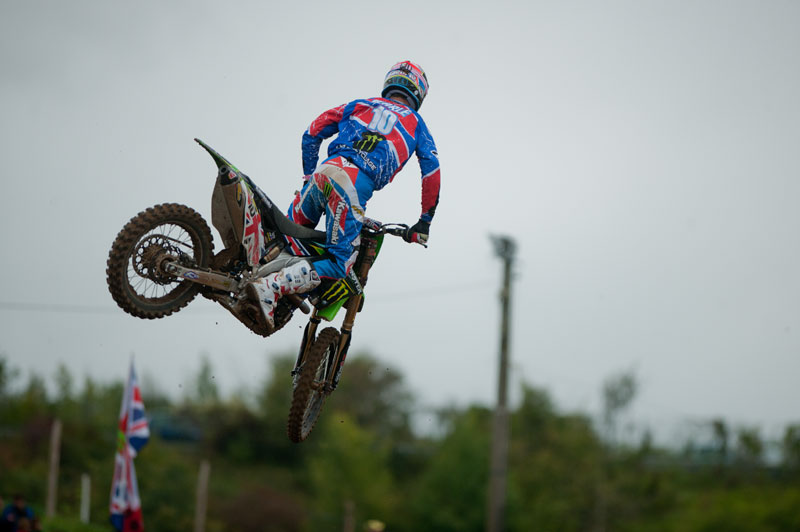 Tommy "Gun" Searle was another surprise in France on the bigger bike. He maintained a good pace in both motos to end up third OA on the day in the MX1 class.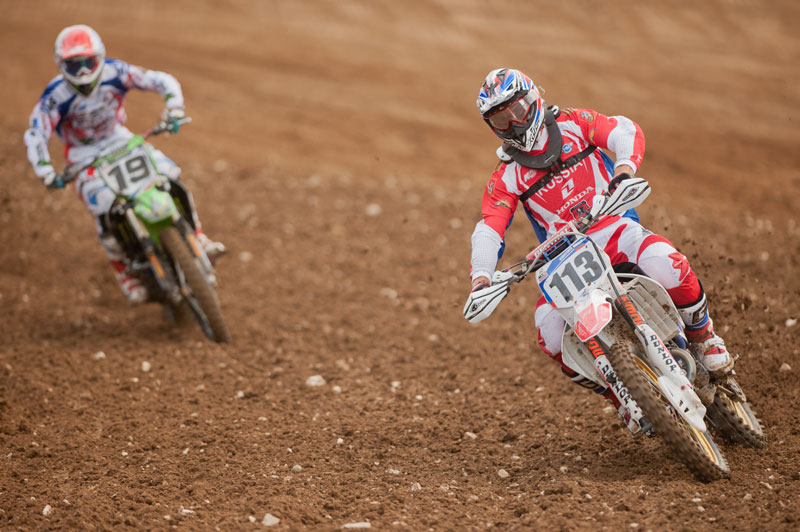 I don't think Russia has entered the MXDN for a while but they were there this year with their star rider Evgeny Bobryshev. "Bobby" really came on this year in the GP's and was the breakout star there. At the MXDN, he got good starts but crashed his way back in both motos. Still he was impressive. Russia didn't have the best of luck though as a country. They needed Pulpmx's Evgeny Mikhaylov and his all white helmet, no doubt about it.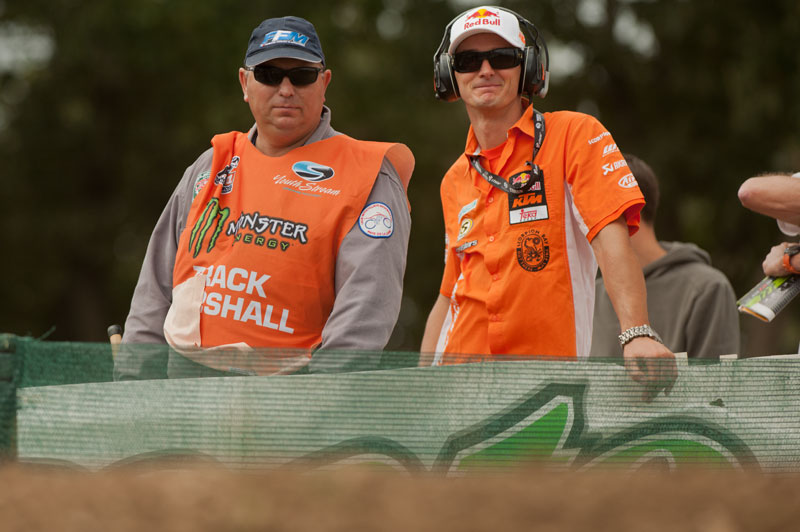 The King Stefan Everts and a track marshall. Stefan is still very, very popular in the pits even though its been years since he raced.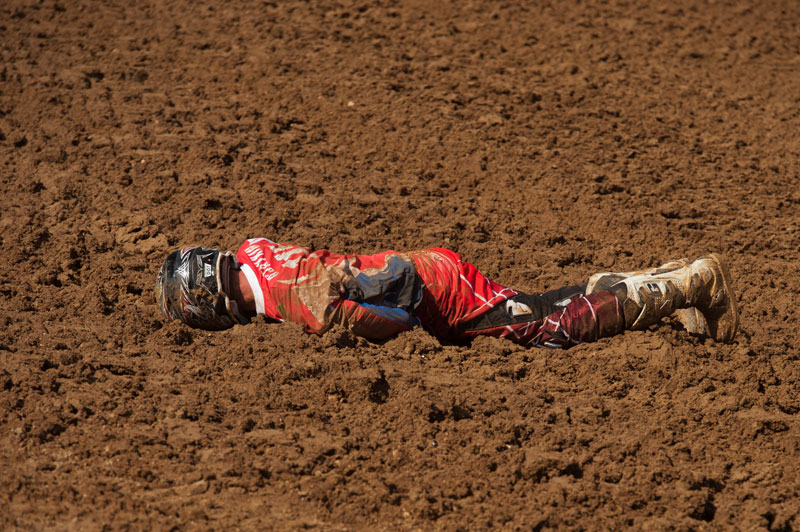 This is one of the reasons why Russia didn't score well. Atsaykin was ok after this but didn't race the other motos.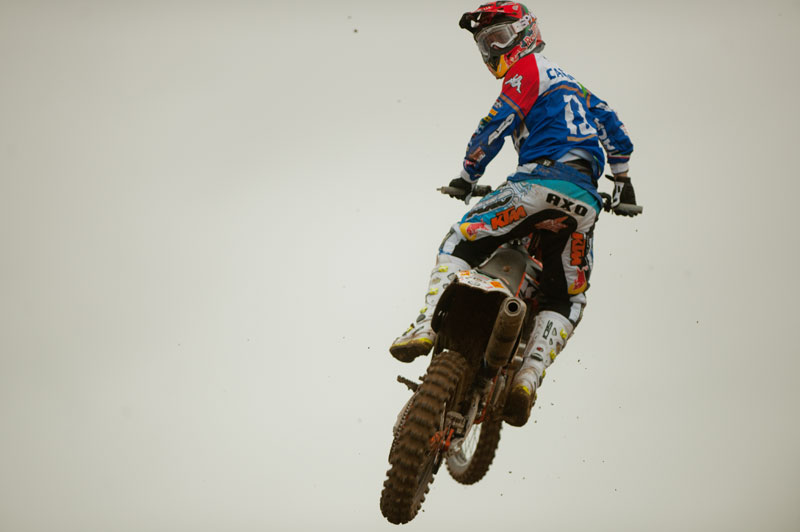 Antonio Cairoli was very fast on Saturday but his Sunday sucked. A first turn crash ruined his day and despite getting shot up for the second moto, his hand was too sore to continue. He seemed ok later on at the after party though.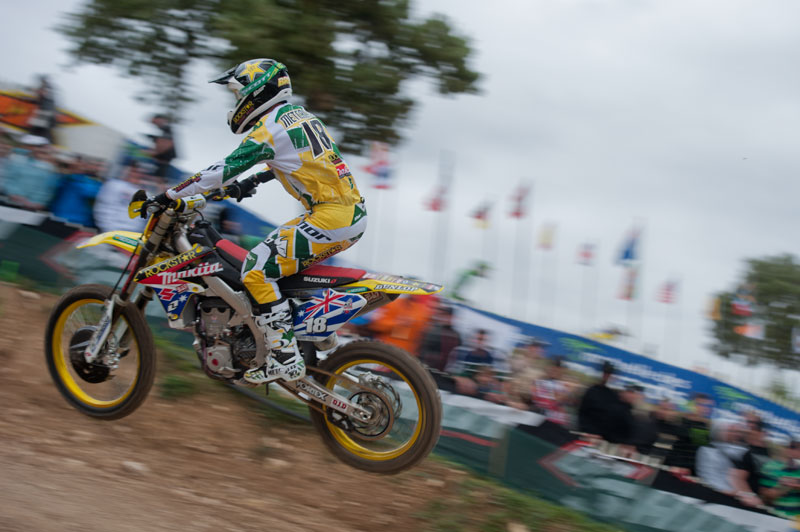 There was a point late in the third moto when Australia was in second overall but then Brett Metcalfe went down and they had to settle for third. Metty was his usual strong, fast and sort of unnoticed self out there.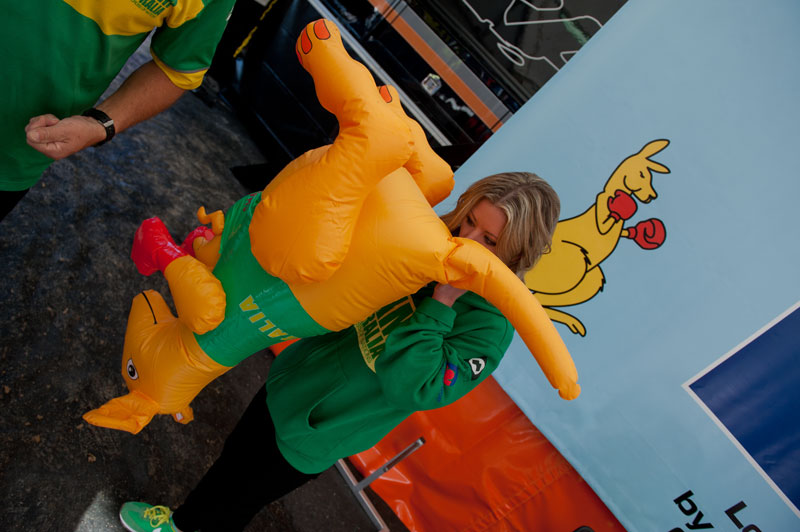 Sheena Metcalfe blows up the inflatable kangaroo for Australia. Insert your own joke here.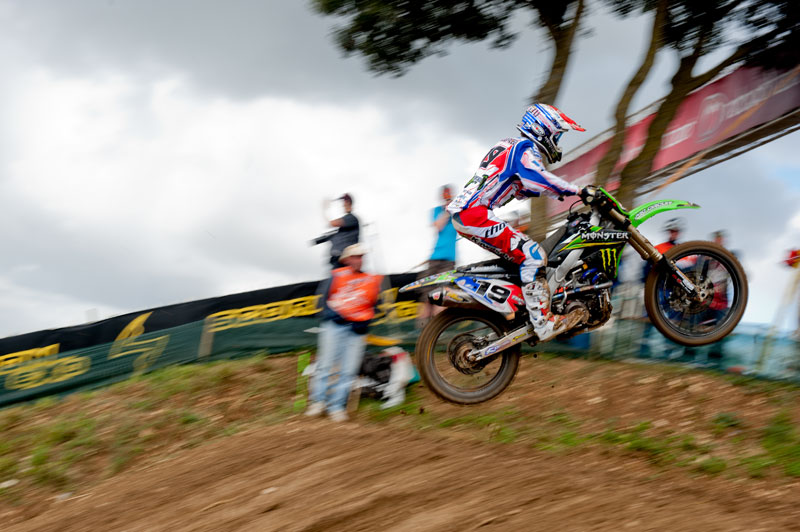 I was looking forward to the "new" Christophe Pourcel and seeing what he could do out there against the worlds best riders. He was fast in practice but didn't do all that much in the motos. He was up there in the first moto before crashing and stopping for goggles. His second moto, he was on it before his tire came off the rim. He's going to stay in Europe next year and ride for the CLS Kawasaki team.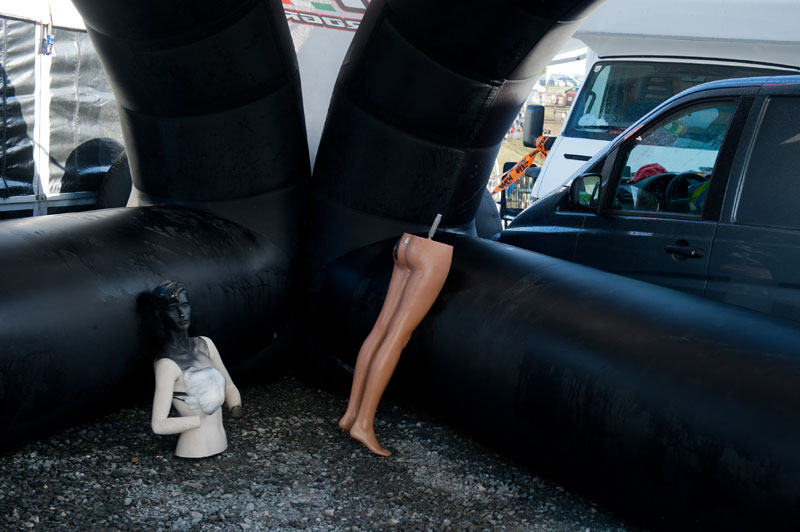 Cox sent me this picture and I know he probably giggled to himself for hours and hours. You can make your own joke here also.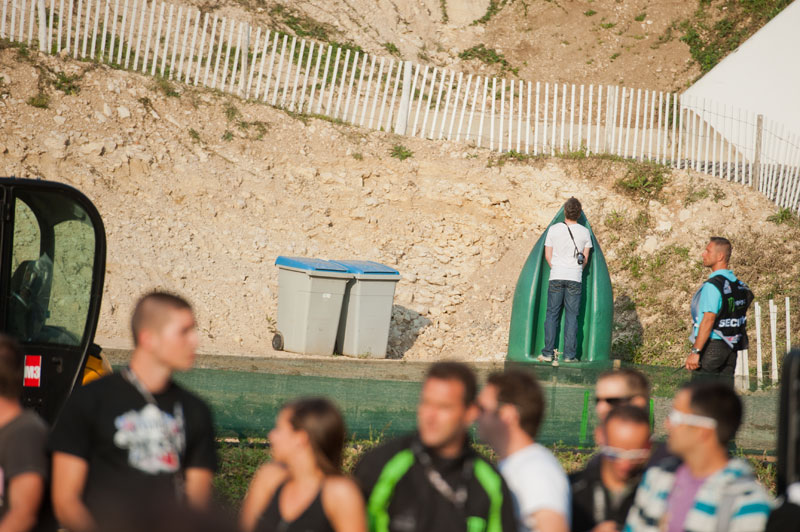 Gotta love these open air bathrooms that Euros have. I "reported" on these when I was in Belgium earlier this year. But get this, the French people couldn't even be bothered to use these things as my wife and I must have seen 184 dudes pissing in any corner they could find throughout the day. No wonder Europe had the bubonic plauge back in the day…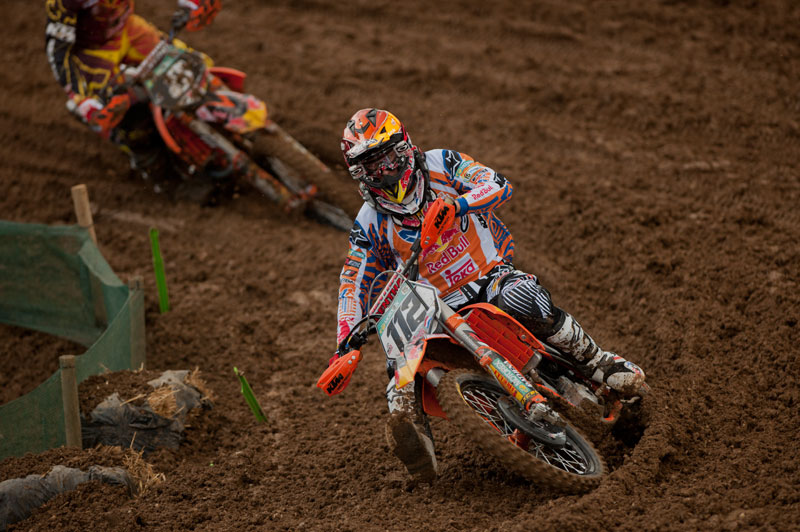 Holland's Jeffrey Herlings rode awesome in his first moto and despite being stuck in third gear the whole race, ended up in second. He's the favorite for the 2012 MX2 World title.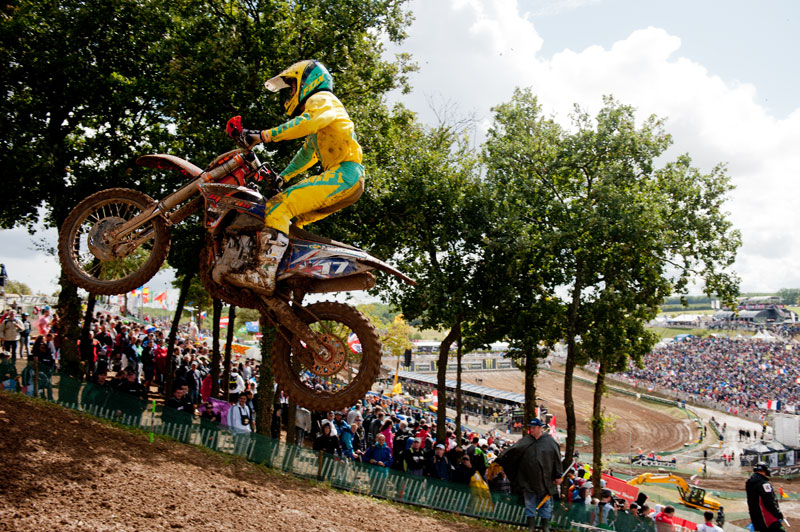 Much like Baggett, Team Aussie didn't get much from its MX2 rider Matt Moss. Crashes held him back in the first moto and his bike broke on the line for the second moto. If that ridiculous MX2 age limit rule wasn't in place, it would have been nice to see Metty on the 250 with Byrne and Reed on the big bikes.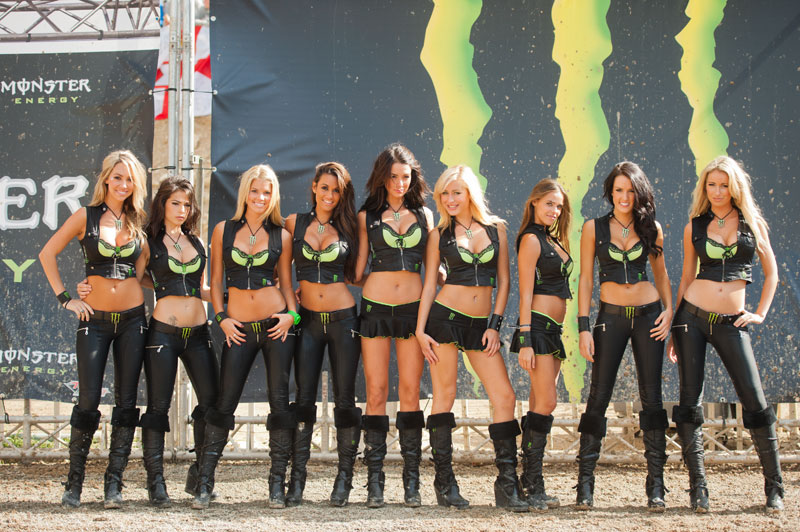 Yep, Europe has Monster girls also. And yes, people still get all creepy whenever they are around.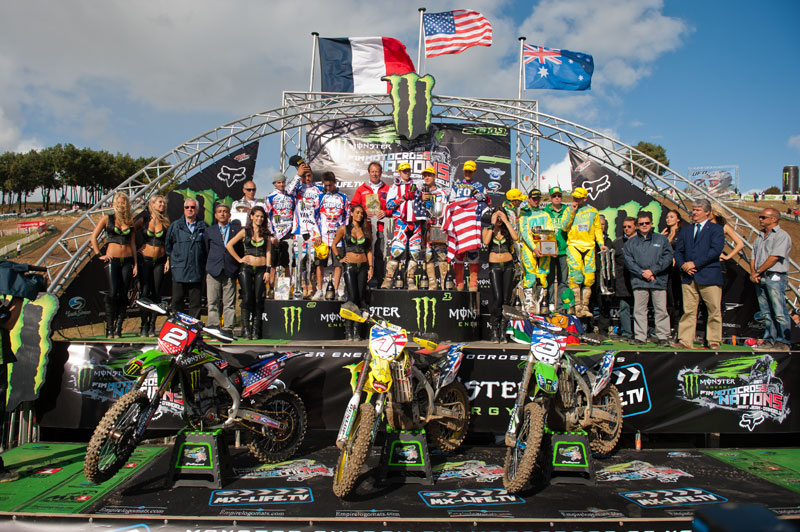 Your top three countries as determined by three 30 minute plus 2 lap motos.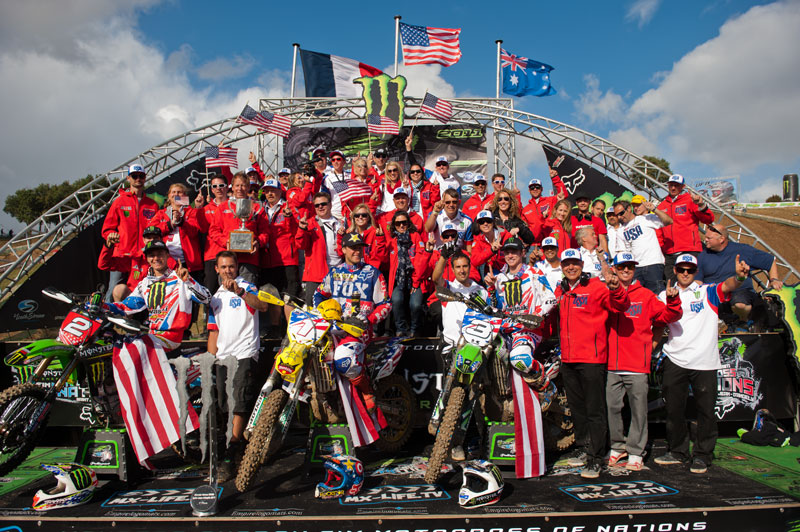 Allow me to recycle a Twitter joke here. The most incredible feat Team USA pulls off year after year is the ability to fit 183 people (130 that didn't do anything to help the team) on a podium made for 20.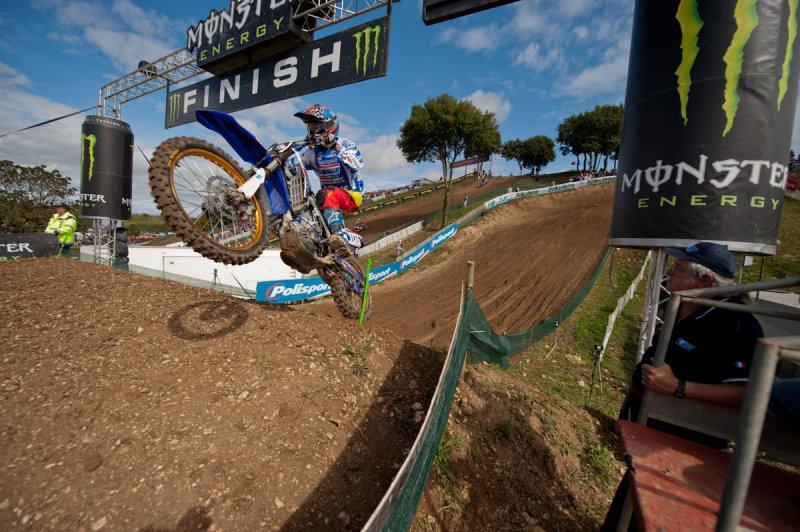 Here's Thangthong from Taiwan and he was slightly off the pace of the leaders. The countries of Kuwait, Iceland, China and Taiwan need to have their own MXDN or a C-Main or something. I would pay money to watch this.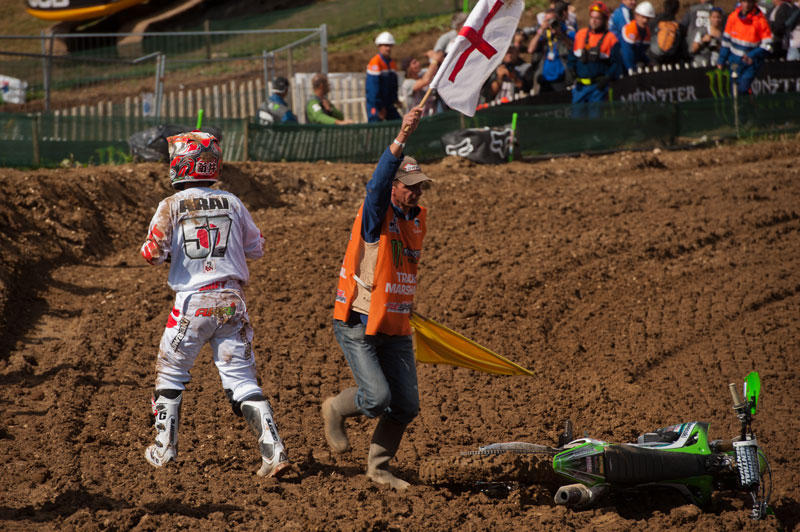 Yeah dude, we get it. You like Arai helmets and wanted to test it out it front of everyone.