A while back I placed an order with lengendary photographer Paul Buckley for some prints. Well they've showed up and now I have to find some wall space.

A while back I placed an order with lengendary photographer Paul Buckley for some prints. Well they've showed up and now I have to find some wall space.
Paul sent me some scans to put up on the site and from there the process for me was to pick out which ones I wanted in my house. That story is HERE and he sent me some black and white ones which to be honest, and I know I'm in the minority here, I cannot stand b&w pictures. Just don't get "it" at all. I just don't see what all "you" people (including my wife) see in something that is flat and bland but I digress.
So with that in mind I went to Buckleyphotos.com and proceeded to think about my order for oh, about a month. I knew I wanted some iconic riders and photos and I wanted them in the 24×36 size (be careful what you wish for as I'm now trying to fit these in my house). Here are the ones I chose for my walls and the reasons behind them. And then I got the only guy as geeky as me about this stuff, Jason Weigandt, to tell me what he thought of when he sees each shot.
Go check out Paul's site and order some shots for the man-cave (me), the garage or the living room if you're single. They're cheap, they're great quality and they won't help you get laid but they will provide you with spank-bank material. Or is that just me?
And yes, I'm planning on getting these signed as well.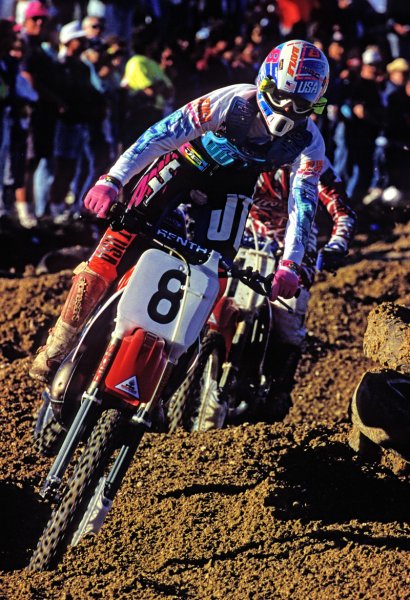 First up is JMB and I've always been a fan of the mysterious Frenchman and what he did in his short time here in America racing. The stories are now legend and one of my favorite podcasts ever was with Bayle. When I was just a fan and he was racing, I wasn't that pumped for him to win but as I've grown, I've realized just how gnarly the dude was. I figured a picture from when he was busy sweeping the '91 season was probably the most iconic image one could use. After all the next year, he was number 1 on a weird color Honda wearing Taichi gear. Something with JT is a must. Look at his helmet with the USA flag as well as his signature helmet, it's like he was really trying hard to tell everyone he loved the USA which by all accounts he did. It was just some of the media at the time that tried to make it seem like he didn't. Anyways, here he is at Southwick in the 250 nationals that summer with Stanton behind him. I love the works fork sliders and the iconic Honda front number plate that was the same part number for about 15 years.
I think at Bercy I will get JMB to sign "Just JMB".
Weigandt- Okay, I have to say that Matthes and I have battled hard about JT gear. I'm young enough to where the JT lore doesn't quite reach me, so although I am aware pretty much all of the top guys ran JT at one point, the stuff seemed dated to me. And clearly you can see what I'm talking about with JT in this picture. This was the JT of my youth–any wonder why I wasn't so pumped on it? It's cool to give JMB respect. Like any other American kid, I fell for all the USA hype and didn't like seeing him win, and now it's a shame because he was really good and really underapareciated. This photo has a cool, film look to it, too, and people buy Apps on their iPhone to make photos look like this. It's also shot from a great angle, because you can barely tell the '91 Hondas has stupid looking white shrouds.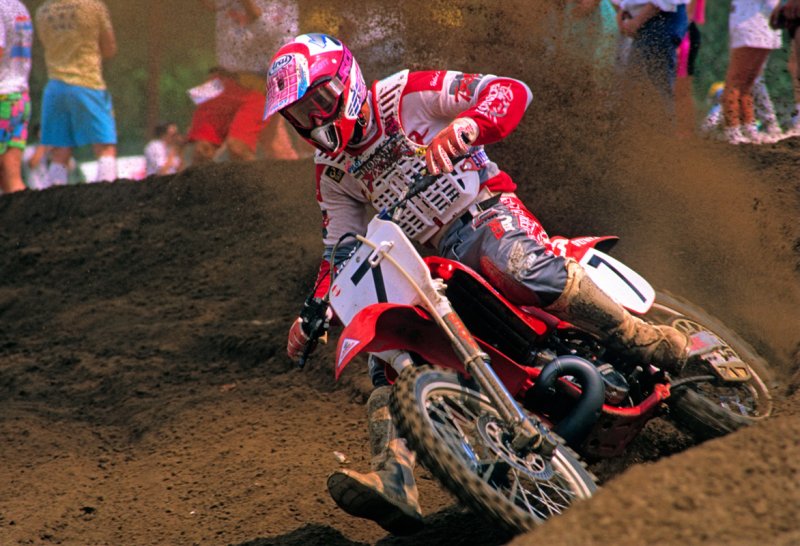 There were a ton of Stanton pictures to choose from and again, like JMB, I wasn't the biggest Stanton fan growing up. I always had respect for him and what he did but I was more of a Bradshaw guy. Since getting to know Jeff a bit once I got into the industry I became more of a fan as he's a good dude. When I worked for Wey in '02 we went up to Stanton's place to do some riding and Jason Thomas was with us. JT developed rear brake problems and Jeff was very concerned about the race that weekend for Thomas. He insisted that JT take the entire rear brake from his bike to the race in case they couldn't figure it out in time. Just a good dude and obviously a great rider. I love sand photos (which works great for Buckley because he's based in the northeast or Southwick country) and I like the clean look of this photo with the number 7 and the Honda TX-10 gear. Jeff went on this year to win the sx and 250 motocross titles and really emerged as the guy following RJ's injury. Love the looking up, the roost behind his bike and the helmet. Will I get Jeff to sign this "To Steve, Thanks for the riding tips, your friend Jeff"? Yes I will.
Weigandt- Stanton became the man in '89 on this #7 machine. Bad dude all around, but like Matthes, I didn't really come to appreciate him until it was over. Jeff is cool but I have to say, this photo doesn't really show his style. Jeff looks smooth here. But at the end of the day at Southwick, I think the track was tired of being pounded by him!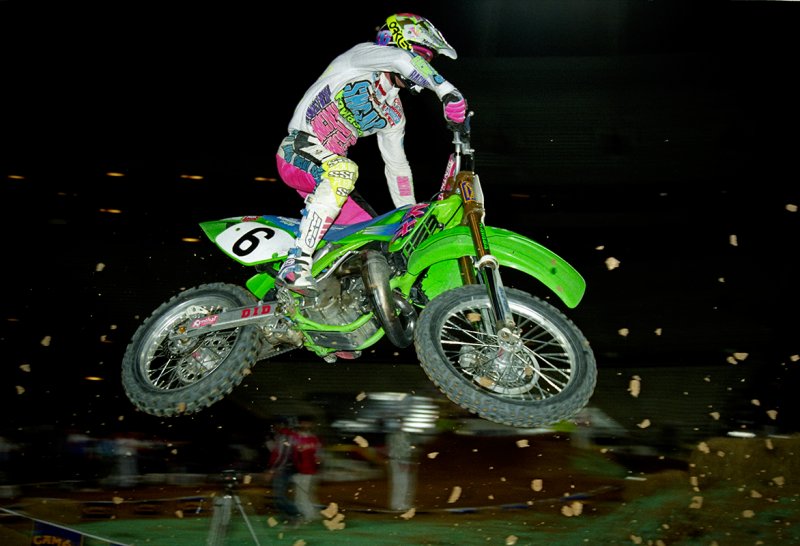 I know it's going to sound like broken record but I also wasn't a Jeff Ward fan growing up and only in the last ten years or so have I come to his side. Back in the 80's you were a Rick Johnson or Jeff Ward guy. You couldn't be both. It was that simple and unfortunately for Wardy, I rode a Honda and loved the Life's a Beach clothes. So much so that a pair of shorts in Canada in 1987 was around $50 but that didn't stop me from rocking the Jetsons. Anyways, Wardy is one of the most decorated motocrossers ever and it's really cool that he's 7-0 at the Motocross des Nations as well as won a sx race and a 500 national his last year on the circuit which I believe is this year. I was getting all outdoor pics and wanted to switch it up with an supercross shot so I picked this one. Plus Ward's Sinisalo gear was starting to actually look pretty good in the early 90's compared to the stuff he wore in the mid-80's. Love the dirt flying in front of him, his unique style in this shot and the Kawasaki's back then, I thought, looked awesome. Ward's going to sign this "Dear Steve, RJ sucks. Your friend Jeff Ward"
Weigandt- The gear colors are crazy! The bike graphics are crazy! I guess Jeff Ward, who was in the final year of his career at this point, felt he had to get crazy, too. Look at him styling through this section! Reminds me of a strange deal with Wardy. For about three years, he was one of the only riders who would roll across the finish line without pumping a fist or throwing a whip. Then all of a sudden he started getting into it, and in the latter stages of his career started throwing fist pumps and no leggers. If he hadn't retired, he may have done a backflip, at that rate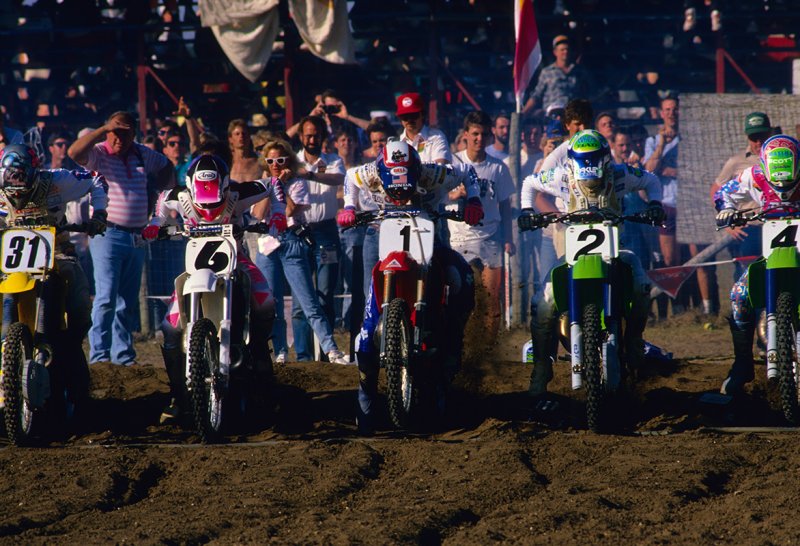 Speaking of Rick Johnson, here he is in a starting line shot that I've always liked. I thought that I had to get an RJ shot in there (although I'm not sure if I can get him to sign it or not) and thought this was pretty cool. It's from 1988 and has two of my other favorite riders in there in the form of Micky Dymond and Ron Lechien. And then of course, a quick check of my stats book confirms that #31 there on the far left is "Wild" Willie Surrat which means lucky him, he's going on my wall forever. Loved Dymond this year and was looking forward to seeing if he could take that step up and run with Johnson, Lechien and Ward but we now know the answer to that (a resounding no). He still looked so, so good with those Ron Heben #6's and the Answer gear. Lechien has on the JT Bad Bone stuff which I had and loved, RJ is the man in this pic and Ward is probably still wondering why he got "Who's Bad?" on the top of his helmet in an homage to Michael Jackson. The fans in the background, the colors, the numbers and the travel back through time that this photo does to me make it a great one.
Weigandt- Yes! First off all Dymond's #6 is so cool you'd swear it was done in Photoshop. Nobody had numbers that cool back then! Props to his mechanic, Ron Heben, for hand cutting those numbers in his garage. The real stars of this photo are on the right, RJ versus Wardy and Lechien defined the late 1980s in this sport. Too cool.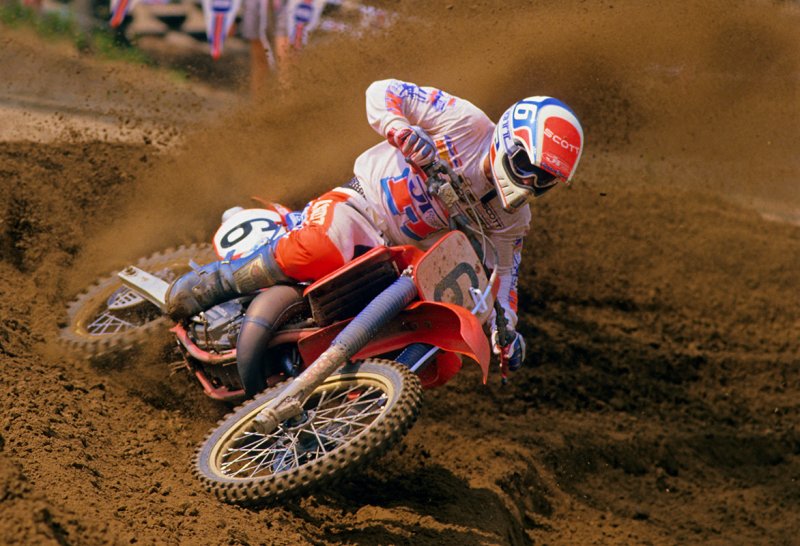 Maybe my favorite shot of the bunch is this David Bailey Southwick berm in 1986. Love that JT flo-orange stuff and DB was always looking good out on the track. He had a crappy year in '85 and came back strong in '86 to follow RJ home in the sx and 250 outdoors before winning the 500 national title. Then he got hurt and that sucked balls. I'd imagine this photo is one of the best selling Buckley shots. From the bike to the track to the gear to the helmet to the rider- there just aren't many things cooler than this photo. Serious.
Weigandt- As I was saying earlier, not always a fan of JT gear. Until I see this picture. Wow! Nothing looks dated here. Nothing looks "remember how dumb we were when we thought this was cool?" And the little bit of old school that you can see only help. Superb picture.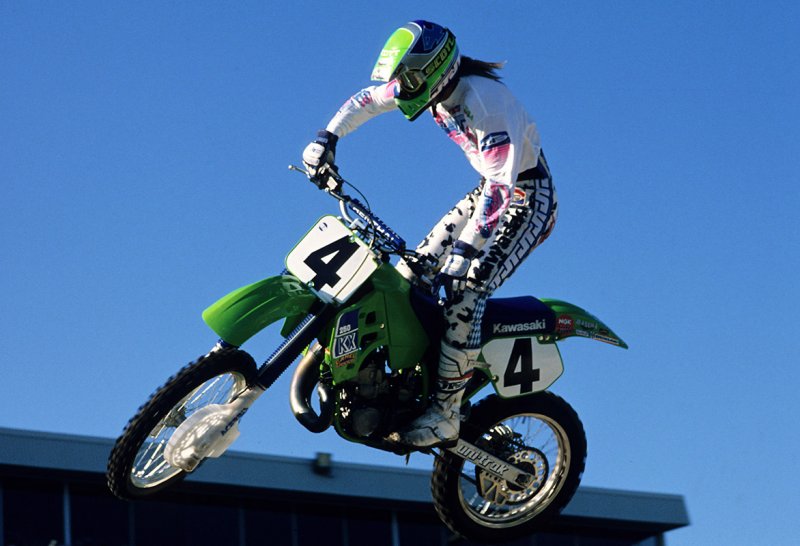 Now we get to a couple of shots that are indeed of my favorite riders. I looked for a Ron Lechien image and had a hard time choosing between his Honda or his Kawasaki days. I think he looked better on the Honda (if that was possible) but when I close my eyes, I think of Ronnie on a Kawi. Then I had to pick a year on a Kawi and although there was a sweet 1987 shot, I didn't like the number "9" he had that year. So I went with this Daytona shot which is pretty sweet. The Dalmation gear was just ok to me but Lechien himself loved it the most so that means something. The helmet in this shot is awesome as is the hair out the back of it. This picture just says style to me and I compromised on this shot- it didn't have everything I wanted in a Dogger picture but it had most things. And yes, I took this selection process very, very serious.
Weigandt- Dogger had style, and this photo proves it. Again, I'm not a big JT fan, and I'm absolutely not a fan of anything with a dog theme, but someone this gear in this pic is at least acceptable. Ronnie has just the right amount of long hair flying out the back to look cool. And I loved how, in those days, teams just ran stock graphics. "Oh, Camel is title sponsor? We will just cut part of the stock graphics off and shove a Camel sticker in there." Someone, please invent die cuts!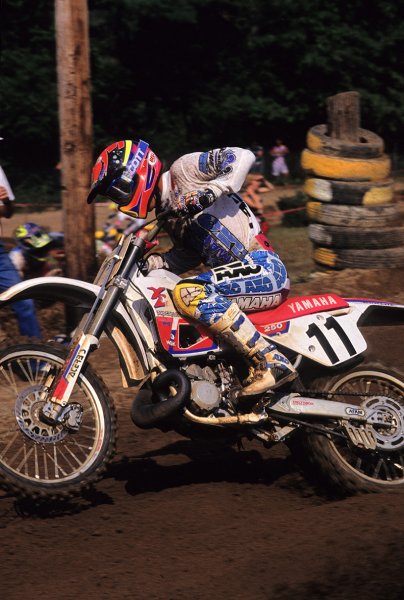 Speaking about that, I agonized over the Damon Bradshaw selection. There were so many to choose from and I almost went with a #45 Fox Zebra-Striped one. Actually now that I think about it, maybe I should have went with that one. Ah crap. Anyways, I chose this one because although the #11 isn't most associated with Bradshaw (I would say the #4 or the #45) I like the look he has going on in this photo. I can't bear to have the '92 YZ 250 with it's magenta look on my walls. This one is from '91 and the AXO gear, the flo-orange Yamaha really caught my eye. I should have went with that #45 shot from 125's though. What was I thinking? I must have been drunk.
Weigandt- Dude, does it get much better? Like the Bailey shot at Southwick, you can't spot any old school goon style from Bradshaw. He looks as bad ass and aggressive here, from 1991, as anyone now. I was also pumped that the works Yamahas from this year hued more toward orange than the stupid purple of the production bikes (magenta, in Yamaha speak). Gear is sweet, too. Give DB some knee braces in there and it would look like 2011 as far as I'm concerned.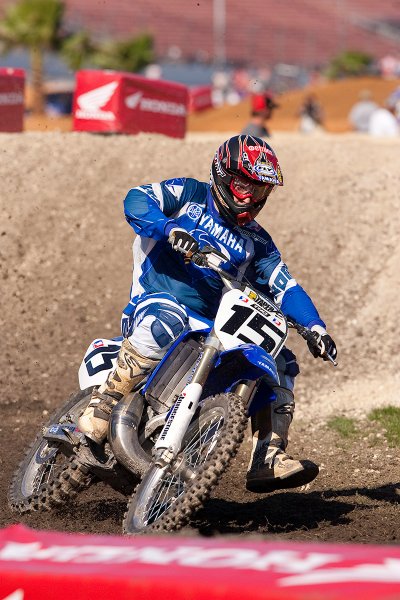 I asked Paul for a Ferry photo from 1999 when I worked for him when he was a privateer and Paul being the nice guy he is, threw in a bunch of Red Dog. This one caught my eye because I have this very helmet on my shelf upstairs. This was from '05 Daytona sx and doesn't mean anything to me at all. The new aluminum frame YZ250 which no one on the team liked, the wrist injury that Ferry was fighting through meant that we were a top ten rider if everything went well. It was a frustrating year for him and I. He was in and out with injuries and getting frustrated. I was a test bike guy most weeks. Good job Paul, way to make me mad! Kidding.
Weigandt- This one frustrates me because even my extensive moto knowledge can't help me figure out when this photo was taken. See, Timmy the Great (there you go, Matthes) went through this funky period switching back and forth from four-strokes to two-strokes in supercross, and if memory serves right, one season, he switched to a YZ250 for ONE race before switching back. Here, he is on a two-stroke. I can tell from the sand and Honda bale covers that it's from Daytona, but I thought he got hurt the year he tried the 250 for the whole season? I'm so confused.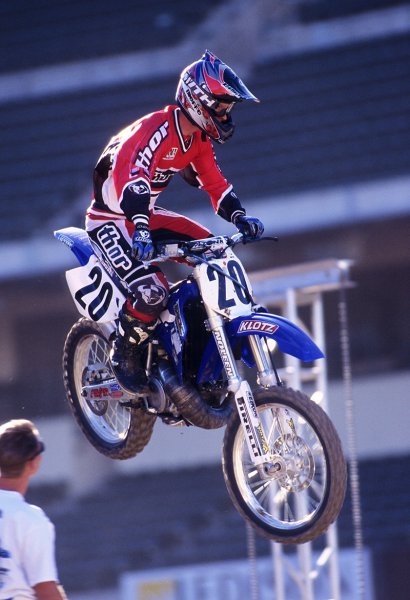 And I asked for a 1999 picture because I worked for Ferry that whole year outside of the first two races and wouldn't you know it, Paul sent me a pic from the very first race of that year! My bad for not specifying that the first two races were not good but who would think that Buckley would be out at Anaheim? Ha! Anyways, Red Dog started out on a Noleen Yamaha/Excel Yamaha team that quickly fell apart and turned into a solo Noleen Yamaha effort by the time I showed up for the third race. Ferry had a tough '98 sx season where he tore up his knee and wasn't thought to be much of a factor in sx series. My first race he got tenth which was good, the second race he straight-up passed MC in a heat race and things got better from there. It all culmulated with a 3rd place at Indianapolis as a full-on privateer in a box van and me trying to figure out how to work on a motorcycle. Later on we were picked up by Chaparral Yamaha for the outdoors and his second part of his career was back on.
Weigandt- Cone pipe? Bieffe helmet? Stuck on numbers? Who is wrenching for this guy?