This is going to come off bad no matter how I approach it so let's just do it shall we?
This is going to come off bad no matter how I approach it so let's just do it shall we?
Anyone who follows me on Twitter knows I'm usually not a foul-mouthed hooligan. While I do speak my mind, I'm usually not obscene or overtly vulgar unless I am passionate about something, or I cannot otherwise adequately convey my point in another manner. More on that at the end of this review, as I don't want to offend anyone.. not just yet.
I've worn Alpinestars for as long as I can remember, 1993 to be exact. I was always happy with them and never really felt the need to flirt with other brands. Recently I decided it was time to upgrade because and I decided to take a chance on the Gaerne SG12's. I knew they were a good boot with a strong reputation, it was just a matter of if I was going to like them personally, or would they feel alien to me after a lifetime in the boots I had worn forever.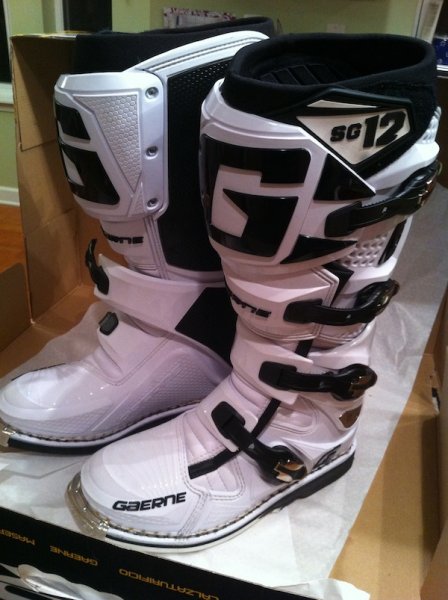 Storm Trooper Footwear
When I pulled them out of the box and slipped them on in my kitchen I was blown away. This was the kitchen though, that impression can be 180º from when you suit up to ride with them the first time.
The ankle contact of these boots is simply incredible. Not only do they offer complete contact on every part of your ankle's circumference, it is more comfortable than anything I've ever put my foot in. Imagine an air-cast without the bulkiness. I've never had the privilege of being fitted with one but I can't imagine a more secure 360º coverage than an air-cast offers. The ankle comfort and support of these boots is the first major improvement I noticed over the boot brand I was so accustomed to.
The other major step up from other boots I have worn were the buckles. Their design seems so simple yet the latching mechanism is so solid. There's no "it felt like it locked", or "I think that'll hold all moto". When you lock down the buckle, it holds. It's less of a "lock" than an "engagement". That sounds more definitive to me and the security is very mechanical.
The boot does institute a hinge system like other high end boots and it seems to do it's job. There is no inner booty which I was happy about and the style of the boots is great, very "storm trooper-esque" with the color I chose and the hinged "layering" system of upper boot areas just screams "new millennium".
But, now back to where I started with this review. The single statement which above all else I've mentioned in this review, describes more efficiently the supremacy of these boots, in less than 140 characters even. Stop reading now if you are offended easily and feel you already have a firm hold on the point I'm making.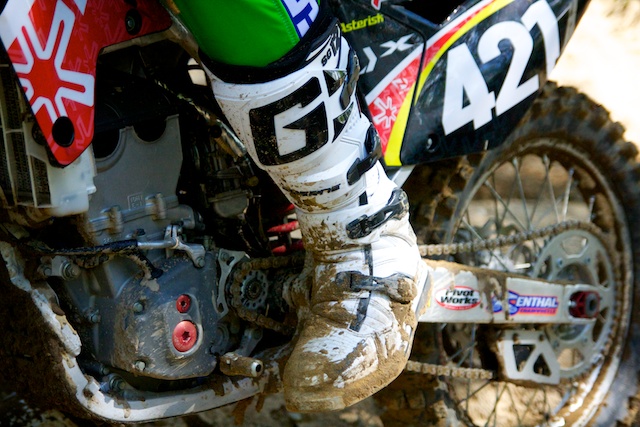 Kim Kardashian's feet don't even know comfort like this.
Still here? "There is no better way to describe the comfort and security of the Gaerne SG12's than, "foot-pussies".
Buy them and enjoy a new-found riding "after-glow"… regardless of moto finish.