No it's not James Stewart week here on Pulpmx, it just feels that way. Swizzle and I debate the big signing.

No it's not James Stewart week here on Pulpmx, it just feels that way. Swizzle and I debate the big signing.
Will the JGR/James Stewart signing work?
Matthes- With James Stewart now being nicely tucked into the JGR bed for the next three seasons, it's time for jerkies like me and Swizzle to debate and talk about if this will work or not. And make no mistake about it, the margin of error is zero. If James Stewart wins a sx or mx title, then the signing is a success. If he finishes second or worse, it's a failure. The name James Stewart means one thing- you must win. Period.
We know he danced with Suzuki for a while, we know he doesn't like the blue machine but what we don't know is what went through his head before agreeing with the JGR team. I have to think that until he got off the bike at the end of the first day testing the JGR machine, there was no chance that James himself thought he'd be on a Yamaha again and the fact that he is, tells me that the bike is good.
I know from talking to people inside the program that the bike was a major problem for the #7. He believed it was some of the reasons why he was crashing or at times, out of control. The JGR team is much different from the other teams running blue bikes. For one, they don't rely on the virtually non-existent help from the factory squad. With the cut-backs in racing, there just isn't the R&D that there was once from the blue guys (as a former factory mechanic at Yamaha for 3 years, I can attest to how important having racers ride and test your equipment at the highest levels and where you can control it is) and this leaves teams like Motoconcepts and Valli Yamaha bolting on GYTR parts and calling it a day.
The JGR guys do not stand for that. While the GYTR motor work is pretty good, they work hard on their dynos to develop settings that are much better and more suited towards each specific track that the sx and mx series visits. A Yamaha uses KYB suspension front and rear which and JGR uses Showa front forks (with their own triple clamps, fork lugs and mounts) and a custom JDI shock built to their specs.
My point in all this is to point out that the JGR Yamaha couldn't be any more different than the Yamaha that James rode last year as well as the other Yamaha's in the pits. It works, it's been proven that it does and I know my buddy Swizzle is going to come hard with the "bike sucks" counter-point but I'm here to tell you that a JGR Yamaha most certainly does not.
Swizzle- First things first, JGR is without question the most ambitious Yamaha mounted team in the pits. As kooky as that bike is, JGR is certainly the team who will put in the work to make it handle and display the traits of more standard brands. That is of course a big plus in James' corner and I have no doubt the bike will be better than what he rode this year. But all this talk of the perception being worse than the reality of the YZ450F is arbitrary, as we all know, perception IS reality. Fair or not, it's absolutely the case and the proof is in the fact that Yamaha hasn't ported this revolutionary design to the 250F due to its poor perception and them trying to minimize its failings without affecting its strengths. Even if JGR does accomplish the task of "standardizing the revolutionary", the most crucial question, in my mind, remains; will James be open-minded to moving away from the unforgiving fork setting he's been married to for years now? If so, will he abandon it at the first sign of trouble and revert to the setup which has meant checkers or wreckers for most of his career?
This isn't 2009 where it was a two-man show and he usually held the dominant upper hand. We've seen from this year that there is at least a 5-some who can be legitimate title contenders all the way up to the last round. The checkers or wreckers approach is a losing bet in such a field.
James is the most talented rider to ever come in this sport but for multiple reasons, that hasn't meant jack in terms of titles since he got on that revolutionary bike. Maybe his struggles since getting on it have all been completely coincidental but at least on the Suzuki he would have the mental benefit of an actual fresh start. By staying on the bike which has left him title less two-years straight, he's already starting with that seed of doubt planted, in fans minds across the board and if he's honest with himself, I say his optimism is guarded though real.
Even though the JGR race effort is second to none, reuniting with J-Bone- a plus, JGR's infinite resources- a plus, the NASCAR deal following the moto contract- a plus, 3-year contract- a plus. Even with all those benefits, James' results, feelings and history on that bike point toward this decision being a gamble.
Good thing he's got a lot of it to go around now.
Cash in your chips Matthes, I just called your bluff with a royal flush.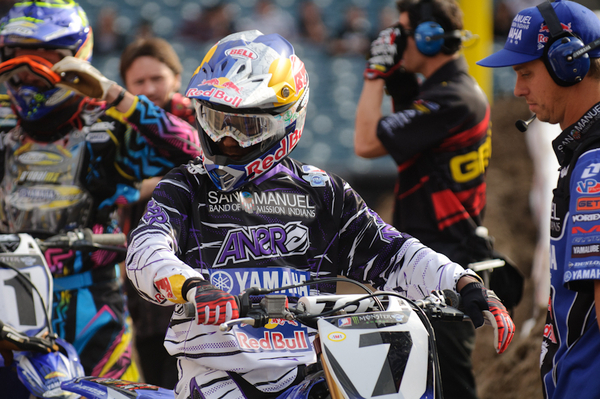 "Hmm, look at Pulpmx. Swizzle thinks I can't win. I'll show him" Photo by LIssimore
Matthes- I don't get it Swizzle, you admit that James is the most talented rider in the pits. You admit that his 2012 JGR Yamaha will be better than what he had this year but yet you think this thing is a gamble? He was within nine points of the championship lead going into the second last supercross and ended up one win behind RV for the most indoor wins on the season. He was so close to winning the sx championship and for 2012 he's on a better bike and is the most talented rider.
So what's your deal here? It's like you're seeing all the facts laid out in front of you that the earth is round yet you insist the world is flat. I don't know if JS is going to win the championship next yet but the title of this column is "Will the JGR/James Stewart signing work?" and I think that yes, it will. He's getting rid of the distractions that he had last year in firing Larry Brooks, having chaos around him and dealing with the distractions of team ownership. Or whatever in the hell he had going on with L&M last year.
This signing is going to work. The bike is better, the team is better and he almost won it all last year. Great signing for the JGR guys.
Suck it Swizzle.
Swizcore- Will this signing be an improvement over last year? Of course, I laid out all of the benefits already but the fact remains, he's on that bike that is already in his head and that trumps all. Maybe not as big a gamble as Hanny making it 17 rounds but it's falling far short of a slam dunk. I'll go so far as to say, even if he finishes worse in the season points than this year but finishes every race, injury free- it's still an improvement. Lets not forget, he's back to a two-series per year guy and this is a 3-year deal so I'll allow him the full term to settle in and judge him by.
You on the other hand, just got terminated.