Short's back on Honda but the real question remains- is he back?

Short's back on Honda but the real question remains- is he back?
When people are gathering around and talking about which riders could do what in the 2012 Supercross series, there's not a lot of chatter about Supercross.com Honda's Andrew Short and his chances in the new season.
But maybe there should be. Going into 2011, Short had finished top three in the 450 supercross and motocross series six straight times (in series that he didn't get hurt in) and even though he never won a race, he was a factor every time he took the gate. Maybe it's his nice-guy demeanor or his solid-not-flashy riding style but no matter what it was, Short tended to get overlooked all those times that he rode his Honda up onto the box.
After a year in which he'd probably like to forget on the KTM 350SXF (a bike and program that won't be ridden full-time by anyone in 2012 and therefore sort of validating Short's average results on it) Short's back on Honda with the Larry Brooks/Jeremy McGrath-owned team and most importantly, back on a full-factory Honda at that.
Is he one of the favorites to win the title? No. But I'd look for Short to get right back into the top group of riders for a few reasons. He's on a great bike, you know he's working hard off the track and knowing Andrew personally like I do, I can vouch that he's got a lot of pride. He's not happy with what went down last year and wants to show that he can get back into the mix. Even on a bike that was down 100cc to everyone else, he was a more than respectable 6th place in the series points.
What can he do on a bike that has the same amount of power as everyone else as well as is on the weight limit and has the latest, greatest technology? Remember his strong of holeshots in the nationals in 2010 on the red machine? Look for those to come back in 2012.
With his crash at the KTM test track in the summer, Short's not coming into Anaheim 1 with a ton of testing and track time and his elbows are probably still bothering him a bit that but this could play to his advantage. Short's coming in under the radar and will be peaking as the series starts rolling on.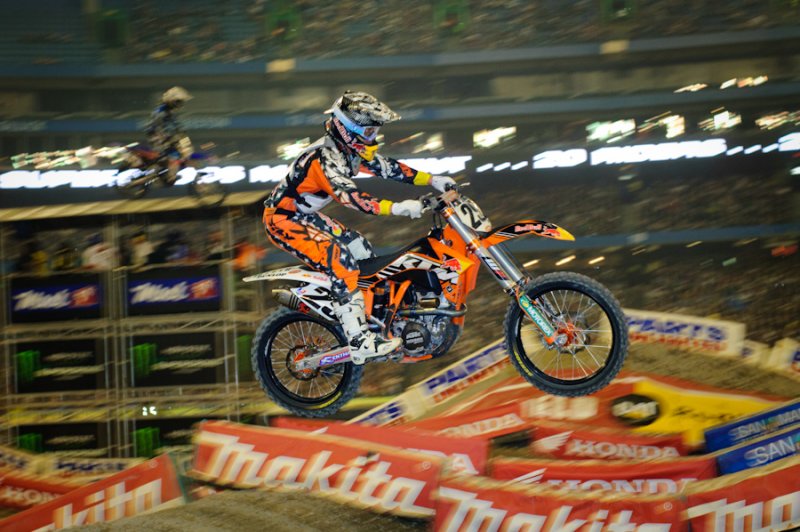 If you asked most people, they'd tell you that Short struggled last year on the KTM 350SXF but in reality, he ended up 6th in the points last year which is more than respectable. Photo by James Lissimore
The King of Supercross, Jeremy McGrath is one of the owners and he's long been a mentor to Shorty, whether it's from his days as a Honda test rider to now, his boss. In speaking with Jeremy the other week, he seems to think that he can help Andrew with the mental side of turning yourself into someone that has a chip on their shoulder and should be a front-runner. What worked for Jeremy may not work for Andrew but don't think for a second that Jeremy won't have an answer or some advice that he can give to Short about anything on or off the track.
Another thing to think about is the team manager that Short will be working with this year. No offence to his old managers Roger DeCoster or Eric Kehoe but there's no way Andrew has ever worked with one as intense and into it as his new guy Larry Brooks.
Brooks, one of the winningest managers ever, is also someone that I worked under at Team Chaparral in 1999. He's also one of the most intense guys I've been around before or since that time. Brooks wants to help his riders win so badly that there are plenty of instances where Larry had pushed that envelope with other riders, teams or promoters.
This paring of Brooks and Short almost happened in 2011 but the supercross-only nature of L&M (Brook's old team) wasn't what Andrew was looking for and he went orange. I remember at Pala Short pulling me aside and asking me about Brooks and what he was like. I explained what I knew, what I thought and surprisingly, Short said that sounded like exactly what he was missing. Someone to get in his face, motivate him and work with him off the track to make him better. Andrew felt like he had been sort of cruising the last few years with no one there to fire him up.
Well, consider Short fired up in 2012. With being the solo rider on the team, Brooks is going to do nothing but think about how to make Short a better racer. When the sun's going down on the hills behind the test track, Brooks will still be there dropping the gate, changing filters and trying to motivate Short.
Brook's murky departure from the L&M team last year is a huge motivating factor for him. He's brought championship-winning mechanic Mark Valcore over from Suzuki to work for Andrew and has experienced veteran Jeremy Hoyer on staff as well. Larry realizes that this is a great opportunity for him and for his team. It's not going to be easy by any means but there aren't too many managers out there with more experience than Brooks.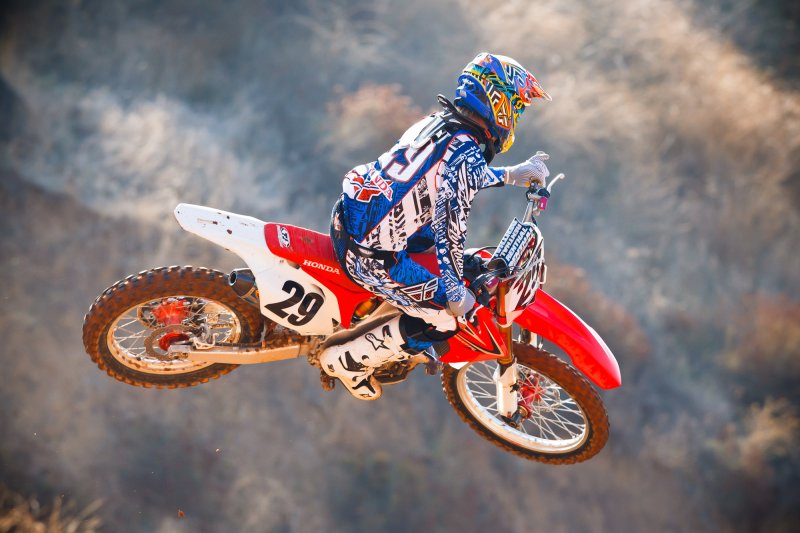 Short's back on the factory Honda for 2012 and we'll see soon enough if he's all the way back. Photo by Simon Cudby
The critics that say Brooks has done nothing but do what's expected when one manages the best riders are out there and Larry hears them. He's determined to work his magic with Short and Short's determined to not be an afterthought when it comes to the talk of who can do what this winter.
Add it up- it's a deadly combination and should not be ignored. Consider this a warning.