You thought 2011 had parity? Wait 'till you see some of the names not making mains in 2012.
You thought 2011 had parity? Wait 'till you see some of the names not making mains in 2012.
All photos by: THE James Lissimore
A few weeks ago I made the bold, ok well, preposterous decision, to take a stab at the SX season's finishes for the riders who were switching brands or graduating to the big boy class. That task in itself is no big deal, the insanity came about with my vacuum theory where probable rider injuries were not taken into account and I ranked them based only on their own skills when put head to head against the skills of the competition.
I knew it was completely unrealistic but I figured I had to tackle it from that angle so as to start each new recruit with a zero-sum, fresh slate. That was then and here's where I lay-out my personal expectations on the 450 class with A1 2012 on the horizon. I'm going to hit on the top 5, the riders I expect to fill that 6th position regularly and the rest of the field who will undoubtedly make me look silly multiple times this year.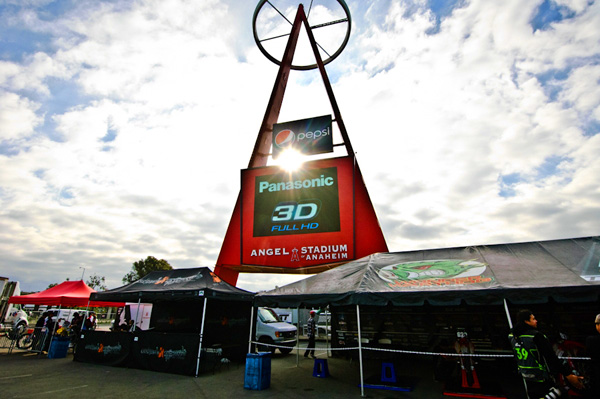 T-Minus 4 days…
The Dividing Line
Supercross has always been gnarly. Each and every season it's pushed the participants to a higher, scarier level than the year before. To win 450 races in the current day and age, these guys can't be comfortable. It's the bottom-line. How bad do you want to win? How long will you step over that line separating the comfort and familiarity you are used to, from the pace where instinctive reaction allows for zero miscalculation? It's that level and length of time spent out of their comfort zone, when their fate lies in the hands of chance, that opens the portal to either victory or catastrophic error. It's a scary proposition but an awe-inspiring site and a prerequisite if you want to win.
They all do it at some point during the 20 lap main events. It's those few who commit to pushing further, for longer, into that exhilarating though terrifying state, who pull down the W's during the 17 round series.
Getting it done at that level for multiple laps is sensational enough but to stretch it out for 17 rounds? Miraculous.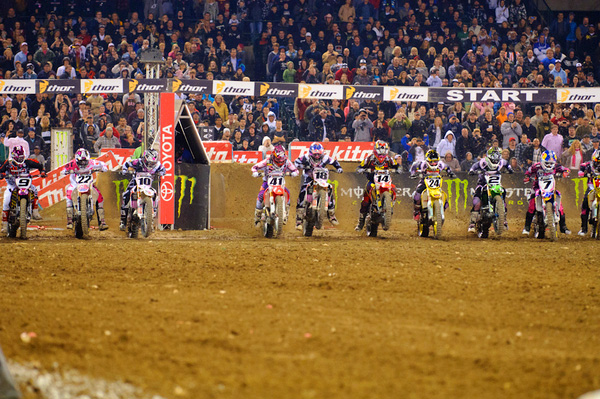 Can you feel it? It's back. Supercross fever. Catch it!
The Favorites
Much like heading into last years opening round, this year's presumable top 5 are RV, Reed, Dungey, Stewy and Canard. That five-some distanced themselves from the field decidedly in '11, each pulling down at least one win making their '12 pre-season rankings silly to argue with.
RV is coming off the dream season. Supercross, Motocross, MXdN and the M.E. Cup. Every title he focused in his cross-hairs, he ended up making space for on his mantle. Matthes said once on the PulpMX Show that RV is smart enough to not think too hard about wins or losses and that's pretty spot-on. It's similar to Reed and how he can get waxed on any given saturday, be unaffected and show up the following week, walking away with the win. It flies in the face of the standard in motocross where confidence swings are the norm, with the valley's being magnetic and the peaks being slippery. This is a huge plus for RV2 and a trait he has embodied since day one on a PC Lites bike.
My question regarding RV is, motivation and persistence. Last year RV came in more prepared than he has in his career. Two consecutive years ending in injury and disdain creates a focus and determination capable of, well, RV 2011.
Last year Stewy's team was reeling early-on, Reedy was teething with a completely new program and fluctuating support levels between PC and Factory Honda. Trey was struggling with consistency during a full schedule(until his early exit) and Dungey wasn't taking advantage of situations where more aggressive riding would have benefitted him. Don't get me wrong, RV had his own adversity to deal with, and he did. He took his punches and used that matter-of-fact focus to move onward, unrelenting; eventually finding himself wore down and sickly following the Vegas finale.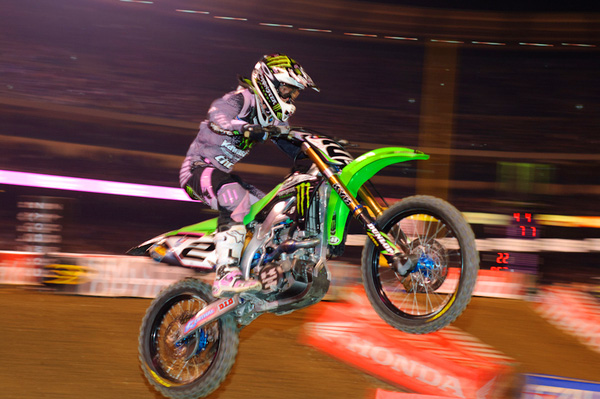 See that fire in RV's eye? Will it burn as bright this season?
Having won everything in 2011, will Villopoto be able to match that fire in his belly in 2012? What about consecutive race adversities? Stewy is more content at JGR than he has been in years and Reed has the dual-role of team ownership/performance figured out(not to mention his level of support is no-longer in question). That means the number two and three winningest riders in Supercross history are coming in with more experience and determination than ever. Even more importantly, they are both happier than they have ever been with the teams they are coming into battle with.
Reed and Stewart will be stronger than 2011 and if RV wants to repeat, he's going to need to better as well.
Initially I was disappointed when I heard JS7 was signing with another Yamaha mounted team. He's obviously struggled with the bike and knowing how good the Suzuki is, thoughts of him on one were VERY interesting. I immediately presumed it really did all come down to money and winning wasn't as important to him. Fans hate that shit. When details came out that Suzuki was dragging their feet on terms and and hesitant to even offer a multi-year deal, it made waiting for Suzuki too risky a bluff. Add on to that that JGR was throwing everything they had at James, making it clear that they wanted him bad and would do what he wanted to get him, it became understandable. The key is targeting the issues JS had with the Yamaha the last two years and minimizing their effects, or by taking extraordinary measures to alleviate them altogether. Interesting indeed.
By all accounts, JS is coming into 2012 infinitely more comfortable than the last two years. It remains to be seen if that equates to the dominance he became accustomed to years ago but he claims that's what he's expecting from himself this year. JS says he wants to surpass The King's win record and win the Supercross title in the same season. There's no better time to start than now but he couldn't have chosen a tougher year to set such a lofty goal.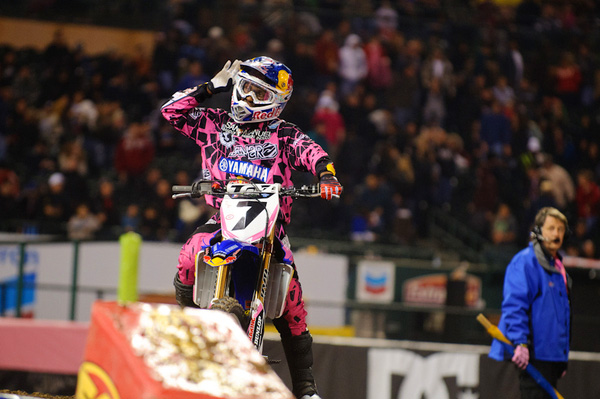 This is an actual photo of JS waiting to hear back from Suzuki for a multi-year deal.
Every year we hear that Reed is washed up. Every year except for the coming year that is. I find that VERY odd. For the last few years the talk coming into the season has always been predicated by Reed having surpassed his prime and needing to walk away before he looks silly out there. Have the bench racers finally realized how silly he makes them look year after year? Nope, it's just THAT apparent that last year, Reed was the most motivated he has ever been. Fronting his own team as investor, owner and racer Chad had so many variables lighting fires under his ass. He'd have to be dead to not be motivated to erase any shadow of doubt as to his desire to excel in 2011. Chad, more-so than any racer before him, thrives and capitalizes on the belief that he is considered the underdog. Whether it is true or not is not relevant or the point, racers find the fuel for their inspiration in the forms that best motivate them and Chad has pinpointed his and burns that fuel more efficiently than most.
So, as we head into A1 2012, with Reedy being considered a favorite even by his longtime detractors, will he still be able to appropriate this fuel and draw from it? That question is more irrelevant than ever because Chad is happier than he has ever been and those manufactured motivations will never equal the drive provided by true content-ness in your life.
Although Trey is included in the top-5 discussion, deservedly-so, he's the X-factor in my opinion. We've seen he has race winning speed but we've also seen his struggles with consistency and those damn injuries. It would not surprise me in the least if Trey were to win the Supercross title. Everyone know's he's got the speed, but can he keep everything clicking for 17 rounds? What Trey did in the 2010 Lites Motocross series was awe inspiring. It looked as though the title was going to be awarded to Pourcel for the entire first half of the season, then starting at Red Bud, Ice Trey lived up to that name and just moto'd down to the title. The very definition of perseverance. If Trey can tap into that arsenal in year two of his indoor big bike career, he will pick up where the healthy Trey left off in 2011 and make it another season to remember. Working with Timmy seemed to be a great fit for Trey last year so hopefully their reunion will yield more improvements in 2012.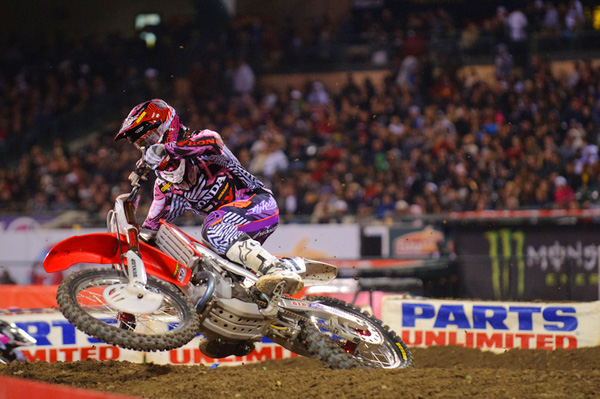 Will Trey make it 17 rounds in year 2? If he does, he's got a solid shot at the title.
This sport is brutal and unapologetic when it comes to careers cut short by injury. As I said before, at this level if you want to win, you have put more of your well-being in fate's hands. Trey is one who has made that choice and stuck to it even after multiple injuries. That's unwavering diligence. I just hope his karma and the "Universe's" get on the same page and start paying the dividends which are owed him.
I was close to claiming Dungey as my X-factor but he actually was taken out of the running because, the X-factor in the Dungey scenario is not the man but the machine. I have no doubt that the sports strongest hybrid engineer/team manager is doing everything he can to assure Dungey's new pumpkin is the best it can be but there's that old saying with history. It tends to repeat itself and time and time again we are reminded that despite our best efforts, it usually does. There is a stigma that has tainted KTM forever in Supercross. A Supercross podium has never supported an orange bike in the premiere class and until it does, that stigma is reality. It's a scarlet letter, well, three letters that, until Dungey nails down a top-3 this season, will be repeated ad-nauseum in race reports, on websites and in bench racing conversation.
Still, Dungey just has a way of being there in the end. Not typically flashy and never aggressive but he makes it work. Speaking of Dungey's lack of aggression, I really hope to see that take a back seat this year. He let Justin Barcia get under his skin in his first 450 race ever. That's something you just don't let happen when you're the defending champion of the class. Step-up, assert yourself on the track and reach out and take what you feel is yours. Motocross isn't golf, this is no gentleman's sport, don't be afraid to piss off your competition.
I'm betting on Dungey being good enough to negate KTM's historical stigma, probably at A1 even. Though as I said, history has a funny way of repeating itself and it's usually the riskier bet; it's a bet with teeth, and I'm drawn to those like a silly child.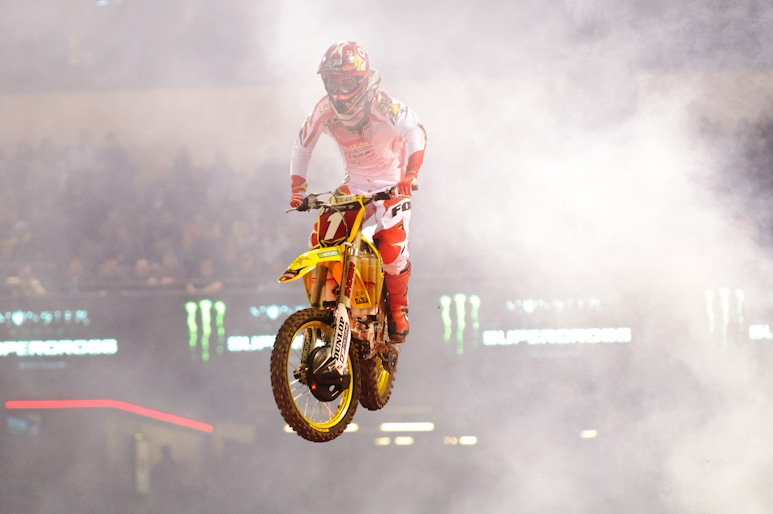 Is Dungey going to show any sign of aggression this year? If he wants to win, he needs to.
The Bubble
The 6th position in the 450 class is one of the most intriguing racing discussions there is in 2012. The group following the top five in the 450 class is so evenly matched it's really a crap shoot that will be decided by a game of minimizing rider error and bike setup miscues on a per-lap-basis. I see riders capable of pulling down not only a 6th but even working themselves onto a podium when one of my top-5 rankings has an off-night. Riders I see capable of filling this 6th position range from Kevin Windham, Broc Tickle, Jake Weimer, Brett Metcalfe, Austin Stroupe, Justin Brayton, Josh Grant, Andrew Short to Davi Millsaps, Ivan Tedesco, Josh Hansen… DO YOU SEE HOW RIDICULOUS THIS IS?? It's insane, just nuts.
Starting from the top of that list.
K-Dub- Kevin is one of those riders who can pull a win, yes, even in 2012 out of his back pocket at any given race. Another year older, another year closer to retirement but K-Dub just has IT, the intangible they talk about in mainstream sports. You can't teach it, you either got it or you don't, I don't even know if Kevin knows what it is but it's in him, stewing and usually pounces a few times each season.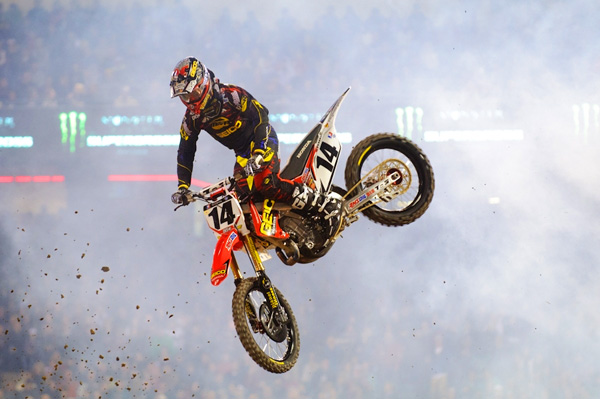 Is K-Dub going to cash those Houston and Vegas rain checks from last year?
Broc Tickle- I know, you're reading this thinking I put Broc here because I know him but Broc is my sleeper pick for 2012. Broc's strength is Supercross, he's coming off the title-winning Lites season which booted him from the class, on a bike I would argue is on par with the Factory Kawasaki 450 and who's style, in my eyes, has always lended itself to the bigger bike. Broc is not known for being crashy either, he rides within himself and is very calculated with his moves forward. Sometimes his calculation see's windows to move forward close before he makes his move, that will suit him well in his(and Pro Circuits) first full 450 season by keeping him from hitting the deck. It's the smart move, season one is his chance to get accustomed to the bike in race situations as well as get used to 17 rounds.
Jake Weimer- I'm going to go ahead and say it, Jake losing the girl is going to benefit his career. At his age his focus needs to be solely his racing. Last year Jake sounded taken aback on the PulpMX Show when Berlutti, in studio, stated that he felt Jake was an 8th place guy. Jake assured the hosts that he would not be an 8th place guy. Well, Jake was pretty much an 8th place guy. Jake is better than an 8th place guy and I fully expect him to make a leap toward the podium in 2012. It's his 2nd year of a 2-year deal on Factory Kawi and while I dont see Jake as a "contract-year" racer, I see him stepping up purely based on gaining comfort and coming in strong at the start.
Brett Metcalfe- Brett is a Clydesdale. Quiet, unassuming, hard working and year by year, figures it out. Last year he lead a few laps in his rookie season but later got a little loose and sat the rest of the series to heal up for the motocross season. Brett progresses slowly, though steadily each season and with his determination and sheer will, I can see him pulling down a few of these and a 5th wouldn't blow my wig back either.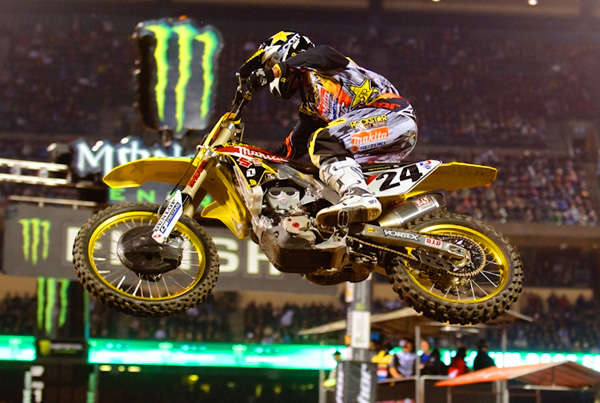 I look for Brett to be a solid 6th/8th place guy in this field.
Austin Stroupe- This is it. Make or break. Austin's career started out with a bang but since leaving Pro Circuit he has faced injury on top of injury, all but cementing his perpetual game of playing catch-up. The flashes of brilliance are impossible to ignore but make it all the more disappointing when again he can't pull it all together for a season. Whether it's unpreparedness, the universes, dumb luck, karma or simply his destiny, it's time to cut the shit and deliver on that promise we've all seen glimpses of and hope for every time he lines up. Come on Stroupe-a-loop, best of luck and keep that big picture in sight.
Justin Brayton- JB10 has progressed his way right onto Factory Honda. Much like my view of Tickle, Justin is simply solid and a shoe-in for the 6th spot. Justin isn't flashy, or at least he hasn't been over the years and now that he's on Factory Red, he needs to ask himself, does he want to lay it all on the line and step over the edge of his comfort zone to really see what he's capable of? My gut tells me he steps up to the line and see's how nuts it really is and settles into his status quo.
Josh Grant- Hard to believe it was 3 years ago that JG33 won his first 450 main. Since then it has been primarily a continuous battle with valley's and plains, seldom peaks. Josh is capable of so much more than 6th but this is another of those history repeating itself deals. Whether it's Jeff Alessi fixated on his rear-view mirror aiming for JG, or a result of Josh stepping over that line separating comfort-zone from the redline of uncertainty. One reason Josh is so fun to watch is his willingness to put himself in that danger-zone and press his abilities to their limit. Josh has the balls and talent to podium in 2012.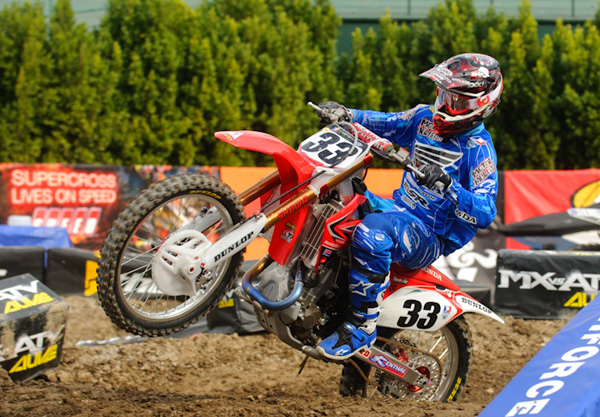 JG has the confidence to win, will he be able to stay injury-free riding in the danger zone?
Andrew Short- Andrew, much like Brayton and Tickle, has that calculated riding style which just plays in their favor to be there in the end. Andrew is also done with the 350 experiment which all but demolished his racing spirit in 2011. To this day, I don't understand how Andrews 2011 came to be. Honda released Andrew, the guy who finished on the podium the majority of his big bike career with them, in favor of the mercurial Josh Grant. A rider who not only appears the antithesis of a Factory Honda personality but who's season ending results don't match up to Shorty's. With that single move, Honda showed they were more focused on the possibilities of a short-term splash in race wins, than they were in another podium in series points.
Anyhow, the 29 is back on a Factory Red bike with The King as a mentor and the most polarizing team manager in the sport. One who's actions seem to be brought into question at some point every season. Andrew is back on a 450 he's used-to and more motivated than ever. 6th place is the smart call here.
Davi Millsaps- Ahh yes, Davi Millsaps. A younger, less beloved version of K-Dub. A guy with a bottomless pit of talent and inexplicably lacking in race wins when compared to said talent. Think about that, not lacking in race wins but far less race wins than he is capable of. The knock with Davi has of course always been that he doesn't put in the effort, shoot, even last season his trainer Ezra noted that the thing with Davi is, he will do all the work Ezra throws at him; he's gonna complain about it, sure but he's gonna get it done in the end. Ezra has undeniably been a benefit to Davi's program and now he has JS7 as his team-mate. I'm a vocal detractor of the Yamaha 450 but Davi is a beast and I truly believe his stature overcomes any oddities that gyroscopic freak of a dirt bike throws at him. Once again, 2012 will have us asking, "why can't he do it all the time"?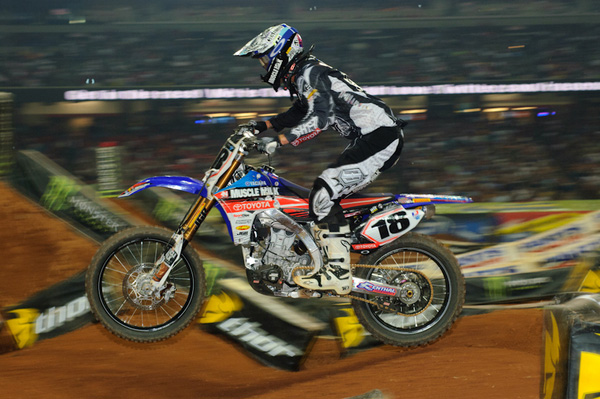 Which Davi shows up at A1 and beyond?
Ivan Tedesco- Ivan started off 2011 with a bang. Literally, banging into JS7 a couple times but ending up on the short end of that stick. He got pretty beat up last year and his season took a quick turn south due to them. He's a "cagey veteran" as they say and if he could podium on a 2010 YZ450F, I'm betting last year was the aberration and 2012 will be much better for him. He can pull holies and with his experience, hanging onto 6th once in a while should be attainable.
Josh Hansen- Capricious doesn't begin to describe Hanny's career. Talent coming out the ears and focus evading him like Matthes evades his lithical trainer. My putting Hanny in this tier is on par with H&H signing him for a second stint in terms of risky moves. Hanny is second to no one on the line when it comes to natural talent(he could give Pourcel a run for that title if he were racing), yet his erratic focus is usually the trump card to that talent. Speaking solely of talent, Hanny could win in the 450 class, sadly there are so many other factors which point to that being highly unlikely. Next to Josh Hill, Hanny is one of the riders who has my interest piqued in the 450 class. Really interested to see how this move works out for the H&H team.
The Spoilers
Much like my 6th place capable selections, the next tier of riders are a fraction below that group which makes the parity of the 2012 season laugh at any season prior. There are a few things which cause that parity to dissolve with each successive week of racing. Injuries, and streaks(good and bad) which either crush or build confidence and seem to have a snowball effect on the remainder of a riders season. The crazy part is, I wouldn't be surprised if a few names from this tier worked their way into that 6th position a time or two this season. This is a mash-up of riders riding to their capacity, riders on the upswing of their career, super talented riders who lack consistency and have issues finishing seasons and in Josh Hill's case, a wild card on the mend where its a battle of will versus capability. I find Josh's scenario interesting because Josh admits in his past it was that same battle but the ratios were reversed.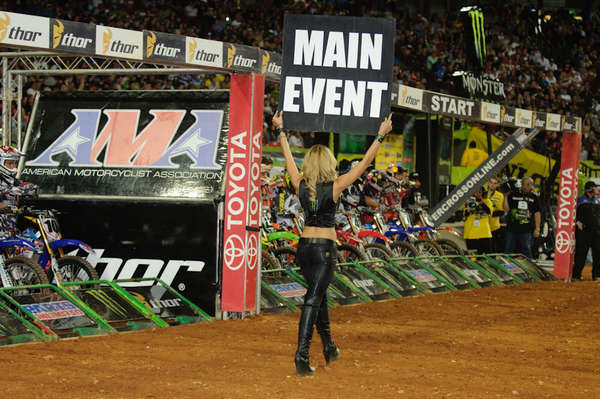 Every weekend there are going to be names that shock us, who don't qualify for this.
Who do I see in this tier?
Kyle Chisholm, Nick Wey, Jimmy Albertson, Josh Hill, Mike Alessi, Nico Izzi, Ryan Morais, Jason Thomas, Chris Blose, Kyle Partridge, Kyle Regal, Jared Browne.
That's 28 names in the 450 class I've noted, names who you expect to be in main events every weekend most years. Any one of those names listed in the "who's left" could unsurprisingly replace names in the tier above them and likewise the tiered riders could not even make a main. The racing has gotten that tight. It's not a knock against those in the lower tiers but with a gun to my head, that's the way I expect the season to shake out.
One thing is for damn sure, there are going to be some SHOCKING names not qualifying for main events every single weekend in 2012.