Like sand through the Dunlop 752 knobbies I used to run, these are the bikes of my life.
Like sand through the Dunlop 752 knobbies I used to run, these are the bikes of my life.
Thanks to @TonyBlazier for the photos, both the ones I posted below and the ones I stashed away for personal use.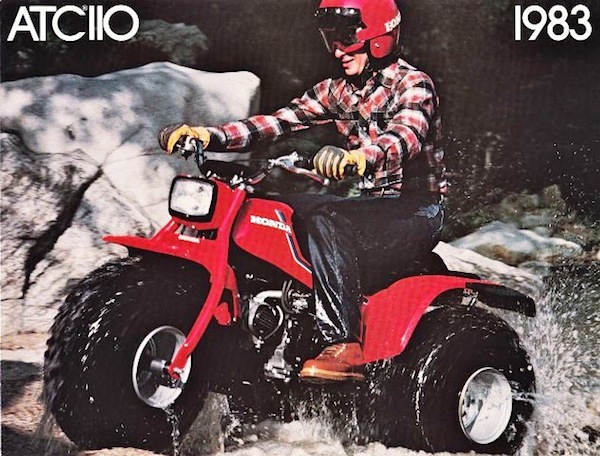 My battery powered Three Wheeler looked just like this ad only I didn't wear a helmet.
1980's Honda ATC200 Three Wheeler (Replica)
I was the proud owner of two of the Honda three wheelers (kid replicas) when that were all the rage in the 1980's. My first three wheeler was your standard tricycle, with high bars and powered by the legs of a future 4 x Ironman. I don't really remember this tricycle but the pictures in my childhood photo albums are pretty cool and the Honda graphics look badass, it would be the beginning of a life long relationship I've had with Honda. I got my second Honda three wheeler just before I turned 3, it was battery powered, with a twist throttle, plastic tires and again badass Honda replica graphics. I rode everywhere and we lived in the country so I had plenty of space to hold it wide open as far and as long as I wanted. My parents claim I would cry so hard when the battery died they had to buy another battery so one battery could charge while I was riding and they would just swap them out. I also burned through a set of the plastic knobbies over time and they had to buy replacements. In retro spec it's pretty funny that Honda made a kids version of a three wheeler because they were so easy to tip over, those where the good old days.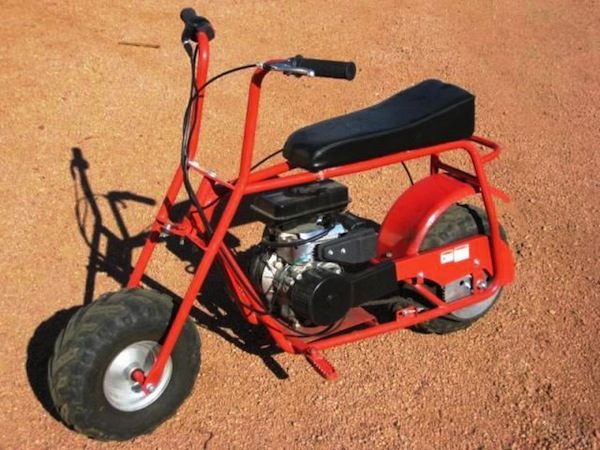 My mini bike looked pretty similar to this only mine was rustier.
Timeless Mini Bike
My first true "motor" cycle was your standard mini bike, complete with a hard tail, 4" of seat foam (also known as suspension) wide rubber tires and of course a lawn mower engine. We had some family friends that had is laying around and were going to throw it away it hadn't ran for years and I remember watching my dad work on it all day to get it running, I was super pumped to have a real motorcycle. It was a great bike, the throttle stuck a little bit and it was tricky to start but after I figured out the correct, choke/throttle/pull technique I was dialed in. The only problem I ever had with it was the engine oil cap fell off once and I couldn't find it but my dad took me to a small engine repair shop to buy a new one with my allowance but much to my relieve the owner gave me one for free and I didn't have to spend any of my hard earned cash. I have a vivid memory of my first hard wreck on that bike, I was showing off for a friend and looped out on this uphill "jump" I knocked the wind out of myself so bad I was sure I was going to die it must have taken me 10 minutes to catch my breath again.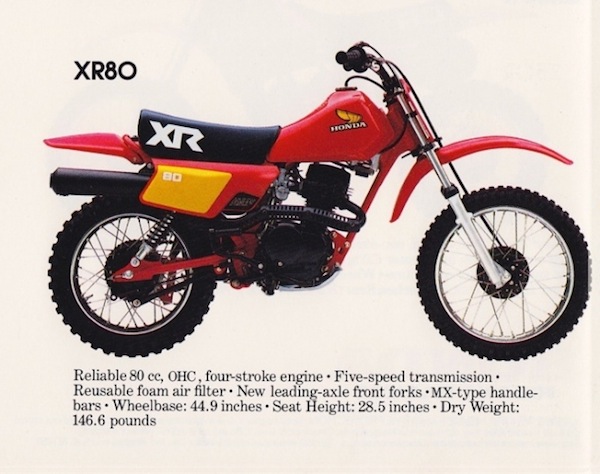 My bike was missing the decal on the metal tank and the XR on the seat was pretty worn but that's a splitting image of my bike yellow number plates and all.
1983 Honda XR80
I was pretty happy with my mini bike up to this point but an older friend was selling his XR80 for $200.00 which didn't seem like a great deal to me at the time as it was going to basically wipe out my entire life savings but my parents convinced me it was worth that much and I bought my first motorcycle. I also sold my mini bike to some friends for $20.00 which I was pretty happy with they tried to pay me $5.00 in Toys"R"Us dollars which I refused. If you've ever owned a Honda product you know they make great quality stuff and their XR motorcycles are bullet proof. I don't recall if I ever did any type of maintenance to this bike other than oiling the chain and pouring gas into it, there may have been an annual oil change or air filter cleaning in there that my dad did for me but short of a new rear tire for Christmas one year I never had anything break on that bike that I remember. With some front and rear suspension under me now I started picking up a bit more speed and attempting to pull some pop a wheelies and boner airs. I had an older friend I looked up to that rode and I got to ride over at his house one weekend, it was an awesome experience riding with a bunch of older kids that were a lot faster than me, they had a bunch of different tracks we rode, we got chased out of a gravel pit for trespassing and they gave me an old used red full face Laser helmet that was laying around which was a big upgrade from my open face helmet I had been rocking. Despite what Matthes says I don't live in Seattle my family moved from the Seattle area to Spokane (Eastern Washington) when I was 10 years old.
My Honda XR80 made the move with us. As destiny would have it there was another 10 year old kid that lived just down the street who also had a motorcycle a KX60 and this kid would soon become my BFF. Our first encounter didn't go well, much like a blind date @chris__holliday was nice enough but it seemed all we had in common was motorcycles he wouldn't shut up about bull riding or steer riding or something and he even had a cowboy hat on his dresser, it wasn't love at first sight and I wasn't sure I wanted to be his friend. But after the second date we pretty much went straight to third base and were inseparable at that point. We rode together all the time and started going to the local ORV park that had hundreds of acres of riding area. @chris__holliday also had a subscription to Dirt Bike magazine that opened me up to the world of Supercross and Motocross racing.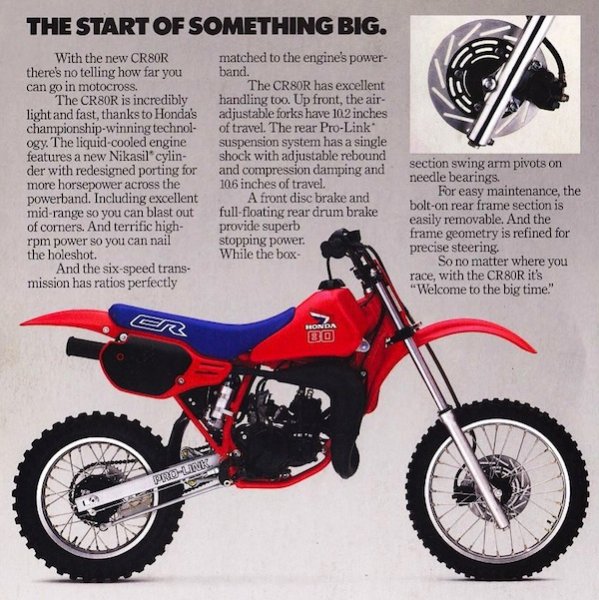 I screwed Moser on the pic used here, sorry buddy; your caption was funny.
1986 Honda CR80
One day I went riding with @chris__holliday sisters' boyfriend (Jaime) and he was riding a 1986 CR80, he was the older faster kid that we thought was pretty cool. At the end of the day Jaime mentioned in passing that he would sell the bike for $600.00 I ran home and told my parents I wanted to buy his bike I had enough money saved up and was already dreaming about riding it. Well I must have left 10 messages for Jaime asking about buying the bike and he wouldn't return my calls, days turned into a week and I was heartbroken. As luck would have it though his stepdad finally returned my call and explained that Jaime didn't really want to sell the bike but needed the money and was going to reluctantly sell it to me but wanted $650.00 I had already pictured myself riding the bike and would have paid just about anything so I agreed and we picked it up that afternoon. I ran an ad in the newspaper for the first time to sell my bike "1983 HONDA XR80 $550.00 OBO great shape" not very descriptive but it sold for asking price and I still have a copy of the ad and check they paid with, I guess the $200.00 I paid for it wasn't such a bad deal.
The CR80 was a pretty big step up from the XR80 I'd been riding for years, and now I had some real power and suspension between my legs. @chris__holliday already had a KX80 at this point so we started making bigger jumps with our shovels and both felt we were well on our way to becoming the next Jeremy McGrath. Before long we were hitting up the local MX track and attempting to clear the table tops. After turning quite a few laps at the track we decided to enter our first race, after sign up we went out for a track walk just like the pro's do on TV but come to find out it wasn't a MX race we'd signed up for but a Hare Scramble with a several miles long course, not exactly what we'd planned on. We raced anyways because we'd already paid and I took 3rd overall in the 80 beginner class got my first trophy and was officially hooked on racing. The more I rode the more I learned about the importance of bike maintenance, my parents had always taught me to take care of my things so I washed my bike regularly. No matter how careful I was when washing the bike the transmission fluid turned milky we didn't want to crack the cases to replace the gaskets so I changed the transmission fluid constantly.
As I got faster and fell over more often the bike required more work, we put a new top end in it once to try and get a bit more power but I couldn't notice an improvement. The brakes didn't work very well so my dad took the rear drum brake apart and cleaned it really good but it didn't seem to stop any better and the front brake which I didn't use anyways had a bend in the disk so it chattered any time I did attempt to use it. The front fork seals started leaking at some point what my dad was probably assuming would take an hour turned into a day project trying to replace the seals without the correct tools. Any improvements we tried to make to the bike didn't make much of a difference either because of the age of the bike or my riding ability, likely the later.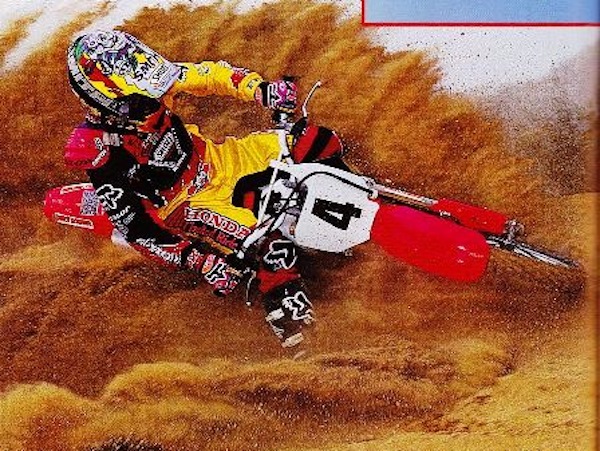 This ad is awesome because it looks just like me I wore Fox gear in a similar color way and rocked the #4 also, only difference is I rode much slower.
1996 Honda CR80
At this point of my life I was obsessed with racing, I'd watch Terrafirma II, Crusty Demons of Dirt II, and any race I had on VHS over and over again. @chris__holliday and I raced at the local track any chance we got and rode almost everyday. For my 13th birthday I had asked for a bunch of trick aftermarket parts for my bike, Renthal handbars, a new graphics kit, new numbers all very important tools to become a faster rider. To my astonishment when I walked around the corner of the garage there sat a brand new 1996 CR80 I was completely shocked and in disbelief I couldn't believe it was mine, it was and is the best birthday present I have ever received. This was a huge step up in all around performance the suspension was plush, the disk breaks would actually lock up the tires and the engine had a lot more power. I was so proud of the bike I spent almost as much time washing the bike as I did riding it.
I cleaned my air filters religiously and unlike Swizcore I never forgot to oil them, I was so careful in fact that when I removed the filter I would place a paper towel into the air boot to ensure nothing fell down inside the carb, which worked great until I forgot to remove the paper towel once and we couldn't get my bike to start the morning of a race. There must have been 6 guys standing around my bike trying to figure out why it wouldn't start and to my dismay nobody figured it out and I missed my race. We took the bike to the dealership on Tuesday and they found the paper towel in less than 10 minutes, my dad has never let me live it down, I still have that paper towel in a ziplock in my toolbox. We started traveling some to ride and race different tracks and my rise to professional SX/MX rider and fame was well on its way.
After one year in the 80 beginner class they made me move up to the 80 supermini class although I don't recall ever winning a race. I was apparently getting faster because I blew up the entire top end of my bike one day riding at my house. My dad and I had planned on racing that weekend and the dealership said it would be 2/3 weeks before they could get it fixed. This predicament resulted in my dad and I having a long conversation with my mom asking if we could buy another bike, I agreed to help pay for this bike which would start a never ending tab of moto related dept to my parents that no amount of lawn mowing and chores around that house ever paid off. We must have delivered the sales pitch well because the next day we had a brand new 1997 CR80 in the back of the van and were headed to the race.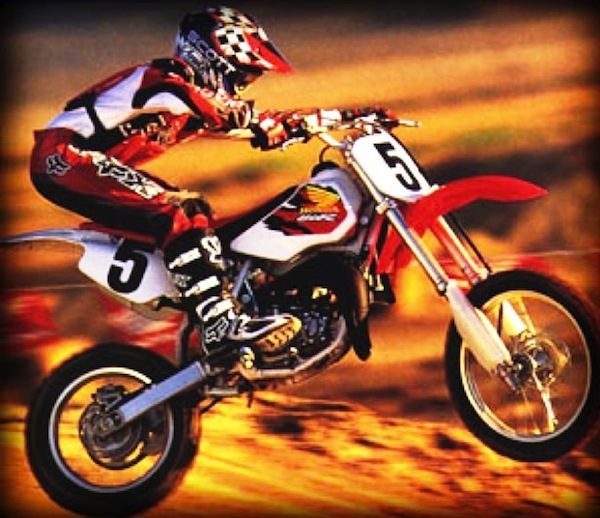 The bold new graphics on the gas tank only lasted about 10 minutes.
1997 Honda CR80
The 1997 CR80 had bold new graphics that my boot ripped off on the right side of the gas tank my very first ride to just break in the engine I was pretty pissed my brand new bike was already scratched. Besides the graphics the only other difference on the bike was it had white fork guards instead of red. I felt pretty factory pulling up to the track the next day with a brand new bike with only a few warm up rides on it. I now had an arsenal of bikes and wasn't getting lapped in the 5 lap supermini class race format. We made a few improvements to the bike, some Renthal handlebars and Pro Circuit pipe but not the silencer just the pipe and I don't recall the reasoning for this. My new unplated factory looking Pro Circuit pipe rusted horribly after the first wash and I was never able to make it look like new again but not for a lack of trying.
Taking a motocross school was the next logical step to get faster, so @chris__holliday and I attended the Eric Waunch MX School. My day started out a bit rough I remember tangling bars with another kid just riding along the side of the track and I fell into his back tire of course he didn't notice me screaming at him to stop as he's giving it more gas because he can't figure out why his bike won't move. The day started to go better for me when Waunch convinced me I was ready for the biggest double on the track this thing was legit, 3rd gear wide open on an 80 and the landing wasn't forgiving, but I went for it and back sided it perfectly I had an Andrew Short sized smile under my helmet. Later on in the day we were just making some laps cruising and as I rounded the corner before the double I decided to go for it I'd done it a half dozen times already and was feeling confident about it, well as I was headed up the face I had the bike wide open but it didn't sound or feel right I kept waiting for the power band to hit and then I realized I was in 4th gear not 3rd gear but I was committed already and went for it.
People have different ways of referencing their childhood and how old they were when certain events happened I reference my teenage years with broken bones and what bike I was riding at the time. Well I came up substantially short on the double and cleanly broke both bones in my left arm, it wasn't a compound fracture which was nice but my hand was definitely in the wrong spot. This was late spring so I got to spend my entire summer in a cast. I wasn't deterred by this slight hiccup in my rise to moto glory and was back on the bike as soon as the cast came off. One of my first races back I got kicked over the bars on a small double and broke my right collarbone, so my 1997 CR80 wasn't exactly my lucky bike.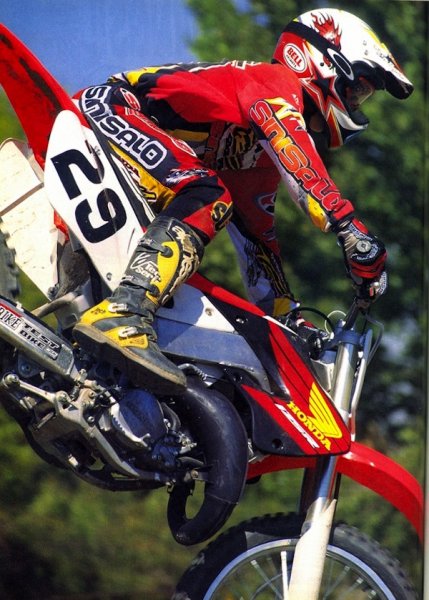 It should go without saying why I used this picture #29forlife.
1998 Honda CR125
The bike of the future, the 1996 CR125 was considered one of the best 125's of all time so if you take that amazing engine and place it in an aluminum frame it could be unstoppable. I was nowhere near the size of Matthes at this point but I had just turned 15 and was big enough to move up to a 125. When the all new 1998 CR125 came out I was one of the first to get one and I was super pumped, the aluminum frame was awesome and it had the single radiator in the front that was going to cool the bike better and make it even faster then the 1996 CR125. I managed to slide into the 125 beginner class for a handful of races to get comfortable racing the bigger bike, I got my first win then a few more wins and then was kicked up to the Novice class. The bike handled really well I didn't really know any different though and I didn't feel like I was at a disadvantage on power it was plenty fast enough for my riding ability at the time. We traveled to quite a few new tracks that year and it was the first time I got to race at Washougal, I remember battling with a guy the entire race and he was cross jumping and blocking me and I couldn't get around after the race he was pitted near us and this man takes off his helmet and cracks a beer.
We had a three day race weekend planned about a 5hr drive, Friday night, Saturday and Sunday at three different tracks. Friday went fine but Saturday I cart wheeled in the whoops and taco-d the front wheel pretty bad, we hadn't had a DNF yet and carried the standard spare parts, levers, perches, handlebars, tubes etc. My dad was able to straighten out the wheel well enough we still raced on Sunday but he bought a spare set of wheels when we got home. I used one set of wheels as a race set and the other as a practice set and even went to the trouble of changing the counter sprocket and chain every week to ensure everything wore evenly. I was still very meticulous about cleaning my bike and constantly polishing my aluminum frame to a mirror finish, looking good was as important as or more important to me than going fast. We planned another triple header weekend of racing Friday night, Saturday and Sunday but this trip went even worse than the previous one.
Friday night I got whiskey throttle coming out of a tight corner leading up to a double on some acceleration bumps and looped out over the jump, my body and bike cleared the jump fine and the bike wasn't damaged until the next rider blatantly ignored the yellow flag and t-boned my bike breaking my aluminum sub frame. The sub frame soon became the least of my worries as my knee swelled up substantially, my knee pads had slide down while I was riding and ironically broke my left knee cap in half. Although this obviously ended our weekend racing plans had I not gotten hurt my broken sub frame would have also ended our weekend because as we didn't have a spare so on the 5hr drive home (he always drives without the radio on) my Dad decided that if we were going to invest this much time and money into racing we were going to do it right so we could race even if something broke on the bike so he ordered a 1999 CR125 when we got home.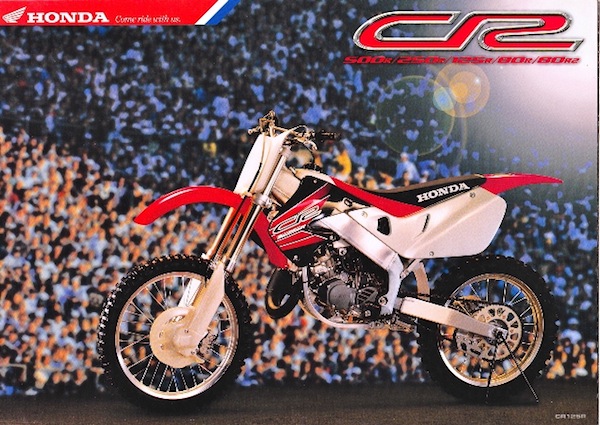 I always liked the big side number plates on these bikes.
1999 Honda CR125
The 1999 CR125 was virtually the same bike as the 1998 so we now had literally every spare part we could ever need. The Honda's continued to be reliable for us but I did have a magneto go out which was difficult to troubleshoot and explain to my dad that at random the bike would lose power and bog for no reason. By now my riding ability had started to catch up to the bikes capability and we started finding the short comings of the 1998 and 1999 CR125's. I had tried a Bills pipe and silencer the year before as the dealership told us it was 'the hot ticket" and I was pretty happy with it there was a noticeable improvement it sounded a lot cooler that was for sure. The FMF trackside amateur support van was at a race and I got a chance to test their pipe and silencer back to back with my Bills and felt it was better and switched over to there set-up. I started to find there were certain jumps that other riders on different brands were able to clear and no matter what we tried I couldn't. We changed the gearing, constantly played with the jetting, had the cylinder and head ported, tried the shorty silencer and the longer silencer, and we installed a 38mm carb which also required cramming on an air boot from a CR250.
For awhile we had a VForce Reed block installed that made a noticeable improvement on the top end but you had a 50/50 chance of fouling a plug no matter how you started the bike, we tried several different types of plugs, I can't count how many plugs we went through at least 2 or 3 a weekend so we eventually took the VForce Reed block out. This was the first bike I got to buy after market plastic and graphics for so I went with all red plastic and the FMF graphics so the bike looked similar to the bikes the FMF Honda team had raced at Glen Helen the year before. I was still running the #4 which was the first number I ever ran but we had some custom italic looking numbers made that where super trick and didn't look like anything anyone else had. Looking back now this was the most trick bike I every owned in terms of aftermarket equipment, the FMF 909 line had just come out and I had their quick adjust clutch cable lever, custom gripper seat cover, FMF aluminum ignition cover, larger foot pegs, gold talon hubs, gold excel wheels and gold Pro Taper handlebars.
My dad was never the stereotypical "moto dad" that yelled and screamed but in my attempt to make a last lap last corner pass by squaring up a jump and cutting under a guy who was coasting to the finish I held it wide open of the finish line single and promptly landed on a hay bale on the side of the track. My dad was standing right there holding the broom just shaking his head as coolant ran everywhere out of my broken radiator, he was not pumped but at least we had a spare. We still agree to disagree that I almost made the pass. After that incident my dad bought some cool aluminum guards made by Devol for my front brake disk, front brake oil reservoir, skid plate and a guard for my one big ass and expensive radiator. I missed qualifying for Lorretta Lynns that year by a couple spots, it didn't help that Andrew Shorts future brother in-law Ryan Morais and some over fast California riders came up to the Northwest to poach our qualifying spots. We did drive to Ponca that year to race and in the first corner of my first race there was a big pile up and I broke my right thumb, so we watched the races the rest of the afternoon and then turned around and drove home the next day.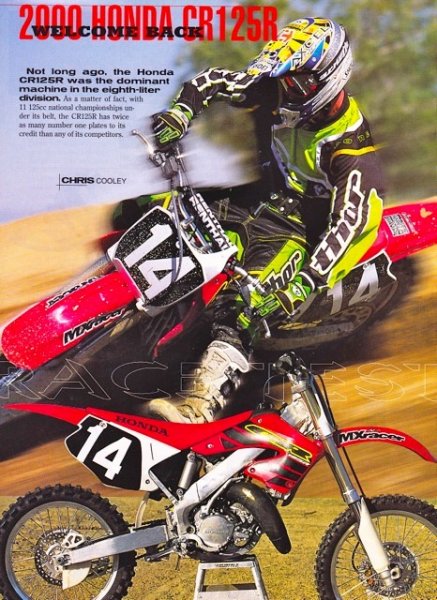 This headline says it all "Welcome Back".
2000 Honda CR125
We had tried everything possible to make the 1998 and 1999 CR125's faster and competitive but to no avail; the big decision now was to stay on red or to jump ship to another manufacture the following year. The 2000 CR125 was redesigned so most of our now large assortment of spare parts were no longer going to be of any use so if there was ever a time to move on it was going to be now. After much deliberation we decided that much like my family drives Ford trucks we are also ride red and we ordered (2) 2000 Honda CR125's. The bike was a huge improvement over the previous years and I felt like it was as fast as any other bike on the track and I'm glad we stuck with Honda. With only 2 or 3 rides on one of my bikes the top end blew up, but Honda being such a stand up company warranted it. I raced the stock and mod Novice class again that year and was finally winning races locally and was competitive at some of the bigger races, top 10 at the World Mini's and top 15 at Lorrettas (which stand up to any Manitoba titles in IMO). We didn't do anything out of the norm to my mod bike, revalved the suspension, ported the cylinder and head, FMF pipe and silencer all pretty standard, at this point I was riding so much it was turning into a lot of work just to keep the bikes in good running condition.
I did have a problem with the routing of the throttle cable after I cut off the stock front number plate plastic mounting strap that wraps around the handlebars. The cable would get caught on it now causing the cable to tighten and accelerate the bike, it never caused me a problem on the track but caused me some humility more than once in the staging area. We did hear that the bike would run better with more air and that Honda had modified the rear fender on Lamson's bike to allow more airflow below the seat which was a tight fit stock. So we bought a rear fender from a Yamaha that had air vents where the seat meets the fender and cut it out and riveted it to the Honda fender I thought it looked pretty cool and sure enough I saw I picture of Lamson riding in a magazine and his fender looked just like mine. My dad got to buy another radiator when @chris__holliday t-boned me in the first corner of a local race for no reason, my dad was not pumped but we have a great sequenced shot of him Bradshawing me and not even attempting to turn. This had been the first year I had made it through injury free and realistically if I would have had a few more injury free years I'd probably be the second rider on the McBrooks team right now and Shorty and I would be best friends.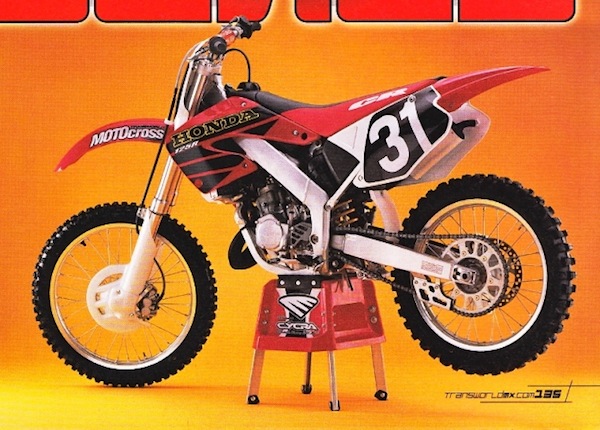 The beginning of the end of the Moser racing legacy.
2001 Honda CR125
The local motorcycle shop that sponsored me loved my parents at this point and I was on the list to get one of the first bikes every year. There wasn't any noticeable difference between the 2000 and 2001 CR125 so we planned to keep my 2000 mod bike and only buy one 2001 CR125. There is nothing quite like riding a brand new fresh bike though, and I don't care who you are, you can't not smile when your driving home with a new bike in the back of your pickup truck.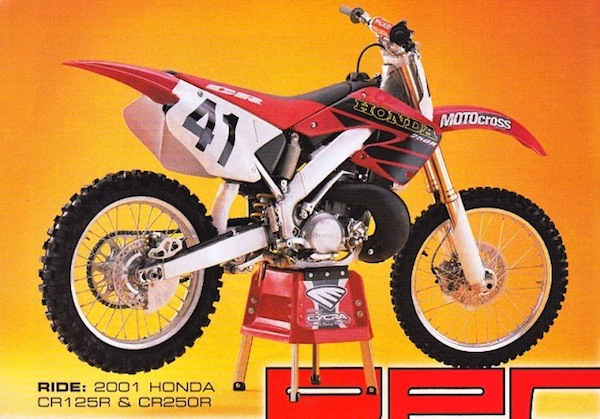 She doesn't look quite that clean in my garage right now.
2001 Honda CR250
It was time to move up to the Intermediate class now and we figured I'd better figure out how to ride the 250 class so I we bought a 2001 CR250. I hadn't spent any real time on a 250 and I wouldn't say I was scared of the bike but I definitely respected it. My first day on the bike I was just riding the local track taking it easy getting used to it and I landed on a river rock in the whoops, it dented and cracked one of the bottom aluminum frame rails, I was so pissed at myself for not having installed a skid plate yet when I had several of them sitting at home, let that be a lesson to you kids out there. We found a local welder that must have been at least 80 years old who welded the crack back together, he did a nice job and it's held up fine. My first intermediate race I rode both 125 and 250 class I swept all the motos and I should have just retired and went out on top. I still pucker a little bit when I think about the start on the CR250 in my 2nd moto when I grabbed 4th gear on the start straight the bike wheeled so high I almost looped out. I was never as comfortable on the CR250 as I was on my 125's, the bike still had some vibration in the bars, nothing like the 1997 CR250 but enough to bother me. I never got the jetting dialed in it's always ran rich, it was so fast I didn't buy a pipe or silencer just had the suspension revalved. I could ride a 125 all day and not be tired but the 250 would wear me out and if you weren't hanging on when the powerband hit you were going to fall of the back, nothing is scarier than riding a 250 while your tired I don't recommend it. I did love riding the bike on trail rides and hill climbing with my friends but racing it was a lot of work. The whoops where a whole other problem for me I was now able to get going way faster then I wanted to in the whoops section. The last whoop at a local race kicked me over the bars and the bike chased me down pummeling me into the face of the berm which felt lovely, I had to get stitches in my upper lip and my dad got to buy yet another radiator. The morning after my senior prom I was helping Eric Waunch with one of his motocross schools (that's right once a broken arm student and now instructor assistant). We were making some warm up laps and it was a little misty out, my CR250 slide out on the face of a small double. The bike got away from me but I caught myself and landed on my feet I wouldn't even call it a crash more of a tip over, but when I went to take a step I could feel the bones in my leg moving around and I spent the summer of 2001 in a cast up to my ball sack.
My comeback came in the fall of 2001 I was getting back into the groove riding, training and starting to hit up some races again. There was an arena cross only a couple hours from my house that we had raced for the past several years. I was now at the point in my career I needed to jump that sketchy triple at the arena cross with the short run in, I hit it in practice and cleared it fine a couple times. In my first moto in traffic it was a bit sketchier, I wheelied into the face and came up short casing it perfectly on the frame rails. I didn't wreck but slowly rode the bike up to the side of the arena leaned it up against the wall and laid down on the ground because something in my back definitely did not feel right. After a very comfortable ride on a back board to the hospital, the x-rays showed I had fractured my L4 vertebrate but hadn't caused any permanent damage and no surgery was necessary. I decided to hang up my racing boots after that. But I kept my CR250 and still have it sitting in the garage. It's a bit neglected now and deserves a good tuning and some lube but it's a Honda so I can always count on it to start up with just a few kicks. I can assure you I thoroughly enjoyed writing this more so than any of you could have enjoyed reading it, sorry it got a bit long winded there at times but I could probably write a book with all the great memories I have riding and racing growing up. I was always very appreciative of everything my parents did to allow me to ride and race but as you get a little older and look back it makes you appreciate it even more. Just like Swizcore said this is an awesome way to take a stroll down memory lane and I'd recommend it to anyone.
Please send any advice on wrestling moves and complaints to jasonw@racerxill.com