In an attempt to keep one shoe in the door of the media empire that has become Pulpmx with my ultimate goal to try and convince Matthes to let me have one of those small pictures with my name in the upper corner of the article I present "Just Short".
In an attempt to keep one shoe in the door of the media empire that has become Pulpmx with my ultimate goal to try and convince Matthes to let me have one of those small pictures with my name in the upper corner of the article I present "Just Short".
By CL Moser
Photos by James Lissimore
HotRod over on Promototalk.com may not agree with me but I feel the guys that don't make the main event do deserve some press and that's exactly what I'm going to bring to you every week, a Short glance at the guys that shoulda whoulda coulda but got 3rd place in the LCQ, just the tip of my hat if you will. Maybe a certain Ironman of Supercross is my inspiration a man who once dominated the LCQ but regardless it's a shame that after all the blood, sweat, tears and money these riders put into this sport they get talked about even less than Brayton or Metcalfe. Like most articles on pulpmx this is simply my opinion and I'll try to throw some facts in there too.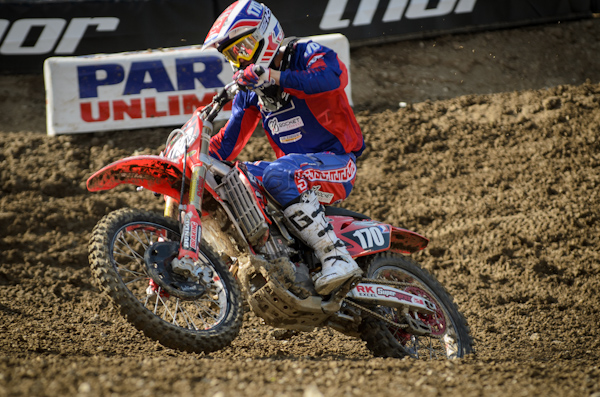 Honda's always look cool but this all red plastic and JT gear looks.
#170 Michael Leib – Rocket Exhaust, On Track, Honda The European is taking a shot at American Supercross, by calling him a Euro I'm obviously joking Leib is from the good old US of A but has been racing the GP circuit the last few years. Much like Matthes I don't follow much of the amateur MX scene so I didn't know who Leib was until he got a bit of press for being one of the few american riders on the GP Circuit and was a guest on the pulpmx show. I always admire the guys that race in Europe, the GP experiment hasn't been a success for many Americans but the life experience of getting to travel to different countries and cultures is intriguing to me. Leib seemed plague with injuries and bike DNF's the last few years which has to be frustrating especially when your already a fish out of water. With little to no Supercross experience I wasn't expecting much from him at A1 but I did see him mentioned in a few tweets through-out the day and he qualified 24th in practice which is nothing to shake a stick at.
I was impressed when he was in the mix in the heat race not to mention good for him just to make the night show in his first Supercross race. He appeared to be in qualifying position in his heat race to the best of my recollection, maybe the TV coverage missed what happened or perhaps I was busy bench racing and drinking with my friends. Like any good journalist I investigated this further (google) and vurbmoto.com posted an interview stating he had a bike problem causing a DNF in the heat race. The LCQ is basically a death race (I just realized I'm going to have to come up with several acronyms to describe the LCQ to get through the season). Lining up with the likes of Tomac, Sipes, Rutherford, and Swanepoel, Leib definitively had his work cut out for him to finish in the coveted top 2 places. He got a great start and jumped right out to 2nd place but Que the Jaws music it wasn't long before Sipes tracked him down and make the pass, finishing one spot out of a qualifying spot although disappointing is nothing to be ashamed of. A solid first Supercross race in my opinion and he's only going to get better. Lieb's best lap time in the LCQ was in the 1:04 range which would have put him in the 14th – 17th range, and from what I saw from my couch seems about right. I look forward to watching Lieb make the big show in the near future and getting to know more about him through-out the season.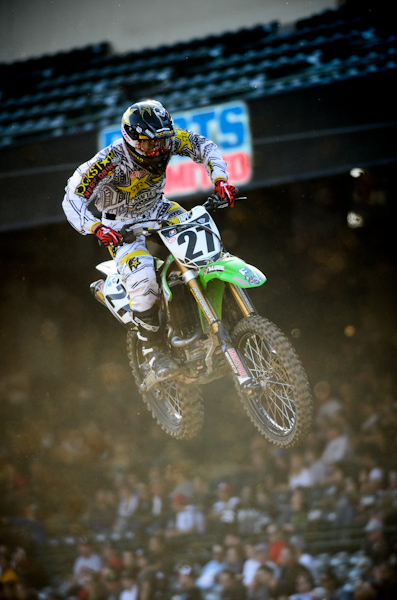 Picture perfect attack body position and soon to be attacking the main event.
#27 Nick Wey – Motorsports, TiLube, Foremost, Kawasaki It's with a heavy heart I have to write this because Wey is a fan favorite second only to Andrew Short. What can be said about Nick Wey that hasn't already been said, funny, fast, well spoken, really really incredibly good looking and all around nice guy. I know I'm not alone in hoping that reuniting Nicholas with his Kawasaki would result in him being more comfortable on the bike and in turn an improvement in results. Wey qualified 19th in practice which seems decent when you see the list of guys both ahead of him and behind him on that list. A bad start in Supercross is and uphill battle but a bad start in a heat race is an uphill battle on a slippery slope. Well Wey got a bad start and was only able to work his way up to 10th in the heat race.
Missing the qualifying spot from the main event not once but twice, in the same night only adds insult to injury so I wouldn't have wanted to be in the pickle pits after the race. Wey started near the front in the LCQ but wasn't able to make the moves necessary to get in the top 2, but things got close with a mistake by Stroupe and a tip over by Partridge and I was out of my chair and on my feet watching the action. Wey's fastest qualifying time was a 1:04 range which was in the 19th – 20th finishing position in the main event but with how much the track brakes down through-out the night isn't a good indicator of the finish I would expect out of Wey. No doubt Nick will rebound and be knocking on the top ten in the main events in no time. Either way the Michigan mafia will be standing strong and firmly behind him.
Honorable mention: Kyle Partridge – Dodge, Hart & Huntington, Sycuan Casino, Kawasaki I know this is why they run the races but it doesn't make the heartbreak any easier, Partridge had this on in the bag and was looking smooth and comfortable it's a shame he was so close (literally 2 turns) to the finish line and in qualifying position when he tipped over.
Thanks for reading this Short recognition of the guys that almost made it. The season is just getting started and much like most of the riders I'm just getting warmed up and you can expect this article to just get better from here on out. See you next week. Moser
Please send any advice on wrestling moves and complaints to jasonw@racerxill.com