The 450 class is a cannibalistic horror flick this year. Check your reluctance and relationships at the gate, they'll only get you eaten alive in 2012.
The 450 class is a cannibalistic horror flick this year. Check your reluctance and relationships at the gate, they'll only get you eaten alive in 2012.
Photos by: THE James LIssimore
The New Paradigm
We're seeing a cataclysmic shift in the sport for all but the absolutely elite. In my Prequel writings I noted the insanity of the depth of talent in the 450 class for the coming year and now two races in, it's more apparent than I even presumed it would be.
There are no friendships out there. Where there used to be relationships and respect, there is now a blank stare and dog eat dog mentality. You know the intensity is getting higher when the last chance qualifier could legitimately be billed as "Heat 3". The difference between making the main or not is so minute that you can't look at anyone ahead of you and make any assumptions. It's a battlefield where even making that previously assumed "easy-pass" results in a knife to your throat intense defense of the position. When the LCQ includes riders who have won SX2 titles, podium'd SX mains and regularly finished in the top 10 in recent years, you can't ignore that the sport is seeing a paradigm shift. A shift which results in amazingly volatile racing and finishing positions and is awesome for fans while also tragic for the careers of so many who have been rounding out the main event results previously. The 450 class in Phoenix looked a lot like the SX2 class in terms of aggression and unpredictable rider actions.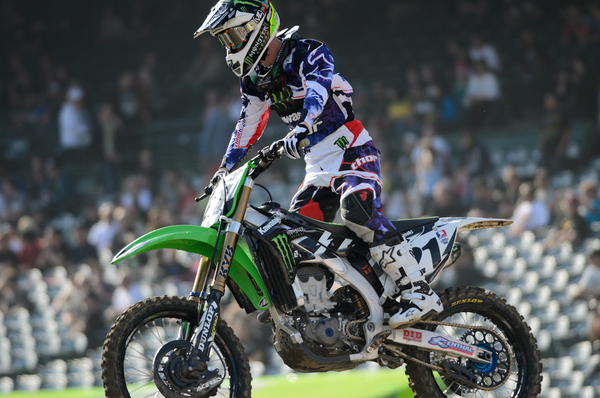 Weimer took a big step in Phoenix.
Better Track?
The Phoenix track looked much more like the SX tracks we're used to and in the beginning of the night the dirt looked incredible. As the night progressed that tacky surface began to settle in and leave a slippery surface on the predominant line. Passing opportunities were scarce, and that has been a main criticism of the tracks in recent years. I can't help but wonder if that criticism is being revealed as more of an indictment on rider aggression in the face of todays machines which have hardly any limitation, nullify many rider errors and subsequently cinches up the racing to a suffocating tension. It all adds up to last night where barring an obvious error, aggression was the rule and if you didn't attack and defend like a rabid dog, you found yourself watching the racing instead of circulating the track.
The track wasn't all that compelling but what it lacked in creative rhythm options and "Pastrana-style" features, the racers made up for it with their intensity. Last week the track was universally considered terrible in the pits, this week it was "one-lined" and slick; can Dirt Wurx find the middle-ground or is it a crap shoot? It's hard to not label a track one-lined when, of course the fastest riders in the world are going to figure out the quickest way around the track, then everyone takes that line but when they come up on someone to pass, with the pace being so equal among the field, those passes don't come as they premeditate them. Frustration sets in, blame the track. It's going to take a new approach to pass-premeditation and forget what worked in the past. All part of the paradigm shift.
SX1
I missed the memo where Bubba's World is moving to Comedy Central. When asked how he made the double pass in the Heat race he said he got the "2 for 1 special". That's "A level" material right there Supercross fans.
In the midst of the LCQ carnage I was really happy to see two things. First was Top Jimmy and Josh Grant racing like it really was the LCQ. In recent years the LCQ action has been uninspired and boring. To see guys out there fighting for it like it's going to bring them a bonus check is awesome. Top Jimmy did nothing wrong and neither did Josh Grant. Josh tried to protect the inside but Jimmy had all the momentum and JG ended up getting punted. This brings up the second thing I thought was awesome, Josh was totally cool following the race and had no hard feelings toward to Top Jimmy. Pride swallowed, front-flip punting taken like a man. That's racing in the LCQ.
I'm going to puke if I read anything about Dungey's win not being legit because he holeshot and the other top guys were buried. They all start from the same gate yes? So what the hell does it matter if he happened to get the holeshot and rode a solid 20 laps out front? Isn't that the idea? What should he do, back it down, pull over or fake a crash to give the others who didn't have such good fortune a shot at him? It's going to happen more than once this season for more than just RD5 so just take the asterisk comments and implications of him not being able to win "straight up" and swallow them. That's why there are seventeen 20-lap races and we run them all; because the unexpected happens and that's why we love this sport. Great job to Dungey for taking all that KTM history on his shoulders and shrugging it off over the finish line on lap 20. Pretty impressive that he got his first win in round two this year(yup I'm going to say it again), the most competitive year ever and last year it took until Toronto.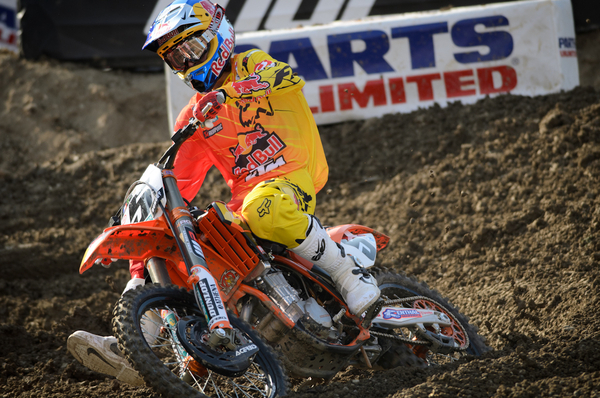 The verdict is in, Dungey looks better on orange.
Apparently it is all a head game with Dungey and having Roger in his corner just completes the puzzle because Dungey looked better in Phoenix on that KTM than he ever looked in SX on the Suzuki. More comfortable, better setup, better bike, all mental? Whatever the equation, it equals a better Dungey in 2012.
As good as Dungey was, RV was his Huckleberry. That's two rounds in a row that RV has punched himself in the face in the heat race. Take it easy on your grill RV, setup a speed bag in the Kawi truck and keep the punching off the track. From last to podium including a sort of single-scrub-to-berm pass on Windham that definitely pissed off K-Dub because that's bonus money right there. Villopoto is the man to beat so far, that is clear. I had concerns of his tenacity and desire following winning everything last year and he has silenced those without reservation. He's like a James Stewart who can ride consciously of the riders around him, making savvy passes instead of just pinning it and leaving his opponents strewn in carnage behind him(or under him).
Here we are two rounds in and JS7 still doesn't appear to have started fresh with the JGR Yamaha. In fact he looks a lot like he did last year still. Always fast but erratic when working from the back 1/3 of the pack in the main. We had a heated debate last night regarding whether James' contact with Shorty's rear wheel caused the crash or it was just a contributing factor to his pulling that "scrub" move and losing the front tire in the powdery top of that sand single. In the end its irrelevant. It comes down to JS7's biggest attribute to his insane speed, also being the pivotal downfall. James knows one speed, all out. He rides the same speed in the pack as he does when he holeshot's and stretches out a lead. That's why it doesn't matter if he was going to fall anyway or if contact with Shorty's wheel caused it; James needs to realize you can't attack the track like a banshee when there are riders around you just like you do when it's all you and the track alone. That's what makes Ryan Villopoto better in 2012, not only is his speed competitive with James, he has race savvy that raises his chances, greatly, of working his way through the pack while limiting incidents.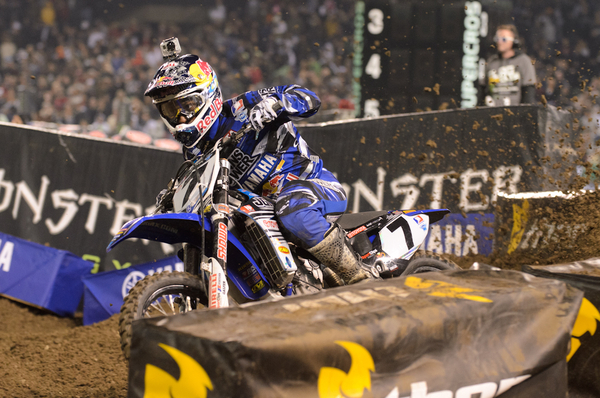 2012 James looks a lot like 2011 James so far.
Congrats to Weimer for a great ride to 2nd place and hopefully more podiums to come. He really isn't an 8th place guy after-all! This is closer to where Jake belongs, though 2nd is definitely an over-achievement in my book.
Hanny, a model of consistency with another 10th. Hooray, another PulpMX Show!
SX2
Firstly, I was very impressed by Nico Izzi's ambition to get back from the hospital and race at all let alone finish 8th following a crash that left him spitting up blood and certainly hurting. In my mind that's indicative of someone who realizes the urgency of the time at hand and knows, this season is make or break.
Ryan Sipes is going to make a great father when the time comes. If you can keep calm after a guy cuts straight across your rut and maintains that line off the back off the berm, there's not a damn thing your kids could do to make you break your cool. I imagine he had some choice words later but to restrain himself at that very moment, noble. If Sipes had ended up on the dirt, still in the berm and we had a different camera angle, it would be like Chicken v The Beast all over again.
Eli Tomac needs to get a start in a main if he wants to have a shot at a win, they'll come.
I really expected Cole Seely to struggle. For a guy who's program is based on moderation and low-pressure, coming in with the red plate(a tangible source of pressure) was a recipe for choking under it. He was solid, impressive even. Cole is the real deal this year and it begs the comparison to his prior team-mate who moved on from the TLD 2 years ago when the Geico team came calling, offering his dream ride. Wil Hahn. While Cole embraced the atmosphere at TLD where they let him sort of mandate his own program, Wil was drawn by the expectations to excel and win with Geico Honda and left TLD for the next level. As of the middle of this week, it's become another tragic start to a new season for Wil. I hope Wil stays positive, it's adversity that makes us grow when dealt with positively.
Wilson didn't look particularly "on it" in Phoenix. He was over-jumping and clipping the back wheel all over the place but he still pulled the W. Maybe it was just being sick but whatever it was, when he corrects it he's only going to be better so his opponents had better improve also. The whole PC setup looks amazing this year, gear, bikes and all. stellar. I find it interesting how while Dean still wears Alpinestar boots, he now wears a Leatt brace; likewise Weimer still wears A-star boots but now the Atlas neck brace. Anyone wanna buy a A-stars neck brace?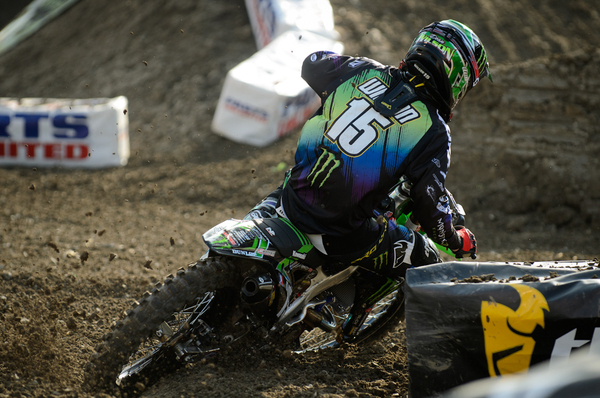 The view everyone had of Dean in Phoenix.
Peripheral
How awkward did J-Bone look when questioned about Tire-Gate? I felt bad for him and the situation he was put in, or allowed himself to be put in with the explanation that they did it to assure James, they had exhausted all options. JGR has put in time with Pirelli and to cater to a star rider, potentially souring their relationship with a team sponsor seems a little desperate for the first race. Was it worth it? If you don't get caught, sure but they did and public criticism causes people/companies to react differently than when it is contained "in-house".
If Speed only does one thing all year, I hope they continue to pump Brett Michaels and bring him in the booth with Fro and RC. Watching Fro and RC's mannerisms while Brett was talking was comedy.