I read The Bikes of My Life on PulpMX. This brought back so many memories of my own bikes and experiences growing up racing motocross.

I read The Bikes of My Life on PulpMX. This brought back so many memories of my own bikes and experiences growing up racing motocross.That was back when the sport seemed a lot more simple and you could still chase the dream with an after school job and a determination to get to the races. I can remember many long drives to the tracks in the Central Valley of California, watching the temp gauge in my beat up truck on every grade. I would be silently praying, "Just make it to the track, we'll figure it out from there." My bikes were always worth at least three times as much as my trucks. This was a reflection of my priorities. My friends and I had seen local guys make the main events at supercross and the nationals on $3,000 bikes straight off the showroom floor. These guys were our inspiration and the dream seemed so close for everyone back then.
I first became hooked on moto around age 5 or 6. I happened upon NBC's Wide World of Sports on the television while they were showing the super bikers race in Carlsbad. I was totally blown away by the speed of the racing. When the bikes would launch in the air I felt like the riders were the bravest men on earth. The racing, the speed, the jumps…to me this was the absolute pinnacle of sport and the riders appeared to have overcome all fears. It seemed to me that moto was the ultimate destination because in my mind, any other extreme sport was trying to do what could best be done on a motocross bike. At the time, surfing and skateboarding were trying to go skyward and I still don't think anything is better adapted to jumping than a MX bike. BMX bikes were obvious wannabes. Jet skis were becoming popular, but they also seemed to just be mimicking a motocross bike. In my mind, wherever I looked I saw sports trying to be like motocross, so why not be a motocross rider? That dream was awhile coming since my dad, my brothers and I were very involved in surfing and my parents hadn't the time or the means to support a child in another sport.
1973 YZ80
My father saw and appreciated my enthusiasm for motocross and while I was in the fifth grade he came through in the form of a 1973 YZ80. He paid $30 for the bike, or should I say, the pieces of the bike. I didn't care. I was so stoked and he and I went to work on getting it back together. Our friend Randy was also helping us. He had the seat re-upholstered and had my first name sewn in. I felt this seat was so trick, I was practically factory. We never really got that bike running quite right. I probably only rode it for a few hours and worked on it for a few hundred. I learned a lot more about how a bike worked than how to ride. That experience has been invaluable throughout my life. Even today when a bike won't run, I go through the same checklist my dad and Randy taught me back when I was 10 years old.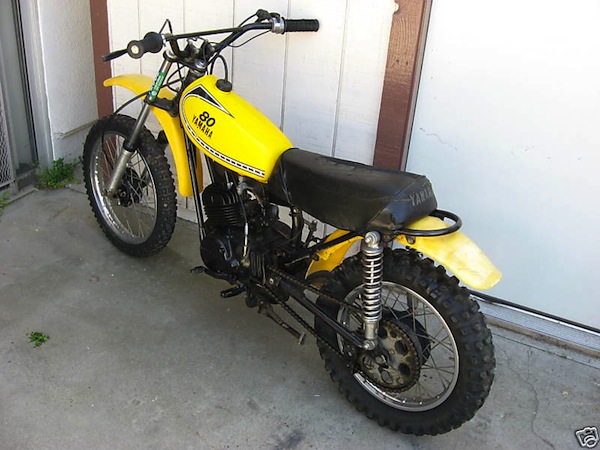 This '75 YZ80 was Dave's '73 with BNG. You know the deal.
1984 KX80
While we were working on the '73 YZ80 I knew I was going to need an upgrade (it was 1988). I was working for my friend's dad after school shoveling and spreading crushed granite in their yard. I guess the guy really hated mowing weeds and grass because I spread over an acre of gravel. It was back breaking work but paid $5 an hour, which was great money for a 10 year old, especially since minimum wage was only $4.25. Over the course of about a year of shoveling, I had saved $600. My riding buddy had gotten an '86 CR80 and we thought the thing was a rocket. With my $600, I figured I could get a bike that would be on par with his CR. In the paper, I found a 1984 KX80 with a Fox shock. My dad took me to look at the bike, I was ready to buy, but my dad told me to sleep on it. He always taught me not to buy things on impulse, but to give it a night and see how you feel in the morning. The bike was pretty beat, but all I could think about was that Fox shock. None of the people I knew had one. So I decided, "I have to have that shock, I mean, bike!" Within 10 minutes of my first ride at Hollister Hills the rear axle had unthreaded and my wheel came off while I was riding. Turns out the previous owner did not have an axle so he had used a threaded rod with a nut on each side. Trust me, this set-up does not work. I was devastated. To make it worse, I had to watch my buddy ride his CR80 all day. I have joked that this is why I started a company specializing in motorcycle fasteners. I put a new axle in and had some great rides. I never could get the front brake to work correctly on that bike and I still have a mean rear brake slide. I ended up blowing up the motor and learned a lot more about engines. Overall I really enjoyed the KX80 with one exception: that Fox shock had no compression and worked horribly. The bike looked like a chopper when I would ride it. No hard feelings against Fox, it was probably off some other machine.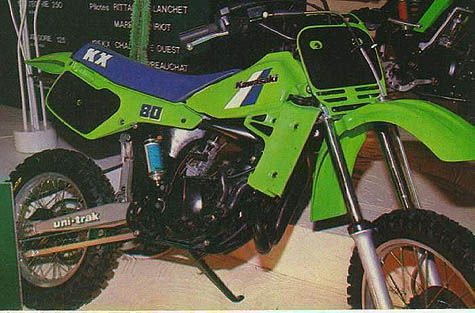 Dave's 84 KX80.
1986 CR125
I was already big for the KX when I got it and after about a year it was time for a bigger bike. I saved $800 and got an '86 CR125. This bike made up for my struggles with the first two bikes. It worked so well and just wanted to be ridden. I loved the big wheels and the way they would roll through the whoops and ruts so much easier. All the tracks are made for bigs bikes and I was ecstatic when I started clearing doubles and table tops and really feeling how a motocross track should flow. Everything just seemed so much easier. I still had not done any actual racing, but on this bike I finally learned the fundamentals of riding that would get me there. My only regret is that I sold that CR125. I would love to have it on display in my shop today.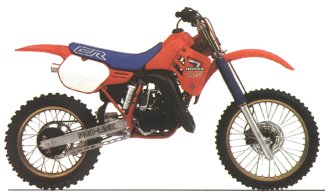 The '86 CR125 was an awesome bike.
1991 KX125
1991 was a good year for me. I got my drivers license and my first current model motocross bike, a '91 KX125. The guy was selling it used and it was only a few month old. I thought the blue forks and perimeter frame were cutting edge. I did my first real race on this bike at a track called Huron. CR125's were the fastest in their class in these days, but they were twitchy and would get head shake. The KX125 was the slowest bike, but super stable. I soon learned that the CR's would pull me in the straights but I could pass them back by going into the corner as riders tried to get their CR to settle down. This usually resulted in a draw, but I could gap them in the whoops. The thing was so stable in the whoops that I could pin it and pass two or three riders at a time. Of course, hole shots were out of the question. After a couple months of riding, that KX broke the piston and locked up. I was devastated but this turned out to be a blessing in disguise. I found out the previous owner had sold it because it kept seizing and the piston had grenaded a couple times on him. So I decided to rebuild the whole motor. My dad is a machinist and helped with the re-build. We went through everything, cleaning up castings, de-burring parts. When we got the new crank my Dad put it on his lathe with an indicator and balanced it. It came from the factory almost 0.005" out which was within Factory tolerance, but unacceptable to my dad. He went nuts on the thing and got it to 0.0001". As soon as I started the bike I knew we did something right. There was virtually no vibration and the RPMs would rev and fall so fast (it went from wingdingding! to braap braap!) There were no more broken pistons and that KX ripped. I'd pull hole shots on that bike with a gate packed full of CR's. It was so gratifying to do well on something that I had worked so hard on. To beat the CRs on a Kawi was the icing on the cake. I had been bankrolling my motorcycles on my own from the beginning, but I think my Dad's help with tuning that KX saved me tons of money on future parts and made it way more fun to race. I gained a lot more respect for him while we worked on that Kawi.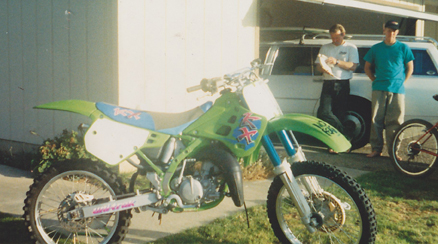 The '91 KX125, the year before they looked great but reliability suffered.
Racing at this time was so fun. I needed to find forty bucks a week to get to the races, $20 for a tank of gas and $20 for the entry fee. My riding boots were the kind that laced up under velcro. But my laces broke, so when I would get to the track I would take the laces out of my shoes and transfer them to my boots. This was a routine on my tailgate that many in the pits found amusing. I used duck tape for numbers, I did not have money for fancy things like laces and numbers! I was using every dollar to get on the track. Some great people in the pits started dropping lightly used tires by my truck (my tires were always bald). On a couple of occasions another kid's dad would cheer me on as I passed his kid on their old tires. I actually witnessed one kid really chew his dad out for giving me his old rubber. I still got tires from his dad the next week.
My mom did not want me racing. She would tell me we didn't have health insurance to try to keep me from going. But I knew we had health insurance and I forged every release form. The racing was great because at that time, everything was on the line for me. When I race now, passing the guy in front of me is a small thing in the big picture of life, but back then, racing was the big picture and it was fun to put your heart and soul into something.
1992 RM250
In 1993 I was ready for a 250, but the funds for this bike seemed to evade me. I guess as I got older, I got more expenses. Out of all my bikes, it seemed this one was the hardest to get the cash for. I was a junior in high school and had decided to drop out to work full time to achieve my goal. My dad thought this was a bad idea, so we made a deal. He would give me an interest-free loan for the bike if I stayed in school. I agreed and went shopping. I found a barely used '92 RM250. I low-balled the guy (my dad only had so much money to lend) and he turned my offer down. But, as I was pulling away, he came out of the house and stopped me. He told me his wife had just chewed him out, she wanted me to have the bike and that was it. So we had a deal. I had seen these people in the pits before, she had probably seen my shoe lace routine and took pity on me.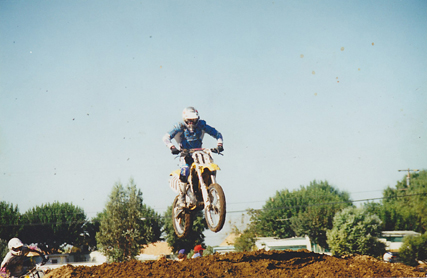 I think Crusty the clown worked in Suzuki's design dept. in '91 and '92.
I was in wheelie heaven. I loved twisting the throttle on that RM and all that horsepower was welcome after riding 125's. But I decided I had gone a little over board on the wheelies one day at Hollister Hills. I was riding back to my truck when I saw a group of girls, their men being out on a ride. Thinking I would steal every one of them from their boyfriends, I did my trademark third-gear-wheelie. Just as I was going by them, I looped out and completely destroyed the seat of my pants sliding past on the gravel road. My bike rode it out just fine…until it collided with the empty picnic bench just beyond the girls. I remained single that day, my bike and ego severely damaged.
Overall, the 250 suited me and I rode far better, I even won the first 250 race I entered. It handled great and had aftermarket suspension that worked really well. The only complaint I had was the clutch. The basket would wobble on the shaft and actually shave the case in some places. I got it to work okay with some custom shims, but even the Suzuki shop told me they were at a loss. Still, my racing results were a lot better and I started winning things like new tires and gear, so the bike and I were a lot more polished. I even got a pair of Alpinestars with buckles instead of laces!
My local shop back then was All American Honda Suzuki of Santa Cruz. In these days there were no internet stores. Your parts guy was your friend and he made sure you got to the races. My parts guy even took parts off his personal bike one Friday night to make sure I got to the races Saturday. Good people.
I sold the RM250 in 1995. I was 19 years old and I had come to a crossroads in life. At my best, my racing was only at the intermediate level and I did not see a way forward. I was living on my own and my priorities had started to shift, so I ended up having a five year break from riding. I lived in Jamaica for 2 years serving as a missionary for the LDS Church, got married, had a child, and worked in some machine shops. Around 2000 I started driving my wife nuts about getting another bike.
2000 CR125
On Christmas day, she surprised me with a brand new CR125 delivered to our living room. This was my first brand new bike ever. I rode it a lot at a place called Club Moto in Livermore. It was great to be riding again, the chassis and suspension were amazing on that CR. Way better than anything I had had before. Unfortunately the motor was a dog, reliable but slow. Going to the races was different now. New bike, new truck, and I didn't have to save all week to afford it! Life was good.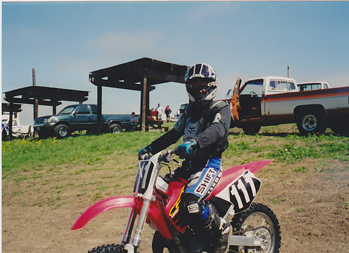 Dave's 2000 CR125.
1998 YZ400 & 2002 YZ426
I sold the CR to help with the down payment on our first house and a short time later picked up a '98 YZ400. I had '02 YZ426 next. These Yamaha's were great, so reliable and versatile. I could go to a motocross race one week, throw a big tank on and go for a three day ride in Mexico the next. They did both types of riding equally well. I bent the fork tubes on both bikes, the only bikes I have ever done that on. I never saw the inside of the motor though, they were solid. It was just fork seals and tubes on occasion. I had a heck of a time getting used to four stroke engine breaking. I was used to scrubbing jumps on the two strokes while the bike freewheeled. When I got the YZ400 it felt like the back brake would slam on whenever I let off the gas. I eventually did get the hang of it and I'm sorry to say that my two-stroke skills have never recovered.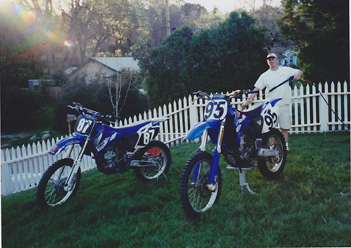 Dawn of the thumper
By 2003, my company, Bolt Motorcycle Hardware, was going strong. Bikes were now a tax write-off and a necessity for R&D…making them much easier to come by. I was now working in the motorcycle industry making fastener products for bikes. I enjoyed making products that I had wished were available through the years.
The following is a quick list of my personal bikes in more recent years:
'04 and '06 RMZ 250s: These bikes had a so-so motor, good suspension and excellent handling. I loved taking the corners on these bikes. The '06 blew up immediately after break in. Suzuki fixed it for free. I sold it to a friend who dropped it off a cliff in Mojave on his first ride. The '06 was doomed. The '04 was solid.
'07 RM250- I tried a two-stroke again for nostalgia's sake. The thing felt spastic so I sold it before I got hurt. I have a lot of respect for guys who can cross over from two-stroke to four-stroke, I can't.
'07 YZ450- hated this bike.
'07 CRF250R- Put tons of hours on this bike. It was so fun to ride, really stable and flickable. It was really reliable for me. From what I heard it blew up as soon as I sold it. When I heard that, I was glad I sold it really cheap. I think the guy still rides it.
'08 & '09 RMZ450- Nathan Woods got me hooked on these when he was riding Suzuki's. I think these are the best bikes Suzuki has made. Great reliability, awesome handling, loved the fuel injection, and the suspension is good after a little tuning. I sold the '08, but I may never sell the '09. It's my favorite bike to date. I ride lots of practice days at motocross tracks on this bike.
'11 CRF450- I have ridden this bike very little since it is on loan to one of our pro riders as a practice bike. This bike is very quiet so at first you think it is slow. On the track this is not the case. The motor rips, way more power than my RMZ. The steering stabilizer works great and the bike feels very precise. I am looking forward to riding it more if there is any life left in it when I get it back.
Since my first dirt bike, I loved riding and at times, I have loved working on the bikes just as much. I used to tear down the bikes to the frames and build them back up just to past the time between rides. My bikes gave me the career I enjoy today (a self proclaimed motorcycle fastener expert). Even though a lucrative racing career was not in the cards for me, I feel I got the next best thing, working with bikes everyday. I have seen friends who were laid up during their pro career, left on the couch wondering how the time off will affect their present and future contracts. At times like these, I can't help but wonder if I got a better deal. Either way, I love to watch the riders in X-Games and AMA events who are using our parts. I still feel like I am out there in some small way.